2015 Le Mans Test
Test Run Complete
Seasoned photographer and contributor John Mountney walks us through the ups and downs of an accredited photog' at Le Mans
June 2,  2015
Words and photos by John Mountney
Le Mans is a special and magical place.  Once you have been, it's something you will plan to do in June for the rest of your life. This year will be very different for me: no heavy partying and high jinx with the lads as Le Mans will not be a playground but a place of work.  It will be five days of full on action planned with military precision.
Planning for Le Mans 2015 as an accredited photographer started in April 2014.  I found out that FIA/WEC accreditation did not cover Le Mans and that I should have applied to the ACO.  I had missed the closing date for applications by a few days, and a last minute pleading application fell on stony ground so I was determined that Le Mans 2014 would be the last party and 2015 would be business.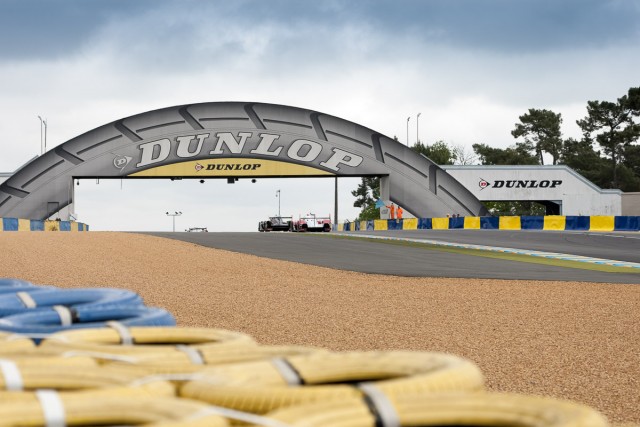 In late 2014 I submitted my application to the ACO and waited.  To my surprise in February I received an email from the ACO confirming my application was successful.  By now I had built a network of outlets for my images and with requests for images coming in, the seriousness of those words, "We are pleased to inform you that your 24 HEURES DU MANS 2015 pass will be delivered at the Media Welcome Cente" were beginning to weigh heavy.
I tried to tell myself that Le Mans is just like any other race but the more I tried to convince myself the less I believed it.  Every event I have covered since February 2015 has been a simulation or rehearsal for Le Mans – I even covered the Britcar 24 Hour to see what lessons could be learned.  But it only confirmed the enormity of what I was about to do. I very quickly realised that taking photographs would be the easy bit. The Logistics of arranging the paper work, passes, parking, lockers, reserving a desk in the media centre, organizing wifi, finding food and drink, media shuttle, stopping places, what to pack, what to wear – "It always rains at Le Mans", (last year was a scorcher and it still rained), getting enough sleep to face the 40 hour or so marathon at the end of the week – are all hurdles to overcome.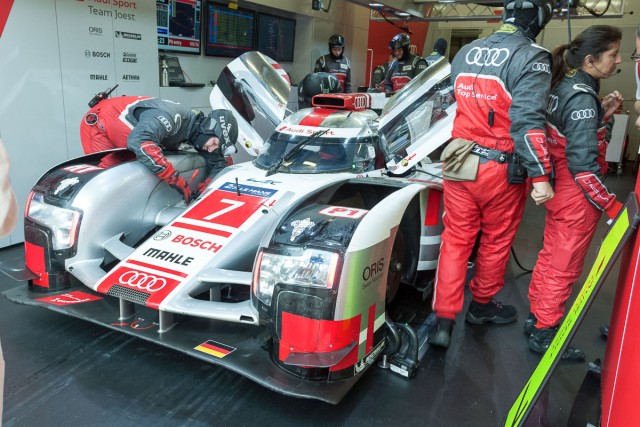 There was only one thing for it.  I had to go to the test weekend to tick as much off the list as possible.  Armed with my media pack and a lingering disbelief that I had been given accreditation, I  imagined that once there at Le Mans, the mistake would be uncovered and there was no pass for me.  Anyway, doubts and all I set off to the Spiritual home of Endurance Racing. As I approached Le Mans I picked up signs for the media welcome centre which took me right to the door, and as I walked in I became aware of my heart beating out of my chest.  This was the moment of truth and within a few short moments, clasped in my trembling hands was a media pass and media parking pass. Yes! Time for a beer!
The following day was admin day.  Time to face the media centre, attend the photographers briefing, get a tabard and set up base camp. Finding the media centre was easy and upon entering the room the first face I saw was Catherine Vatteoni.  "Hello John!" followed by a big hug and I felt right at home.  "I have a desk here for you and your locker is here and this is how you log on to the Wifi". Thank you Catherine, you are amazing!  What I had expected to take ages was sorted in a few moments.  A quick look at my watch confirmed that I had a hour until the photographers briefing so I took some time to relax and soak up the atmosphere. Standing in line for the photographers briefing I saw many familiar faces from Paul Ricard, Silverstone and Spa. Nods, smiles, bonjours, ça va's –  it's just like the first whole school assembly of the new term!  The doors opened and we filed into the briefing.  Befitting the event, Jeff Carter (Media delegate) was equipped with a power point presentation and microphone, and although he has done this many times before he introduced a uniqueness and focus for Le Mans.
Briefing complete and with the ramifications of 'red zone'  transgressions ringing in our ears we waited to be allocated our tabards – our passports to take the photographs at the most amazing place in motorsport.  Now that all of the admin was in place all that was left to master was getting trackside.
Being a "this side of the fence" virgin I tracked down a couple of veterans who were very generous with their local knowledge and told me the locations of gates you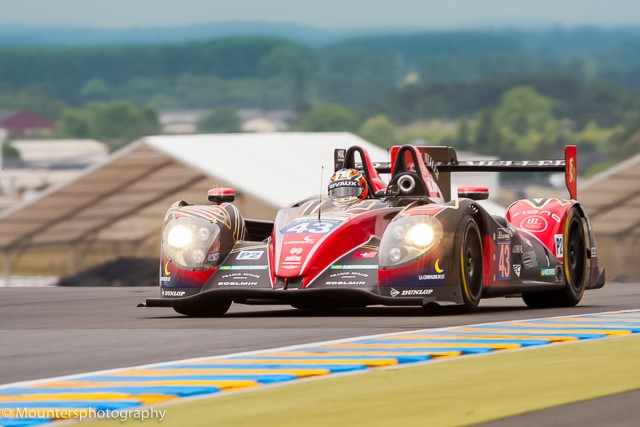 can get through, of secret tunnels and the best angles for shots.  If you have been to Le Mans, I'm sure you will have walked past these gates without noticing them.  Once inside the fence it's a different world.  I kept checking my circuit plan to make sure I wasn't in a red zone!  Just Like Paul Ricard and Spa you can get very close to the action –  so close you could almost touch the cars.  This calls for a different shooting style but the opportunities are huge.
Saturday concluded with a Class of 2015 grid shoot.  How can you top that? Simple.  Get trackside and capture the essence of Le Circuit des 24 Heures!  As I have said before it always rains at Le Mans and test day was no exception.  Test day passes quickly, lots of ground is covered, lists get ticked off and images are captured.  Before not too long I was driving home to prepare for my return in seven short days to do it all again.
But this time for real!
[popup url=" http://www.mountersphotography.co.uk" width= "950" height="550″ align="center"]John Mountney Photography[/popup]