2015 WEC Spa 6Hr – Wednesday Track & Pit Walkabout
From the Edge of the Earth…
Wednesday, April 29
2015 WEC Spa 6Hr – Wednesday Track & Pit Walkabout. Some of you will suss out exactly what the title refers to,  and some may have experienced it given the venue for this weekend's round of the FIA World Endurance Championship.  For those who don't,  gently let that mystery waft in out of your consciousness as you read through this article.
On to the serious business of racing (in the rain),  the Six Hours of Spa is a bit of an oddity given that the race takes place on a Saturday as opposed to the usual Sunday.  Due to this I turned up on Wednesday afternoon feeling somewhat confused and constantly thinking that it was Thursday.  It did probably have more to do with me driving all the way from London however,  than a break in the space-time-continuum!

This would be my first time photographing Spa Francorchamps – the other time was as a spectator in 2013 – so my mind was constantly thinking of those areas I couldn't get to,  or those areas where there was simply too much fence in the way of the shot.  As it turns out,  some of those areas are no go zones even for accredited photographers.  This included the low/bunker areas of Eau Rouge and Blanchimont,  which although a bit of a blow,  made perfect sense given some of the accidents that have occurred there in recent years.
After learning this and understanding the decision,  even agreeing,  I then made my may down to the pit lane as the teams put their cars together and were called at random for scrutineering.  As I walked across the front of the garages, I saw what seemed to be the frequent occurrence of a manager from a LMP1-H team or manufacturer having a lengthy conversation with one of the stewards.  Probably nothing to do with lifting.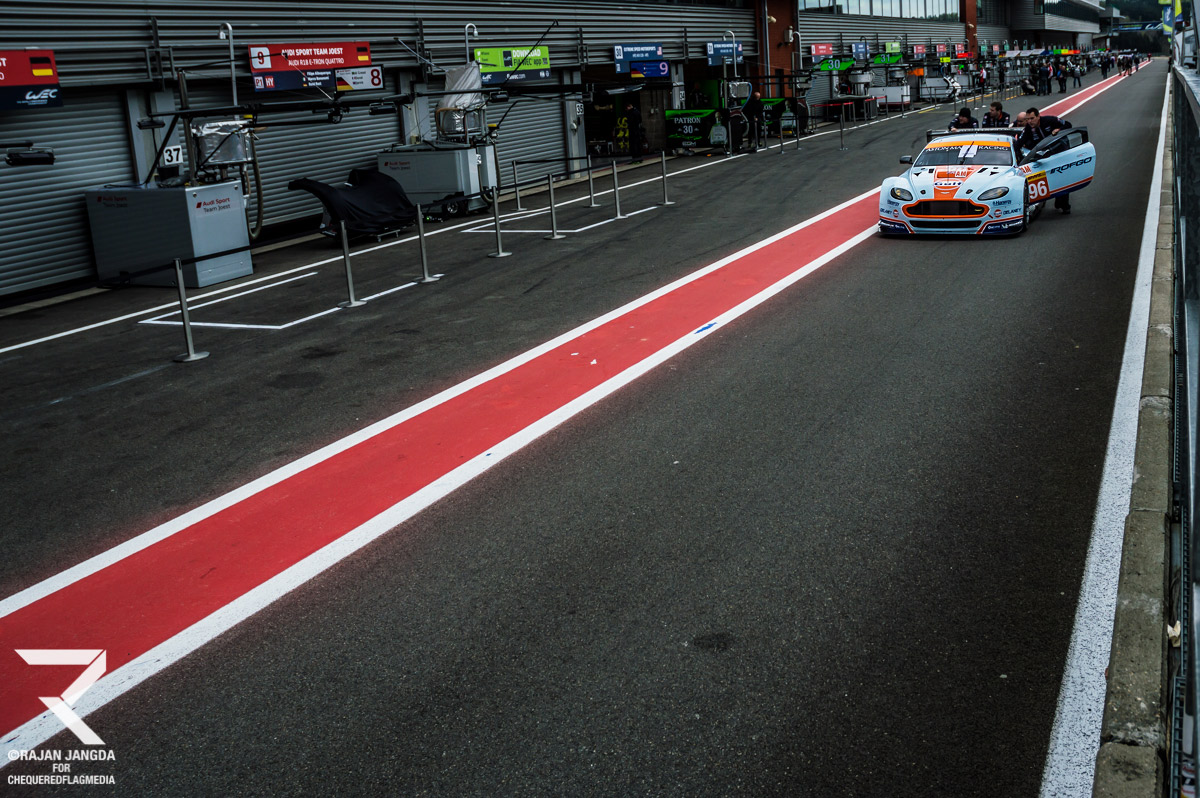 As I walked further down I then noticed that Audi had enclosed their cars behind the garage shutters.  Two of them are running the low downforce "Le Mans" aero configuration this weekend.  They look like almost completely new cars with bodywork and aero designs very different from the 2015 R18 that first appeared at Sebring test sessions in March.  Click on the link above for exclusive photos and report of the car as reported by The Motorsport Diaries.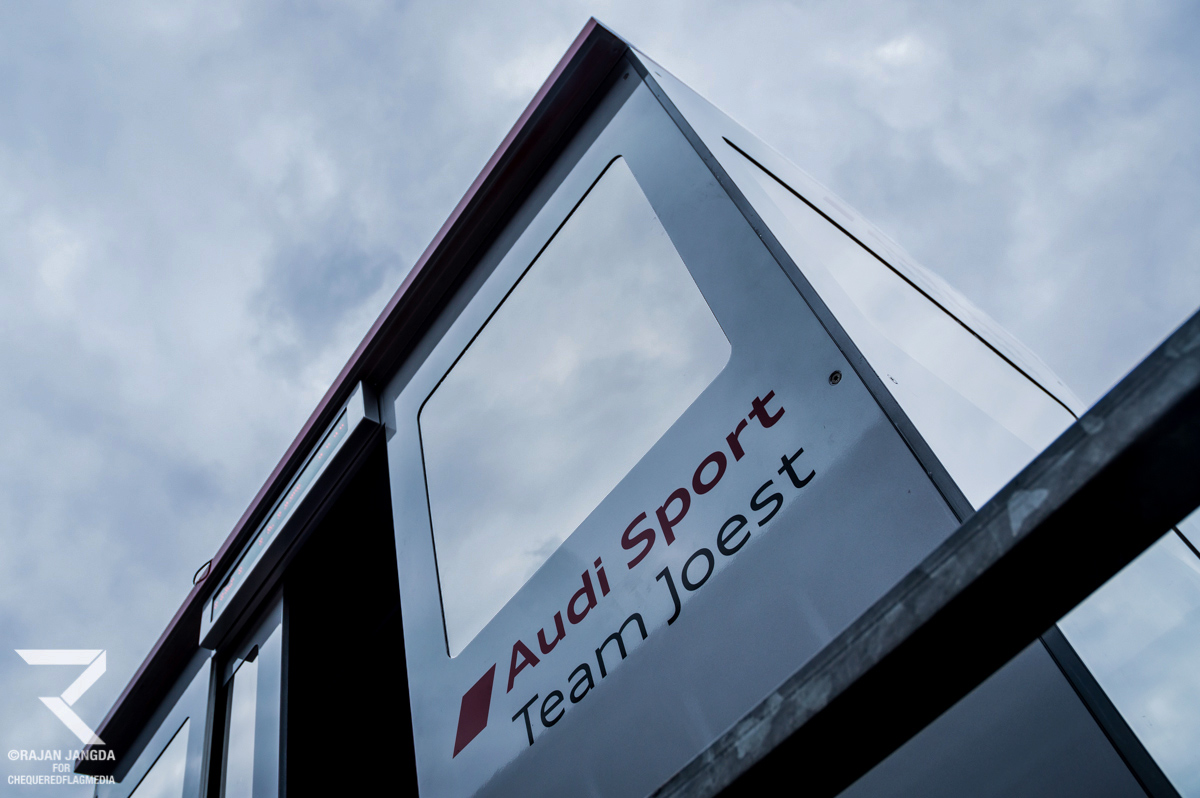 I found this hiding of the new cars a little futile as they have been seen in HD in recent weeks all over the web.  Why hide something we have already seen?  It's all just slightly bonkers to me.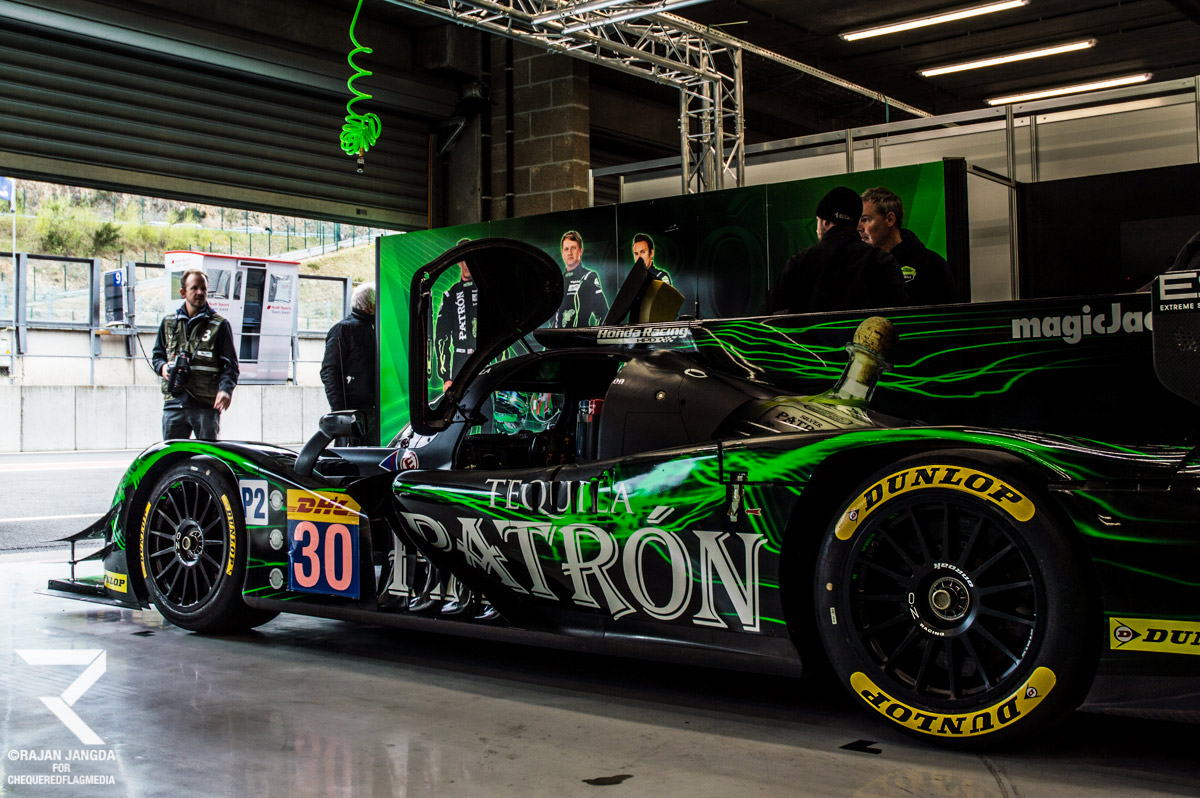 Thankfully,   ESM Patron didn't do the same thing and let people actually look at their two new Ligiers.  They also seemed to be having a contest going with Strakka Racing to see who had the better music playlist.  As I first walked into the Strakka Racing garage they were playing Prodigy's Breathe,  to which ESM seemed to reply by playing one of my personal all time favourites – Layo & Bushwacka's Love Story vs Finally.  It was a move which resulted in a cheeky Audi mechanic standing as close as possible so he could listen in.  Strakka Racing then managed to top this by practicing their pit stops with Robin Thicke's Blurred Lines playing in the background.  I'll let you guys think of your own innuendos for that one.

Some of you will be pleased to know that the SARD Morand team did make their long awaited debut and were on track for participation with their Morgan chassis.   It's a seemingly timeless LMP chassis when you think of it,  given that it was evolved and re-badged from the Pescarolo 01,  itself based on the Pescarolo C60.  That in turn was of course an evolution of the Courage C60 which first appeared in 2000,  so it's pretty amazing that an essentially 15 year old chassis is still running!
While this was happening,  I also noticed that the KCMG mechanics  had marked three blue stripes ahead of their pit box,  with markings for '10 pints',  '20 pints' and '30 pints'.  Apparently they were having trouble getting their drivers to stop in their pit boxes,  so they decided that the punishment would be free alcohol for the rest of the team!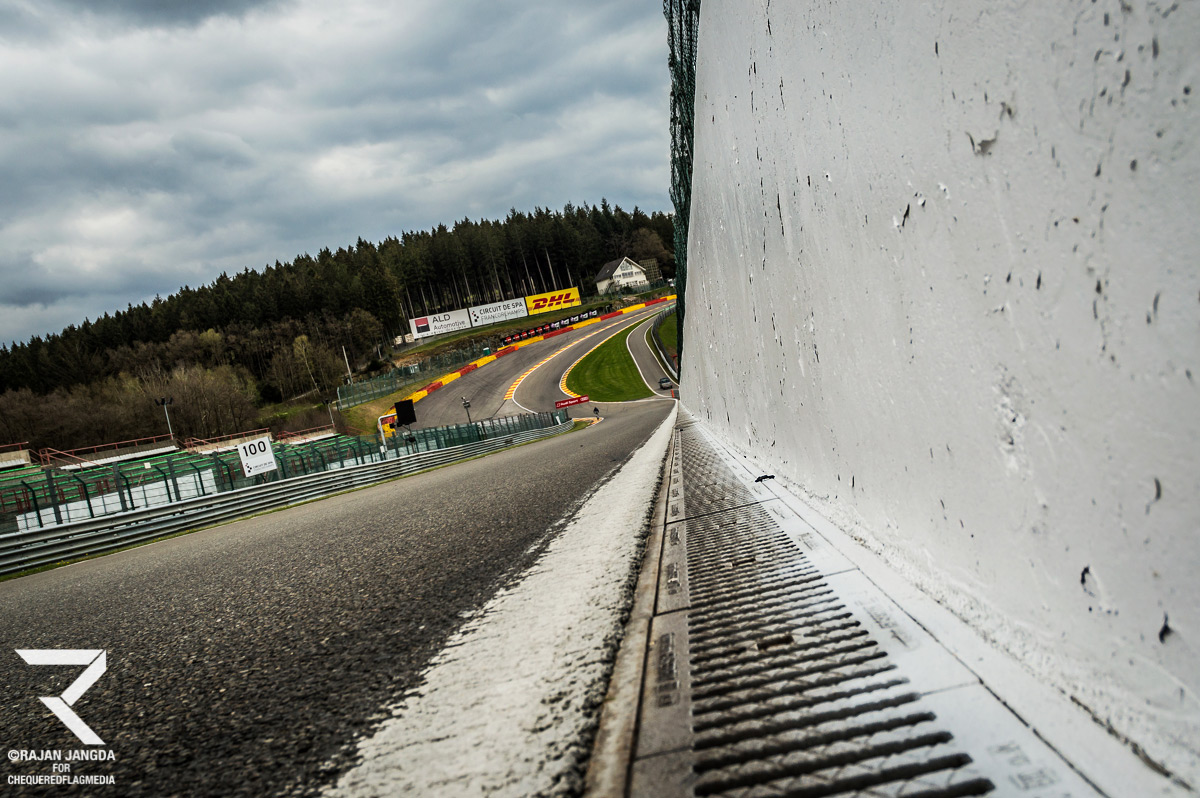 It was about this time that all of the teams were starting their track walks,  so I asked an FIA official if I could do the same.  "Just make sure you off the track by 1730,"  he said and as the cliche goes,  "result"!  I was going to get to walk up Eau Rouge,  one of the most iconic stretches of tarmac on earth.  As I walked down the old pit straight and reached the turn in point,  I then looked upwards at it.  It was like staring at the edge of the earth:  the track goes upwards and disappears over the horizon so sharply that it looks like a launchpad towards another dimension.
Of course it wasn't always like this.  Before,  the cars would turn a sharp right towards the uphill hairpin called Virage de l'Ancienne Douanne before rejoining at what is now Raidillon prior to 1939.  On the inside of this hairpin was a customs office for the old German Empire before 1920.  You can still see this on the outside of Eau Rouge today.
Just as I finished capturing shots of it I stood still and looked towards the inside wall,  and it was only then that I realized I was standing at a 20-40 degree angle to stay upright.  Time was almost up so I started walking down it to return to the media centre and found myself having to resist against gravity all the way.   I felt like a toddler clumsily walking his next 20 steps after the first five. Hopefully none of the cars will emulate this somewhat undignified descent!

Next installment: Practice, Qualification and Race Coverage of the WEC 6Hrs of Spa!