2018 Rolex 24 at Daytona
Daytona International Speedway

January 29, 2018
Story by James Edmonds,   Photos by Thomas Murray
As the checquered flag waved the #5 Mustang Sampling Cadillac DPi-V.R of Joao Barbosa, Filipe Albuquerque, and Christian Fittipaldi across the finish line on Sunday afternoon, it heralded a new record at 808 laps under mostly green running. With FCY's becoming the norm in the name of safety – perhaps a wee bit too safe perhaps? – they were conspicuous by their almost total absence this year. Mild temperatures and very little rain saw the big boys playing well with the gentlemen drivers and the almost laughably young rookies out there. Where the multi-class endurance format on a packed track often sees more caution than not, this was a welcome change.
One had to look a a little harder this year to find the British interest at Daytona. Certainly there were a few choice drivers: From the glitz and glamour of Formula 1 we  had Lance Stroll; Mike Conway from the hopefully-not-a-bridesmaid-again-in-2018 Toyota LMP1 team; Olivers Gavin and Jarvis were there pedaling their respective Corvette GTLM and Mazda DPi machines while Harry Tincknell came over to Mazda Team Joest from Chip Ganassi's UK-based Ford GTLM team. You read that right. MAZDA Team Joest. Doesn't sound right does it? I'll have to get used to it for now and more on that later.
Young Phil Hanson was there alongside arguably the best driver in the business – Fernando Alonso – and at a tender 18 years!!   I literally have socks older than this talented young pilot. Can you imagine his school mates' wide eyes as he tells the story of how he drove alongside the mighty Spaniard? Only time will tell if his half of the story will end up like Moss and Fangio's. Mr. Alonso has earned his half of the tale already.
Also joining them was another English youngster from the Zak Brown/McLaren F1 program, test driver  Lando Norris. I half expected him to wear a "Stig" helmet and arrive in the Millennium Falcon when I saw his first name! With Zak Brown also being part owner of the United Autosport team, it was easy to see why his F1 talent was so easily installed.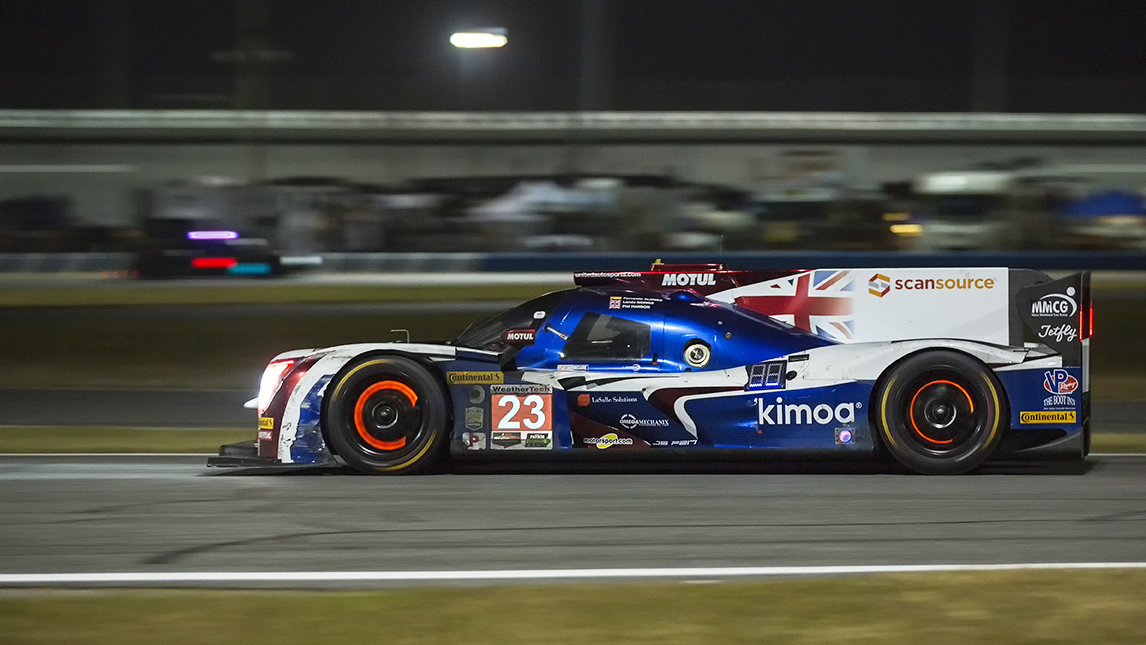 The No. 23 United Autosports Kimoa sponsored Ligier LMP2 car lights up the night braking hard into T5
Series stalwart Ryan Dalziel was there of course as was fellow Scot Paul Di Resta; the very versatile female star Katherine Legge; James Calado; Richard "Westy" Westbrook and Nick Tandy to name the most recognizable of the (if I counted right) 18 UK drivers. Between them they represented teams from Ferrari, Ford, Corvette, Porsche, BMW, Mercedes AMG, Mazda, Acura, Nissan, Liger and Oreca. Bases covered then.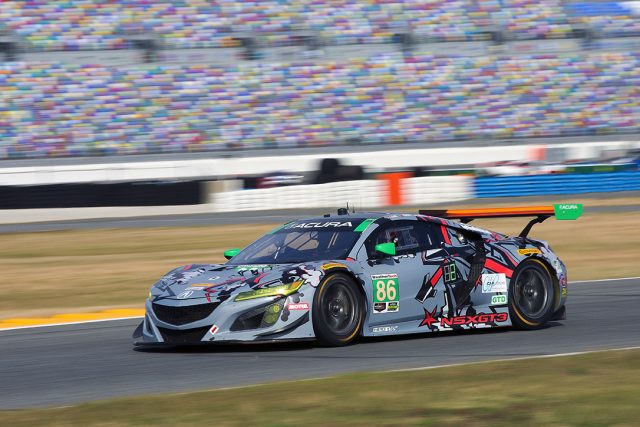 There are strong UK ties with both Ford and Porsche from the halcyon days of sports car racing with a few fairly tasty John Wyer cars in equally fetching blue and orange liveries. However, once you get past the UK-produced Gibson engines which power all of the LMP2 cars and the AER engines which power the Mazdas (shhhhhhh!), the ties become somewhat tenuous.
The strength of this year's driver lineup from all corners of the globe goes a long way in dispelling the myth that endurance racing is the knacker's yard of the high profile racing fraternity. Where once you 'retired' to the likes of a race series where it was de rigeur to nurse a car around for half a day or so, now every lap is driven at next to qualifying pace demanding the very cream of the crop in drivers. The cars are now so reliable that you'd rush out and buy one tomorrow if you could. It's ironic that due to the complexities of modern racing cars, the old slogan "Win on Sunday sell on Monday" couldn't be further from the truth now. I bet the marketing men who coined that phrase wish they could use it today!
With seats in F1 and Indy Car being so few and highly sought after and with the increasing number of teams demanding that the driver come with bags of money, it's no wonder that some of the best young talent make a beeline for endurance racing with its large grids and up to four or even five team drivers per car.
Last years's dominant Cadillacs lost some cubic inches this year and were pressed hard by the Penske Acuras to the point of nigh exhaustion as they cruised home with overheating issues albeit still in first and second.  The Acuras showed real promise and were fast out of the box. With a little development and ironing out they will be on the podium this year I am sure.
Being an Audi man, it was my hope that my friends at Joest would come here with their usual swagger and clean up, but my dream was of course not even close to reality. Taking over a project mired in issues from the onset, the team were able to secure new Multimatic chassis and a development AER engine as well as new aero and lots of hidden shiny bits. Although fast and showing good signs, the team had to take away those positives from a fairly disappointing weekend. With punctures plaguing many teams in the top tier and a very uncharacteristic-for-Joest race ending wheel-off on one of the cars, it was an engine fire that sounded the death knell for the other one.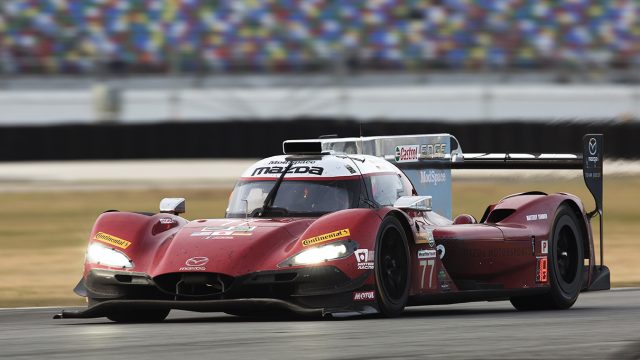 Hopefully Mazda has earmarked enough funding to afford the winningest team in Le Mans history a real chance to make a go of it and the fans will be able to again witness the Penske-Joest battle remembered so fondly from the ALMS.  Some serious changes will need to be made and I wonder how long until Audi decides to dip its toe once more? I'll keep dreaming for now but keep one eye open.
The Gibson engined LMP2 cars did remarkably well placing third through eighth becoming the extra meat in a Caddy/Acura sandwich with the Penske boys finishing ninth and tenth. Brits Paul di Resta and Alex Brundle placing fourth and fifth respectively.
In the GTLM category for heavily race modified road cars – all by manufacturer supported teams – the Ford GT's went on to another win in cars developed from last year's version. To the casual observers the only outward difference being the more attractive (to my eyes anyway) paint colours.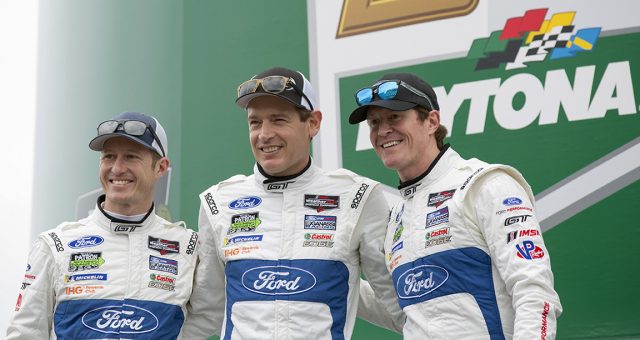 The biggest surprise came in the fan pleasing GTD class where the machines have to be very close to their road going brethren making the cars most relevant to the likes of most. The Land Motorsport Audi R8 team who flew over from Europe with the intent of racing at Daytona and the rest of the Tequila Patron North American Endurance Cup, were holding a fairly handy lead when they were handed a mid-race B.O.P. penalty at the 10 hour mark. The team had been refueling several seconds faster than the IMSA GTD average (which was apparently not known to several other teams including Land) resulting in the no-appeal five minute stop and hold. This put the team down so far that they were unable to recover, finishing seventh after a race fraught with other outside influences.
The hubbub centered around the fact that the fuel rig and the car's restrictor was compliant with IMSA regulations before the race as was its B.O.P. table. The fact that it also passed all post-race scrutineering incensed the team who – as it turned out – had made use of a totally legal and very clever loophole in the rule book with regards to the fuel tank ballast.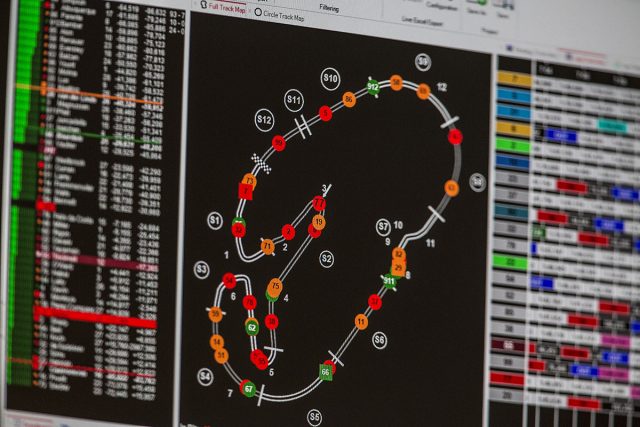 The team had painstakingly studied hydrodynamics to optimize the fuel fill rate resulting in the huge gains during each fuel stop. My brief overview is a very simple one compared to the hugely complex argument which is a fascinating one in you too wear an anorak like mine!
Whether Land Motorsport will be able (or willing) to lose the chip on its shoulder before the next round or the remainder of the USA Endurance season remains to be seen. In the final analysis the team lost out, but Audi as part of a bigger corporation still won as the VW/Audi-owned Lamborghini brand won in GTD to the tune of many raised eyebrows and the toasting of even more cappuccino cups.
As if that wasn't enough of a talking point, the race favourite Fernando Alonso caused his own stir after the race record book had been closed. After pre-season tests in a LMP1 Toyota, it came as no surprise to learn that 'Fred' had landed a full time WEC drive with the team. Sure he has shown that he can lead at Indy and even led at Daytona – albeit during a pit stop rotation – so he certainly has the chops to equal Graham Hill's triple crown record of a win at Monaco in F1, the Indy 500 and Le Mans.
The rub however, came with the announcement that Fuji – Toyota's home event – had been rescheduled from its original date that had conflicted with the F1 calendar, so that Alonso could compete thus now putting Petit Le Mans in conflict with Fuji! With several WEC drivers already contracted for the Atlanta event one can imagine several driver and team owners' noses being put out of joint. The big question being, "Is he worth it?"
No one has doubted his ability not only to drive cars in several disciplines but also to drive fans to the tracks and TV screens. However, in the grand scheme of things, endurance racing occupies a tiny drop in the pond of global sport and to cause a far reaching ripple in that pond has many in the sport shaking their heads. And their fists.
One thing is for sure, it won't be a dull season here or abroad!