A Sleepy Little Town Called SEBRING! 2012
This article appeared in The British Marque and is reproduced with kind permission.
by James Edmonds
"A Sleepy Little Town Called Sebring"
is how Mario Andretti once described the small town located right in the center of the Sunshine State. Although the former WWII airfield now sees year round use as it plays host to many historic and private events, Sebring is still a quiet and little known place to most.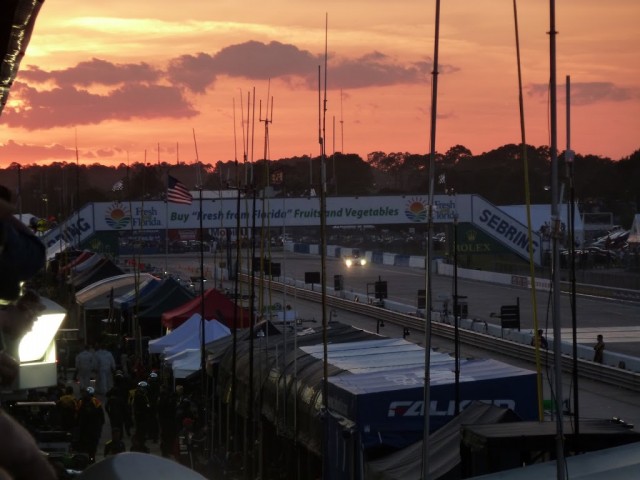 But Sebring was made famous by the annual 12 hour race that this year saw its diamond jubilee, and every year come March, it is taken over by the racing fraternity as upwards of 150,000 dedicated fans make the pilgrimage and call it their home for the weekend.
The race has long since taken on mythical status to the dedicated fans and followers, to the point where this is for many, racing Mecca. Although Le Mans is still the Granddaddy of them all, the 24 Heures du Mans has over the last several years, in this writer's opinion become a commercial cash cow that has soured many of the faithful and diluted the purity of the event.
 

Sebring, although not the same as it was many years ago, has retained the essential flavor that made it so popular way back when. The fans can still come and talk to their heroes, see the cars up close – in the paddock and on the track; the party is fun all weekend long and the cars are as diverse now as they ever were. Perhaps even more so. Most importantly perhaps, the event remains dedicated to the attending fans, which I think is the key to its long lived success.
The early morning drive into Sebring is usually a cool and misty one, with the scent of orange groves on the way. As the Florida sun burns away the mist though, and the engines start, the orange blossom aroma is replaced now with the smell of burnt ethanol, brakes and clutches as groggy campers stumble from their tents to the sound of the engines which start revving early and often.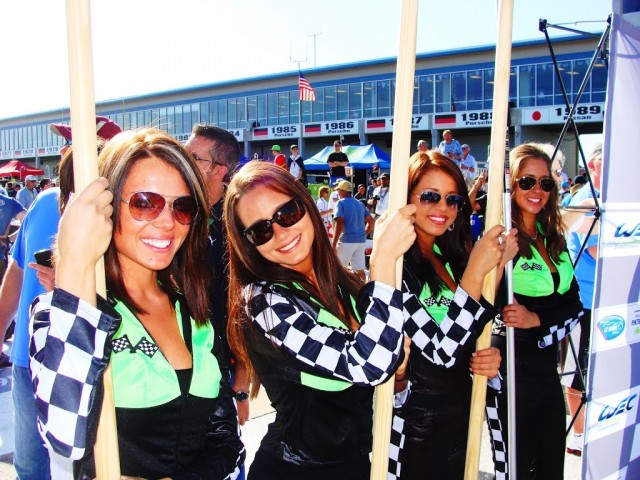 Vacation for some means a cruise or an island getaway. For me it means a Big Race, and this year, it turned out to be one of those memorable events that you come away from with a warm glow and the feeling that you've been up on the podium spraying the Champers. Everything – the friends and camaraderie; the balmy weather; the gourmet food; the cars and all the stars came together in a rarified weekend of serendipity to make for an event that will forever go down as one for the ages – a legend in my journal of Sebring pub tales.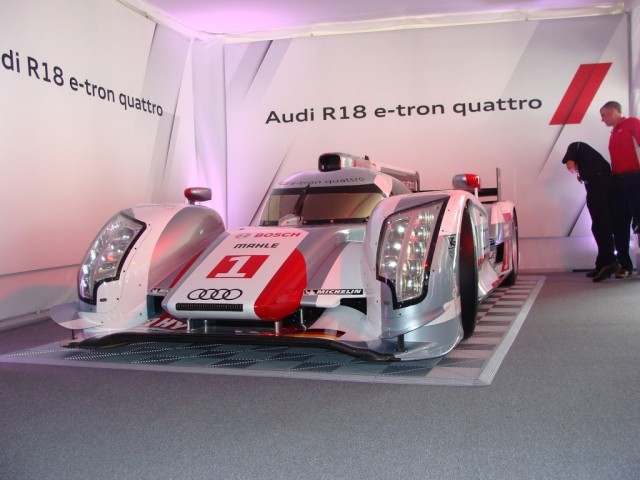 My race partner of many years, Dr. Dave Lobou and many other friends, made the trek early on Thursday to our now traditional spot just off the famous "Midway". We set up our site as always, but our famously mouthwatering camp food was for the most part this year replaced by the culinary delights of Chef Claude in the Audi hospitality building! Benefitting from weeks of begging and wrangling, I used up more than a few favors in procuring enough hospitality passes for all of 'my' team. One of the benefits was witnessing first-hand the unveiling of Audis newest Le Mans challenger, the R18 e-tron quattro by Audi Sport chief Dr. Wolfgang Ullrich, with driver Emnauele Pirro and race engineers Brad Kettler and Leena Gade.
One of the flukes that made this weekend special was being able to meet my very favourite automotive author, a certain Peter Egan. As part of the pre-race planning, I always have to make ready several of Audi's press fleet cars for the VIP's who will be attending as Audi's guests. Having received the spread sheet with all the cars and their assignments, my heart raced when I saw Peter's name on there. Not sure if we would get to meet him, I had made a CD of my choice jottings and was going to leave it on 'his' TTRS in the Audi parking area, but as it happened, as we sat down for a warm flaky croissant and coffee early on Friday, who should we park ourselves next to, but The Poet himself.

 

Chatting with him would have been enough, but Dr. Dave is an equally big fan and to see his delight at having Peter sign a dedication in a book that he'd brought along (just in case) made it all that more special.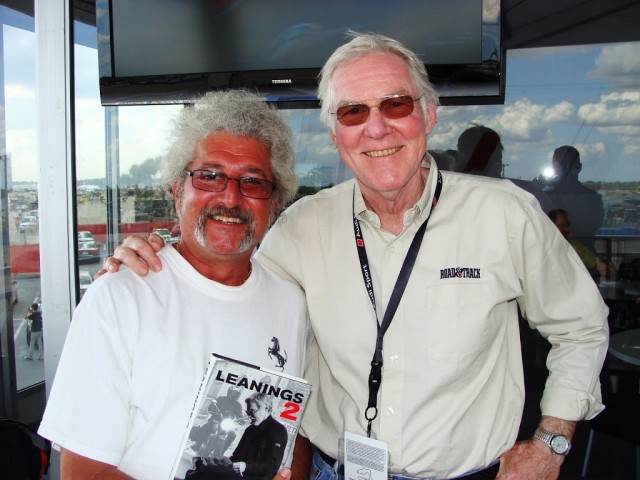 I will not hold my breath while awaiting my call from Road & Track though!
Armed with pit passes, a golf cart (absolutely the most essential piece of race kit), a camera and a voice recorder, my intrepid friend and I set off to find out what makes Sebring Sebring from the British perspective. We were lucky enough to meet some of the sports car racing world's glitterati from past and present, and as always, their stories were captivating! You can read about the race elsewhere ("Race? What race?" is our motto) as there is enough immediate media coverage nowadays to render race reporting almost non requisite! It's the stories behind the race that always make the event special for me.
The cars racing here were not always the super hi-tech multi-million dollar machines that we are so used to today. Back when it all started the cars were little more than race prepped road going sports cars that could be purchased for very little money.
I chatted with Mike Barrett, former competitions manager for BMC who saw plenty of action here as far back as the early '60s.
 

"They tried to get me to write a book, but quite frankly, if we'd written it honestly and colorfully, there would have been at least a half dozen divorces! We just knew too much. I was diverting flights and procuring airline hostesses. It was actually written into some of the contracts that we provide the driver with suitable female companionship." Priceless.

 

"Once one of the MGBs went through a fence at Sebring and destroyed the windscreen. The car limped back to the pits, but we'd made no provisions to replace a windscreen, so I sent two mechanics down the paddock to find a car – we never bothered to find out who the owner was – we just took the windscreen out of his car and got it into the race car as soon as possible, but not before being detained by the local plod! We did leave a note on his car, and after the race we wined and dined him and paid all his expenses, so he had a good story to tell!"
BMC and Mike Barrett had many famous names racing the cars besides the hundreds of privateers – Steve McQueen, Paul Newman (who the team had arrested as a gag at Lime Rock for impersonating an actor!), Stirling Moss, Pedro Rodriquez and a certain Bob Tullius.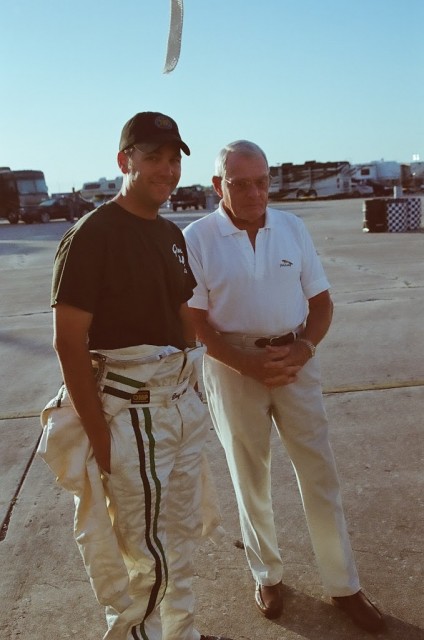 Bob has made Sebring airport the headquarters for Group 44, Inc. for many years now. If you are familiar with Clive Cussler's novels, picture Dirk Pitt's airport hangar and you can imagine what Tullius' place looks like – immaculate, with cars and planes neatly arranged and an office just off to the side. Bob was to drive the Group 44 XJR7 with its fresh restoration in a few parade laps ahead of the race, but revelled in enlightening us of earlier times and how the team name was born, "It came about right here. My first race at Sebring was in 1963 with the pseudo-factory Triumph team.

 

I had just won two national championships in '62 AND '63 and was synonymous with the number 44. I didn't approve of the name Tullius Racing, so it made sense to use the number in a logo somehow. One of my partners wrote Group 44 on a napkin, and the logo even now is in his penmanship. The backwards numbers happened accidentally. In my first year as a club racer, my then wife put the number pattern on the contact paper upside down. We didn't have enough numbers, so we put the backwards numbers on the trunk lid thinking no one would notice it, but they did, and once you see it, you never forget it."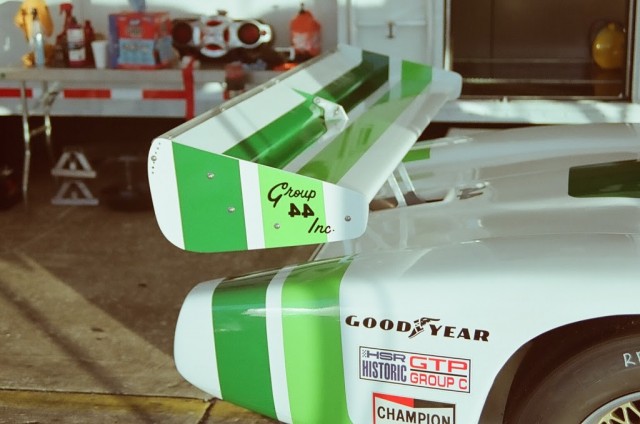 As we all know, Bob was rather fond of the 'Big Cats', and although his V12s Jags are in private hands now, there are still plenty of big cats still to be seen.

 

He is a huge supporter of the Humane Society and has a large number of mostly strays roaming around. Many of them call this – the ultimate 'man cave'- home, and one particularly frisky feline would vie for Bob's attention by frequently relieving him of alarmingly sizeable chunks of flesh with its street-sharpened claws!
Next stop was the Aston Martin garage. AMR is fielding a brand new Vantage GTE in the FIA World Endurance Championship, with Sebring being the first event on the calendar.
Oxford based AMR stalwart Darren Turner is the longest serving driver on the squad, having been with the team since he won here on the debut of the DBR9 in 2005. He has since won the GT1 class twice at Le Mans, and has driven all of the Aston racers

 

to have come out of the Prodrive facility, including last year's ill-fated AMR One LPM1 challenger which suffered public humiliation at Le Mans when both cars retired pretty much before the fluids had fully warmed through. How was it to be back in a GT car again? "The LMP car from last year was a lot different from the LMP car of 2009 and 2010, but I was already doing GT1 World Championship anyway, so it doesn't take long to adapt. Now we have the GTE which is different from the GT1 car and I have to learn where the limits are. It's still early in development though."
The earlier iteration of the car as driven by Lord Drayson had its share of long-race reliability issues and I quizzed Darren on this. "There have been one or two niggly things that weren't show stoppers. They need to be improved, especially for Le Mans, but we have a general package – fingers crossed – that will get us to the end of the race at Sebring."
Being back at Sebring in a GT car rekindles some rivalries with old friends such as Oliver Gavin from lifelong foe Corvette Racing. "I race a lot of these guys in GT1, so I'm looking forward to it as it's hugely competitive, but we're playing a bit of catch up with Corvette Porsche, BMW and Ferrari."
Darren has had some fun in the last few years racing old cars at the Goodwood Revival. His DB2 Drophead barn-find will be on the auction block at Newport Pagnell soon, but this has made way for another, if a little more prosaic classic: "My mate and I bought an old Zodiac at auction last year to go club racing with. We'll take it to Goodwood next year. It's a totally different driving style, but the aspect I like most is that it goes back to driving cars just for the sake of driving. It's my weekend off. I'm there just to enjoy it and I don't have to worry about anyone else other than me having some fun. I've driven Minis at Goodwood for the last couple of years and I love it…it's amazing."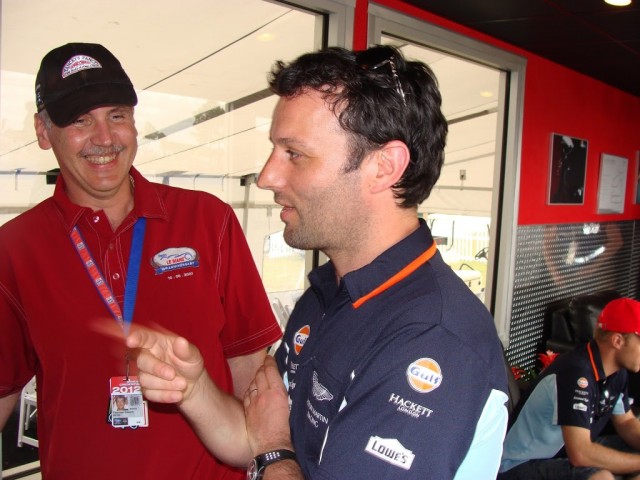 I last chatted with DT at Road Atlanta a few years ago. His horizons have broadened since then to now include his own company, Base Performance Simulators. Catering to drivers whose need to practice is tempered by test restrictions and the high cost of track rental, BPS can allow them to test and tune in a relaxed and controlled environment on state-of-the-art machines featuring wrap around hi-res screens and F1 chassis for full experience immersion. Plus, if you toss it at the scenery, you can stop for a cuppa tea if you feel like it.

 

Anyone need a fun corporate function with expert coaching? Darren can arrange that as well.
 

Sebring is a favourite venue for many, and Darren tells me why he likes it so much, "2003 was my first time here with the Prodrive Ferrari. I couldn't believethe circuit – it was my first time racing in America – and compared to a European circuit, it's a big difference. No runs offs, the walls, there's no gravel traps. It's totally different. The first time you come here it's quite daunting because of it. The second time you come, you love it because of that. They've kept the true values of going racing and being challenged by the circuit as much as the cars. It's up to you then where your limit is and how much of a risk you want to take. Look at most international circuits now and they are like parking lots. You have the racing line between the white lines, but if you make a mistake there isn't much of a penalty, other than a few tenths lost, that's it. Here if you make a mistake, it's usually quite costly."
This storied place always has an electric buzz in the air for fans and teams alike. Why is that? "For a lot of us, you're coming somewhere warm after a long winter, it's a massively challenging circuit, it's very old school, and it's cool that you'll get to catch up with friends that you haven't seen for a few months. Once the season gets under way, you're in a process – get on a plane, go to a hotel, go to a race track, do your job and go home. But this is a whole winter of anticipation. It's a bit like Christmas really and that's why it's so fondly held by so many drivers."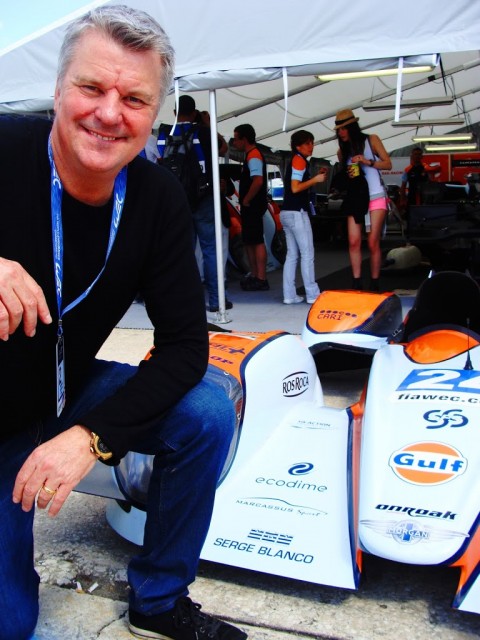 Another surprise this year was the announcement that Morgan would be returning to the fray with a Judd powered LMP2 Oak chassis. (Oak in name only – no timber this time!) Charles Morgan cuts a dashing figure, every bit the fun loving British gentleman one would imagine him to be. I happened upon him at the Morgan garage and knew it was him having never laid eyes on him before, such was his charisma.

 

At the first running of this race in 1952 and in front of 6000 rain sodden fans, a certain Gus Ehrman was one of several drivers present this year who'd contested that event. Charles spins the yarn, "As the story goes, Gus worked for MG and his car didn't show up. He was in a bar and met a chap named Bob Wild who'd turned up in a Morgan plus Four, brand new, and he persuaded this guy to let him race the car under his entry. Ehrman won his class and finished 9th overall – brilliant!"
While on the subject of the old cars, it must be mentioned that the crowd favorite historic field was wide and varied this year. It was surreal to see MGAs, Healeys, GT40s, Alpines and Loti ducking for cover as such machines as the aforementioned XJR7 and recent Le Mans winning Audi R8s thundered past, both expertly piloted by Doug Smith – though not at the same time! Doug is the grandson of former race promoter and Sebring Hall of Fame member

 

Reg Smith, and nephew to Reggie Smith who some may remember raced the Aston Martin Nimrod to its best ever finish (1stin class, 5th overall) right here in 1983. When listening to one of the Audi Sport team drivers complaining of closing speeds with the GT cars, he quipped, "Until you've been on track driving an R8 alongside MGAs, I don't want to hear it!"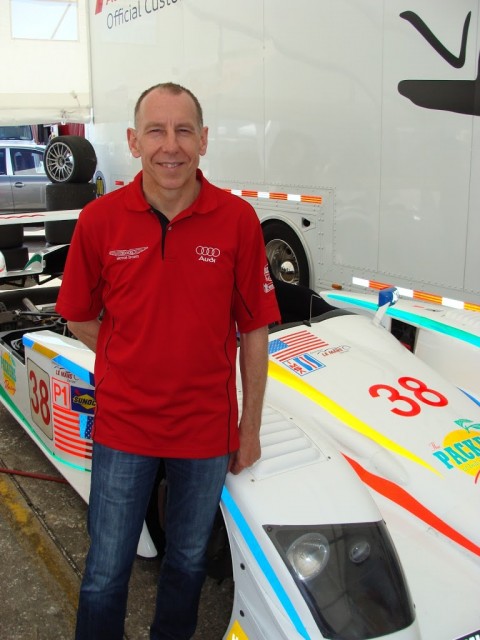 Former Le Mans and Sebring winner with Jaguar and Audi, Andy Wallace was also on hand with Rogers Motorsport, campaigning their other R8. "The twelve hours is always referred to as being worse than Le Mans in terms of endurance for the car and the driver. It is without doubt the bumpiest track in the world," Andy tells me. "Favourite win here? I remember in 1992 having just come back from doing Le Mans endurance tests in Australia with Toyota. That car had so much downforce, that after a week of hitting a flat out left hand curb at 195 mph, I had 2 broken ribs.

 

After two 12 hour flights and only a few days break, I had to race like that. It was only two drivers back then, but we won.

 

After the race, team owner Dan Gurney asked me why I hadn't told him. 'What do you think Dan?' I said!"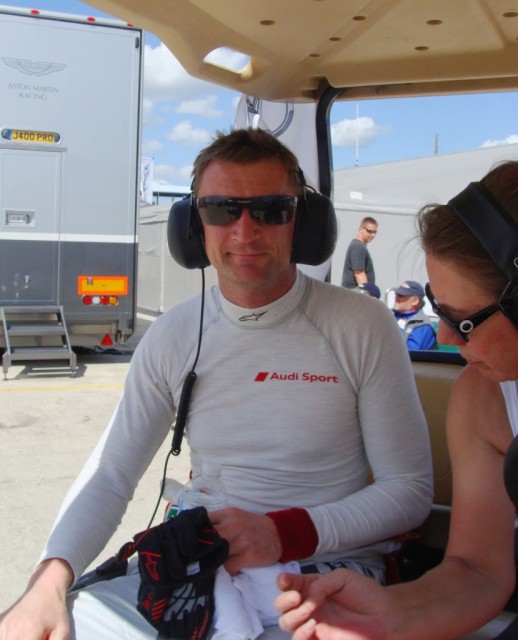 Crowd favourite, consummate professional and Audi blueblood (as well as a member of the overall winning Audi driver trio), the wee Scot Allan McNish is always armed with a good tale – "2009 was one of the best races. We had a tooth and nail fight with Peugeot right to the end. It was the first race for the R15 and it was the best balanced car I've ever had – it was absolutely stunning. I remember passing GT cars right round the outside of turn one and thinking, 'Crikey! I've never had anything this sure footed underneath me!' Towards the end of the race I had to pull out a gap doing qualifying type laps for our strategy, and it worked. We won the race."
And then, there's Derek Bell. From a current champion, to an endurance racing legend and bon vivant, Derek has done it all. Although never an overall winner at Sebring, the place holds fond memories for him. "I came here in '71 and said never again. It throws so much at you. You get these balls of rubber that jam up the brake pedal and it sticks under the throttle so you can't get the throttle open; it's chaotic; there's the smell of food from the campsites that make you want to throw up; there's dust and dirt and bits of car lying around the boonies, but it's an amazing place. I think I came back about twenty more times! I just did three laps in a GT40 and it was fabulous. It was just the same."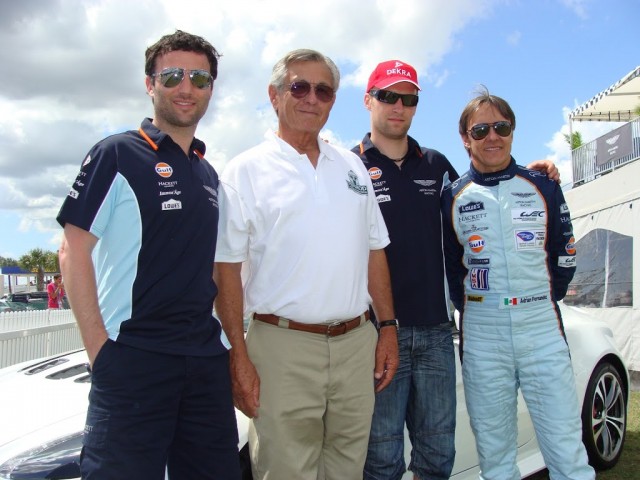 Reggie Smith had an enjoyable time at the AMR hospitality area when we met the team to take some pictures and chat about the differences between his era and theirs.

 

I'll give the last recollection to him, as he has more history with and knowledge of Sebring than just about anyone living today. He lived and breathed it – literally.

 

His memories are not all rose tinted and serve as a good counterpoint to the other warm and fuzzy comments. "The drivers back then were real people – not properly coiffed and managed. They were clowns with none of the trappings of modern drivers. They were incredibly happy times, but punctuated with tragedy and the reality was that this is no game show – you can't come back and have another go. But then, Sebring has a place in history forever."
I had been asked to write a piece for the British Marque club newspaper, a benefit of which was a press credential.

 

I hadn't needed to use it, as I have over the years learned to use charm, gab and a little bit of cheek to get into the restricted areas. At race end though, after the Audis had marched to an impressive, yet predictable overall triumph, I thought it would be fun to witness the post-race press conference. A quick flash of the pass got me in and I took the front row center seat, being the first one in.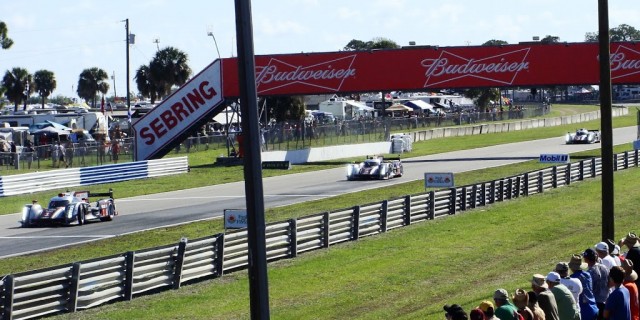 The victors from the winning R18 Ultra – McNish, Kristensen and Capello – were greeted with cheers as they came in beaming and laden with trophies, ribbons and Champagne bottles. After fielding all the questions (including one from me!), the trio departed to make room for the succession of other class winners, and I noted that Dindo Capello had left his podium Champagne bottle on the edge of the table.
Okay, no one ever accused me of being shy and although my feeling of spraying the Champers is still a dream, I did get to pluck Dindo's bottle as I retreated from the press room and it will now forever reside in my collection and serve as a reminder of our extraordinary weekend!
And so, another vacation over. We packed up the camp site on Sunday morning and as we left the track, it was winding down. With all the teams and vendors leaving; the partying over; the sounds and smells of race engines gone, Sebring was again becoming that 'sleepy little town'.
Until next year that is. Not long now!