Greg Pickett Interview Sebring 2011
With Greg Pickett just having announced his team's departure from sports car racing, I thought I'd post this piece from 2011 and say that I, along with his many fans, hope that he returns to the fray, at the front and soon!
Privateer team waves the AMR flag and upholds Aston Martin tradition in the annual endurance classi

c…
Words and Photographs by James Edmonds
Seeing the new ground-up LMP1 car from Aston Martin Racing was an exciting prospect this year, but alas, it was not to be. Developmental delays during the final push to ready the car for Sebring meant that discretion won out over valor this time. Some lucky readers will get to see it in June at the big race; others (like me) will have to wait for Petit at Road Atlanta.
I had planned to sit down with some of the Aston team and drivers to get some insight into

AMR

-One, but in their absence and 

with help from Pickett Racing's lovely PR officer, Karina Redmond 

made last minute plan changes to talk with Greg Pickett and his Muscle Milk team instead, as they were waving the Aston team flag as a works supported privateer.
Team owner Greg Pickett gained fame racing in a Roush powered Bob Riley Mercury Capri. He won Roush's first race, then went on to race Trans-Am through the eighties with several wins to his credit. Moving on from IMSA GTO and Grand Am, he entered the ALMS in 2007 with a Lola in the top P1 class under his own Team Cytosport banner with the now famous Muscle Milk sponsorship. The team had several podiums, but were fighting against the dominant Audis of the time with their new diesel powered R10.
2008 saw a bid for the 24 Heures du Mans crown, but the huge effort was only rewarded with a 21st place finish. The team returned to the ALMS in 2009 with an ex-Penske Porsche RS Spyder in LMP2, again paired with long time co-driver Klaus Graf. Over the 2009 and 2010 seasons, the team produced several podium finishes including a stunning P2 class win at Sebring.
For this season, Greg Pickett saw an opportunity to move into LMP1. With the dominant Audis only contending two races in the series this year (Sebring and Petit Le Mans as part of the new Intercontinental Le Mans Cup) and with an ex-works Aston Martin-Lola now in his stable, he saw an excellent chance of winning the ALMS overall title.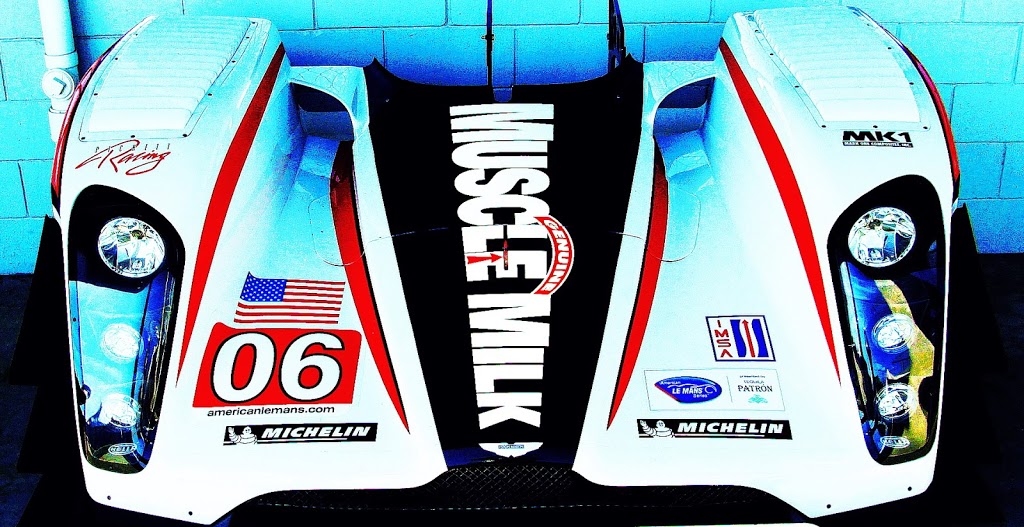 The team inadvertently revived a long standing Aston racing tradition during Friday practice, when a faulty fuel injection part caused the car to catch fire! I doubt Mr. Pickett wanted that to be a part of the team headlines for the weekend, but with the car retiring from the race at about two-thirds distance having had electrical issues, then a hit from a GT car causing cooling system damage, the stories were not as joyous as one would have hoped. Certainly the team work and high spirits were never in question, as the effervescent Pickett never let the smile stray from his face for long throughout the entire weekend!
One first place that the team did score, was with the fans…for the second year in a row, the sonorous voice of the V12 Aston engine left no doubt in anyone's mind as to which car had the best soundtrack of the event!
When I spoke to Greg Picket he was thrilled with his new steed, "One of the reasons we went with the Aston Martin was its build quality and durability. We've been here for four days of testing and haven't had a single problem. We were fastest in winter testing, that is of course until the diesels showed up! The engine and gearbox are wonderful and the modifications that Aston did to the Lola were very complimentary to the chassis, so that's why we are the fastest Lola out there.
 Lucas (Luhr) and Klaus (Graf) love the car and we love our engineer John Ogden from Aston Martin Racing. He's a great bloke and a veteran of the team. He'll be with us all year long and he's really good with all the ancillary systems on the car. We're tickled to death with our deal with Aston Martin Racing and look forward to elevating the great tradition of Aston Martin this year as well as elevating our brand at the same time."
Having done so well with Porsche last year, the possibility of an ALMS title is very real this year with the Aston. "We might be a bit favored this year. We came close last year, but this car is going to be faster, despite being restricted. But you have to do all the laps and all the events and reliability and durability is critical in a championship. We think we've checked that box and are pretty confident about that.
"When the car is running all the time and you're not having a bunch of aggravation, you can work on really fine tuning the car and extracting maximum performance.
"If all goes well I think that Lucas will do one or two sprint races, so it will be Klaus and Lucas in the car. I want to get the team off to a really great start in the ALMS races when the big teams aren't here, so I think that will give us the greatest opportunity to do that and allow me to concentrate more on management and liaison with the engineers. And frankly, Lucas and Klaus are both a bit quicker than I am – but it's okay, I don't have any problem with that – I'm 64 years old! I've had a wonderful career and a lot of success. Last year was my fifth decade of winning in the top echelon of motor sports in America, so I'm very proud of that. I've slowed down a bit, mostly because I won't make the ten tenths commitment that these kind of cars require for maximum speed. I was very proud when I saw the overlay of my telemetry with the other guys and I was right there in a couple of the corners! I took great pride in that quite honestly! All in all we're very pleased."
Greg's team mates Lucas Luhr and Klaus Graf are both proven winners in sports car racing, so bring a lot to the table. "Lucas had years at Audi and Penske, both top notch prototype teams. His engineering expertise, car set-up, feel for the car and all the nuances he brings are invaluable to the team. Klaus had time with the Porsche engine and powertrain technicians and worked very closely with them. They were very complimentary of our professionalism and engineering expertise and I think that was one of the reasons that they talked to George (Howard-Chappell).
"We were told by AMR that they would like us to contemplate the Aston and that we would be a full factory partner. We were told  point blank that we would have full and open access to all the set-up and engineering information, and they have fulfilled that one hundred percent. You always wonder about that, but I'm very pleased with our partnership and that fills us with the same thing and makes us want to work very hard for Aston Martin."
Greg had a major accident last year that would have ended the career of many a lesser person, particularly someone of his vintage. Despite the car being severely damaged, he was lucky to escape with a couple of broken ribs and a few bruises, but even so, getting back into an even faster car may have been daunting: "I made a commitment to myself that I wasn't going to end my career upside down in a prototype car on the back straight at Mid Ohio! I got back in (the Aston) and my testing times came down nicely. This is a comfortable car and a bit heavier than the Spyder, so it's more similar to my Trans Am cars in that respect. This car has a lot of power, but I'm used to Jack Roush 800hp V8s so I'm not afraid of that. I'm enjoying it to tell the truth. With the air conditioning and all the little things that come from a car that is put together by a factory team, everything is….nicely done. Nicely put together. My compliments to the past drivers and the Aston Martin team – they did a nice job."
Ex-Audi works driver Lucas Luhr drove for the team late last year and was happy to be back with a top flight team in a winning car in the top class of the series. "I feel really at home with this team. Sebring is always a special race, lots of teams and tradition. This year there are a lotof cars so it will be a challenging race!"  Lucas has been driving an open cockpit Audi and Porsche of late, so the closed Aston will be a bit of a change. "The closed car is better than I expected, especially with the air conditioning. It still gets hot, but it helps a lot! I have to say that it's nice to hear the race car again. The fans walk by and say, "We love the sound of the car!" It's a really unique sound and a lot of fun driving it. The Sebring heat you cannot prepare for, as Europe is much colder, but I train a lot, so I am in good shape for the race."
Lucas will be busy this year driving in the ALMS and also in the FIAGT series in a Nissan GTR.
Klaus Graf started out like many aspiring drivers with his sights set on Formula One. But as with many of his contemporaries, he took a different course when things didn't materialize, but he remains philosophical about it. "I won the German Formula Ford Championship in '93,  did some Formula 3, but like most of us we don't make it all the way to the top in F1, so you have to look for new avenues and I went the sports car route. I came to the States at the end of '98 and drove in the ALMS for three years, then did some NASCAR for a while which was very interesting."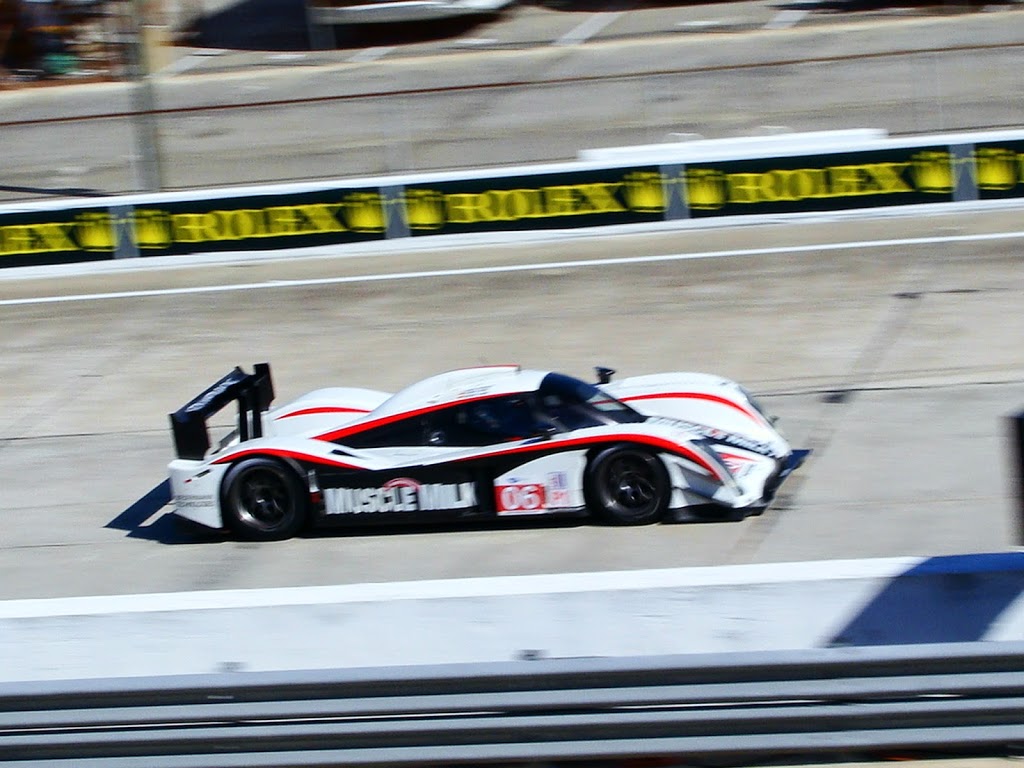 For some one like myself who cannot grasp the meaning of "stock car racing", I was somewhat taken aback! I acknowledge that there are people who enjoy it, but to me, driving in circles in very agriculturally engineered cars* is somewhat foreign I must admit. I asked Klaus for his take on the subject. "The reality is different. You have to provide very good feedback as a driver; you have to be very technically skilled to go fast. The good thing about NASCAR is that the relationship between the driver and crew can make a really big difference. In a lot of forms of motor racing, that isn't the case any more. That's what I liked about it. It's very competitive. Then I won the Trans Am championship and now I'm back in ALMS."
Klaus met team owner Greg Pickett while competing against him in Trans Am. When he won the title, Greg took notice and they became fast friends, so to speak, and have worked together ever since. Not only does Klaus drive for the company sponsored team, but he is also the European Muscle Milk sales director, so he is working on and off the track!
After wrapping up with the immensely warm and welcoming Greg Pickett, I ran into Reggie Smith, whom I interviewed last year at Sebring about his time with the Nimrod project. His nephew was there driving an ex-Champion Racing Audi R8 in the historic (!) support race. Reggie and I then sauntered over to the museum and met up with Gerard Larrousse and Vic Elford…..but that's a story for another day!
* This is my view and I apologize for any ruffled feathers. Please do not swamp me with requests for my head.