Le Mans 2005 – The American Team That Won It. Part 1
Gods and Demons:  A Look Back at Champion Racing's 2005 Le Mans Victory
In this two-part story, 10 Champion Racing drivers and teammates share their insight and recollections of the race and what it took to win at Le Mans.
January 19, 2016
Story by James Edmonds & Thomas Murray
Photos by 
Champion Racing/Regis Lefebure,

Thomas Murray

& 

Jack Webster

It was a great team!  It was a great team name – well coined, certainly well intentioned.  Their very mention – a small merry band from Pompano Beach, Florida – was enough to illicit excitement and speed up the pulse of small boys and seasoned fans alike.  Race fan or not,  you just knew by osmosis that if Champion Racing was there,  something special was going to happen.  Perhaps it was the time – the ALMS was in its heyday after all.  Maybe it was the car – the all conquering Audi R8.  I think though,  that perhaps the time and the car were mere fractions in the equation.  More importantly,  the team itself and its family of members were what lent the glamor to that golden era in sports car racing.  Just the way that the team was presented – no matter where they went ,  whether testing or racing – made it feel like the circus was coming to town:  Their drivers were the doyen of the world's sports car racing roster;  their paddock presence was the equal of any F1 team and the presentation would have impressed even Ron Dennis.  The team uniforms were  even cool and the race cars' liveries were iconic – so much so that even to this day other teams copy the ideas.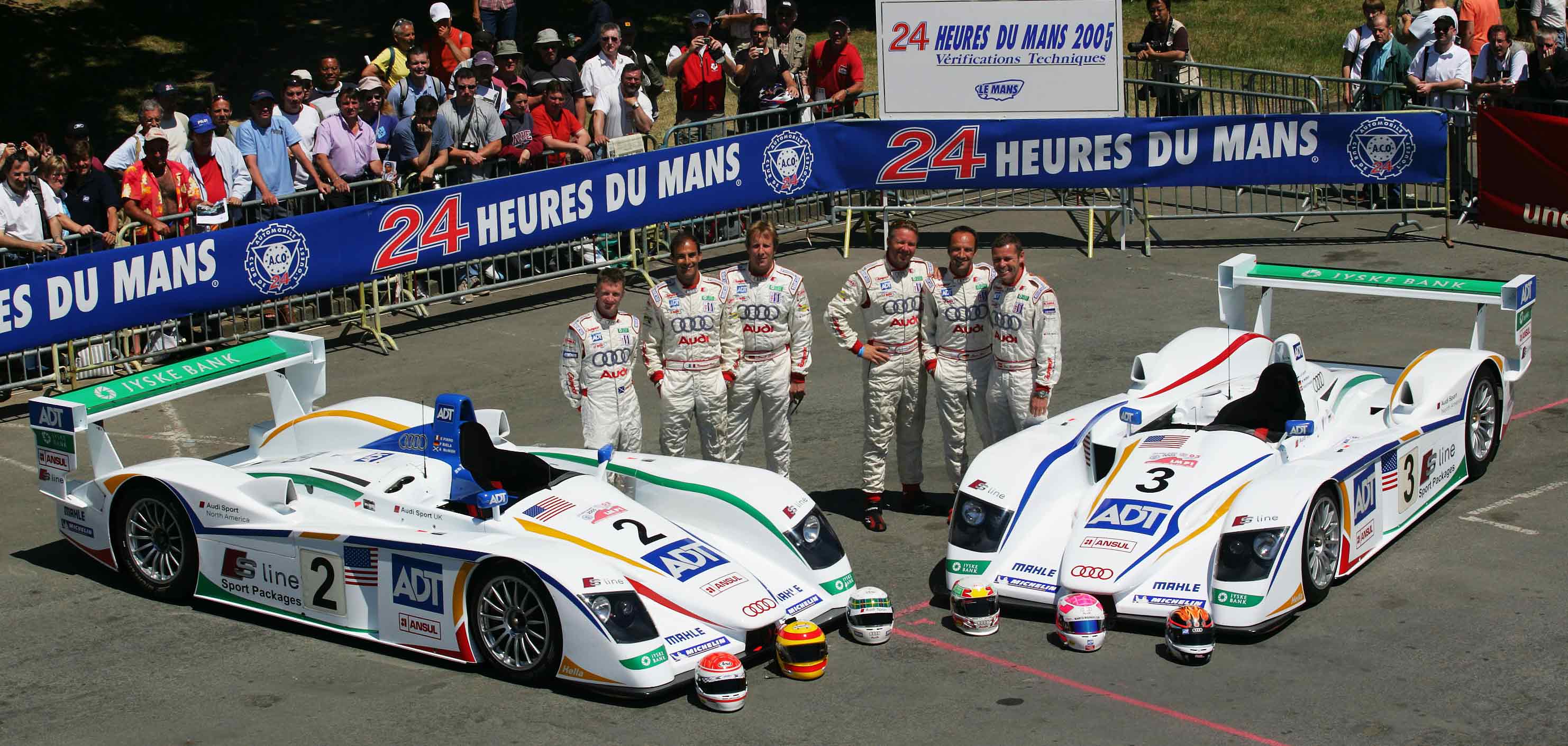 And yet to cap it all,  they had that certain je ne sais quoi – the secret sauce that no amount of money can buy:  Chemistry.  And they had it in spades.  This dream team of technicians,  engineers,  mechanics,  drivers,  management and even caterers  had been refined through years of honing and fine tuning to a distillation of the purest essence.  If only you could have bottled it!  Just being there to witness it would make you beam,  or  your heart swell with pride.  Or,  as in my case,  sometimes put a lump in your throat.  It was heady stuff.
It wasn't always this way of course.  Allan McNish famously said that Champion Racing "couldn't win a raffle" after his first encounter with the team.  Although they metamorphosed into a team that would be the envy of  the series,  they were still a small group of tightly knit friends doing battle with some of the best teams in the world.  Just the way they liked it.
'It was a fight between Tom and I for the whole length of the race' – Allan McNish
Having come close to victory at Le Mans in both 2003 and 2004,  the team decided to make one last push for glory in 2005.  Even as heavily handicapped underdogs,  they  emerged as overall victors.  This would be the first win by an American team since that most American of teams,  Shelby American in 1967 with Gurney and Foyt in the Ford GT40 Mk IV.  Back then,  the team couldn't have been more quintessentially American.  In Carroll Shelby,  they might as well have had John Wayne in charge.  But almost 40 years on in 2005,  the American idiom had changed.  The team from Pompano Beach was unequivocally American,  but reflected  what the country had always stood for in that it was a melting pot of nationalities and characters from countries as diverse and far afield as Haiti and New Zealand.  Even the team's hugely charismatic,  yet quietly powerful leader ,  Dave Maraj hailed from Trinidad.
Our original story was to be drawn from a recent exclusive interview with Tom Kristensen, "Mister Le Mans" himself.  It was during that conversation however, that the idea for the ten year Champion team tribute story blossomed.  From that point forward the project started to take on a life of its own.  If your curiosity has been sufficiently piqued so as to still be reading,  then follow along and see the story unfold.
This was Dave Maraj's team,  so we start off with his recollections of that memorable weekend in June 10  years ago. Mister M  (as he was and still is colloquially known) was gracious and good natured as he sat down to talk with us at his stunning,  ultra modern  and  utterly immaculate Champion Porsche dealership in Pompano Beach, Florida. Those meeting him for the first time,  may find him quiet and unassuming,  but having known him for many years,  I can tell you that he is a character larger than life.  As the saying goes,  "still waters run deep" – a more accurate truism you could not find.   As we sit down in his office,  Mr. M immediately puts us at ease when he requests that we "only ask easy questions."  As a very well read intellect,  this is typical of his modesty and good humor.
'I was never driven to go to Le Mans. Never' – Dave Maraj
As the world's largest volume Porsche dealer,  the switch from Porsche to Audi racing cars caused a lot of political friction between Mr. M and the factory brass.  14 years on,  he admits that grudges are still held.  Asked about the lure of Le Mans, he talks openly and with passion but  his answer is a surprise,  "Actually I was never driven to go to Le Mans.  Never.  It was a target too far for me to ever even dream of reaching.  What happened is that in 2001, we did so well with the R8 (in the ALMS) that Audi wanted us to come as a third car to support them  at Le Mans and they paid our way.  Although we did have a DNF that year, it opened the door – that maybe this is achievable.
"Everybody asks me what I think about Le Mans and I will tell you what it is:  Le Mans is gods and demons  flying in the air. It's which one lands on your shoulder is how you win.  I thought we would have won in 2004 but we crashed,  and I never thought we would win in 2005 because we were six seconds off the Pescarolos.  So it was just the gods and demons in the air.  It's a very very very intimidating place. Very.  Still intimidating!"
Missing the Brass Ring in 2003 and 2004 left the team thinking that they had missed their chance,  but they had a steely resolve and were not beaten yet.   "After that on the plane home, Mikey (Peters) said,  'Dave,  we'll go back next year (2005).  We'll give it one more shot.  But we must go back with two cars.'  I said, 'Ok Mikey, let's give it one last shot next year.'  And that's what we did."
In 2005 the R8 was handicapped in every way possible:  less aero,  a smaller restrictor,  a smaller fuel tank and a lot more weight conspired to effectively leave the car hamstrung.  The Pesca's it seemed had it all to lose.  Being an all French team,  one would be using more than a little naïveté to suspect that the rules had not been written a little…er…more equally for them perhaps?  How did he feel going into battle with a car long past its sell by date,  and a crippled one at that?  "I came up with a game plan  with the team and it was a very simple game plan," says Mr. M intently.   "Stay out of accidents and I don't  want anybody over the curbs.  I  told the drivers,  'Don't  use the curbs at all!  Let's keep our heads down,  stay clean and let's go as fast as we can go.  We'll see where the chips fall.'  And the chips fell very quickly because in the second hour we were already first and second.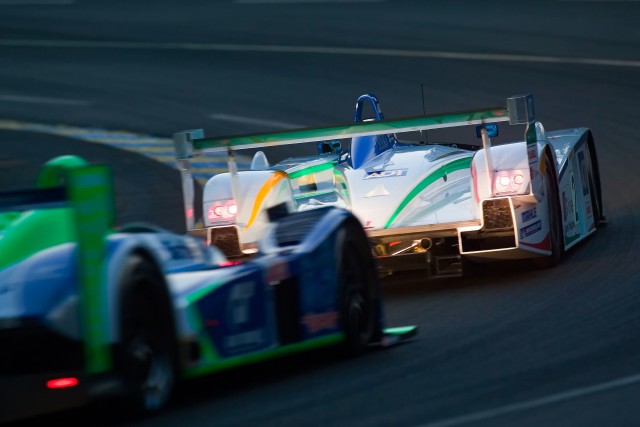 "We led the race from there," he says laughing, "which made it extremely extremely difficult as I was waiting for something to happen!  I was extremely nervous and I had Doctor Piech again in the pit box.  Maybe out of 24 hours he was there for 16 of them, so that made it even more stressful!"
Today with the racing landscape at the top echelon  dominated by factory teams,  there is no chance for a privateer team to win,  so his win in 2005 really marked the end of an era for teams like Champion Racing.  To keep his racing skills honed however,  Mr. Maraj now races ocean going sail boats.  It's not quite at the level of the Volvo Ocean Race or The America's Cup,  but his sleek Oyster 575 (aptly named 24 Heures) fuels his passion for competition and is winning races.  "It's the SCCA of boat racing"  is how Mr M. describes it.  He is also assembling a nice collection of race cars – and is pictured here with a recent acquisition – the Audi R15++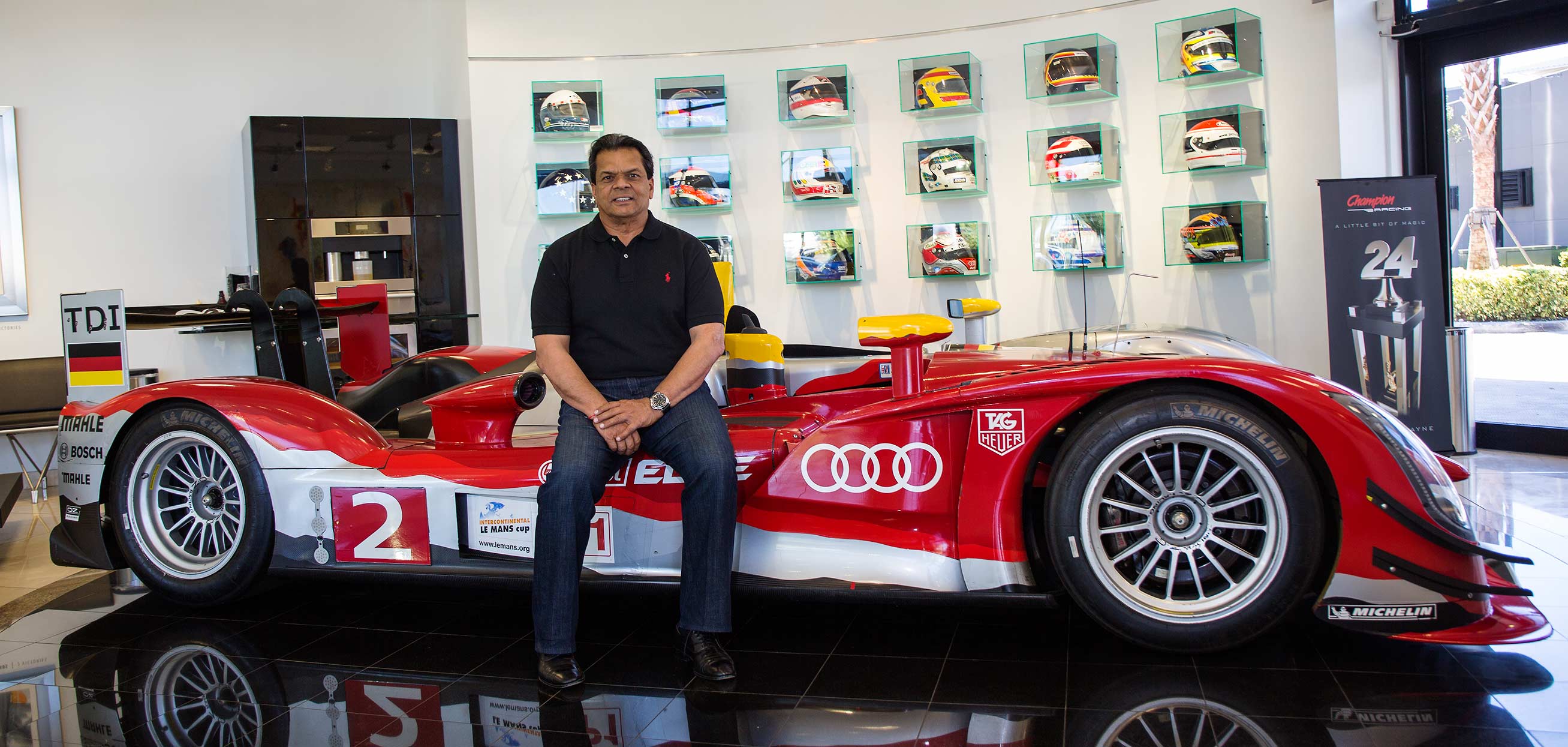 'Le Mans is gods and demons. It's which one lands on your shoulder is how you win' – Dave Maraj
It will be remembered that the Pesca's ran into engine cooling issues during what was one of the hottest Le Mans races in recent memory.  It is this that in hindsight,  Mr. M thinks played into the hands of the strangled Audi.  "They'd restricted us so far that the engine was never running at its full potential.  The restrictor was so much smaller,  and the rear wing was smaller so we didn't have the speed,  so that may have been a benefit for us.  That's when the god landed on my shoulder rather than the demon!"
Having strived so hard for many years to get to the top step on the famous Le Mans gantry overlooking the sea of fans,  what was the overriding emotion in that moment?  "At that moment I was so tired,  I was just thinking of getting back to the hotel to have a shower and go to bed.  I'd been up for about 48 hours straight and it took I would say,  a couple of years for it to really sink in.  When I look back on it  I think of it as a lifetime achievement.  It's something that's extremely difficult to accomplish."
It is well known that the success of the team was in no small part due to his innate ability to assemble a team of leaders and then stand back and let them do what they do best.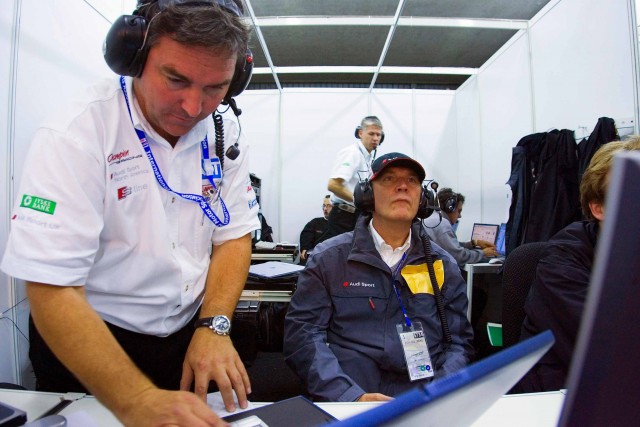 One of those key team members was a certain Mike Peters.  Mike was the one who was largely responsible for getting Mr. M into racing in the first place. He ultimately became team manager and race strategist.  Talk to any of his crew and the one thing they will all say is that Mikey (as Mr. M calls him) was an organizer the likes of whom,   John Wyer would have been rightly proud.   His attention to detail is the stuff of legend and could warrant an article of its own.   Just to look at one of his race plan booklets would leave you shaking your head.  How can someone think of that much detail?  Track maps,  distances,  number of inches between the paddock equipment,  room assignments at the hotels,  date,  time and team uniform requirements – it was all done with the precision not of a military maneuver in the traditional sense,  but of a tactical black ops night raid where lives were on the line.  This is no exaggeration, although Mikey will dispute it with his usual shrug of the shoulders.   The fact that right up to and including the 2013 Sebring 12 Hour,  he was asked back to do strategy for  Audi Sport Team Joest  in the North American races is a testament to his skill as a mastermind at Battleships.  Of course, he denies this also, saying that his record wasn't that good. (If you consider five team and five driver championships between 2001-2008 not that good then your expectations are much farther out in left field than mine!)
Mike still works at Champion Porsche and we pop into his office adjacent to Mr M's to have a chat. When asked about 2005 and Le Mans particularly,  he ponders the topic with a lengthy pause as he measures his answers in much the same way that Mr Maraj doesn't.   "Most of what I remember is not wanting to repeat what happened in 2004.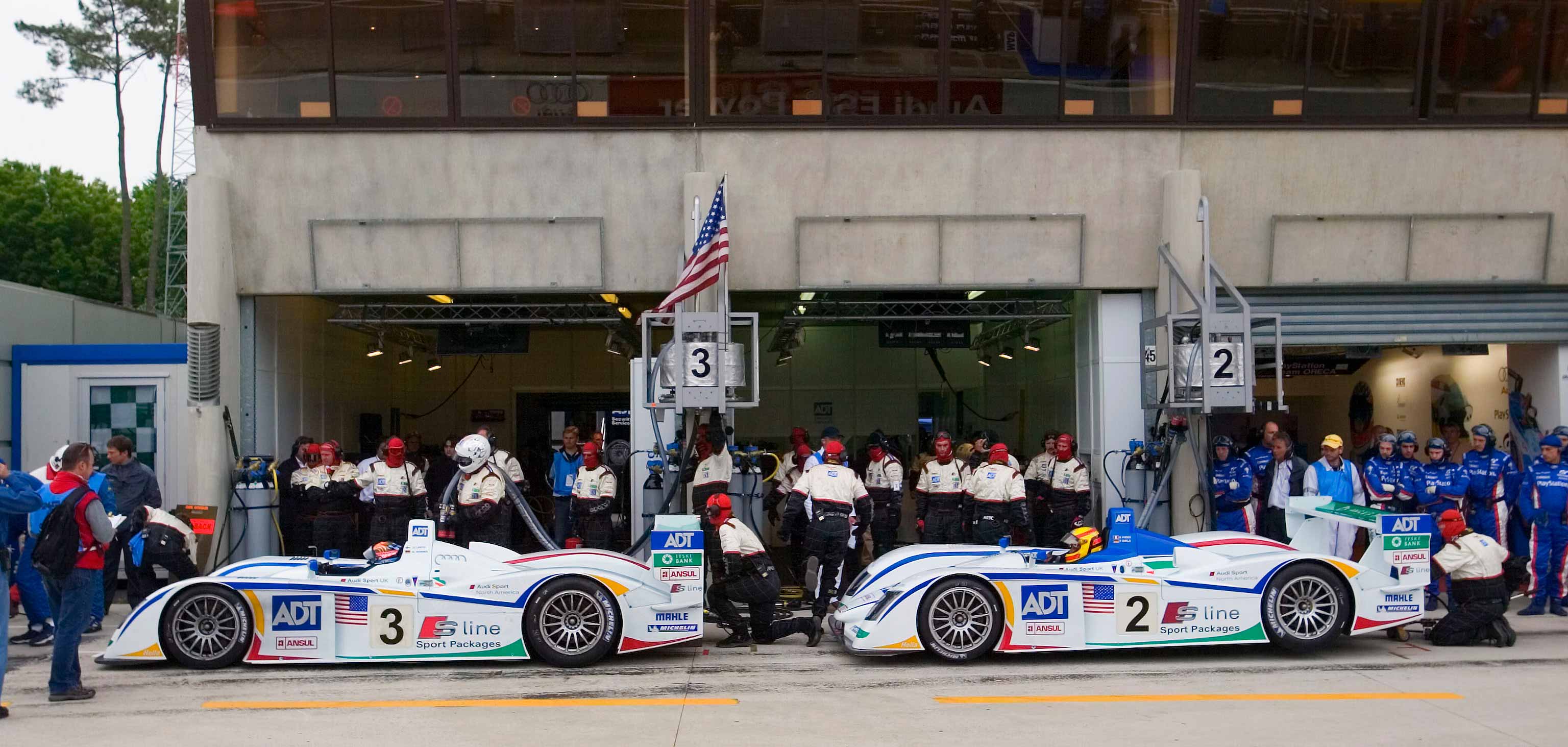 Having two cars there was a big positive – being able to avoid that – because previously we had only been there with one car.  So for me,  in my mind I was feeling quite good about that helping our chances."
When asked if the two car team was his idea he won't take the credit but admits,  "I always pushed for it.  I said if we're gonna go it's not gonna cost double.  It's gonna add a third,  and look at the potential result if we have a problem with one and the other survives.  We're going there to win, so let's give it our best shot.
"I know after the test days,  we came out really unsure of where we gonna finish in the race because of how much slower we were than the Pescarolos.  I think the calmness of Tom and JJ and Marco about what it took to win the race – you do what you have to in the pits and you keep the car on the track and not off it and you can win the race.  Regardless of the potential handicap that you might have. "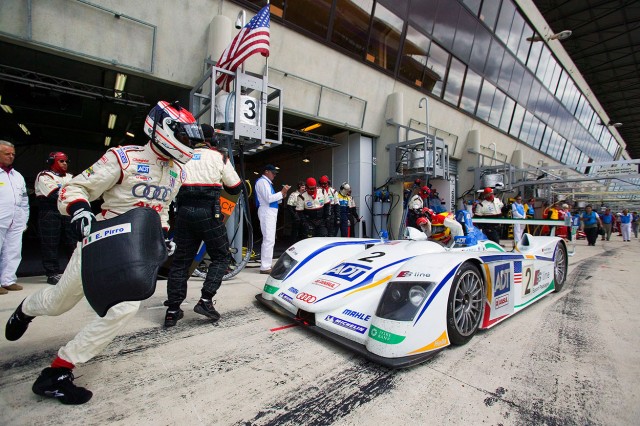 Speaking of strategy,  you might find it surprising to hear Mike talk of the tactics employed at La Sarthe.  (Crew chief Brad Kettler told me the same thing when I talked to him about  Le Mans  previously).   "There's really believe it or not,  no strategy for that race.  The strategy is,  stay out of the pits.  Only come in for fuel.  Triple stint the tires if you can.  Quad stint the tires if you can!  Whatever you can do to conserve fuel,  whatever you can do to potentially get the extra lap out of the fuel,  because it all added up.  We actually ran a little softer pace in order to get the extra lap knowing that after 24 hours, that extra lap adds up to one less stop.  The amount of time in the pits is so much track time lost.  I guess we really pushed the envelope there. Even back then we had real time telemetry on the instrumentation,  where the guys could see if they lifted a little bit they would get back up into the 'green zone' on that lap.  If we could see that they were not going to make it and not going to get the extra lap, we told them to forget it.  Just stay in it and get the extra seconds out of it. It worked on a number of stints ,  but the guys taking care of the car was so critical."
'We potentially thought we could be excluded' – Mike Peters
With little or no real strategy to manage,  Mike's other function was to keep the team on the straight and narrow with the ACO officials.  It was a job that was fraught with pitfalls, much like a giant game of Jeux sans Frontières  (apologies to the younger or American readers for that reference).
"We had been in trouble early in the week – they had black flagged us for a headlight or something – and with the language barrier I was talking with a pit marshal who kept nodding his head,  'Yeah yeah, okay!' the way they do,  saying we were fine.  So we stayed out in the session and we got in big trouble.  We potentially thought we could be excluded."  Mike is warming to the story and continues the saga.  "I remember being summoned to the tower with some of the officials and Rod Bymaster (Audi Sport North America manager) sitting at a conference table like I was in a deposition.  I took all the heat,  because I was team manager and I was supposed to tell the engineers,  'Bring the car in!'  At that point it wasn't about the headlight any more,  it was that we hadn't obeyed the black flag!"
Towards the end of the race and with the Pescarolos in hot pursuit,  Mike was busy doing his math with Dave Maraj.  "We were backing into the race as we got to the end and knowing we were  potentially going to have to take chances especially on tires but we knew all along we had to stay out of trouble.  Once the sun came up we were making calculations.  We knew that with about two hours left  in the race we were going to get passed for the lead based on the pace of their car – we were ahead but they were chasing us down.  Every time they would come in for something unscheduled it gave us a deeper window…okay,  now it's not two hours left,  now it's an hour and fifty minutes left before they're gonna pass us.  And it just kept getting smaller and smaller and smaller, and as the race was going on we had about three or four hours to go and it was at that break point where I knew they couldn't pass us if we had no issues.  We were gonna be there,  but if we had an issue it would go the other way."
I knew the outcome having lived the duration of the race from my couch,  experiencing the team's ebbs and flows vicariously through the Speed Channel coverage,  but Mike's description of the final throes still made me nervous! He finishes the thought:  "It was then that we started to make decisions that were a little more conservative.  We weren't going to stretch the tires,  we weren't going to stretch the fuel.  We were playing the race knowing that if we could keep our pace,  stay out of trouble and continue that we were gonna win Le Mans. "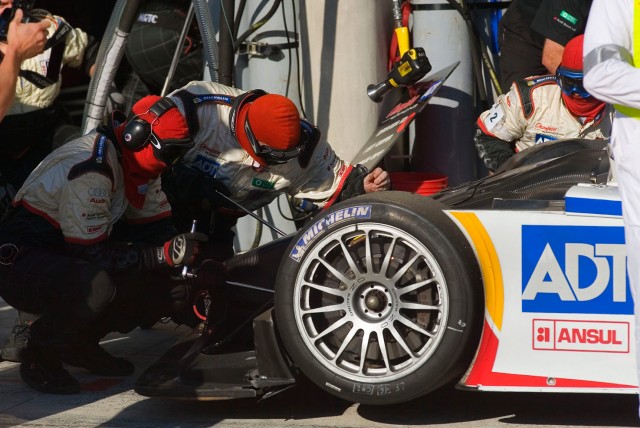 The #2 sister car had a small detour early in the race immediately following a caution period,  effectively ending its own chances.  Mike is philosophical.  "Pirro had a lapse in concentration and it cost him.  They were right up there too and either of our cars had a shot at winning.  But as soon as they went off and as quick as the car got fixed,  it still put the car in a compromised position to win the race."
We spoke with Emanuele Pirro to get his views on the race.  The normally  jocular and passionate  Roman was getting over a cold the day we talked,  but he was gracious as ever even though he was  "feeling  like sheet".  We'll let him take up the story where Mike Peters left off.  "We had a good start and we were competitive.  I started the race and took the lead – things were looking good.  I was with Allan and Frank in the car and was quick at the start.  I was asked to do a double stint to increase the lead and everything was fine.   Just at the end of that stint there was a full course yellow.  I had to pit just in that lap.  I think because I was in the car for more than three hours, maybe I lost concentration.  At the restart my tires were cold and I went straight at Arnage causing minor damage to the nose box.  This was the trigger for further problems and the whole advantage was lost," Pirro says almost apologetically. According to winning car crew-chief Brad Kettler,  this led engineer Graham Taylor into a 'win it or bin it' type of race plan. (More from Kettler in Part Two of  the story).  With McNish asked to quad stint his tires later in the race,  a blowout occurred  at Indianapolis.  Although the car was repaired with help from both teams pitching in where needed,  the #2 car was effectively out of the reckoning for a win in the fast paced race.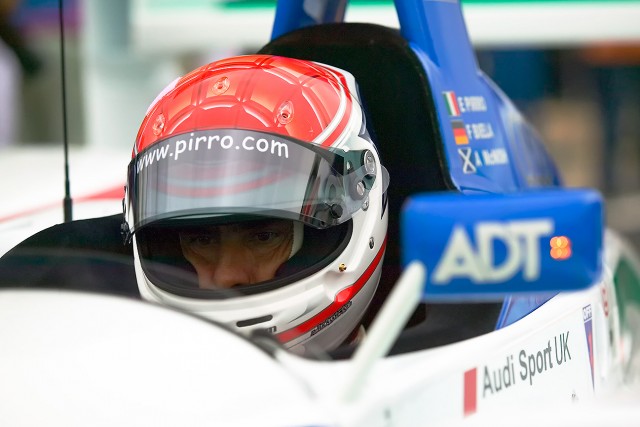 Finishing on the third step  in 2005, it was not meant to be for the five-time Le Mans winner,  but that does not diminish the cherished memories of his time with Champion.  "I can really say that Champion was a very special team. The evidence – even now – is that we are all still in contact …all the mechanics.  There is  nothing official,  but it's like a club of former Champion guys.  There was an incredible bond between all the people.  The reasons were several:  very high quality of people;  very strong commitment;  great leadership from Dave Maraj and Mike Peters;  great drivers and great driver management.  And also from the human side,  it was really really special.  For me,  every year I spent with Champion left a great sign on my memory.
"I was allocated to Champion (from the works team) honestly I don't know why,  but immediately I felt at home – it was a really incredible atmosphere.  There was a wave of positiveness  professionally.  Also people were able to enjoy the good material that they had because the previous years they ran the one year old car.  This taught them to how to appreciate it when they got the competitive cars!  The attention to detail on the team was incredible and reflected Dave Maraj's view and attitude."
EP is as busy today as he ever was when winning races the world over.  His roles nowadays are many: he is still an Audi Brand Ambassador;   Vice President of the Grand Prix Drivers Club;  Vice Preident of Club des Pilotes 24 Heures du Mans;  member Italian Federation of Circuit and Safety;  member of driver representatives to the FIA;  a steward in Formula One as well as many road safety committees.  All this plus a heavy involvement in vintage and historic racing.
'Immediately I felt at home – it was a really incredible atmosphere' – Emanuele Pirro
Of course,  Le Mans was the crown jewel  but the traditional dress rehearsal at Sebring was another first major win for the team in 2005.  The two cars entered for the 12 hour classic had the same driver line-ups as Le Mans.  Allan McNish who had raced with the team in the early days  (remember his less than favorable raffle comment?)  was one of the star drivers that year.  I was able to catch up with him (literally!) at that same event in March this year and asked him how Sebring had helped to set them up for the Big One.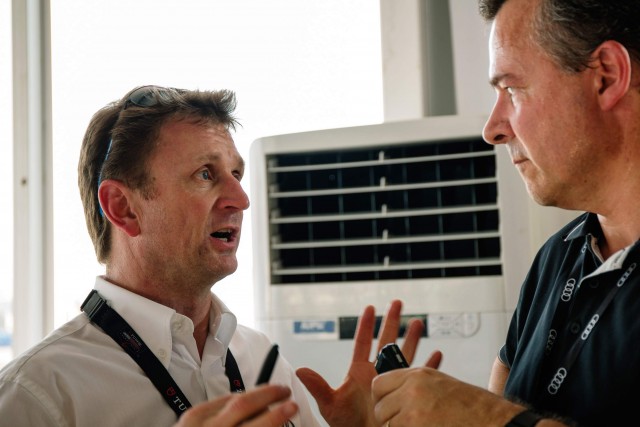 "It was the first time that I had raced with Champion in that guise," Allan told me. "I had raced with them in '99 and they were a very very different team to what they were by the time we got to 2005 and there was a big push towards Le Mans…that being the goal that year without the shadow of a doubt.  Sebring though was sort of the starter for ten.
"As ever it was a clear battle between the two (team) cars and ultimately it came down to tire strategy.  It was critical for me to have overtaken Tom (Kristensen) by the end of the lap,  but when it got to the end of the lap I remember throwing it into (turn) 17 just trying to get as much of a run down to (turn) one as I could,  because I knew that if I didn't get him down into one,  then that was basically our race done…and that was two hours from the end!  It was exactly that – a fight between Tom and I for the whole length of the race."
Obviously fond of those days,  Allan says,  "It was two things: A superb victory for Champion – it was their first Sebring victory and very important for Dave (Maraj) being a local.  The other thing was it set them up in terms of people,  mentality,  principals,  standing up to it… to go on to win Le Mans in 2005.  Considering they were the first team since Ford with the GT40 program coming from the US to win Le Mans,  it was a pretty special moment."
The third member of the #2 car driver squad is another of the Audi Legends together with Tom,  Dindo,  Allan,  Emanuele and Marco:  none other than Frank Biela.  He does not possess the German stereo-typical metronomic cadence to his almost perfect English, and has only a slight accent coming through.  He always comes across as one of the good guys and it is warming that he is eager to find out how all the ex-crew members are doing and where they are now.  He is genuinely interested in discussing "the good old days" and is equally apologetic for the 5am phone call.  (5am my time – I'm calling Germany from east coast USA and have a long day ahead!).
'No matter what race, when I came out of the car I had my cigarette' – Frank Biela
Frank is one of the last of the gun slingers: he is not coiffed like many of the modern teenaged superstar drivers and is unencumbered by the need for a PR officer.  He says what he feels and is unapologetic about it.  One of  my favorite scenes in the ground breaking documentary,  Truth in 24  (if you haven't seen it,  shame on you – watch it ASAP!) is watching Frank sitting in the garage in his race suit,  taking a leisurely drag on a cigarette.  At once it serves both as a counterpoint to the notion that Audi Sport is a machine and at the same time humanizes the whole story.  I think the film converted many a naysayer and it was scenes such as this that made it a brilliant exercise in public relations for Audi.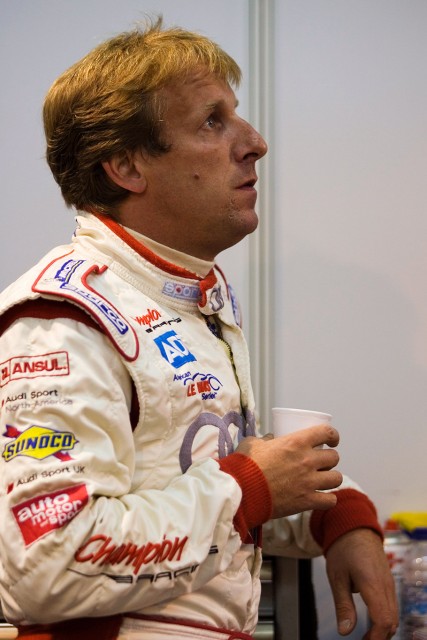 "We always had a lot of success  and coming there expectations were high of course," Frank muses.  " We knew that we still had a competitive car and were able to win,  but at the end of the day you also need a little bit of luck.  That year in Le Mans we were not really on the lucky side…the sister car was the lucky one but it was a very interesting race and working with the Champion guys was great.  Having been around  the same people for many many years at Joest it was a good new experience to work with some other people.  Everything was very professional but on the other hand very easy going,  which we were maybe sometimes missing at Joest and Audi.  It was always nice,  and interesting of course,  but somehow I had the impression there was less pressure – or you did not  feel the pressure that much.  Everyone was going for a good result no doubt,  but in a way they were able to take the pressure off the drivers."
When talking to those in the racing fraternity about the past it is always a treat to hear those cheeky anecdotes about the goings on away from the track.  Frank as expected gives me one of the best,  but it will have to be saved for the book in about 20 years from now.  Ask me over a beer at Le Mans perhaps.
I can almost see Frank with a far away gaze as he remembers the years and thinks more about what the team accomplished.  "They were professionals but easy going guys.  I think perhaps sometimes people in a way underestimated them because they were easy going.  But finally at the track and working on the race cars they were very focused and very good."
I don't know where car #2 car resides these days,  but I wonder if its curators – whoever they may be – have found a special modification made especially for  Frank,  and if they have I wonder if they are still scratching their heads over it.  Frank tells the tale. "Everybody knew that I smoked.  No matter what race or what test,  when I came out of the car I had my ciggy.  As a funny thing,  they thought that,  'if  he retires or stops somewhere with the car,  he cannot get out and have no cigarettes – that would be the worst thing!'   So they made a nice carbon fiber box which held a pack of cigarettes and a lighter which they fixed into the car.  Thank God I didn't use it too often," he chuckles, "because obviously our cars were very reliable!
"Working with them in the US was a really fantastic time.  Nice people. It was a long time ago now but honestly,  only good memories.  Really good memories."
Frank will be at Le Mans this year commentating with his old friend and rival Marco Werner for the German Eurosport channel.  Hopefully we can get more anecdotes for later on!
Besides the drivers,  there was of course a team of data engineers,  mechanics  (some of the best in the business – ask anyone)  and various other support personnel.  One of the key people,  and one who helped me enormously with this article was one Kaye Wilson.  You may not have heard of her,  but for those in the race game she is one of those people who is always in demand and besides being one of the warmest people you could wish to meet,  she is a race industry tour-de-force.  I asked Kaye to tell me about her time with the team and how she came to be there.  She lays the ground work here for what became a multi-year race program.  "I first met Dave very briefly at Le Mans in 1999 – sitting opposite him at dinner after the race, but we hardly spoke – I was so tired and I remember Dave leaving early,"  she says.  "I was still working with Porsche at that time and 1999 was the debut of the new 911 GT3R in Le Mans.  One car had 'Manthey Racing' on the windscreen strip, the other had 'Champion Racing'.  The Champion drivers were Bob Wollek, Dirk Müller and Bernd Mayländer."   Although essentially being run by Porsche but with their name on the entry,  Champion Racing finished second in class that year.  Staying on for another year but with no future Porsche 'works' racing commitment,   Kaye left at the end of 2000.
"Whilst at Porsche I had been working very closely with all the Porsche factory drivers, Thierry Boutsen being one of them.  After his time with Porsche Thierry drove at Le Mans for Toyota – it was the same year I was there with the two 911 GT3R entries in 1999,  one of those being Dave's – but Thierry was involved in an horrendous accident which broke his back and ended his racing career.   In 2001, when Dave decided he wanted to take his Audi to compete in Le Mans he asked Thierry to be his Team Manager.  I guess because I knew Thierry well and as I'd done all the logistics and infrastructure at Le Mans in my years with Porsche, he called and asked if I would do the same back-up for him in his role for Champion in 2001.  I said yes, did it, and consequently worked with Champion at Le Mans that year.  After the race Dave asked me to attend Petit Le Mans at the end of the season as his guest  – a "thank you" for my work and support in Le Mans that year – but as I was about to leave Atlanta after the Petit Le Mans race, Dave told me his dream and asked me if I would come on board full time.
'JJ said to Johnny, "You're not getting out, we're going to win this thing!"' – Kaye Wilson
"Having had the privilege of working with major manufacturers such as Porsche – I was working with them at their last Le Mans win in 1998 – and Michelin, I knew how much planning, preparation and effort  it  took to undertake major endurance championships and historic events such as the Le Mans 24 Hours. But imagine my surprise when Dave Maraj asked me to assist him at Champion Racing and to use my knowledge and experience to help him fulfil his dream of becoming a works' or factory team.  I began the quest in 2000 knowing that it would be a demanding role, but having only met Dave briefly on one occasion, I wasn't aware of his complete and utter dedication in undertaking a task of such magnitude with such precision and such meticulous attention to detail – qualities I empathized with as they had also been inbred in me.  Dave's aptitude for recognizing ability in others, and then empowering them to succeed,  was, and is astonishing.  It's this quality which led him to build a team around him whose one ambition and sole aim was always to win for him.  The harder we fought,  especially in the early days, the more everyone wanted to succeed."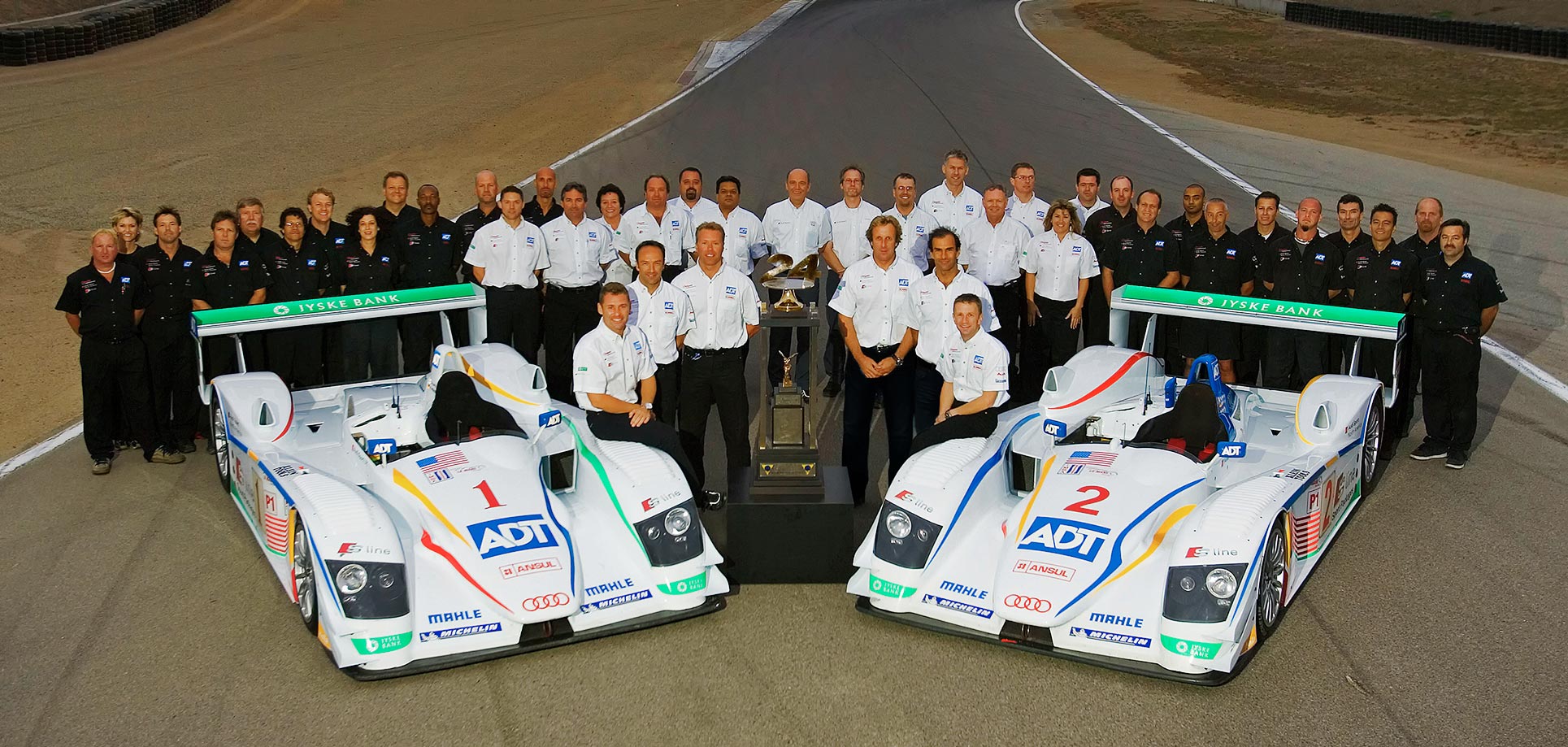 It is worth noting that the passion Kaye talks about is a common thread that runs through the conversations with each and every person I spoke with about Champion.  It is quite astonishing .  I can't imagine  it's the same everywhere.  In fact I know it's not.  Kaye continues the theme:  "I worked very closely with the team and particularly with the drivers – over the years I've worked with so many of them that have been,  and many still are,  household names.  They were all hard racers with an impelling will to win,  but such characters.  Prior to 2005 we were fighting the Audi factory team, and in 2003 a round of the ALMS was held in Miami.  A difficult and very bumpy street circuit, but important for the team because it was our "home" event.  JJ Lehto was leading our race ahead of the two factory cars when at the pit stop and driver change to Johnny Herbert,  in the extreme heat the vapor from the fumes during refueling caught fire!  As Johnny was climbing into his seat flames were engulfing  JJ and licking up the legs and around the back of Johnny's head.  Johnny lurched forward and began forcing himself up out of his seat,  but JJ was having none of it;  he put his hand on the top of Johnny's helmet and pushing him back down into his race seat he said to Johnny, "You're not getting out, we're going to win this thing!"  And despite the fire,  which was quickly extinguished,  we did!  The jubilation had to be experienced to be believed.
"In 2005 Champion Racing was competing at Le Mans for the fifth time – we had finished third for the previous two years and even won our class with our third place finish the year before – but the preparation for 2005 was extra,  extra special.  No stone had been left unturned;  meticulous attention to detail; precision pit stop training;  everything pointed it to being something special.  The Audi factory had "loaned" us Tom Kristensen who,  if Champion were to succeed,  would give Tom his seventh Le Mans win – more than any other driver.  And succeed we did – so what did Tom do – he changed his telephone number to reflect his seven Le Mans wins!  There are so many anecdotes after so many years of compelling motor sport with Champion Racing, but nothing can compete either practically or emotionally with the privilege of working alongside Dave Maraj.  The rest is history and I still have the great pleasure of working with him to this day."
For fans of Champion Racing,  Audi, Le Mans or the ALMS,  there was a fan favorite Finnish driver who has been off the radar since this historic season. Along with him,  we also talk to another Le Mans legend as well as the biggest Le Mans name of them all.  You've read Le Mans 2005 – The American Team That Won It Part One,  so check in for the conclusion of the story in Part Two soon.
Read our review of the coffee table book, "Champion Racing, a Little Bit of Magic" here.  It tells the entire history of Champion Racing.

Click  here to continue on to Part 2 of the story…
Contributing Photographer Websites:
[popup url="http://www.regislefebure.com/" width= "990" height="500″ align="center"]Regis Lefebure Photography[/popup]
[popup url=" http://www.racingpilot.com/aboutus911.html" width= "950" height="475″ align="center"]Jack Webster Photographer[/popup]

Dedicated to Keith. Here's to you from all the guys

Le Mans 2005 – The American Team That Won It. Part 1