Le Mans 2005 – The American Team That Won It. Part 2
Gods and Demons:  A Look Back at Champion Racing's 2005 Le Mans Victory
In Part 2 of our story, we talk to the technical director and all the winning drivers for their recollections of the race, the car, what it took to win and…retirement.
January 25, 2016
Story by James Edmonds & Thomas Murray
Photos by  Champion Racing/Regis Lefebure,  Thomas Murray,  Jack Webster, and John Mountney
If you haven't yet read Part 1, the story begins here
The Champion magic is hard to quantify, but the sentiments made by those with whom who we spoke in Part 1 are echoed here again.  The fact that so many of the race team members are still friends and in some cases still work for Champion is a testament to the family feeling of this unique and special team.  Mike Peters still sells Porsches,  Jacky Carrie who took care of presentation is in charge of valeting all the cars,  Larry 'Revvy'  Reynolds (possibly the most passionate Porsche advocate on the planet) was  a 'weekend warrior' team member in 2005, washing the wheels and getting the tires fitted – he is going on 25 years.  Ex-crew chief Tim Munday is now at Champion Motorsport where he restores, fabricates and fettles anything  that comes through the doors.  Jerome Freeman  (Logistics manager and fueler on the winning car) is manager at the same facility where they cater primarily to road car modification.  The list goes on and on.  What other team can boast that kind of long-term commitment and blood-brother type of bond?  It comes down to the respect they all have for Mr. Maraj and the unique atmosphere which he created at Champion.  The magnetism of Mr. M and the dedication and loyalty he commands from his staff are commodities the likes of which are rarely seen.
It speaks volumes that all six of the 2005 team drivers were willing to get on board with this story.  During exclusive one-on-one interviews with the top team personnel and the six drivers (can you believe 27 Le Mans victories between them?)  I had to pinch myself to make sure this was actually happening.
Next up is Marco Werner.  As an Audi Legend and Brand Ambassador he is kept as busy as ever!  Driver instructing with the Audi Race Experience at one of his favorite tracks – the Nurburgring;  testing and coaching with the Audi Sport TT Cup in Hockenheim, and even more driver coaching at the Lausitzring.
We caught him relaxing at his home in Switzerland after a long few weeks on the road having just returned from Ingolstadt for a pre-Le Mans photo shoot with his ex-team mates and the cars in which they won.  "I came to America in 2003 with Frankie in the Joest car and I heard all these stories saying,  'there is not a chance that you can win the championship because you do not know one of these racing tracks in America.'  I came from Porsche Super Cup,  I never drove in America,  only once in the Daytona 24,"  Marco explains.  "But I never raced in Sebring or Atlanta or all the tracks and they said, 'you haven't a chance with Marco'.  Audi tried to bring me to Champion in 2003 because it was not in the plan for Joest to race in America because there was a program with Bentley.  They said, 'No…Marco has no experience.  We don't know him, so we want to race with a professional driver,'" he laughs.  "Of course I am a professional driver!  I was not so famous or they don't know me so well,  but that was the story:  They said, 'No no…we don't want to have him'.
And then I won the first race in Sebring against Champion, so we saw some long faces there and then we won the championship in 2003 with Frankie and then they say, 'Yeah…can we have Marco for next year?'  It was this effort that garnered him the team nickname,  bestowed upon him by Brad Kettler… "Speedy".  He is still referred to thus by his friends at Champion.
"So  I came in 2004 to Champion Racing for the first test in Sebring and I felt a special spirit in the team because they had never won the championship before.  The big goal in the team was to go for the championship and we did it in 2004 with JJ (Lehto).  It was very special because everyone was hungry for the title."
Coming from the might of the Joest team and their Germanic ways,  we asked Marco how he found life in the small American team.  Was it a culture shock?  "Both are very professional,  but let me say the way by Champion was a little more…family."  There's that word again.  "It was more racing with a spirit.  All the things with Joest were highly professional but with step by step structure,  we have to do this and that.  Champion was also a professional team but there was a spirit like…we are RACERS!  Joest was more of things you have to face in motor sports with more meetings than laps on the race track.  This was special at Champion.  Everything was more free,  'Lets have more fun with racing'.  It was a little bit like the past,  more free for racing where at the other one,  it was so professional that sometimes you forget why you are on the racetrack.  We had meetings also at Champion but the feeling was different.  More fun for racing."
Marco has already told us how he was new to America, so how did he find the tracks here and how did Dave Maraj approach racing?  "In America,  the tracks were quite old.  It was ok,  it was professional enough,  but Dave said,  'If we need that,  we buy it.  I don't know how much money we need but if we need it,  buy it'.  In the pit,  in the garage,  the tents – everything was brand new and professional.  It was too with Joest,  but it was different"
One of the things that is often overlooked is the social side of the races.  Because of the immense pressure that is always in play at top level motor sport,  the aftermath – especially after a win – inevitably means that the steam has to be let off.  Mr. M was happy to reward the team after a job well done.  Marco explains:  "Maybe with Joest you had a party after a race,  but with Champion – not every evening – but  every race we won we had a big party.  Sometimes we went  to Dave's favorite restaurant and it was together with the whole team.  After a race with Joest,  everybody did his job,  just one meeting  and then everything was fine and it was over – let's look forward to the next race.  But with Champion we always had a good time,  had a big party with Dave.  I enjoyed it a lot."
'They said, 'No…Marco has no experience.  We don't want him" – Marco Werner
Back to the race in question here though,  how did he feel about his chances going into the race with a car handicapped so badly?  "We came to Le Mans knowing that our lap time were not the best.  But when you are driving for Audi you know you always have a chance," says Marco.  "Everything was very well prepared for the pit stops,  especially with Champion.  We did a  lot of practice and like in the movie Truth in 24,  everyone else just watched us!  We were prepared very well,  but the other teams if they had a problem,  started to think about it too late when the car was already coming into the pits.
"Never give up!  This was the spirit in the team.  Also I had a big trust in the team.  In 2004 after JJ's big crash,  I went into the car and after one lap Brad said to me over the radio, 'Be careful.  It's the first lap and we did so many things to the car',  and I said, 'No no guys…I am flat out on the Mulsanne.  You did the work  and there is no room to do an installation lap because I trust in all you guys.  I go out and I go over 300.  There's no doubt that everything is perfect!  We are back in the race,  pedal to the metal.  Thanks guys!'  That was special.  No mistakes.  Was a good team.  I liked it."
Having talked to the team owner,  managers and other drivers,  we would be remiss in not talking to Brad Kettler.  He is a wealth of information and if  the engineering side of the sport is your cup of tea you can read in-depth about him here……. His role nowadays has him overseeing the Audi Sport Customer Racing program here in the USA amongst other things as well as crew-chiefing the Joest cars at the big races.  Brad has worked with and won with all the big names and his tally on the winning car at La Sarthe is now an impressive six wins.  His first win as crew chief came in 2005 and he went on to become the technical director when the team morphed into Audi Sport North America for 2006-8.  As a long time employee of Champion Racing,  he remembers '05 as if it was yesterday.  "We had a reasonable idea of what to do at Le Mans at that point.  We'd been before and done pretty well.  We ran well and saw what was important as far as aspects of preparation for it,"  Brad says modestly.  "We prepared for the '05 race starting the day after the '04 race. It was a unique stitch in time because there wasn't going to be a factory presence there and yet the R8 was still eligible and was still competitive but had been knocked back big time by the ACO.  Basically it was done to get rid of the flat bottomed cars.
"The P900 cars had to take a pretty severe penalty in terms of air restrictor and weight and also we lost 200 millimeters of wing surface.  That's when we saw the one point eight wing with the 'box-kite' ends on it.  The car was at 950 kilo's start weight and we'd gone down another 12 or 13% from the year before on air restriction.  That was really the killer.  The car had really no power:  it was on the choke point pretty much the whole time.  It made the car very hard to run…it had only maybe 520 horse power."  Brad recites numbers stone cold off a phone call having had no preparation other than me asking for a chat via text.  He does concede however,  that of all his Le Mans wins, he knows this one the best.  Obviously it means a lot to him.
"Having no power presented a lot of other problems,  because even though the car was so hellishly reliable,  with it choked to this point it just wasn't meant to run that way and that created quite a few problems for the engine department.  The car had a top speed of 310-315 kph.  None of these things were an advantage at all,  the only thing was,  we were still eligible to run a car that we knew so well one more time.  We tested the car as early as January that year with the Le Mans package so we had a pretty good idea of how the car behaved on it,  but we didn't really know to what detriment against the other P1 category cars.  We didn't have a ground effect car to run it against to know what we were facing."
Brad admits that "Dave had to be committed that we were going,  because honestly from a performance point of view it didn't look very good.  We knew from that point on that the strongest part of the car was the car itself:  the intellectual property the team had,  the spares we had,  the level of prep we had was very very good.  It was the performance of the car that was going to be the weak link."
At the pre-test the cars qualified quite well back and for the race the winning car qualified sixth. "That was all the money.  That was everything it had".  With both cars off the pace of the Pescarolos the mood in the garage was somewhat bleak.  Brad sums it up, "We were three seconds off!  Who wants to race like that?  Three, six, nine, twelve, we can all add pretty quick".
It begs the obvious and rather childish question:  what do you do?  "What we didn't know,"  Brad continues, "is how well the Judd powered cars – the Pescarolos and the Dallaras – had trimmed their packages,  because it was theirs to win…given the technical differences it was definitely their race to win.  On pace there was no question.  But…as human nature will tell,  they were so delighted with themselves – being in an upper position over the Audis – they just demoralized us all week and took great delight in it.  Almost to the point of being unsportsmanlike…I found this behavior to be pretty odd to be honest."
'Everybody was waving their arms and flailing around – like fish in the belly of a boat' – Brad Kettler
After a pre-test and qualifying fraught with anguish over the pace of the opposition,  Brad and the team kept their heads down and dug deep.  They had been there before and knew that if they all did their jobs the way they had done for years previously,  that the raceability and reliability of their old girls – handicapped or not – could see them through.
Race morning and Brad tells how the tides started to turn even before the Tricoleur dropped. "I watched the cars – we were in garages 45 and 46 at pit exit –  when they lined up to go out for practice and I clocked the trim that their cars were in.  They had been trimmed out like a bullet all week but race day came and for whatever reason,  the engineers decided to put all the downforce on the cars – especially the Pescarolos.  The cars were absolutely diabolical," he says, stretching out the word.  "They had no time on their race set-up at all. Their cars were bouncing and hitting the ground and in the garage everybody was waving their arms and flailing around – like fish in the belly of a boat – trying to figure out what to do.  And that was their race morning!"
It has never been Kettler's style to do to the other teams what he felt had been done to his all week,  so instead he just watched,  nodded his head and maybe smiled to himself a little.  His apparent laid back nature belies an inner strength and confidence.  It is this quality that has seen him on the winning team several times over.
"Meanwhile," he continues, " race morning we had done everything we were gonna do.  We knew that we were as sharp as we were gonna get.  We ran the warm up then both cars were inspected,  cleaned,  polished and put outside," then after a long pause, "Waiting for the race. Massive psychological warfare there.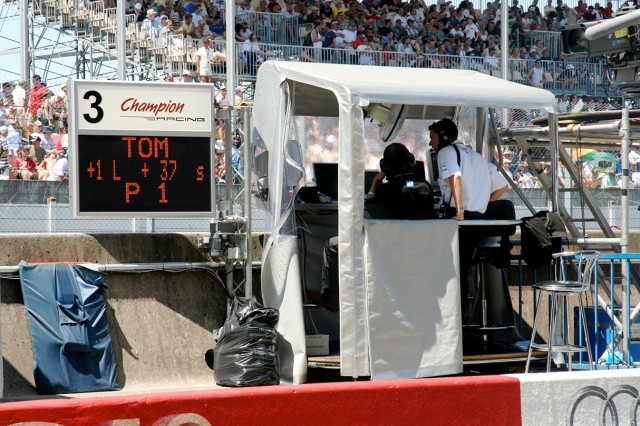 "The race started and they sped off into the distance but had some issues right off the bat with a gear selector on one car and some engine problems with the other.  About three hours in,  we went into the lead. We had been completely dusted but found ourselves in the lead with 22 hours to go and we never lost it.  We just kept clicking off the laps and were able to run 11 or 12 laps depending on the economy I was able to get the guys to pull out of the car.  We could run three stints on the tires, easy.  They could run eight laps but the four front runners were burning the tires off their cars.  They just could never catch us after we got a bit of a gap on 'em.  They got close…they were hunting us now three to four seconds a lap.  We were constantly in a position of being chewed away at and that's a very uneasy feeling to be in but we were in that position for the rest of the race."
The Champion cars were not the only R8s in the race if you remember.  There was another entered by Hughes de Chaunac's Oreca team.  "They broke a wishbone on lap 41.  They replaced it then broke the same wishbone on lap 82."  I'm not fact checking as like I said,  I cold-called Brad for this,  but his engineer's mind has all the info at hand and who am I to question him?  Brad concedes that Oreca had the car set up too low and didn't feel they could sustain the car like that for the marathon race with the constant curb-crashing leading to the suspension failures.  (It is worth pausing here to recall Dave Maraj's instructions to his drivers, "Don't  use the curbs at all!").
Brad has been the winning car crew-chief at Le Mans many times with Audi Sport Team Joest in recent years and I asked him to compare his time with Champion Racing with that of the current Audi juggernaut.  "It was much more personal in that era because each member of the team contributed a larger portion than they do now.  No matter who you are now you are a small part of a very very big elaborate program.  As it was then the individual responsibilities of the aspects of the car,  be it mechanical,  gearbox,  body,  engine or whatever were the faces of five or six people.  That's really the big difference.
'Honestly from a performance point of view it didn't look very good' – Brad Kettler
"The level of prep we followed was on par with what Joest was doing.  We had factory engine support but we prepared fully the same way that the factory team did.  One hundred per cent.  The depth of spares we had was completely the same,  in fact we probably had more body parts than the factory did when they raced those cars."  Winning Le Mans used to be a test of endurance and typically meant nursing the car home to make sure that it got to the flag on Sunday afternoon relatively intact – enough to cross the line anyway.  Ex-Ferrari formula one legend Tony Brooks once told me that he hated Le Mans because "as far as the driver was concerned, it was a test of his ability to resist boredom".  If only Tony could perform his magic in a Le Mans car today.  He would have reveled in the flat-out sprint nature of the modern races where a single botched pit stop could mean the difference between spraying the Champagne or being sprayed.
With tenths of seconds per lap making a difference, it is the teams who can prepare to the nth degree who usually come out on top and with this in mind Brad tells of one of the ways in which the team was able to gain those almost intangible tenths.  "Dave let me do some very special bodywork preparations for that race that cost a fortune.  We picked out the best noses then stripped the paint back to the carbon so they were as light as possible.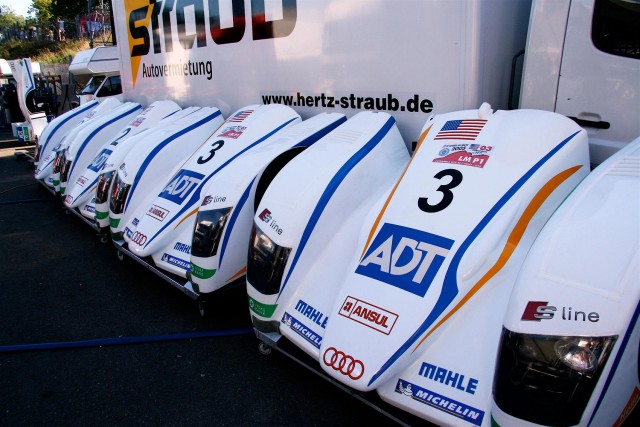 We then painted them with a single layer of primer which was then sanded with 2000 grit to an ultra smooth surface.  All of the racing and series decals were then applied to the primer,  then they were back-masked in place and then painted around before the whole thing was clear-coated,  so there were no bumps from the decals.  They were inside the paint.  This was good for three tenths per lap!"  I have to admit that I was somewhat surprised to hear this because modern vinyl wrap is lighter than paint,  but how silly of me…  While Brad was trying to gain precious tenths,  the team owner was trying to keep up appearances!  Remember how important the "show" was!
"Dave didn't approve of body wraps.  He had a painter and as far as he was concerned we could paint the cars for every f##king race.  He didn't care.  He thought paint looked better and it is more resilient for racing.  We had 50 kilo's of ballast,  so we could afford to paint it.  The noses he allowed me to prepare were absolutely and completely glass bubble smooth.  I didn't do it to squander money…I did it so we could be as ready as we could possibly be."
As a race engineer,  his mind is full of data and facts and figures.  It's what he does.  But we wanted to finish our time with Brad with his one abiding personal memory from the event which went on to further shape his career.  He sums it up for us: "It was morning warm-up – a beautiful bright day.  We were there early and we were ready.  JJ was out in the car early.  I let him out about a half lap behind the crowd and told him I was going to give him some race track to run to go and get on the pace…see what the car was like as he wasn't going to have this on the opening lap of the race.
"I was out at the wall looking at the jumbo-tron which has my very favorite angle – the long look back up to Tertre Rouge as they come into view past all the linden trees.  It's one of my favorite shots.  It still gives me goose bumps when I see it.  It gives me goose bumps just talking about it.   He didn't talk a lot and wasn't a complimenter on the radio…he saved it for special times.
Right then I saw the car glide around Tertre Rouge like an air hockey puck and simultaneously he came over the radio and he said,  'Bradski…the car is fantastic.  We're going to have a good day'.  From the wall I looked back into the garage and I could see the energy in all the guys.  They were fist pumping and patting each other on the back.  They couldn't see me watching,  but I could see them.  It was inspired – that piece of crackle over the radio.  It infused energy.  They knew in that one sentence that we were about to see something spectacular happen," he laughs. "Good, bad or otherwise."
Brad has had close bonds with many legendary drivers over the years… but I can tell in his voice that JJ Lehto is one of the closest.  He's not doling out the mandatory press release PR spin but heartfelt feelings from a moment in time that no one can ever take away.
"He was on the radio and sounded so calm and hooked up out there all by himself.  Whether he meant it the way he said it I don't know but it was a brilliant.  That's the greatest thing you can give a race team full of people like that – that they've done the right thing and they're in the right position.  So yeah,  that was my favorite moment from 2005." (To read an in-depth article with Brad, click here)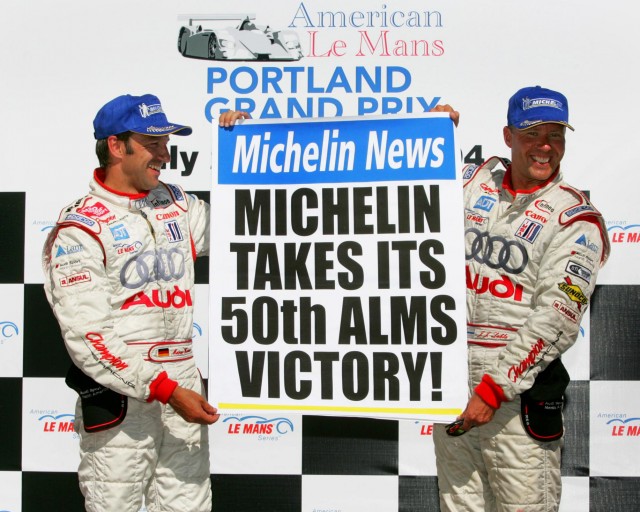 JJ Lehto.  He was one one of,  if not the favorite driver in the ALMS during that golden period when Champion Racing was the marquee team in the series.  Blessed with movie star good looks and his Nordic blonde locks he made the ladies swoon.  God knows he made my wife go weak at the knees.  The men loved him too because he was a hard charging, take-no-prisioners kind of driver who never gave up no matter how dire the chances.  Who remembers Portland 2004 when he was knocked off,  spun around,  penalized and then knocked off again,  yet still fought to the front before handing off to Marco Werner to bring home the win?  It was one of the most exciting and hard fought races I can remember!
Unfortunately,  being a "non-works" driver,  he wasn't invited back for a seat in the new R10 the following year.  Now known as "Audi Sport North America" the Champion Racing squad was required to use contracted Audi team drivers.  After the 2005 season ended, it appeared to the American fans that JJ had dropped off the map.  Save for the occasional guest appearance at some of the big races where crowds gathered for autographs and hand-shakes,  he was by and large…gone.
Having been extremely fortunate in talking to all the other team drivers,  we knew we had to find JJ!  After a few well placed phone calls, a couple of emails and a bouquet of flowers … we had him on the phone!   For the third time in a week I heard apologies for the 4am phone call. "What the hell time is it there?" he jokes.  After learning of our story, he was delighted to chat and I once again felt like Bill Murray in Groundhog Day.  Not because this seemed at all repetitive…far from it.  It was the way in which JJ like all the others, spoke in reverent tones about his friends – his 'family' – and former boss.
'I told Dave that as long as he wants me to drive for him,  I will drive for him.  I don't want to drive for anyone else anymore' – JJ Lehto
"In 2002 when I worked with GM on the Cadillac project, that thing was so…"  he pauses to find the right adjective then slowly lets it out, "…horrible that it wasn't enjoyable at all!  I thought I was going to stop racing already at the end of 2002.  Then Dave gave me a call at the end of the year  and said, 'Why don't you come over to Florida to see the operation?'  I had seen the guys at the track for years before that and I knew them pretty well.  It was nice to go and see Champion and the whole team,  Dave and all the guys.  They persuaded me to continue and it wasn't difficult to say yes.  Then I got three really nice years to continue and that was the best time of my racing career."
I asked about the lure of the team and why it was that all the world's best sports car drivers wanted to be a part of it.  It was of course a rhetorical question.  I already knew the answer.  "It was a small team and a small family.  We were all really really close with each other and it was a totally different kind of racing with them so it was a very enjoyable time."
JJ had driven in Formula One as well as some other fiercely powerful machines over the years.  It was he who said in 2005 that his R8 felt "as if it was tied to a post" due to his frustration over the new bout of performance balancing penalties imposed that year. (I think the term BoP had yet to be coined).
"The most enjoyable year was 2003 because the car was less restricted and every year as it got more restricted it made the racing more difficult and not so enjoyable anymore.  All the race drivers want to have more and more power so when you restrict a car which is designed to have more power – and it was so driveable anyway –  it took away a little bit of the enjoyment of racing and driving.
"But! I was the driver with the team for the third season and when I started in 2003 it was still a small team.  They were professional and they tried to learn a lot.  When we started to work together we upgraded everything. Dave was so willing to improve the team and invested a lot of money into it just wanting to make it better and better all the time, there was no restrictions in the budget or ways to improve.  It was really fantastic to be in a project that lasted for three years and at the end…we won Le Mans.  Together.  As a team.  It was a great way to pay back Dave's investment."
"The other thing was the driver lineup.  Two Scandinavians and one very straight forward German work very well together,  there was no ego trips or anything.  We were just trying to find the best out of the car,  out of the team,  out of each other.  We knew each other and learned each other very well.  It was a good combination and whatever weaknesses we all had,  we were able to turn them around and make all three drivers better.
"I had raced with Tom before and the mental thing, the ways  the guys are working, no playing,  no politics,  no ego trips or anything – it was easy.  Once you know guys like that,  you couldn't  really ask for more.  It was a perfect combination and I think that was the key to win the race.
"Of course the team made incredible work to prepare the car,  make it reliable.  They kept working and we found great set-ups for the race.  It made it enjoyable to do the 24  hours with the car and the team."
He laments the fact that he almost won with Tom Kristensen again in 1999 in the BMW LMR.  But for a suspension failure with four hours to go whilst comfortably leading by four laps,  it might have added another win to his tally.  "It was just cruising you know?  That would have been another win.  But it didn't happen.  Always at Le Mans you think everything  is running well and then towards the last hour,"  he says laughing,  "you can lose it all!  Sometimes you win and sometimes you don't".  That though is the one thing that all drivers can say… isn't it?  Allan, TK and Dindo while comfortably leading in 2007 were lined up for another overall victory save for the wheel-off incident at Indianapolis late in the race.  It's the lure of the cruel mistress.  Once seduced with a taste of glory,  they all come back to try again.  Most fail, but there's always next year… right?
'He would always give the credit card and say, 'Go have fun!'' – JJ Lehto
2005 wasn't  JJ's only overall victory at Le Mans.  In 1995 he famously won there with the McLaren F1 GTR.  It was one of several firsts –  a car winning its maiden race at Le Mans,  a first win for a Finnish driver and also a first for a Japanese driver, his co-driver Masanori Sekiya.  Ten years later, was it a surprise to be at the top again?  "Well, it wasn't really surprising because the preparation before the race was big and everyone wanted to win it.  It's always a big thing to win.  I was really happy because '95 was the first win and then getting older in my career to win it a second time ten years later with the best people I have ever worked with was something that will be remembered for as long as we live.   Maybe longer!"
JJ equally enjoys recalling the social times with the team.  Not wanting to cast any aspersions,  I think having talked to many of the team members, that the parties enjoyed at Champion might have made James Hunt feel very much at home.  "That was the big thing, because it was a small team like a little family and all of the guys were together.  Like I said before, Dave was not restricting anything and he was always so happy when we won and he would always give the credit card and say, 'Go have fun!' –  the whole team.  That was incredibly fun, especially with Johnny Herbert and with Marco and the other guys too.
"Nothing surprised me.  The whole thing was running so smooth in an American way but very controlled at the same time.  There was enjoyment but everyone was really professional.  All the guys wanted to learn more and more and more and we always raised the goal which was the way to be good all the time.  The team understood that if you want to be good you need to improve yourself and that is what made it fantastic to work with them."
JJ shows his obvious allegiance to Mr. M and the team when he winds up our conversation thus:  "It lasted for three years, but then unfortunately – or fortunately  – Dave got a factory deal.  I was always Dave's own driver and not a factory driver for Audi so then there was no seat available for me anymore.  It was an easy decision to say, 'Okay…there's no seat,  there's no drive anymore.'  And you know I said to Dave always when I joined the team in 2003,  that as long as he wants me to drive for him,  I will drive for him.  I don't want to drive for anyone else any more."
No story about Le Mans,  Audi or the race in question would ever be complete without hearing from the legendary Tom Kristensen.  He wasn't always known as Mr. Le Mans you know.  That title used to belong to another legend of La Sarthe,  Jacky Ickx.  When Jacky beat Derek Bell's outstanding record of five wins to inherit the mantle it was thought that his six win total would be unassailable.  Nobody it seems had planned on TK coming along; not only did he beat the record, he obliterated it to the point that we are all once again saying that it will never be beaten.  His win in 2005 was a special one, as this was the year that he surpassed Ickx's record.  Not only did he make it seven wins,  but in doing so he also became Mr. Le Mans.
Tom did a race for Champion in 2002 at the Sears Point round of the ALMS in California.  He co-drove with Johnny Herbert and Andy Wallace.  It was a bit of an anomaly,  as the 'works' cars were in Europe being readied for Le Mans which left no new cars in the USA for Audi to race.  Dave Maraj asked if Tom would drive and in doing so he found himself driving against his normal teammates who were in a year-old car behind him!  He very nearly helped Champion to its first win with the R8 when Herbert crossed the line in second place albeit sideways after a last corner tangle with another car!  Although this race was a one-off it sewed the seeds for their future partnership.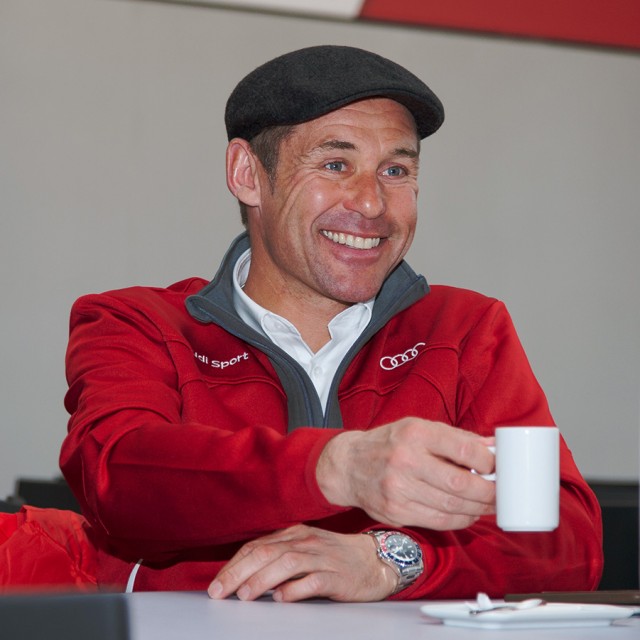 "I knew the Champion guys for a long time as we raced against them in the States.  It was a great team and I would always pass by for a coffee with not only Dave,  but Mike, Brad and the mechanics.  Then I was at a tire test in the end of 2004 at Sebring and that was the deciding factor for me joining the team for one year.  The whole thing about the location on Pompano Beach was that you'd fly in from Europe, land in Miami and then pass by the team and stay for a night on the way to Sebring.  That was always great and the passion that Dave had for racing…the cool American way is something I always very much liked to be a part of."
With six wins already under his belt – four of them with Audi – you might wonder how the most revered and sought-after sports car driver in the world find himself as part of a private team.  I wondered too.  "It's a combination from me and Dave.  I said I would like it,  but it wouldn't have happened if Dave didn't say it as well.  They had always been there and they were the first Audi customer team.  When I drove for them it just happened that I had joined the Japanese team the year before – Team Goh.  I won with Bentley at Le Mans in 2003 but then the last part of that year Team Goh approached Audi to ask me to drive for them in the short races in Europe.  That led to driving for Team Goh in 2004.  But after they won they decided they were not going to continue.  By that point I thought now the time has really come and I would like to do everything I can to win with Champion Racing.
"That was the year that the Audi was castrated.  There was no way we would win on merit but we simply wanted to win and give it everything we could.  It was very much similar like 2008 where Peugeot had a much faster car,  but in 2005 it was with Pescarolo in a car they had developed over years and they were more than three seconds faster."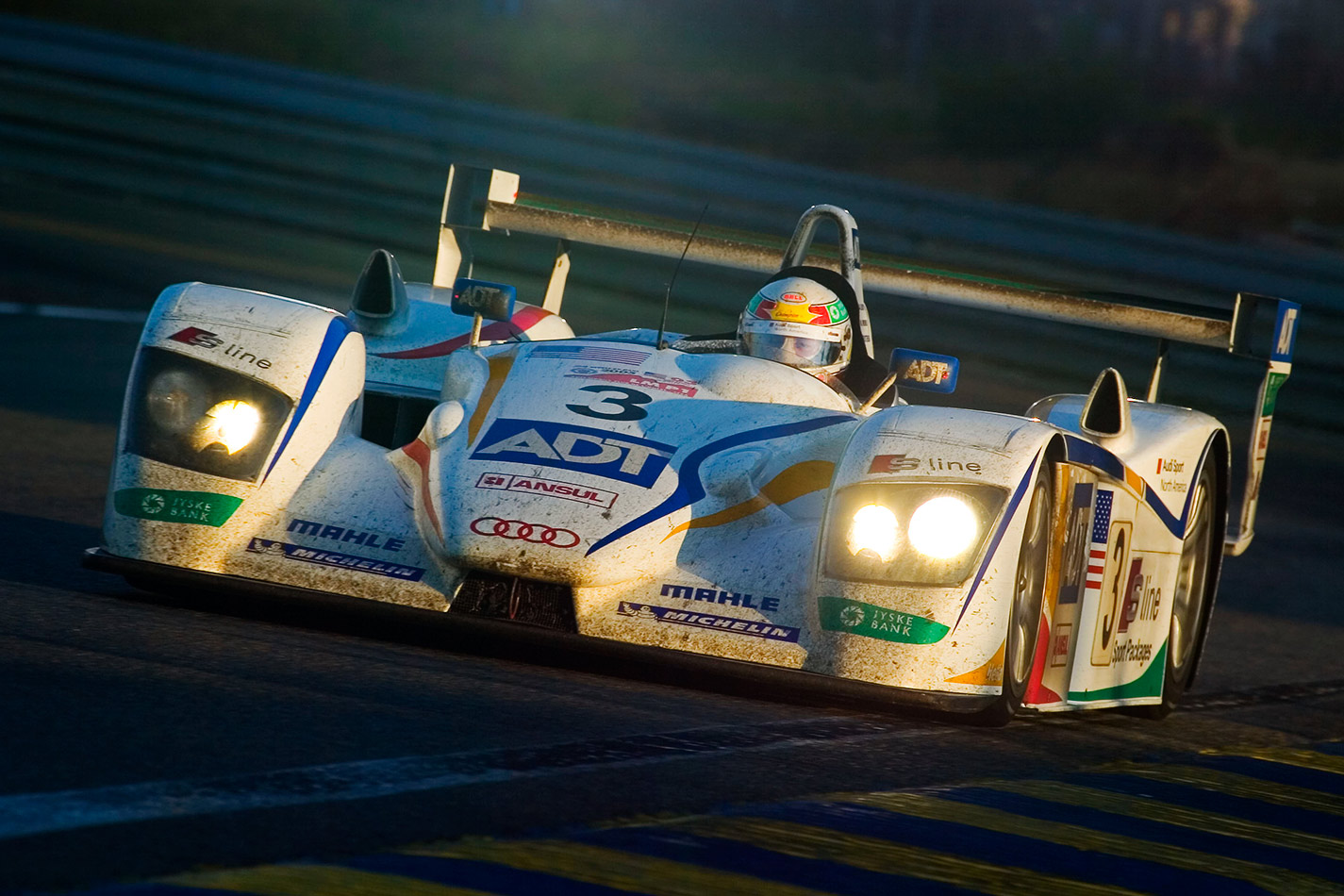 'We had to be as fast as possible and keep the hammer down all the time' – Tom Kristensen
No one ever accused Dave Maraj of being average at anything,  so how did Tom find him as a team boss after working with Dr. Ullrich?  "He's down to earth and sometimes absolutely cool.  But behind the sunglasses you see that he can be quite nervous.  He's very much a guy who is one of the boys and he feels for everyone within his team.  At first glance he appears to be very cool but that's the wrong impression because he's a very passionate and emotional guy."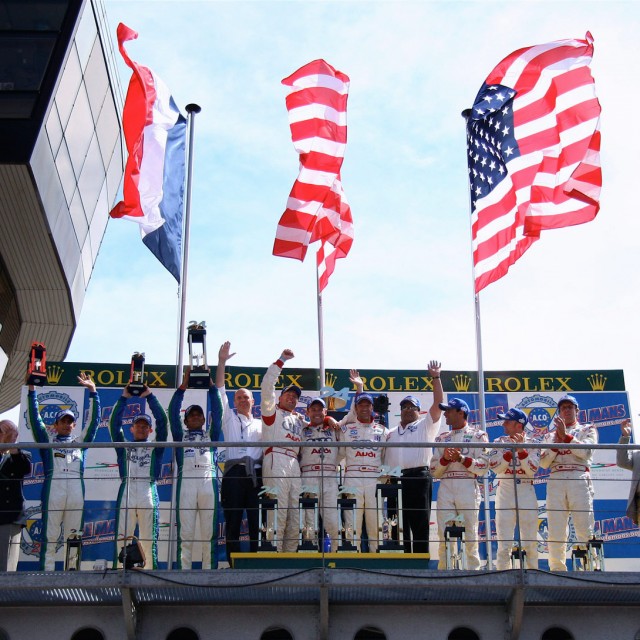 Tom retired last year from active racing and when asked about his nine wins and which is his favorite,  he has always said they are like children…you cannot pick one.  We asked him what was special about the 2005 win… "I liked the American win.  The American way,  American based team,  American structure and coming and winning again.  I was born in 1967 and this was the first overall win since then to an American team.  I was invited by Dave to attend the 2005 season finale at Laguna Seca and you certainly felt that.  It was very important and I think that it energized other American teams.  The 2005 win is very much high on my list,  but they are all high on the list when you win Le Mans.  All of them were different; with the R8 it was a 'works' team for three years,  then Team Bentley of course.  Team Goh which was a single car entry,  then Champion was a two car team so was a little bit similar to the 'works' but with American camaraderie in the team.  You were driving for buddies instead of in a 'works' team when you are feeling pressure from the board."
Tom talks about the intimate feeling of racing in a one car team such as his first win with Joest in the Porsche and also at Team Goh where the entire focus is on the sole car.  He also points out that his other race for Champion that year was the season opener at Sebring.  Allan McNish also recalled this event in the Part One of this story.  "The Sebring victory shouldn't be neglected because that was one of the best races of my career.  It was brilliant because Allan and I were both on equal tires.  When I had new tires I was reeling him in and vice versa… we had a great scrap to the chequer!"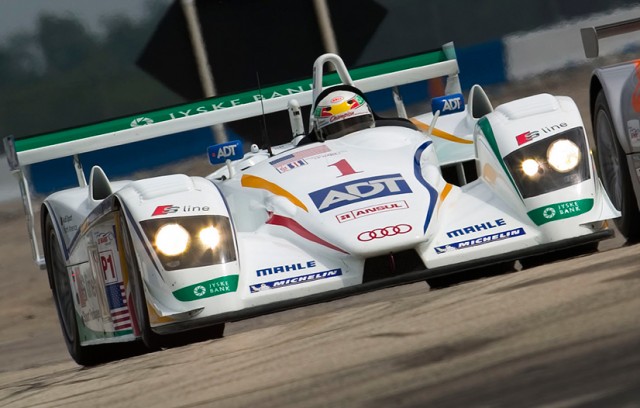 The finish of that race was one of the closest in Sebring history and Tom tells how he almost gave Brad Kettler a heart attack  on the last lap,  "I came on the radio and asked, 'Do you want a photo finish?' and the desperate reply was,  'NO! Keep the hammer down!'  As I came around the last corner,"  Tom giggles, "I said, 'I was only joking!'   Then Boom! Boom!  It was a one-two.  I think that also realized how big the internal fight was because we were – you could say – some of the best drivers over the R8 years in the Champion cars.  We had a great dice to be sure."
Going into the month of June the pressure was surely on,  but the Sebring win gave the Champion team momentum and steeled their resolve while bouying their spirits.  The drivers and team members all knew that the performance of their cars would be blunted by the new rules but all made a concerted effort not to get sucked into any negativity.  "We knew that we were somehow favored because we were in an Audi but there was no way we were going to win on speed.  We had to be as fast as possible and keep the hammer down all the time while not making any mistakes.
"It was the same approach we had in 2008.  I would say that we used the Champion victory a lot – Allan and myself as we were in the same car – we said,  'We've been in this situation before and we're not going to listen to guys saying it's impossible to win',  we're just going to ignore it and not say anything except within our team.  We'll just work as hard as we can and keep the pressure on as much as we can and not give in by saying, ' we have no chance',  but also not be stupid and say,  'we're going to win'.  That was very much the mental approach going into these races."
'If I get a little too proud the family makes sure to tell me to go and cut the lawn' –

Tom Kristensen
As touched on earlier, Tom's 2005 win surpassed Jacky Ickx's total.  When we ask about his feelings over breaking the record of one of his idols,  he says…  "That year – yes – personally I had an answering machine that was beeping and it was Jacky congratulating me.  He said that he was sure that I was going to beat his record and why he was sure was because he had a glass of Champagne and  was watching the race with his girlfriend at ten minutes to four.  They were celebrating me passing and being alone with the Le Mans record and moving away from the joint record of six.  He congratulated me and I called him back later,  but I kept the answering machine message for a long time…I even played it for friends.  It means a lot when you have that and hear from the great man himself"
Tom is quick to point out that the Le Mans victories were not of his own doing.  "All my wins were very much a joint effort.  I know that over the years the wins became more and more focused on me, and I try to work a lot on making sure that it is spread around and reflective of the whole team because all the time it was very much a team effort".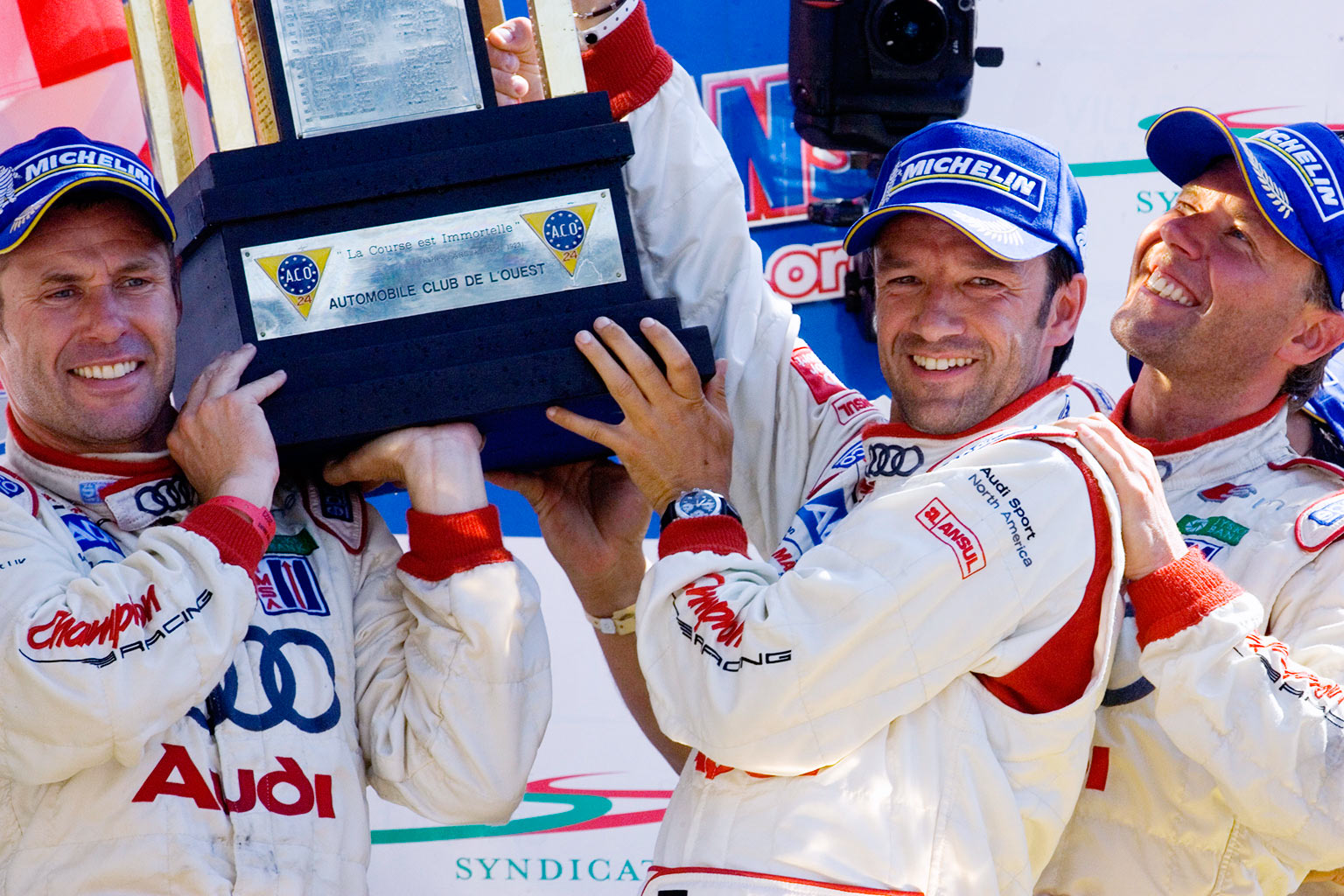 When asked if he thinks that his record nine wins will succumb to another driver in the future he is both pragmatic and modest.  I think he's telling the me truth but I'm not sure I would be as humble… "Records,  I have learned, are there to be broken.  So yes, I would be very fascinated by congratulating or calling, or whatever we do in the future because it's going to take some years for sure.  That's what sports are about and that's what we want to see happening.  I'm sure, or at least I hope that I will react in a way like Derek Bell did and like Jacky Ickx did to me because I will have a great sympathy for the guy and what he has achieved."  I am serious when I say that it likely will not happen in our lifetimes, to which Tom replies, "Then I will tell my son to tell him"
After his final drive at Interlagos in the Audi R18 e-tron quattro in 20104 (where his team placed third),  Tom has had little time to reflect on his place in history.  I ask him how he views his momentous career.  "When the race goes on,  I wanna be there,  but that is because you are a racer.  When you see it you wanna be in the car again and you think,  'Oooh, aah!  I would have done this,  I could have done that'  but I am absolutely happy with my decision there's no doubt.  I have zero regrets and I loved my career as a race car driver.  I am proud but if I get a little too proud the family makes sure to tell me to go and cut the lawn."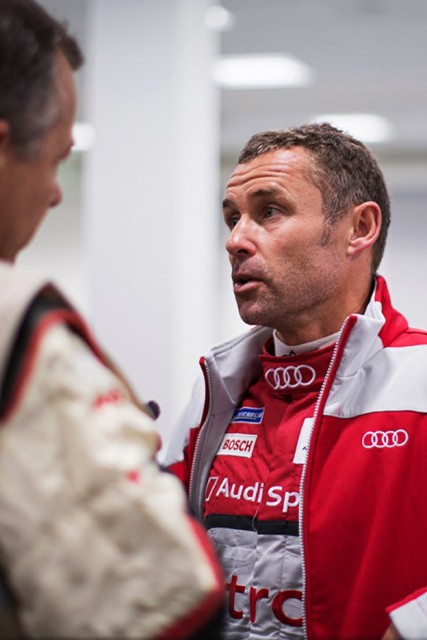 When at Silverstone for the season-opening WEC race in 2014, we chatted with Tom and asked him if he had yet considered retirement to which he replied,  "Now is not the time to talk of such things.  It's spring time and we should be smelling the flowers!  Ask me again at the end of the year."
So we when did he know?  We follow up with Tom,  "It probably started a little bit around Austin as we had this long break after Le Mans last year… almost three months to the next race which was too long.  I started to think more,  mainly on the long journeys like back to the east after Austin,  but literally the 19th of November  (when the announcement was made),  I had made the decision about a week before that.  I had never thought about retirement…it was not my intention at all.  When I approached Dr. Ullrich he said I could do it at the finale but I said no.  I didn't want to do it there because the decision had already been taken.  He also felt that it had been a good season last year and that was part of why I wanted to do it.
"I had been driving with these new cars with the new aspects…the coasting, the lifting, the hybrid…it was a different way of racing.  The future has really started now and I have been a part of that.  I liked it in a way but it was also a good time to stop…when you are strong."  I asked who he had told first about the decision and his answer was somewhat surprising:  "It was difficult because you know you can't discuss things like this with your wife when you are lost.  Dr. Ullrich and a close friend of mine had been the ones who I opened up to a little bit around that time before I made the statement in Copenhagen which is where I called the press conference.  After I told my wife I realized that she was very very happy…we were getting very much eye contact, and she thought it was fantastic.  When the decision was taken, my wife was not the first to know…my 18 year old son knew a little bit before then."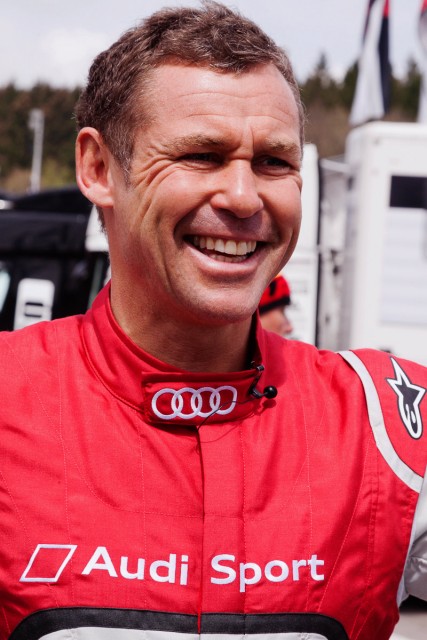 Today after his retirement from the driver's seat,  Tom has many roles to fill,  some still with Audi of course.  As one of the fittest drivers in the paddock, his primary function is to oversee the physical and mental fitness of the current crop of Audi  'works' drivers across all the race series.  He is also an Audi Brand Ambassador…who could be better?  As well as his sponsor obligations and being  the FIA driver steward at many F1 races,  he will also be the Grand Marshal at this year's running of Le Mans which he could rightly call his own.  He has a new coffee table book coming out which will (hopefully) be released at Le Mans next month.
As we end our conversation,  Tom tells me that it's his son's 18th birthday today and they have special plans… His local football team Hobro IK – who they staunchly support – are playing an away game at Copenhagen.  The team's story is a bit of a Cinderella fairy tale.  As a club with a stadium that holds only 4,000 spectators,  the team of mostly working men has only three full time professional players,  yet they have made it into the Danish Superliga for the first season in their more than 100 year history.  Tom told me later that the team had won the game,  the news of which was of course very exciting for him and his small home town of Hobro… "It's unbelievable!  But you can do a lot with passion and determination…just like a small race team from Pompano Beach."

Bonus Photo Gallery – Le Mans 2005

If you missed Part 1 of the story, click here to read it now
For more information about Champion Racing, check out their book "Champion Racing – A little Bit of Magic".
James Edmonds' review of the Champion book can be found here.
Contributing Photographer Websites:
[popup url="http://www.regislefebure.com/" width= "990" height="500″ align="center"]Regis Lefebure Photography[/popup]
[popup url=" http://www.racingpilot.com/aboutus911.html" width= "950" height="475″ align="center"]Jack Webster Photographer[/popup]
[popup url=" http://www.mountersphotography.co.uk" width= "950" height="550″ align="center"]John Mountney Photography[/popup]We would like to thank all the team members who gave their time for this article as well as Martyn Pass and Fabian Wiedl.


Our Champion Racing Story is Dedicated to Keith Bransford.  Here's to you Keith, from all the guys…

Le Mans 2005 – The American Team That Won It. Part 2