Lord of the Wings
Lord of the Wings – A Chat with Paul Drayson
 By James Edmonds
Paul, Lord Drayson is a man on a mission. He is trying to help save the world. Not from Blofeld, but from everyone else. He is spreading the 'green' message, and by cleaning up on the race track, he is hoping that we will start cleaning up the planet, using science to help us do it, while not forgetting our 'Joie de Vive' along the way.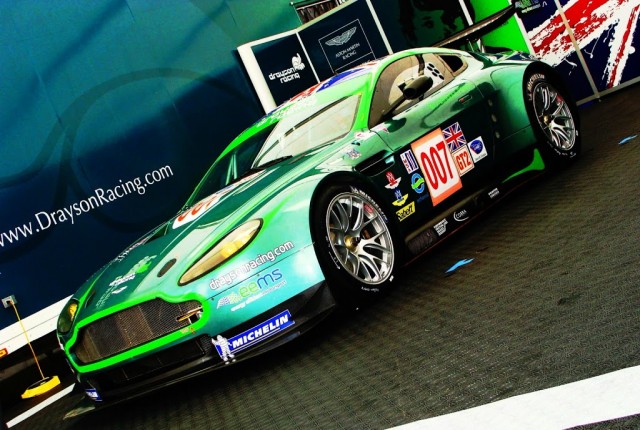 The character associations are inevitable. After all, he is a life peer of the House of Lords; he has a brace of Aston Martin road cars in his stable and races a bio-fuelled Vantage GT2 in Le Mans Series races on three continents, wearing the number 007 here in the USA for the ALMS races. But they've got it all wrong you know. "The name is Drayson, Paul Drayson" must have appeared in just about every piece yet written on the man, but if the truth be told, he is more akin to a real life 'Q' than the more popular analogy of James Bond.
To use his full title, Baron Drayson of Kensington in the Royal Borough of Kensington and Chelsea is currently the Minister for Science in the Department for Innovation, and holds a PhD in Robotics. He could speak effusively on the subject with authority for much longer than our time would allow. It was with pleasure that I was able to speak with Paul Drayson

 

whilst attending the 12 Hours of Sebring, the opening round of the American Le Mans Series in between his other calendar engagements, I'm sure used to great effect to spread the gospel of the green movement.
The affable, youthful and energetic husband and father of five speaks with genuine enthusiasm about the importance of pioneering the use of bio-fuels, the need for science in the school classrooms of today and equally about his role in the world of motor racing not only as a vehicle to help the masses realize that it is cool to be green, but also to show how much he absolutely loves racing Aston Martins!
Growing up literally a stones throw from Brands Hatch in Kent, he could hear the engines of the cars racing before he even knew what a racing car looked like. As he grew older, cars and racing were to become passions for the young Drayson. "Growing up with my dad, in the late sixties and seventies, the two marques we talked about most were Lotus, and although they weren't racing much at the time, Aston Martin. We talked about a Lotus Seven…that's what we were aspiring to when I was little! But when I started to have some financial success with my business, I bought a DB7. Later I found a DB4GT, which is one of the most beautiful cars ever, and the fact that Astons have grunt but are also beautiful….that is the combination I love."
After graduating from Aston University (how apropos!) in Production Engineering in 1985, he went on to obtain his PhD in robotics.

 

After a five year stint as managing director of a food company, he started PowderJect Pharmaceuticals, which produced vaccines. It was through this that Paul became involved in politics when "the animal rights activists were causing more and more problems due to the testing on animals for vaccines, which are absolutely necessary, so I got on my soap box and

 

started speaking out for the industry, and I soon found that I enjoyed it."

 

As a self confessed tinkerer, being appointed Minister for Science was a dream come true. "It's not often in politics that a job so closely relates to your background…a round peg in a round hole. The fact that I've been involved in research and have a PhD, and have worked as a science entrepreneur for 15 odd years, I know exactly what it's like to build businesses based on science.

My job really, is to champion science and engineering to make sure the way in which the government implements policies helps companies and individuals. And in the global downtown we're going through, it couldn't be more relevant or more important. We've been too reliant on financial services and we need to get more growth out of science and engineering. We are talking now about the areas where the UKhas global leadership, and making sure that we are focusing enough resources on those areas."
His involvement in Richard Noble's Bloodhound SSC land speed record attempt is another project close to Lord Drayson's heart. "I am very enthusiastic about it. Richard (Noble) and I were brain-storming about how to get support for it, and I suggested to them, that because there is such a shortage of young people involved in science and engineering, that if they approached it not just as a land speed record project, but as an educational project, and set it up so that there would be totally open access, we could then use it as a vehicle for getting young people interestingly reading into it. Then I felt, that a lot of companies and organizations who really shared the concern would get on board. They also needed some engines, so as Minister for Defense Procurement
,
I was able to find some Eurofighter engines which were virtually out of hours, but had sufficient hours left to be able to do the land speed record.
We just launched the website. The CFD and engine data is all there, so people can not only follow how they solve the engineering problems, (they call it an engineering adventure), but also they can contribute themselves. The numbers and the math's involved in going one thousand miles per hour are just tremendous! The mock up of the car shows just how strikingly big it is. It's not just a bit bigger than a normal race car, it's like an aircraft without wings!"
Lord Drayson came into the limelight after he sold his company and netted his family a fortune that enabled him to finally realize his dream of going racing and following in the tyre tracks of such childhood heroes as Jackie Stewart and Graham Hill.

 

After getting his toes wet in historic racing, he got his UKracing license and started competing in the British GT Championship with a GT3 Aston Martin DBRS9.

 

The racing world stopped and took notice after the team became the first ever to win an international race with a bio-fuelled car. At the end of the season, Paul had racked up two wins and secured the runner up spot in the British GT series. Not a bad start and one which set the wheels in motion to help him realize the dream of racing a "green" car at Le Mans.

Paul chuckles as he relates how he brought some of his peers to the track one day for a demonstration of this 'silly racing thing!' People not familiar with the physical tolls taken on the body by hot lapping in a modern world class racing car were shocked to find out that one needed to actually be fit to drive like this….until they were taken around the circuit that is! A particularly green (pun intended) female colleague was surprised to hear that in endurance racing, the cars are driven by a team of drivers. "She asked me, 'Do you go around together?' to which I replied, 'No, we all take turns!". I daren't ask what would happen if he took some of his racing buddies down to Parliament Square!
Green racing is at the center of the Drayson ethos. Being afforded the luxury to balance the duality of racing and politics enables him to cross-pollinate the two. No two worlds could be more disparate. "I come at this from the perspective of a science minister. I get to see the data about climate change and I get the information that is coming from the scientific community. The data is really frightening. The way in which the climate change is accelerating means that we have got to take action for the planet.
So I think motor racing has a huge opportunity and a responsibility, and that's why I've been so passionate about it. For me, motor racing has always been about where innovation takes place. Now the challenge for the global automotive industry is to find ways to make cars as desirable as they can be, with no compromise as to how cool they are, how beautiful they are or how fast they go. But they also have to be environmentally friendly, and this is a huge technical challenge. So I think that racing, and what is being done here in the American Le Mans Series is absolutely the right thing, because what motor racing can do, is make being green cool. Not dull and boring, not about telling people that they can't do things….quite the opposite. It's about saying we can use cellulosic engineering to have both."
He gestures towards his Vantage sitting outside the motor home where we are talking. "A car like that Aston Martin looks beautiful, it goes like stink, it absolutely is on the pace in all aspects, but it is also using a fuel which is made from waste wood, which has the lowest carbon footprint of any fuel. And in doing so it communicates to people that it is possible to do it without compromising performance. I think that's a very important message. I hope that more race teams and more car companies will follow that lead. Endurance racing in particular, here in the United States and in Europeis a great test bed for this. I can't wait for the day when we have on track, a diesel car racing an electric car, a gasoline car, a bio fuel car…I think it's a great time to be in endurance racing. For those people who doubt the importance of planet change, I say look at the data. For those people who think it can be put off, it can't. This is a great opportunity for the motor racing industry to be relevant.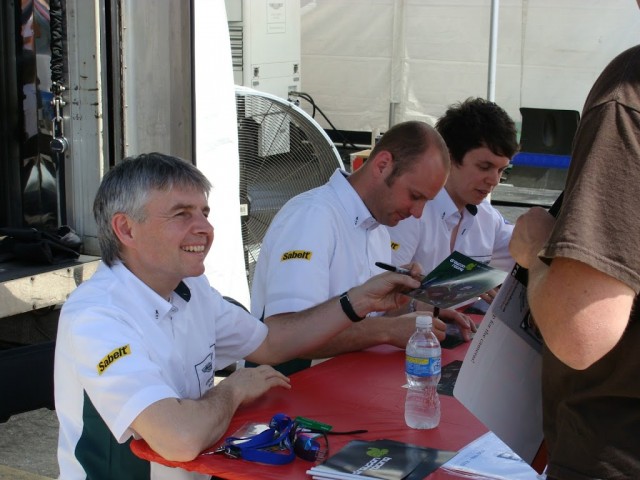 The change is not happening as fast as I'd like, but the ALMS has shown the way with the Green Challenge, and it was so cool being part of that first race…we nearly won it. We came second. Now that Michelin has got behind it, I think it will be happening in Europeeventually. It's very important for example, that it's used to explain the differences between first and second generation bio-fuels. There's a lot of controversy about that. First generation fuels are made from food products, so they do contribute to food shortages, and therefore not a good thing. Second generation fuel that we use is made from waste wood. From my Science Minister perspective, it's fascinating that we've discovered this!"
If allowed, we could have talked for an hour on the subject, but this was a race week and not a casual luncheon. Lord Drayson is confident that with the help of the laws now in place in the UK, and with the oil companies forced to make epic changes, that a paradigm shift is in our midst. He firmly believes that in ten years, we will see an infrastructure in place that will allow us to operate any manner of hydrogen, bio-fuel, electric and yes, gasoline powered cars on the highways and byways of the land.

 
You would think being a Minister in the House of Lords would present challenges that might make racing around the world a daunting prospect, but that is nothing when compared to overcoming the disability Paul was born with. Being born with monocular vision (that is blind in one eye to most of us) was a piffling issue for Drayson for whom not much gets in the way!
"I was brought up by parents whose attitude was that there is nothing you cannot do if you put your mind to it. No excuses. I didn't know there were any rules against it in racing. What I found was that there was no problem in the UK getting a national license if you had lost the vision more than five years ago. I only discovered there was a problem when I had got enough experience to apply for an international license. It turned out that it was to do with an old French law going back years which had just been incorporated over time into the FIA rules.
So I started a protest really of trying to persuade the FIA to change the rule. Not easy! The way I approached it was firstly getting the medical evidence. It was great because I learned a lot about what happens in the brain when you lose sight in one eye. Amazingly, it re-maps itself such that the neurons that were connected to the optic nerve of the eye that was lost get reconnected to the good eye, so you get this super capacity in your good eye. Secondly, the body adapts by using movements of the head and the eye to create a three dimensional model based on many single dimensional images. Because I was born like this, my brain has worked like this all the time.
I met with the medical commission, and was very pleased at the end of last year when they changed the rules. Now all people who are blind in one eye have a chance to race. Everybody has to be assessed as an individual for safety and capacity, but if you can do it, then you can do it!"
Having earned his wings, so to speak, Paul has embarked on a much more ambitious program for 2009 than he did last year doing predominantly ALMS races. Events in Americaand Asia, bracket a full season in the Le Mans Series meaning that the team will all have their work cut out, and Paul still has to find time be Lord Drayson. "When we visit other countries to go racing, I am also going as a science ambassador and combining the two. When we go to Spa, I'm giving a speech the day before the race. I've had to develop the capacity to be able to take one head off, put the racing head on, then after the race put the science minister head back on!
When I was defense minister, I was racing in the British GT championship and I really found it quite difficult. I would turn up at the circuit with my head full of defense stuff, and it would take me all weekend to get my head straight, and I wouldn't be really on it until Sunday morning. Now, I'm a lot better. I've put a lot of effort into mental preparation, and managing to partition these things. Managing the time is tough, but you don't know until you try something!"

                          
Balancing a large family, a political career and a global racing program means that time to relax is hard to come by, but time with the kids is where he finds time to unwind. Even when time off is available though, the exuberant Drayson is still a hard charger, using fencing as a way to take his mind off everything, keep fit and hone his reflexes. Having a hobby that you can enjoy with your children is always a bonus, and Paul helped one of his sons to fourth place in a national fencing championship recently.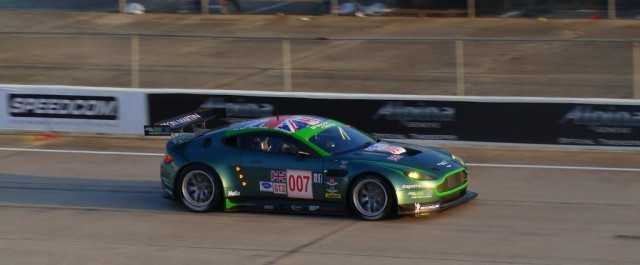 Last year, the team that had been run in conjunction with Barwell Motorsports announced the formation of Drayson Racing, with Lord Drayson and his wife, Elspeth, Lady Drayson now as team owners and official partners of Aston Martin Racing. "Drayson Barwell was a joint venture between me and Barwell Motorsports, a professional team with a number of customers. When I became a Minister, I had to have one hundred percent focus on my program to make it work, so decided that this was the right time to start my own team and I'm really glad to have done that. What it means is that we can now organize the team to absolutely be as efficient as possible in terms of my time program. But also it's a way of having that single minded focus…and to me it feels like what it felt like building my companies. There's something really fun and creative about building something your way, and bringing in values to the team that you believe are important. Based on our test at Paul Ricard and here at Sebring, it's going really well…it has a lot of potential."
With Le Manslooming, and with it the realization of his dream, Paul is able to reflect on what he has accomplished to date. You and I can only imagine what it will be like, there at Le Mansin 2009, proudly wearing the Aston Martin wings alongside the factory LMP1 cars. "It makes me feel very proud indeed. Having been there as a spectator seeing teams like Rollcentre and Bentley, and how the Brits in the crowd go mad…and they are going to go mad I know. With everything coming together this year, if you'd have said to me, 'What are the chances Paul, of you being at Le Mans, in an Aston Martin on the fiftieth anniversary of their outright win?', I'd have said 'Come on!', but we're going to be there and we can't wait!"
Paul is a huge supporter of the AMOC and the AMHT, as can be seen of the front wings of the car. Club members are always greeted cheerfully and are encouraged to come and say hello at any of the race meetings where the team is running.
I am sure that the club members are just as excited as Paul and his team at the prospect of what lies ahead this year, and I'm sure that the AMOC will join me in wishing them all the very best of fortune for this year and the future.
You can follow the adventures of Drayson Racing and all their news on their excellent web site:

www.draysonracing.com
As a footnote, I'd like to thank Tom Moore and Dr. Anna Sarphie for making time in Paul's busy schedule for me, and also for being so warm and welcoming. It was a real pleasure.