Newport Pagnell one last time and a chat with David Richards
First published in the Fall 2007 edition of The Vantage Point and reproduced by kind permission of the Aston Martin Owners Club
NewportPagnell (final) Visit, Prodrive Charity Event and David Richards Interview
After seeing the Prodrive open day and charity event advertised on their website I decided that a quick trip home to Blighty for a week would be a good idea and make for a nice break with my 5 year old son, Connor. We left my wife home to take care of Connor's twin sisters and made our plans to attend the July 14
th
event.
After contacting
Michelle England at Prodrive, I told her of our plans to attend and asked if it would possible to get some one on one time with David Richards, thinking that an interview with the man that saved "our" beloved Astons from the near certain vagaries of some of the proposed private equity groups would make for an interesting read. I was told that on the day we would "see what could be arranged". More on that shortly.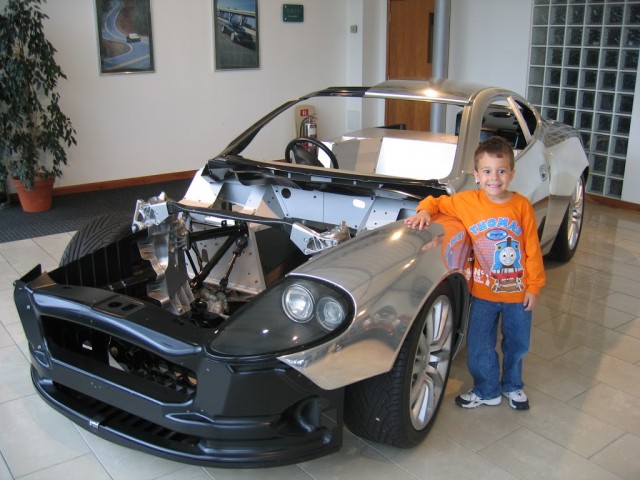 I arrived to a predictably wet
London
on Friday morning (anyone see
Wimbledon
this year!?) and met my father and cousin at the airport. Once in the car and headed for cousin Carl's home on Tickford St in Newport Pagnell (the same cousin who built the engine for my DBS while at RS Williams) I was greeted by eye rolling and moans when I told them that we had an appointment at lunchtime with Arthur Sinclair to tour the old works. They should have known better and I have no sympathy for them because they know by now that every trip to my dad's side of the family there always starts with a tour of the factory. This has been going on for 35 years and started when I used to go to work with Carl as a small kid whilst on summer visits to stay with them!
We arrived at the service department reception as planned after a cuppa tea with the family. My mum even came along! After a
brief wait and a good look at the interesting cars and ephemera in the foyer we were greeted by Mr Sinclair, the manager of Works Service. "Sorry the Bond Vanquish isn't here for you to see" he said. "No problem" I replied. "It's at Prodrive….we'll see it tomorrow!"
I was not aware that this week was to be the final week of Vanquish production and the end of the road for new car creation on Tickford Street. I was glad to witness this historic event in Aston's history, but very saddened that I will never again be able to have a leisurely stroll through this most iconic of places and that which holds such fond memories for me. Hours of Aston chatter and pub lunches across the road with old friend Roger Stowers will always bring a smile and a tear. If you never had the chance to have a tour with Roger, you really missed something special. The passion he imbued to all that went on his tours will never be repeated. What other factory in the world can you tour and get a cup of tea in a china cup and saucer?
As work stops on Fridays after lunch, we toured a fairly empty place which only added to the eeriness of the occasion. The only cars in the place were finished or almost finished Vanquish S Ultimate editions. All black. I snapped a shot of one chassis with the words "THE LAST BUILT VANQUISH S 03-07-07 NEWPORT PAGNELL" written in magic marker. That same chassis was rolled out as a completed car week later to the media and many factory employees from past and present. All very sad on one hand, but exciting on the other at the prospect of bigger and better things to come.
The Heritage restoration facility is in full swing with packed order books and Works Service continues to be a huge success. Sheds with cars waiting to be brought back to life are abound and house some real treasures. One of note was a DB4 GT Zagato awaiting it's turn with some of the craftsmen who may have once fettled her when new.
Service and restoration are now separate entities, with dedicated staff now doing one or the other.
The Works restored DB6 Mk II Volante which recently brought a world record $860,000 at the Bonhams auction (after a presale estimate of $500K) shows that the collectors are taking notice. The service side of
Tickford Street
will remain, while the other side of the road which housed production will be torn down to make way for a housing development. The good news for people who have a soft spot for the place is that "Sunnyside" will be retained, albeit as offices for other businesses and the three story brick "Salmons" building is a protected historic building thanks to the residents of Newport Pagnell who voted to keep it.
After a long look and a stroll across the road for a pint, it was off to rest up for the following day's activities at Prodrive.
Prodrive Charity Event & David Richards Interview
Saturday dawned with blue skies and cool temperatures…..perfect for the hour drive across beautiful Buckinghamshire to Banbury, home base of the world famous Prodrive. We arrived early of course, and to the sight of Subaru WRX variants parked as far as the eye could see. Besides building the DBR9 race cars, Prodrive has been campaigning Subaru rally cars in the WRC for many years and with huge success. I suspect that there were many more Scooby Doo fans there than Aston fans.
As the gates were opened to allow the huge crowds in, I made contact straight away with Michelle England and Ben Sayer to see if I could get my eagerly anticipated interview with "The Man". I was told by Ben that he may be able to squeeze two minutes with him at some point and to find him later to arrange it. Easier said than done, as Ben was hosting all manner of events all day and all over the very large facility. After hosting the Subaru rally car simulated service, which saw the car come tearing round a corner, engine at full chat and the car decidedly sideways before pulling up to the garage setup for a gearbox change, he was then off to do the same on the other side of the park with the Aston Le Mans squad! This was of course much more up my alley. Four of the Bond Astons (DB5, V8 Vantage, Vanquish and new DBS) were lined up with Bond theme music piped in and surrounded by the DBR9 transporters and of course, the stars of the show, 007 and 009 on display with the
Le Mans
trophy proudly displayed. Several new Astons were on hand and team manager George Howard Chappell gave some of his thoughts to the assembled masses about his history with Prodrive and the recent
Le Mans
win.
Then came David Brabham, full of smiles to address the crowd about racing at
Le Mans
and for Aston Martin. He recounted how he and David Coulthard had been stripped of their class win at
Le Mans
in '93 due to a technicality after the event, ("I still have the trophy though!") and how this win had been a long time coming. "The last laps in the rain were the most stressful of my career. The pressure of Dave Richards and George breathing down my neck, not to mention the weight of the factory and all their people made my arms and legs feel like lead. Plus the Corvette was chasing us down very fast and I was driving the car 50 mph slower than I needed to just to make it to the finish. Going down the Mulsanne in third with the car aquaplaning all over the place is no fun at all! But in the end, we won and it felt very special". After his chat it was time to jump in the car and bring it into the pit setup for a stop, then a tire smoking burnout out of the box. This followed by some donuts at the other end of the lot and more smoking tires as he returned to do it again a couple more times to the delight of the crowd. The obligatory autograph session followed and then it was time for the charity auction….again hosted by Ben!
The weekend event was to raise funds for the Oxford Children's Hospital and the auction had plenty of race related items as well as many other worthy lots. I won a box of three bottles of Aston Martin Champagne. Silly me didn't remember that I was unable to bring them back to the
US
because of current liquid restrictions on aircraft! Cheers mum and dad…..enjoy!
The Prodrive facility is huge, with many buildings, and lots of land. The main area where the food was served (with jazz banding playing), the auction was held and various other activities, were on a large manicured field (too big to be a lawn) adjacent to all the buildings which house the production, engineering and manufacturing as well as administrative offices. To call the place surgically clean would be an understatement and it was a treat to see bare chassis on jigs being fabricated as well as CNC machines doing their thing on various cylinder heads or other bespoke pieces. Each building had on display the various parts of the cars currently being built and staff on hand to answer questions or help you squeeze that middle aged spreading body into a DBR9! Besides the aforementioned cars on display, the other Astons there were the Vantage Rally GT, N24, DBRS9 and the Prodrive tuned Vantage. Their own heritage center shows movie footage of the many storied cars of their past racing success, as well as all the important cars that the company has been involved with. Everything from the BAR Honda F1 car and Mondeo touring car, to the BMW, Subaru and Porsche rally cars to a Metro 6R4 "Killer B" rally monster and even the fantastic Prodrive P2 concept supercar were on display. A visit to their website will give you a clue as to how diversified this amazing company really is and how much engineering goes into these machines. They almost build the entire cars themselves. There is actually almost nothing left of the original when they are done. When asked about the similarities between a DB9 and a DBR9, George Howard Chappell said, "The tail lights…..oh and the door handles might be he same". He wasn't kidding!
The whump whump whump of a large black helicopter at lunch time brought crowds racing across the place to see David Richards make a really impressive entrance I must say. After signing autographs for half an hour, and with crowds clamoring for his attention I was beginning to think that today was not the day for an interview. Ben told to me grab him after his signings were done, so I waited until the very last person had had his book signed but no can do…..it's lunchtime. "Meet me back here at 3 and we can do it then. Is that alright?" YES! All bloody right then! I had just winged in from
Miami
just for this after all!
I sat there patiently at and waited for Mr Richards to arrive, which he did right on time. Unfortunately, another group of guys who I think were from one of the Subaru clubs had also been waiting and they got first dibs. His next signing session was due to start at 3.30pm and time was running out fast, but after fifteen minutes with the Scooby guys, he walked over, sat down with me and in a very casual, relaxed and well rounded way, answered as many of my questions as I was able to get in. All with aplomb and graciousness. Very relaxed, very smart, very articulate and very practiced after the many many questions he must have answered for the media in recent times. I was very thankful that the two minutes I had been promised, turned into about fifteen. Here is how it went:
James Edmonds
How did you get started in rallying? What sparked your interest? Was it
a boyhood dream?
David Richards I was really interested as a young boy. We lived up in North Walesnot

very near any race tracks. I guess if I'd lived next door to Silverstone where I live now, I probably would have gone motor racing. But in those days rallying was the thing to do in the area and I used to watch the rallies come past when I was about my son's age. Then

as soon as I was seventeen, I was out driving my mother's car.
JE
You started rallying in 1974, and won the World Rally Championship in 1981.
Where did accountancy fit in?
DR Straight from school I studied articles of chartered accounting for five years, but
while I was doing that, I

was actually doing rallying in my spare time.
JE You must have been prettybloody good to get teamed with Ari Vatanen.. How did
that
partnership come about?
DR
Well, he didn't speak any English when he came to Englandfor the first time. I
befriended him, and he comes

from a similar background to myself up in a farming
community. We became good pals until this day. He's still one of my best friends. He
lives in France now, but he'll still come and stay with us and vice versa. But I used to
be good in those days at raising sponsorship as well as being the co driver, so I
could

manage the team and help finance it.
JE
What prompted you to walk away from rallying after the '81 season?
DR In'81 I had a young family, we'd won the World Championship.

I couldn't
see myself spending the rest of my life as a co driver or doing it year after year after
year.

I thought the next stage was to build my own team, so the target was to set my
team up, Rothmans put money behind me in those days, and away we went…
Moving on to F1…
JE
When Honda took over, how did it feel to be let go from BAR after taking them to
2
nd
place in the constructor's championship, just as you were starting to find your
DR

I knew the ground rules. The ground rules from BAT

(British American
Tobacco)
were that when we took on the contract, I had to sort out the finances of
the company, to make the team more competitive, and to sell it to Honda. Well, we
did all those things in three years. I would have loved another couple of years extra,
to take it to it's natural fruition, but it never happened. When people buy companies,
they choose who they want to run them and it's usually the figurehead who goes
JE Do you feel that you could have gone all the way if Honda hadn't increased their
DR Oh, I never hypothesize on these things. It's not worth looking backwards. I move on
JE Be honest. How good would it feel to beat Honda. Is there any revenge in there
DR No not really. I do this for other reasons. The reason we're going into Formula one,
everyone thinks it's about me, and it's about some sort of unfinished business. Quite
to the contrary, it's a natural aspiration for Prodrive. We're in motor racing, we're
in virtually every other category of motor sport today, right at the very top of each of
them and Formula One is missing out of the portfolio, so that's the reason to go
JE
Have you got an agreement with Mclaren for engine or chassis supply for the 2008
DR We can't comment publicly yet, but I'm totally confident that things are moving in the
right direction now and it will be resolved in the coming months.
Okay, let's talk Aston Martin…
JE
You have now acquired AM, in what is arguably the best shape that the company has
ever been in. How do you compare your enthusiast led group to those of the past?
DB,
Peter Sprague, Victor Gauntlett….
DR I think for me, the difference of our timing now, is the very fact that, as you say, the
company is in very sound and robust health. Ford have done a superb job over the
past decade in putting it into the position that it's in today. Giving it the finance,
giving it the support, giving it the access to the technical expertise and putting it into
the position that it's in now. The reality is, that as individual investors in the past, the
wonderful people that you've named did an incredible job with the resources that they
had available to them, but it was an uphill battle for them. I do feel now, that we're on
the first step of the ladder and we've been helped there very much. It's now up to us to
JE Your name was not thrown in to the hat with all the private equity groups until quite
late in the game. At least you did a good job of keeping a big secret from the media
until the last minute it seemed. When Astons were put up for sale, how soon did you
DR Right back last September we were in on the whole process, but we did keep a very
low profile. I suspected that if we had come to the fore too early on, people would
have dismissed us and we would have got some of the negative publicity around it, so
I just decided too keep us out of the press for that period of time. Ford knew I was
there, Ford had had meetings with me, and senior people at Ford knew right at the
outset what was going on, so our timing was about right.
JE How do you weigh passion for the marque with business savvy when approaching the
DR It's very much the same as my role in motor racing. Obviously I have to be
passionate about motor racing to work the weekends and the hours that I do, but
at the end of the day, I'm well aware that if we've spent all the money at the weekend
and we can't pay the bills on Monday morning, then we're not going to be there for
very long. I will apply the same attitude to Aston Martin. Yes we love the brand, we
love the cars, everything about it,

but,

first and foremost, the company must make
profit in order to reinvest in the future and keep ourselves where we should be. So
yes, there's an underlying passion about Aston Martin that's deep rooted in me, but
over

and above everything there's a business sense to it as well.
JE
What kind of classic Aston are you driving presently?
DR
I've got a DB6 Volante, and I've just been looking at the weather today. It's in a
hanger right here…I might put the top down and go home in it tonight!
Now what I really came to talk to you about…racing!
JE
What does it mean to you personally and from a business standpoint, to have led AM
back to victory at
Le Mans
after almost 50 years?
DR That was the culmination of the first stages of Aston Martin Racing. We set up AMR
only

three years ago and the clear goal was to go back and win at Le Mans…today
with a GT car, and who knows in the future, maybe with a potential outright winner.
JE
That brings us nicely to my next question. There is talk that you are interested in
fielding a P1 car for 2009 to go for an outright win. Is that what you are considering?
DR We are certainly looking, but a lot will depend on the regulations. I feel very strongly
that Aston Martin should be associated with sports car racing based around the
product. I can't see a lot of relevance for us doing a pure prototype that doesn't have
a spin off to the customers, that doesn't have any relevance to our road cars and that
the people can't relate to. So I would like to see the organizers change the rules in a
way that would allow us to succeed and win outright with an evolution if you like, or
a derivative of the car we're running today.

(NPX anyone??????)
JE
Scott Atherton has been hinting that we will see you back in the States before the year
is out. Will
AMR be returning to the fray this year to finish out the ALMS season?
DR
We'd very much like to. Clearly, Americais a very important market for Aston
Martin, the ALMS is an appropriate race series for us to compete in, and obviously
we've been there before. It's always difficult to get a budget together halfway
through a season, so giving a full budget to do the rest of the season is unlikely.
We've got to look towards 2008, maybe with a foray to Americalater this year for
JE
Will we be seeing the green cars back at
Le Mans
in 2008, now that you have a win
DR
We'll definitely be back at Le Mans next year. I'm not sure
(long pause)
what colour
the cars will be painted.

(laughs)

There might be a

sponsorship arrangement which
will come along and

support us there. And of course if the rules were to change for
the future

then maybe we'd be already be in there developing a car for an outright
JE
Henri Pescarolo has made a lot of noise about the lack of the ACO's willingness to
impart performance penalties on the diesel cars, whereas Dr Wolfgang Ullrich who is
a petrochemical engineer has said that a properly designed petrol engine could be the
match of the diesels. How do you see that argument?
DR Well Audi would say that wouldn't they, when they've built the obviously dominant
car of

the moment. But the ACO to their credit have been very good at trying to
balance off the different technologies, and it is one the few environments in the world
of motor racing today where you can pitch so many different technologies against
each other. There's no other race series that I can think of that accommodates that.
And so that's always going to be a challenging thing for the ACO to do, and I don't
relish the task they have. They look at the future, they are talking about different
fuels, they are talking about hybrids, they are talking about different technologies and
JE
A DBRS9 just took a win using
bio ethanol fuel…
DR We did. We are leading the British championship and the next race is on this
weekend down at Brands Hatch, so I'll be following that with interest.
JE Lastly……what's next for Dave Richards???????
DR For me, a summer holiday with the family at a little house down on the beach in
Cornwall. I came up from there this morning, I go back down tomorrow night for a
day, the I'm back up here on Tuesday again…
There is certainly no grass growing under this man's feet! His book, "Driven Man" is certainly aptly titled. After concluding my time with Mr Richards, I thanked him and of course had him sign my book. I have been very fortunate in the past to have met such motoring icons as TreVoR Wilkinson (founder of TVR), Peter Wheeler (TVR's most successful custodian), Victor Gauntlett, Dr Ulrich Bez and Dr Wolfgang Ullrich of Audi global motorsport fame to name a few. But to meet and chat with David Richards will be a memory to cherish. Thanks David, it was an honor.
It turns out that the weekend's activities raised over $120,000 for the Oxford Children's Hospital. Having three kids of my own, and two of them having spent many weeks in the neonatal intensive care unit, I really like to support children's charities and was delighted to have been able to contribute. If you are interested in helping Prodrive's favorite charity, you can log on to
www.chox.org.uk/
for more information.
What a great weekend it turned out to be. I think Connor's ride on a real steam train on a vintage railway actually trumped the event for him, but he'll be 6 next year, so there's still time for him yet!