Lunch at the Hotel de France with the Aston Martin Owners Club – 24 Heures du Mans 2013
Story and Photos by James Edmonds
Can you imagine driving a DBR1 for half an hour through the French countryside on your way to the Le Mans paddock? How about a GT40 or even a 917? Back in the days when racing cars were still road legal (if you could call them that!) they were driven to and from the team's base to the track. What a great reward for the mechanics and what better way to start your day?
I tried in vain to imagine it, but no matter how hard I tried, I was unable to make the sound of the diesel in David's Ford truck sound like a finely tuned race engine, so I just enjoyed the ride down and the countryside instead.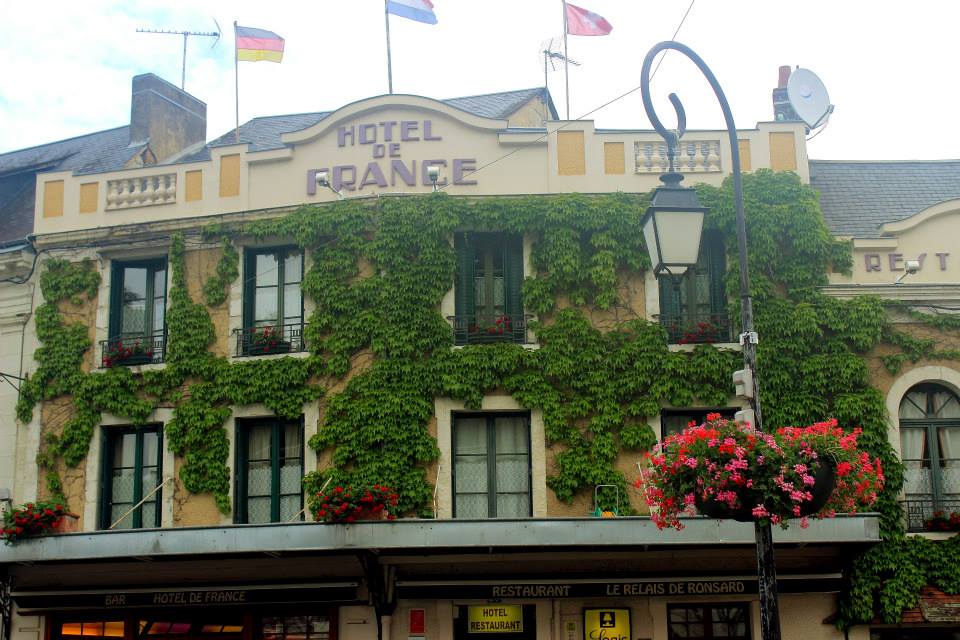 John Wyer discovered the lovely Hotel de France at La Chartre in the 1952 when heading back home from Monza testing. Searching for a new and more accommodating team base, what he found fitted the bill perfectly: it offered a serene setting right on the river and away from the noise and stress of the circuit and ideally a large garage space and courtyard where the cars could be fettled away from prying eyes. The hotel was opened in 1900 and the hospitality offered by the Pasteau family (who incidentally are still the proprietors to this day) along with the good food and atmosphere added to the legend that if John Wyer and the Aston team were staying there, it had to be good!
It has now become a tourist attraction for many race fans who make the pilgrimage every year. They are able to savor a beer or a glass of wine outside, mingle with others trying to soak up the history and breathe in the same air that was once breathed by the gods of our sport.
On the Friday prior to the 24 Heures du Mans, the AMOC had organized a Champagne lunch at the fabled hotel, and for fans of the David Brown racing cars it offered an experience not to be soon forgotten. With Astons of all types gracing the parking lot, ex-Aston driver Mike Salmon and even Noel Pasteau milling around and with special team cars right in front, it was like a scene right out of "Back to the Future".  Adding to the dream-like scene, 1950s works mechanic Roy James who had worked alongside legendary engine man Jack Sopp was there and Aston CEO Dr. Ulrich Bez and team owner/Aston chairman David Richards were even there filling in for DB and JW.
A little old lady on her scooter complete with head scarf and baguettes in her basket was politely escorted from the forecourt, but she needn't have felt too put out…notably a 1930's Blower Bentley, a Lamborghini Murcielago and a Bugatti Veyron were also denied access to the Aston-only parking area.
One car that certainly wasn't denied access was the jaw-droppingly gorgeous and freshly minted one-of-a-kind CC100. The car was carefully placed on the side of the hotel in the same space that was occupied by the race cars decades ago. Resplendent in its Aston Racing Green (no one was sure of the actual name of the hue!) trimmed in yellow, this car was produced specially by the 'works' to celebrate the centenary year and  it perfectly echoed the cars of yore with an ultra-modern twist.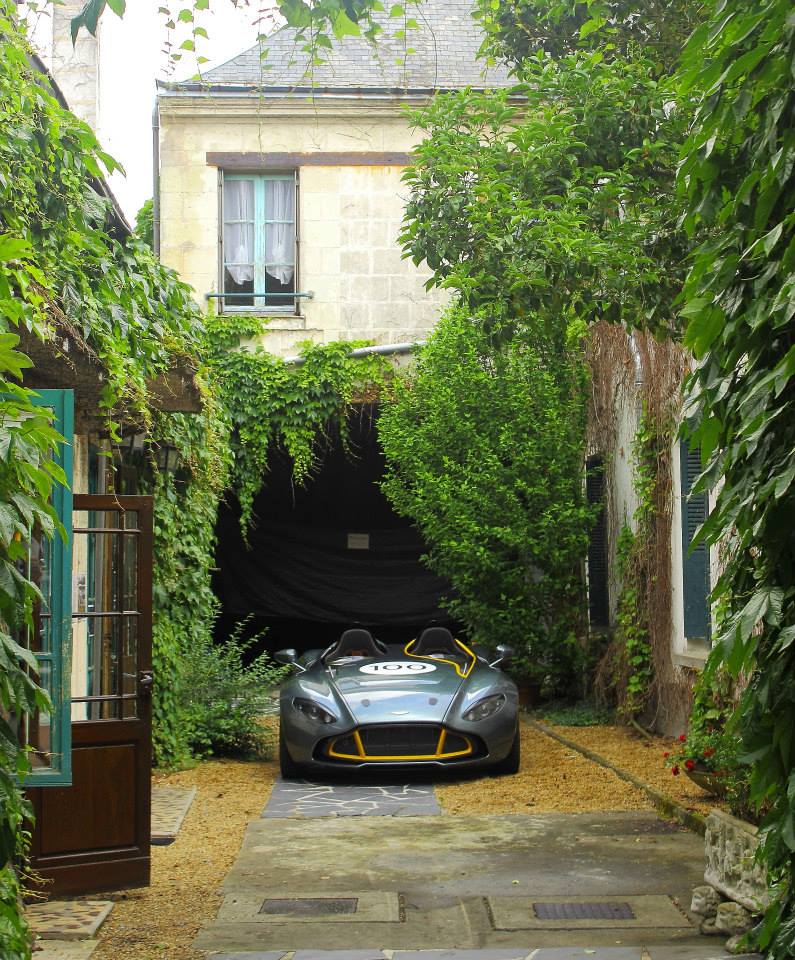 Prototype Build Supervisor Zorin Cvijanovic only recently started at Astons and CC100 was his first project. He drove the car in and didn't require much arm twisting to get talking about his baby. "When I came aboard they had already done the styling and design of the car, so my group was asked to put it together before the Nurburgring. We had five weeks of very long days! This car is not road-going and is already sold to a collector. It's based on a modified V12 Vantage Roadster tub with an ASM gearbox.
"It's a show car/track car and works very well on the track. It was built to celebrate the centenary but it's also a way to show what we are looking at in the future and to show what we are able to do." I asked Zorin what was in the pipeline, but he was understandably cagey, "I can tell you that we are currently working on new things which we will see in two or three years and we have more things coming up, but there's not much that I can tell you at this moment"  he laughed.  I tried.
A second similar car is slated and will be marginally road legal. Although based on the existing car there will be some obvious concessions to safety and roadability. Based on the CC100 if front of us, I for one cannot wait to see the result.
David Richards had a bounce in his step as he glad-handed all the club members and why shouldn't he? With the front row of GTE Pro and pole position in GTE Am for the following day's main event secured he had every right to be pleased. Did he have any comment on the future cars coming out of Gaydon? "The CC100 is an incredible car. It gives cues as to the future and that was always the intention – to represent the past but give a glimpse into the future. If you look at the sales and the appreciation from the customers of the current cars, you say, 'why change something that's so popular?' but at the same time you have to move forward. (Chief designer) Marek (Reichman) has got ideas of where he'd like to take the brand and this gives a nice window into the future."
Maitland Cook regaled us with fabulous stories of when the team stayed here 60 or so years ago, and how wives intermingled with mistresses and girlfriends; how drunken soirees that lasted until 3am resulted in team meetings that started late as pajama clad and hungover drivers stumbled down from their slumber; how Noel Pasteau persuaded the local gendarmes to overlook the local laws being bent severely as the team would block off local back roads to do testing at up to 180 mph! When David Richards took the stand he joked that these were the very reasons why his team did not stay there and woe betide any club members who told his drivers of the antics they had missed!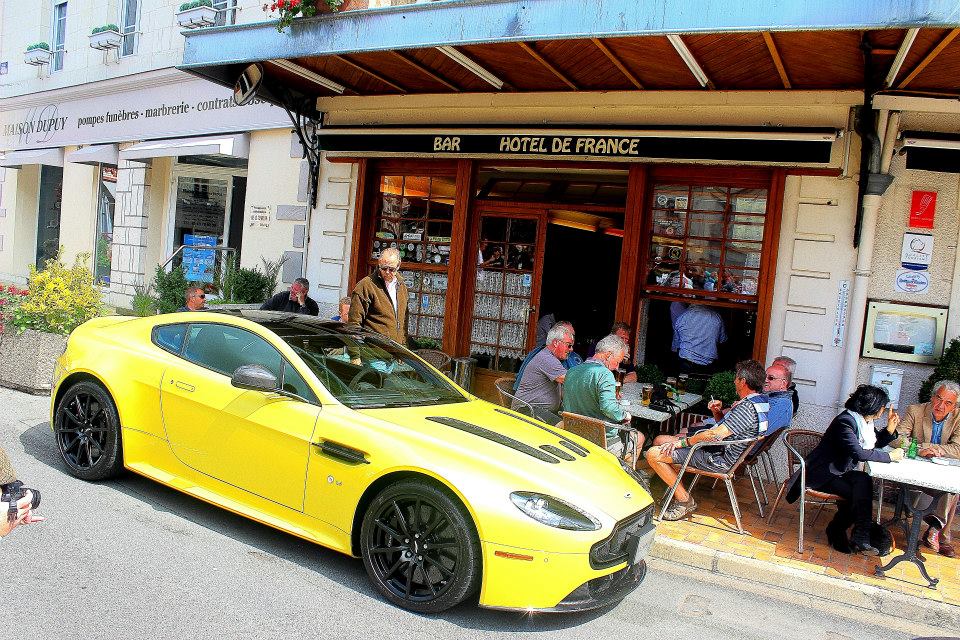 Dr. Ulrich Bez was next up and showed his obvious passion for the marque as he talked about the centenary. "I have participated on this journey for only thirteen years. My target was to give this brand a future. Without a future, history is just history. With a future it becomes heritage and a legend. What better way to celebrate the centenary than with a car! The question was, should we celebrate with a Vanquish? A Rapide S? A V12 Vantage – a car which is a little bit common (!)? A DB9? But the company deserves more. Combining history with heritage and the future, because this is something that nobody can copy. A lot of companies are copying us today. Our designs, what we do, how we do things and we cannot stop that.  But what nobody can copy is our one hundred years of history. I started talking to Marek Reichman about what we can do to celebrate the biggest success in the history of our cars – the World Championship in 1959, the Le Mans win in 1959 and the Nurburgring 1000. Something minimalistic, pure, simple in what it should do, but very successful. But how can we finance something like this? We had to sell it! I went out and talked to a few people and said, 'Would you give me a few hundred thousand pounds? And in six or nine moths you will get something very exciting.' We found two people who said, 'yes we believe you' and this is what allowed us to build the CC100."
He finished with a quip about how much fun it would be to beat the Porsches at Le Mans, and given his well-documented prior employ with the Stuttgart firm, his comments were met with rapturous applause and laughter.
To round out the afternoon and bring us back to present day, we left at 2 o'clock to head back to the circuit. We couldn't believe our luck when we were welcomed into the AMR garage, and still on cloud nine from the earlier events, it was not easy to come back down after being given the green light to wander around freely. I have to say that I felt like a goldfish in a bowl with the throngs of fans behind the velvet rope looking in. You could almost see the thought bubbles, "Who are those guys?"
To meet Noel Pasteau was a rare treat and made for a day to lock in the vault and remember fondly for many years to come.