Rolex 24 at Daytona 2015
Frictional Losses
A big race and lots of teams make it difficult to focus on everyone.  We like to get good insight, so spent the weekend talking to a select few teams about their race.
Rolex 24 at Daytona 2015.  Last year the Flying Lizard Audi R8 LMS was stripped of a GTD Class win after a controversial decision reversal which saw the Level 5 Ferrari take the win in the fiercely contested class.  This year it was the turn of the Wayne Taylor Racing Corvette Team to incur the wrath of the organizers in the premiere prototype class when its DP car was sent from 3rd to last in class. In a race sponsored by Rolex, it seemed ironic that Jordan Taylor spent a few ticks-of-the-clock too many in the car despite a literal last minute effort to right the wrong.  Ganassi won again with their Ford Eco Boost entry gaining themselves a record 6th overall win at the twice-around-the-clock classic. As my least favorite class, it would be easy to be blasé about this accomplishment, but the plaudits earned are certainly well deserved.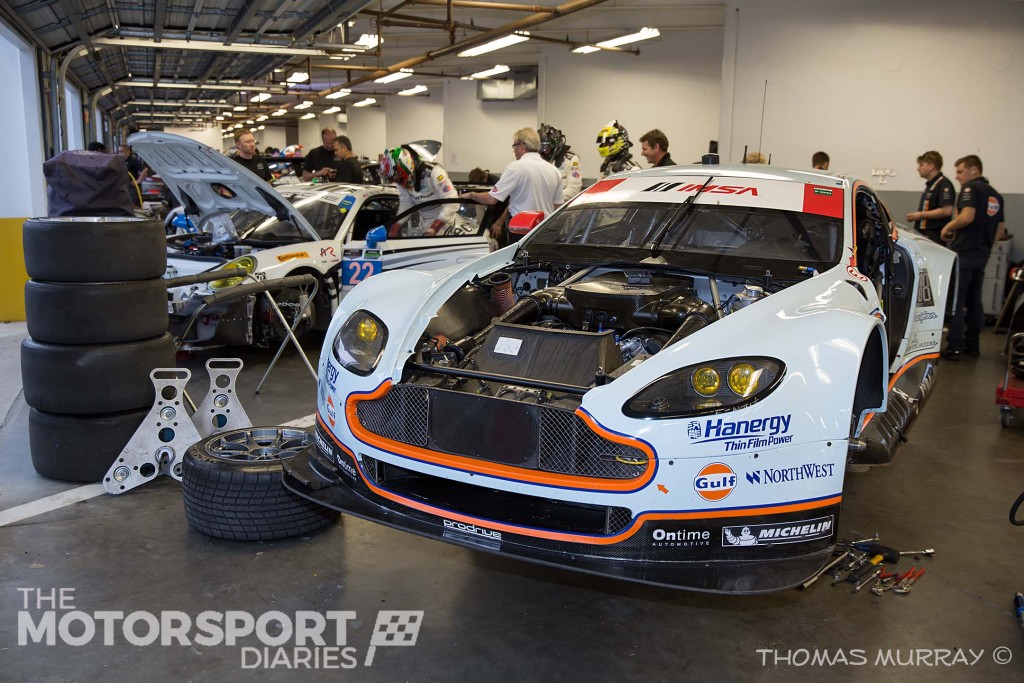 In the GT classes there were the omnipresent Aston teams. This year we were again treated to a single 'works' GTLM entry, the #98 Vantage V8 this time in the iconic Gulf colours and piloted by the long serving veterans Darren Turner, Stefan Mucke and Pedro Lamy.  Joining them were Paul Dalla Lana and second generation driver Mathias Lauda.  Perhaps you may have heard of his father Niki Lauda.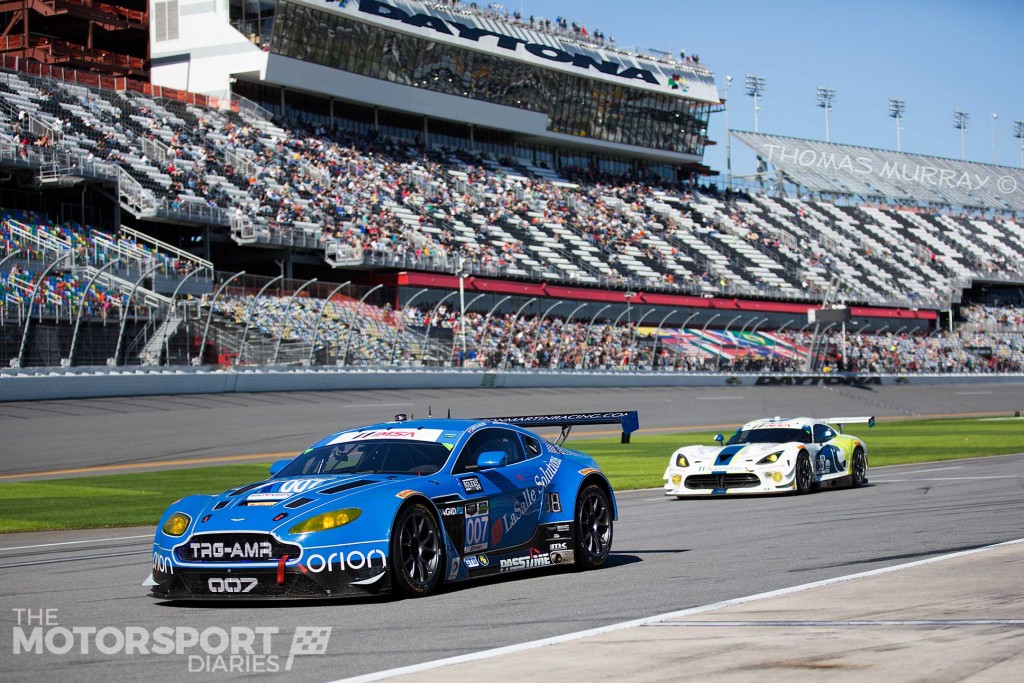 In the GTD class, TRG-AMR fielded two cars: the #007 V12 Vantage GT3,  this year resplendent in its fetching new reverse livery of bright blue with black details and driven by returning Aussie ace James Davison, along with Christina Nielsen, Brandon Davis and Christoffer Nygaard –  'works' AMR Young Driver team member.  The #009 car (much to the chagrin of photographer Thomas Murray, still in last year's flat black scheme) was being pedaled by newcomer Max Riddle, and open wheel star Eliseo Salazar both being paired with experienced journeyman drivers Derek Deboer and Kris Wilson.
As has been a habit since the latter half of last season, Davison once again poled the #007 machine. After qualifying he told me about how it happened…  "It blew me away that we were able to pull it off to be honest,"  he says with his typical modesty.  "We were behind the eight ball in practice but collectively as a team improved our package.  I had a bit of luck on my side when I got a tow off an Audi that was worth a good number of tenths and helped secure the pole.
"For the race we've done a fair bit of set up work in a different direction and I'm looking forward to getting started and getting a result for all the hard work that's been put in."  James was able to secure a string of poles last year but dogged by bad luck, the team was never able to convert these to race wins.  Asked about any changes this year he measured his comments.  "Our biggest challenge last year was things going wrong rather than performance. We've got a stronger more experienced line up this year and the team's got a year of experience running this car.  I feel that as a team, the drivers, mechanics and engineers will help to give us a better striking rate than the previous season and I think that this no doubt will show up in results."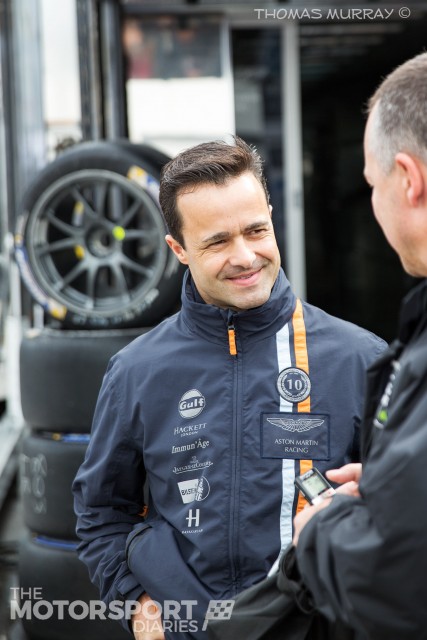 Pedro Lamy was selected to qualify the 'works' car and he managed an outstanding third on the grid despite less than favorable traffic. He spoke to me after his drive.  "Yesterday we were struggling a bit, I don't know why Maybe because we tried soft and hard tires and we don't know what's best, but in qualifying the car was good."  Asked about the aero changes allowed for 2015 he said, "A huge difference, but I don't know if it's still enough to be with the other guys."
Teammate Darren Turner was equally impressed with the car and buoyed with the news that fatherhood will soon revisit him for the second time!  This year the Aston was allowed to run with its Le Mans aero package which meant a much better car for a fast track like Daytona.  "It's been a big change for us," Turner explains, "as last year we were particularly slow on the straights – not ideal here! Having the upgrades that we've got has meant that we are a lot more competitive…it certainly feels like it on the banking now.  We're not losing so much ground.  Hopefully that will bode well for the race and if we keep out of trouble who knows what'll happen in the final six hours."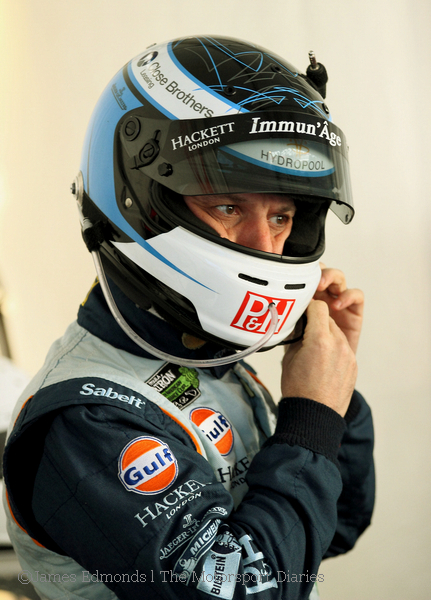 Changes were made this year to qualifying and race start –  the qualifying driver is now the designated who starts the race.  Darren likes this rule tweak and explains why.  "It does make sense and it's a logical way to do it.  You don't want someone really quick to qualify and then put in the slowest guy to start the race.  At least everyone who qualified is the same guy driving at the same speed they did.  It will save a lot of issues.  From that side it's a good step forward."
As for our friends in the GTD class Audi R8s, things turned pear shaped after a promising start to the weekend.  With Seth Neiman selling his interests in Flying Lizard Motorsports – a company he had nurtured since 2003 – it left new manager Darren Law fielding one car in the 24 hour.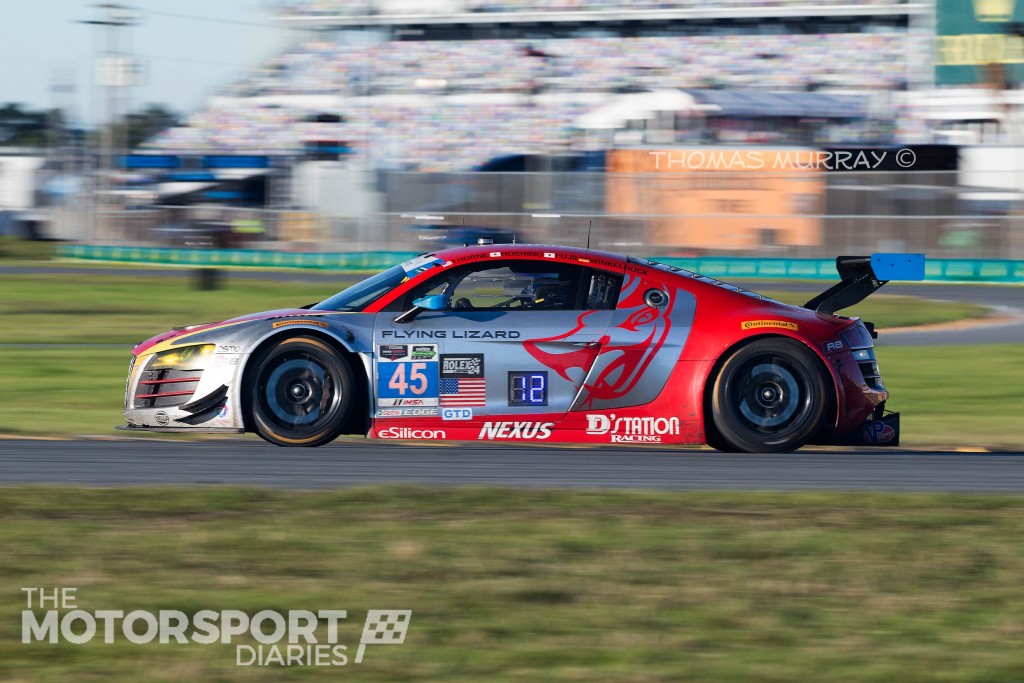 The Lizards will be joining the PWC in partnership with K-PAX and a brace of McLaren 650S GT3s later this year.  Fall Line Motorsports did not renew their deal for 2015 and GMG will also be concentrating on PWC with a four car R8 lineup.  This left only the Castrol Edge number 48 Paul Miller Racing machine and the lone Flying Lizard number 45 to wave the Four Rings flag.  Some familiar names were present however, albeit after playing some musical driver seats: Dion Von Moltke, Christopher Haase, Bryce Miller and René Rast in the Paul Miller entry diced with Markus Winkelhock, Robert Thorne, Tomonobu Fujii and Satoshi Hoshino in the Lizard.
Previous Daytona class winner and star Audi driver Dion von Moltke who spent last season with Flying Lizard, made the switch to Paul Miller for this year.  As an educated, polished, articulate and intelligent driver, he made for a good go-to guy who was willing to offer insight into the ups and downs of a 24 hour marathon throughout the race weekend. Before the flag on race day he spent a few minutes with us.
I asked why the 'team' had shrunk to two cars this year.  "It's a bit of an interesting year with the rules of GT3 cars for (Pirelli) World Challenge and a lot of teams going that way instead of Tudor.  With Seth (Neiman) leaving Flying Lizard that was one car gone unfortunately and we wish the best for Seth.  It's sad to see him retire from motor sports but he's onto other things.  Some of the teams like Fall Line had to reorganize themselves, and with new cars coming into the series in 2016, they had to really think about what made sense for the teams themselves.  That's one reason we have seen a lower car count not just for Audi but all the manufacturers here for the season and for Daytona."
Balance of Performance (BoP) saw a huge battle between the teams and IMSA during the inaugural year of the newly formed TUSC series in 2014.  No one wrestled more with the organizers than Audi. Was the off-season kinder to them?  "It's too early to say really," says Dion.  "Daytona you really never know what you have until it's 20 hours into the race and people really start going.  I feel like we're in a good position.
"At the end of last season it was quite difficult for us which makes it all the more amazing how Paul Miller won at Petit.  (The BoP) helped us a little bit, but it's also helped other teams as well, so I feel that we have a good balance on the car now – here we're a little down on top speed compared to some of the others but we've got a good team, a good lineup and we're going to focus on our own race so hopefully we'll be able to fight for it at the end."
After qualifying the 45 car in 6th place, and the 48 in 12th, both got off to a great start.  Unfortunately an early spin in the Lizard car and the subsequent over exuberant use of clutch slip whilst re-joining the circuit caused a smelly failure and a 45 minute time-out in the garage while a new clutch was fitted.  Although the team battled back to run in the top 10, their race was essentially over as even a one minute unscheduled stop in the fiercely competitive class can be the difference between winning or not.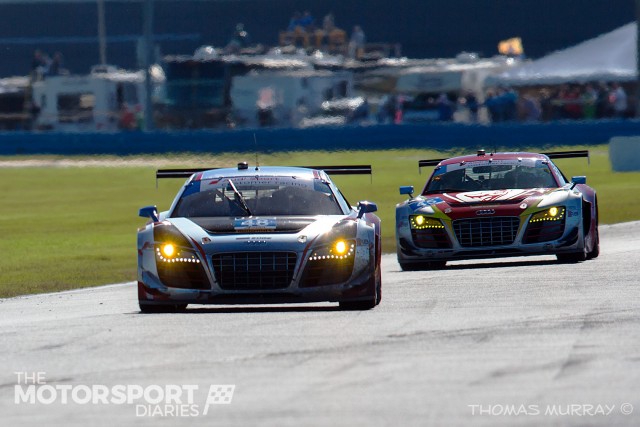 The Paul Miller car battled for the lead with stellar driving and tire management all throughout the event, but at around the 17 hour mark Daytona bit.  A traction issue (or rather a loss thereof) as a result of non-factory dampers caused a minor impact with another car provoking some loose bodywork to then flee the scene.  A podium finish started to slip away after a lengthy stop for repairs including plenty of Bare Bond. Later on, a supposed pit crew infraction led to a three minute stop-go penalty but the car was still able to finish fifth.
The following morning as the race was entering its final stanza, Dion was between stints at the Audi Boardwalk Club on the lake at the center of the circuit and gave an update on how the race was playing out.  This was part of the Audi Motorsport Experience a very worthwhile interactive fan experience which offers fans legendary Audi hospitality, garage tours, the chance to witness hot pit stop action, driver and team member meet and greets, gifts, golf cart transport, Audi parking corral and even a chance to do a hot lap before the race.  It is a fantastic way to attend a race and one of the best values and in all of motorsport!
One of the more complex rules in this series is the 'wave-by' rule which can really help a team to gain lost ground.  Although it helps to keep the racing close, it is one of those rules scorned at by some as causing artificial racing.  For the casual fan it can be quite a difficult concept. Dion explains: "Essentially when the yellow flags come out, we want to make sure that we get in front of our class leaders. So hopefully when the flags come out, it's close to a time when they should be going in for a pit stop.  So the first time by, the pit opens for the Prototype cars and the second time by it opens for the GT cars. Even if we need to stop, we'll stay out.  Hopefully they pit. If they pit they'll rejoin behind us.  At the end of that we'll get a wave around where we are allowed to assume position at the back of the field. Occasionally on that fast lap we'll dive into the pits, take a little bit of fuel and try to accelerate out so that way we at least gain half a lap or a lap back.  Sometimes we'll accelerate all the way around and keep driving.  So we're hoping for nice timed yellow flags to gain some laps back."  You may have to read that a few times and move a couple of paper clip 'cars' around in a circle to get it!
Drivers often talk about 'the race coming to them' especially in endurance racing as day turns to night, then back again and of course the cars can change too for obvious reasons.  When asked about the current pace of the car he had this to say, "Actually, I feel that for this car, while you have tire wear and they get worse throughout the stint, what's more important for this car is the weight.  As the fuel load goes down it pays more dividends than the tire wear costs us, so we get faster towards the end of our stints where some of the other cars might slow down."
Doing anything for a long period is difficult for some, so to be there at your best over the course of a long race can pose big challenges even for trained athletes who earn their keep at this game.  What were the biggest challenges in the wee hours? "Trying to keep clean," Dion muses.  "I think I had more contact in one stint than I had in all last year's race!  For some reason it was quite difficult this year to really.  I don't wanna say 'stay out of people's way' because you're still fighting, but just trying to keep the fenders clean – that was quite difficult."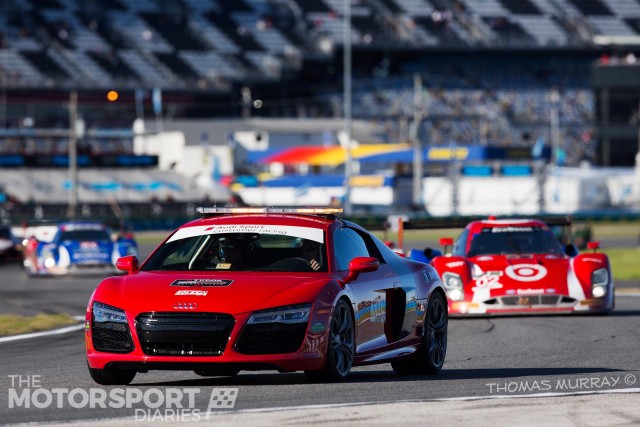 Although full course yellows as used in TUSC can help to gain lost laps with the "wave-around" rule, a win was just not on the cards. With none of the drivers relenting, and pushing with a hell-for-leather attitude, they were able to finish in 10th place at the flag.
The much maligned and speculated upon Balance of Performance (BoP) index saw many changes over the off-season which had the effect – planned or otherwise – of making all the classes much closer on top speed.  This must have brought its own dimension to the four-class field.  Dion again, "I'm not a fan of slowing cars down, I'm a fan of speeding cars up and I really wish they would speed cars up horsepower wise – the GTLM cars but mainly the LMPC cars.  Mostly because the first half of the straightaway is third or fourth gear and they'll catch up to us, but fifth or sixth gear – even our Audi which is not the fastest in a straight line – will pull away from them.  Throw that in with a lot of rookies – I heard quotes of 30 LMP rookies – and it's tough. I don't want to put it all on new drivers because we've all been there and some of them were good, but it's difficult for them just because they have to dive bomb you…there's no other way to get past!"
Obviously, casualties ensued.  Once again the innocent TRG Aston #007 fell as a hapless victim, although not to the aforementioned passing tactics.  During the evening hours and while comfortably on the lead lap, Brandon Davis was getting ready to pit and hand off to Nygaard when disaster struck.  Quite literally!  The required "gentleman driver" in the AF Corse Ferrari – Francois Perrodo – had a spin at the last turn of the infield section and in a moment lacking any sound judgement, attempted to rejoin the action as he pulled straight into the path of an accelerating Davis.  The Ferrari's race was over and the Aston, although seriously hobbled amid the resulting full course caution, made it back to the garage where extensive (and expensive!) repairs were effected.  TRG team owner Kevin Buckler astounded the world media when he kept his cool and didn't cause the TV censors to rush for the "bleep" button.  The Ferrari driver later made a full apology and took ownership of the incident, but I'm sure Mr. Buckler would have been a lot happier if he'd offered to take ownership of the poor Aston as well!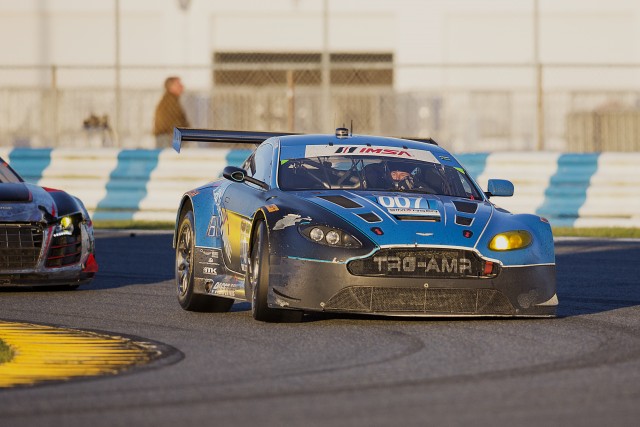 Soldiering on into the morning hours, #007 – now with a black carbon right front wing looking for all the world like a heavy-weight boxer with a black eye – raced on to take 13th at the chequered flag. It showed again what might have been as the car had great pace for the duration of its time on track.  With only a small electrical issue that was quickly dealt with, the #009 car ran solidly to 8th place.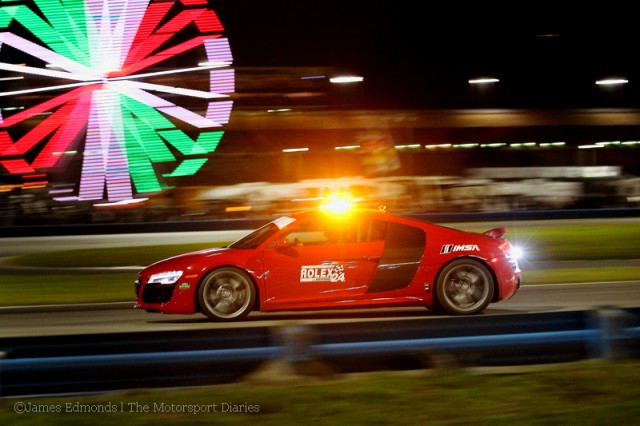 The works car suffered a spin at turn one quite early into the race, and an over exuberant re-entry by Dalla Lana caused a clutch failure which meant the car went back to the garage for a lengthy replacement.  Even a few laps lost can spell 'Game Over' when the class leaders stay in touch with each other for the duration, so the long stop meant that the team was now in testing mode.  Darren Turner who is normally good for an update during the race gave me a lovely yet memorably unprintable quote as he got back into the car on Sunday morning.  Ever the professionals though, he and his co-drivers battled on and kept times up with the leaders until the end to help the car finish sixth as the team gained valuable data heading into Sebring and the WEC season.
Another of the go-to guys who loves to talk about race craft and engineering is multi-Le Mans-winning crew chief and all around good guy Brad Kettler.  Brad is the connection between Audi Sport in Ingolstat and Audi Sport Customer Racing here in the States. He takes a strategic role in the USA testing program for the LMP1 team and also oversees Audi's interest here by managing the customer program and also takes care of the R8's namesake big brother LMP1 car which now runs in historic racing.  If you want a race car or a part with Four Rings on it here in the States, Kettler Motor Werks is the place to call.  Having been successful on the hallowed ground of the biggest races in the sports cars universe, his opinions are worth listening to.
The R8LMS (which saw success the world over before debuting here in 2013) has done well at Daytona and Petit but has struggled at the 'sprint' races.  I talked to Kettler about this after the race – "I would hang the majority of the weight on the fact that the car is so reliable. It's a factor that is easily overlooked when people look at performance windows," emphasizes Brad. "The car is amazingly consistent.  It has an extremely tough drive train.  It's not a young car so it's quite well sorted with a lot of 24 hour information available on how to prepare it, so that's the biggest factor – it's gonna stay in the event; it's gonna stay with you.  If the team is able to rise up to it and execute, using the reliability and consistency of the car you can win the race."
I ask if  IMSA kind to Audi with off-season upgrades.  The car did seem a lot faster and better balanced than that which we saw last year.  Brad seems happy with the changes as he continues, "The cars were much better this year and much improved.  BoP changes were laudably late to be acknowledged for whatever reason by the series last year, but that's water under the bridge.  We struggled all last year and that was a really big issue.  I'm happy the series did make the changes they did.  In essence the changes were quite small being just the restrictor, the larger rear wing which has the majority of the effect on the car and the ability to balance with the double dive planes on the front of the car.  It's a more raceable package and one that could be handled by silver and bronze drivers rather than platinum and gold drivers.  It's a better package across all of the driver skill levels.  That was one of the things that it really improved. The car was far less snappy in the back and much more manageable for somebody who had not quite so much experience."
With many race cars seeing BoP changes on a race by race basis, why did the organizers take so long to allow Audi these changes? "I'm still baffled," he muses. "We have been incredibly honest with them since the very beginning.  When you go back to the genesis of a lot of this stuff, we're still dealing with the flavor left over from the Grand Am series and the car really is somewhere in between what they had and where it ultimately will go as a GT3 car (GT3 spec cars being allowed from 2016 on).
"When the car was introduced into the United States it was far far too retarded and over restricted to allow it to come in and race in Grand Am.  In the early days some of these changes took a monumentally long time to overcome.  There's always been this unfounded inherent fear that if they gave the car a little too much that it would just dominate their series and I don't know where this comes from.  There was never any evidence that this was possible," he continues and sounds cheerful at the prospects for the season.
"As it is now there's been a level of improvement and I think with the new metrics being employed by (IMSA technical team managers) Jeff Carter and Scott Raymond in particular, that the opportunity for the car to be seen in an honest light is getting brighter."
With Daytona standing alone as the only 24 hour event on the TUSC calendar, the setup for the car and the data accumulated from it cannot be applied to the other races.  Even if it was a six hour race, the amount of wide open throttle running means that the high speed nature of this unique event offers nothing in the way of useful data that can be applied to the vastly different tracks such as Sebring and Road Atlanta.  Therefore IMSA treats Daytona as a totally separate event in terms of BoP.
I quizzed Brad on how the new changes will affect the Audis at the next event, the 12 Hours of Sebring.  Obviously frustrated at last year's outcome,  he does not mince words – "Last year's Sebring BoP really didn't have the opportunity to be much farther away from correct than it was!"  He almost spits the words out as he says, "It was absolutely pathetic last year what they chose to do to us!  I really am still staggered as to why.  When you look at last year's Daytona race we were still not the fastest by a long shot.  We had the first place finish for five hours which was then reversed.  The whole thing was a comedy.
"After that race we were further restricted from a 42mm restrictor, which was already extremely close to the choke point – I mean it would be so abundantly obvious, that an engineering student with three weeks behind him could show this convincingly – to a 40mm restrictor.  It was almost as if they didn't want us to continue.  It was really bad and this BoP haunted us the entire year on all these short circuits.  With the car without enough down force, too much polar moment in the back, with the frisky rear and no power at all meant that it was a sitting duck even if it could get into a decent position!
"Tactically, there was no way that it could defend.  It didn't have enough horsepower in a straight line and definitely didn't have enough down force to out-brake anybody.  Very few aspects of these circuits fit what it was good at and we got clobbered because of it."
The season ending Petit Le Mans at Road Atlanta offered some respite as the teams were able to at least get back to where the season had started.  "We got back to a 42mm restrictor – fifth fastest car in the field – and through good tactics, reliability and consistency we were in the right position to be able to win the race. The guys did a good job to get the car just in the right spot at the right time.  They did a 'pit stop check-mate' which is my favorite move for the end of the race – They stopped before everybody else, packed up the field behind 'em, then they took it to the flag! That's how you win in a slower car."
Next up is Sebring, held at an old WWII air force training base.  It is famously used as a dress rehearsal for Le Mans as it is regarded as one of the toughest circuits in the world.  If a car can survive 12 hours on this pot-holed and bumpy old track, it should easily make it through 24 hours on the billiard table-like surface found at La Sarthe.  What was Brad able to take from Daytona that can be applied at the next round?  "What we have to do is look at what we did prior to Daytona based on last year's Daytona, and we need to apply that same thinking to Sebring BoP.  For the Audi there's honestly not a tremendous amount of distance to go…forward.  It's more about how the series is balancing the other cars and about how that can work."
With many factors still to be decided upon and even more still in flux, it seems that the teams are all excited about the possibility of the rules stabilizing next year when the GT3 platform is finally adopted.  It will bring an end to an era which Brad likens to Congress "beating the hell out of each other back and forth and not getting anything done!" and allow the teams to put on a show which will better the businesses of all those concerned.  Of course, the organizers have to tread very carefully if they are to have what they have always hoped for which is a series that is not only watched the world over, but is also respected by its participants and partners and is buoyed by investment from sponsors and peripheral businesses as well.  In this way we can truly have another series that will be sustainable for the foreseeable future.
Brad is hopeful. He's been around the block a few times and has survived the never ending vagaries of the race game. "I think that we are in the best position that we've been in so far.  Each of the cars showed strengths and weaknesses as observed by data and supported by personal views from the drivers.  These are the guys who have to race these things.  When you come off turn six (at Daytona) at the front of the banking fifty times during the race and you have to drag race a (Ferrari) 458 up there, you know which car is faster!  I take a lot out of the raceability aspect of the cars and I think that's a term they can't define the parameters on.  I think that's going to have a big, big bearing on how the BoP is really administered.  It's a very tough job…but it's really important that the people who make these rules need to watch the races."  That sounds like a given you might think.  I was wrong too.  I press Brad on the point and he goes on, "No.  It's not a given.  You have to make the plea to not have every single thing that's an action that's taken, be driven just off the data."
Kettler is famously  one of the old school 'car whisperers' who will look up at the sky as well as look at the weather map, who will feel the tires coming off the car and not just look at the data.  He presses on, "You know me. I'm a data guy but I'm also an intuition, observation and hands on person.  I believe that (with) the experience the organizers have – they have ability to make the right decisions now and also let some of that be flavored by watching the races and have that be a factor on what they actually make decisions on.  I see it as an opportunity for us to have a decent renaissance.  It's gonna look like a renaissance anyway when a year from now we'll be racing GT3 cars and there will be a whole lot of different things to discuss, less of these technical  round-robins and what we're doing with BoP.  Then it's going to trend towards what's the best product internationally."
So Audi came away from the season opener with a few hard knocks, but a lot to fight for moving ahead.  With new Prototypes on the horizon as well as GT3 cars coming, the future looks as bright as it has done for us in the colonies for a fair few years now.  I for one am looking forward to Sebring again!
Another interesting story was – albeit somewhat surprisingly given the sponsor – the #16 BAR1 Motorsports Prototype Challenge  "SpongeBob – The Movie" entry!  Put on the class pole by veteran English sports car ace Johnny Mowlem, the car would be shared by long time team mate Tom Papadopoulos, owner of Aston Martin specialist Autosport Designs, Inc of Long Island, New York.  Also in the car would be Tomy Drissi, team owner Brian Alder and up and coming English hot-shoe Martin Plowman.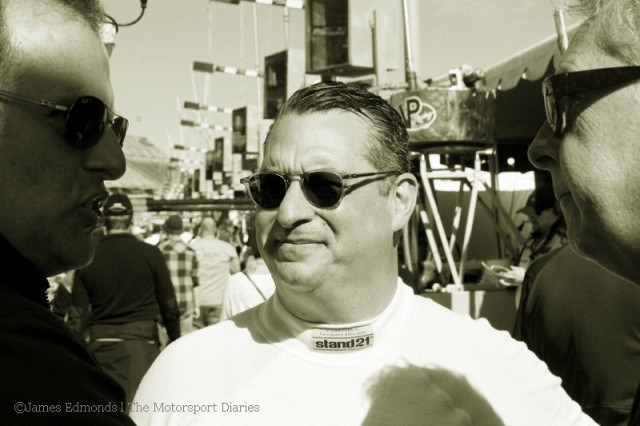 Needless to say, the ad men did their homework as the car caught much media attention with its irreverent and humorous livery.  Tom takes up the story about this year's race car.  "Johnny and I wanted to relive 2006 but do it the right way rather than run Aston DBRS9s in SCCA World Challenge when we should have actually run a GT1 DBR9.  Didn't quite work out. As seen yesterday Johnny put it on the pole and we have a really great lineup.  We have been a team for a while…whether we like it or not.  I love him! The possibilities are enormous and every time we've teamed up with someone it's worked out for everyone involved."
Asked about the race and the future Mowlem continues.  "We did a race last year at CotA.  It was the first race with the team for both of us and wasn't great if I'm honest.  Petit was a lot more promising and we ran up front and then we come here and the team took another step forward."  With a long career behind him Johnny is pragmatic in his outlook.  "To be honest I'm nearer to the end of my career than the beginning, so this time rather than me just being an employee, Tom and I are working in partnership in and out of the car to make this more long term as we look to grow the motorsport side of the business.  BAR1 fits very neatly into that.  It's a great atmosphere…we do this to win but also to have fun which is more important as you get older!  The team are great and the icing on the cake was me being able to stick it on pole position."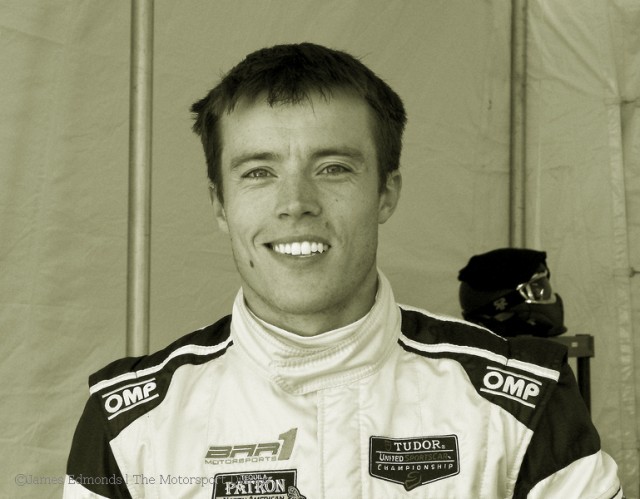 Just before the race got under way I spoke to Martin Plowman.  He distinguished himself with aplomb at Le Mans 2013 when he helped his team to a class win in LMP2 at his first attempt in the Morgan-Nissan.  Being in the fast car is becoming a habit for him.  How did he feel going into his first Rolex 24?  "I love these 24 hour races. They really test the whole team and for the drivers it's a very mental challenge."  He continues the thought, "Nothing can really prepare you for it.  You can spend all the time in the gym and preparing for the race, but until you're in it…you experience so many emotions! My first 24 hour race was a good one as we won it.  I'd love to make that two for two today but we'll see how it goes.  I'm going to treat every race like it's my first one and keep my eyes open, be calm, patient.  The key thing is not to try and be a hero. No matter how many times you do well, if you try to be a hero you end up coming unstuck and doing something stupid."
The team hopes to run the rest of the North American Endurance Championship if not the whole season and we may even see Johnny and some of the team in a P2 chassis at Le Mans.  Stay tuned to The Motorsport Diaries.com in June!
As it turned out, the team each drove a very clean and measured race, putting in consistent laps and staying for the most part out of the garage.  They finished an incredible second in class, only to drop to last on a technicality a week after the race was over losing all points and prize money.  It is gutting for a team with so much character to have to endure this type of loss at the hand of the rule makers after such a stellar performance, but like the Audi last year and the WTR Corvette this year, that my friends is how the clock struck at the Rolex 24 at Daytona 2015.