Sebring 2009. Some things never change.

Have you ever seen the movie, "The Speed Merchants"?
I ask, because if you have seen it, you will know what I'm talking about. If you have not seen or heard of it, it's a
must
see film: a documentary that chronicles the 1972 World Sportscar Championship.
It is poignantly narrated by Mario Andretti and Vic Elford, but also features Brian Redman, Jacky Ickx, Helmut Marko, Ronnie Peterson and many others. You are taken around the world, from Daytona and Sebring, to Le Mansto the Targa Florio in Sicily. There is not an Aston to be seen in the film, but don't let that spoil your enjoyment of what is one of the best racing documentaries ever to be captured on film. The footage is rare, spectacular and moving, the music is haunting, and you can still buy it with a quick stroke of the Google.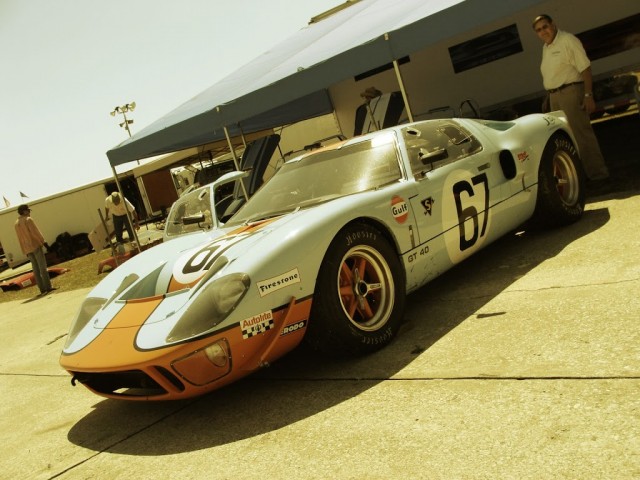 Anyway, I digress. As always, we attended Sebring this March. It's always a great kickoff to the racing season (as Daytona used to be) with Formula One being right on it's heels – and if you are tiring of "The Office", "The Apprentice" or "American Idol", then F1 offers a great alternative now as good comedic television entertainment! A friend and Le Mans regular from the UK had asked me how Sebring differed from Le Mans, and it was while taking in the early morning air on a cool central Florida morning that it struck me.
I was lucky enough to attend Le Mans last year with my race pal of many years, Dr Dave Lobou, and as it was our first time there, we went for the whole week and took in all of the things on offer during race week. The race takes over the entire town, with scrutineering taking place in the historic "Place de Jacobins", the driver parade going through all of the "old town" and various activities by different organizations happening all the time. When you consider that the town is home to only 150,000 people, yet the race sees over 250,000 people throughout the weekend, you can see what a huge draw it always was and remains to this day.
The downside to it is just how money hungry the whole affair has become. Every part of the track that was once visible to the general public (remember that Le Mansis run on mostly public roads shut down for the event) is now blocked by green tarps. So where you once could go to the Chinese restaurant on the Mulsanne and watch 917's at full chat whilst enjoying your egg foo yung, now you have to close your eyes and just take in the sounds and smells while seeing the images in your head. Talking to many of the Le Mans veterans, they all feel that this and the many other financial penalties that are now being imposed on the fans are really becoming tiresome, to the point where even many of the die hards are not going back.
Sebring stands in stark contrast to Le Mans. They are actually so different, as to be like the proverbial chalk and cheese! I imagine Le Mans was like this twenty plus years ago. There is always an easy casualness about the place. The cops do not make their presence felt. You can see them enjoying the fun with the fans, and won't get involved unless really provoked. The Gendarmes on the other hand are quick to jump out of their armored cars with riot gear at the ready the minute a TVR does a burn out at the Houx roundabout on Mad Friday. At Sebring you can go just about anywhere and see the cars racing on track with little or no obstruction, save for the obligatory safety barriers, which do no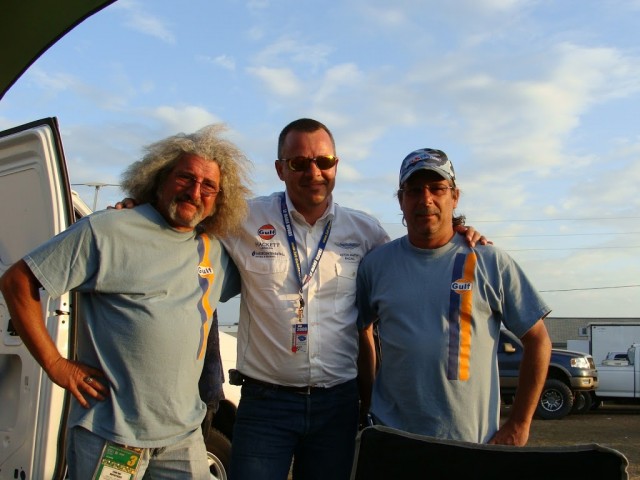 t detract. Once you are in you can park pretty much anywhere you can find a spot. Try parking at Mulsanne or Arnage this year and you'll be asked to hand over a few more Euros. Camping is another joy of racing. At Sebring you can rope off an area as big as you need, pitch your tent, your "easy-up", your grill, table, chairs and make it as elaborate as you like….all for free. A pitch for one tent and one car is all you get in Franceand you pay dearly for it. You can buy "track fodder" such as deep fried anything; jumbo turkey legs etc, or sit down for a juicy steak at the Outback, temporarily erected just for race goers! None of it seems to melt your plastic either. A beer at Jeannines bar just next to the LM Museum will make you feel numb long before the alcohol starts to take effect. Sebring's lower attendance this year (due in part I'm sure to the economy) and unusually cool weather meant that the "wares" usually on display on Friday night in Green Park (and those of you familiar will know what I'm referring to!) were a little scarce, but that didn't diminish the party atmosphere, which is ever present at the place. There is no lack of partying at Le Mansto be sure, so in that respect it is much the same. Just different.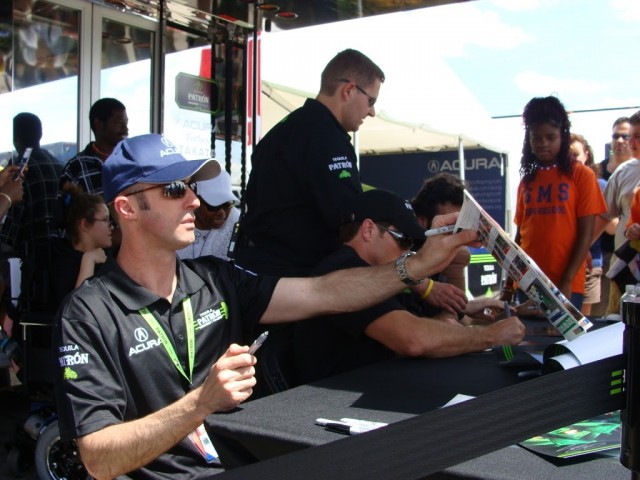 The access to the cars and drivers before the race is one of the biggest of all the differences. At LM, unless you arrive early in the week and go to scrutineering in the town, you only have the Friday morning pit walk which lasts for a few hours and has to be suffered rather than savored. In that time, all the fans who want to see their favorite cars and drivers have to cram into that small piece of real estate and battle with one another for a brief glimpse and a photo if you are lucky. Get an autograph and you can alert the media. Access to the cars and drivers is only for the teams, the "glitterati" and the brave few fence jumpers willing to risk incarceration for a closer look. You can arrive at Sebring (or any AMLS race for that matter) anytime up until the race starts, and walk freely around in the paddock, see the cars being worked on, talk to the drivers and mechanics in a relaxed and informal manner, take pictures, collect autographs and even go right into the garage of your favorite team if you ask nicely. It's all very unabashedly "American". You may not understand
that if you are indeed an American, but to any one like me, who came here later in life, it's one of the things that you always heard about and looked forward to.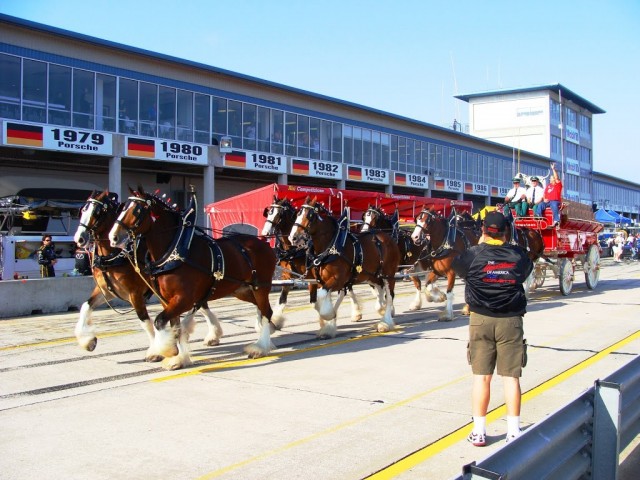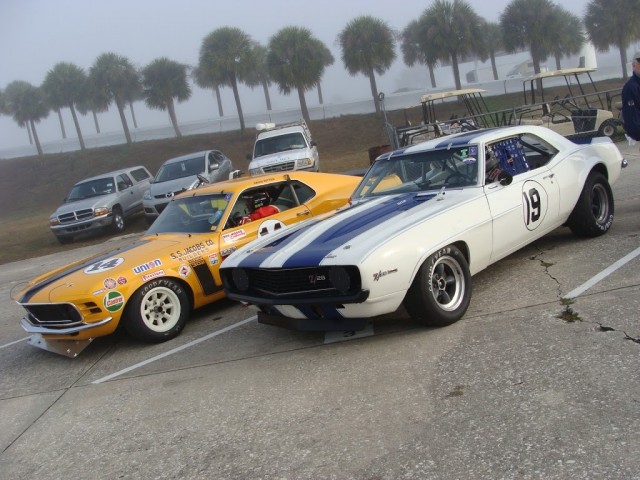 The racing is always much the same, except that the billiard table smooth surface of LM is replaced at Sebring with the bumps, ruts and weeds of an old WWII airfield…it still has an airport attached to it, and if you have a good lens on your camera, it's great to get a shot of a race car going past with a plane taking off or landing right above it! The surface of the track is the main reason all the teams say that 12 hours at Sebring is harder on the car than 24 hours at Le Mans.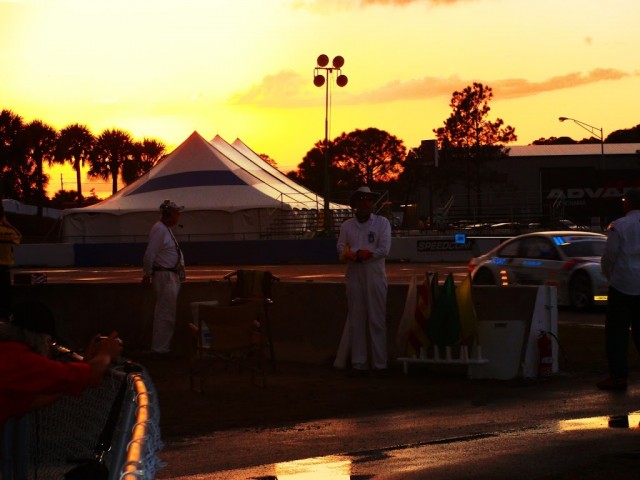 The track surface has always been that way, and likely always will be. It is what makes Sebring Sebring. It's like the race itself, it seems to be stuck in a time from long ago, where you can smell the orange groves, chat with like minded folk, enjoy the Floridasun and for not a lot of money enjoy a terrific time with your friends or family. None of the charm from years ago has been lost, and the blatant commercialism that spoils LM has not yet crept in.
If you have never been to this sleepy Florida town, that became famous for it annual race week, you should give it a try. If, like I suggest, you get a copy of "The Speed Merchants", you will see that the hair styles may have changed, the clothes may have gone the way of the 4 barrel, and the cars a little less hairy chested, but as for the rest….it's still the same!
……………………………………………………………………………………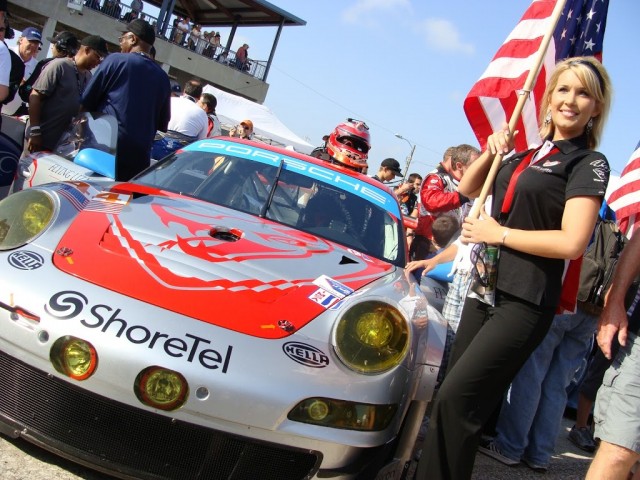 The race this year was a reprise of what we were treated to at Le Mans last year, which by all accounts was one of the best races in history. And in both of the big classes too!
This year, the Sebring fans were treated to the unveiling of the new Audi R15 LMP1 challenger, with its 5.5 liter twin turbo V10 diesel, ready to do battle once more with the V12 engined diesel Peugeot. Just like Le Mans, the two cars were at it hammer and tongs for the entire race, with Audi winning out at the end by less than a lap. It could have gone either way, and you may say Audi were lucky, but on the other hand, Audi are never lucky. They are just better prepared than the competition! That McNish has given us more seat-of-the-pants memorable drives in the last few years than Schumacher ever did!
There are always lots of personalities walking around the Sebring paddock, and this year was no exception. I chatted with Tiff Needell, Leigh Diffey from the Speed channel, Audi Sport technical director Ralf Juttner, Bobby Rahal and can you believe it, Dr Mario Thiessen, BMW F1 chief!! I even caught our own George Howard-Chappell having a very close look at some of the other LMP1 cars! Try spending time with people like that at Le Mans as a typical race fan….good luck!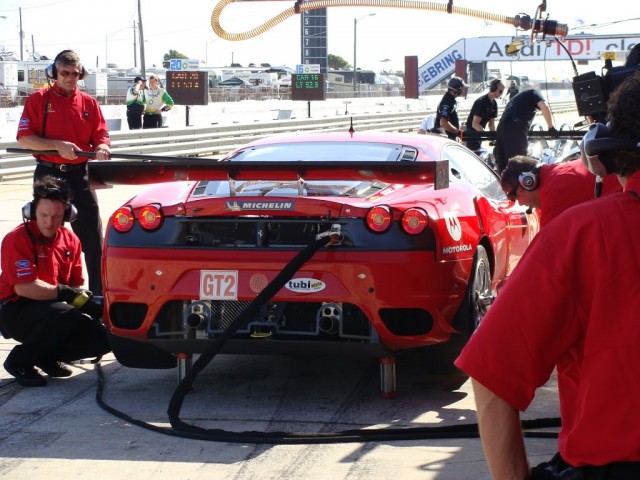 Aston Martin was back in the fray, with Lord Drayson doing battle in his '007' V8 Vantage GT2 machine again, but this year as an official partner of Aston Martin Racing. With Dale White (of Petersen-White Lightning fame, as if he needed an introduction) at the helm, and with Jonny "Lightning" Cocker co-driving with Paul Drayson, the team has high hopes for this year. With select races here in the US (ALMS) and Far East(Asian LMS) and a full season in the Le Mans Series, the team has an ambitious season ahead. With acceptance into the 24 Heures du Mans, Paul Drayson and his team have been given a "License to Thrill" and it will be a dream come true for all of them.
Events conspired against the team at Sebring with the engine suffering oil pressure loss in the eighth hour, putting paid to what had been an excellent start. Having learnt much from the promising beginning and now with the car handling as it should on its new Michelin tires, they can look forward to a bright future. There was certainly no lack of enthusiasm which was very infectious to all who came into contact with them.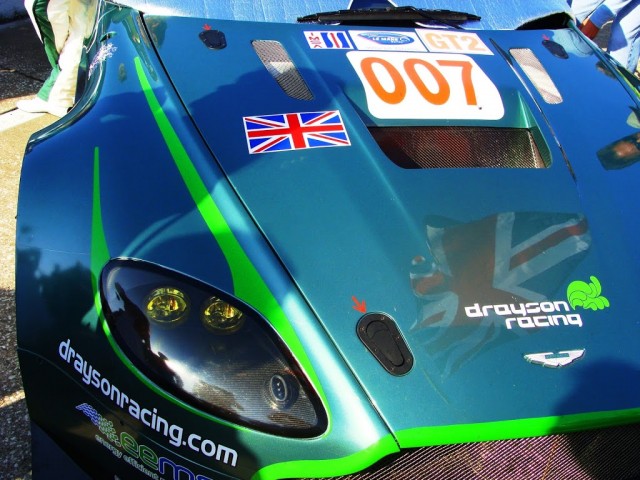 With Aston Martin Racing back in Gulf colors again this year, but with an LMP1 car, which at the time of writing had just taken victory in its maiden race at the Barcelona1000km, the season is looking good from our standpoint!!