Sebring 2014: Yellow Fever!
With the 2015 12 Hours of Sebring right around the corner, I thought I'd share my feelings from a year ago.  Looking back, I wasn't very happy. How do we look a year on? Sebring 2014: Yellow Fever!
Words James Edmonds
Photographs Thomas Murray and James Edmonds
According to Wikipedia, Yellow fever, is an acute viral disease. In most cases symptoms include fever,chills, loss of appetite, nausea, muscle pains particularly in the back, and headache. Symptoms typically get better within five days.
For once Wikipedia is quite correct! I started to get scared when my palms became sweaty and I felt a wave of nausea come over me as we realized we were counting more time under FCY than green running.  It's also telling that most casual fans would have said, "FC what?" when confronted with that acronym, but now it seems that Full Course Yellow is as commonplace as LOL.  Hmmm – maybe we should substitute LOL in place of FCY as it would appear more appropriate when taken in the context of how the flag has actually been applied this season!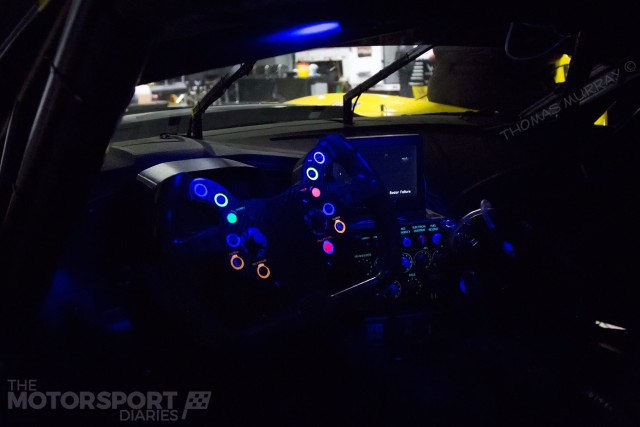 After the initial excitement at Daytona where the vibe was generally positive (unless you were on the Level 5 Ferrari or Flying Lizard Audi GTD teams) Sebring saw a 180 degree hairpin turn of opinion amongst some very serious players. Some of the very same people who were shouting from the rooftops about how great this new TUSCC series is were the very same in which case you were all treated terribly, but that's a whole different rant), Sebring 2014 saw a 180 degree hairpin turn of opinion amongst some very serious players.  Some of the very same people who were shouting from the rooftops about how great this new TUSCC series is were the very same ones whose comments were so vehement, that I dare not reproduce them here in our family-oriented publication!  If I write a column for Hugh Heffner perhaps I can be a little more liberal with the quotes.
I don't like writing negative commentary, as I am a glass-half-full sort of bloke…. however, after being most optimistic about Daytona – which since the demise of GTP has not been high on my list of must-see races – I was sorely let down by the appalling race controlling and dismal TV coverage – which meant that after the fact I was unable to go back and see what I had missed – and what seemed the farcical application of FCY's.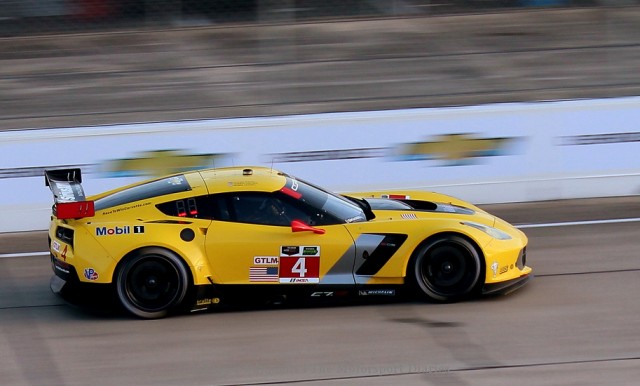 It's to the pointwhere the races have become the distillation of a long procession punctuated by a short sprint to the chequered flag.  Some have been quite vocal in their theorizing about the long arm of the NASCAR-owned series dabbling in – dare I say it – the engineering of the outcome. Are we really witnessing pro-wrestling goes racing?
As I hypothesize about the ramifications of such a cataclysmic occurrence, I have to say that I truly hope that this is not the case and that the powers-that-be will get their stuff together, stop the exodus of teams from the series and organize a race series worthy of the intelligent fan base that the ALMS spent so much time and money cultivating.
Scott Atherton, former president of the ALMS and now president and COO of IMSA, is saying all the right things when being summarily grilled or lambasted by members of the motor sport press, some of whose chops are literally drooling at the scent of blood, but, I can't help thinking though, that privately he must be fuming at the embarrassment he has been caused at what appears to the fan base as his involvement in the purchasing of the Brooklyn Bridge!
A friend who is heavily involved at the highest level said that the gossip is by and large incorrect, and that the facts of the matter are quite different. I retorted that though this may be correct, what is undeniable is that the general feeling and perception of the fans is that something has gone terribly awry.  Perception is as they say, reality.  And wasn't the original tag line, "For the Fans"? If they go away, so does the series………But I digress!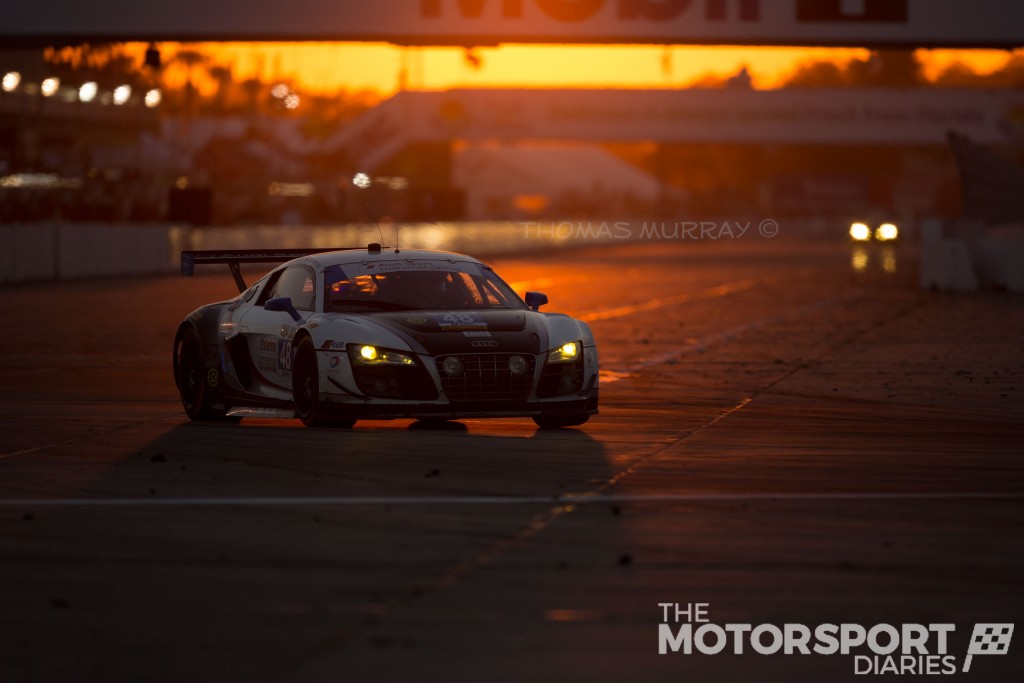 Despite the race itself, the Sebring 2014 12 Hour race was, as always a terrific time for all those who joined in at 'Camp Amigo', although we sadly missed Scott – or 'Food Coach' as he is better known – and his culinary delights. Thomas Murray arrived on set-up day and staked out a huge campsite for the merry band and erected a 10'x20' tent on his own in howling winds to his eternal credit!  He also set up a satellite dish so that we could watch F1 qualifying from Oz in the wee hours and a 96" rear projection screen on which to view it. With a sound system to rival a Stones concert, we were able to have a viewing of some classic Sebring DVD's as well as a screening of 'Rush' to the local campers' collective delight. Or chagrin depending on whether or not you could be lulled into slumber to the tune of 1970's F1 engines at max volume!
An unexpected surprise occurred this year (doesn't it always?) when we were at Chateau Elan to meet up with ex-Aston Nimrod driver Reggie Smith and sports car racing legend Vic Elford – as if time with these two wasn't a treat enough!  The Chateau Elan hotel which is a fair hike from camp central sits outside the hairpin next to the circuit main entrance, so the infamous Dr. Dave dropped off Tom and I for our meeting as they emerged from this year's Hall of Fame luncheon.  This year's inductees included the aforementioned Mr. Elford, Bob Tullius, Wayne Taylor and 'Perfect' Peter Gregg – his son Simon accepting on his late father's behalf.
While waiting for Vic to arrive for our pre-arranged interview, I started to chat to an elderly gentleman in the lobby. It turned out to be a certain Ralph Deshon who was the overall winner of the very first Sebring event back in 1950 – then a six hour race. During our conversation he regaled me with stories of the race including the fact that they didn't trust the rudimentary disc brakes on their car, so they would sit bolt upright in the seat of the open Crosley Hotshot (a spectator's car who was convinced to loan it at the last minute!) so that their bodies would act as an air brake to help slow the car!  Who else do you know that once raced against a wanted murderer who was on the lam at the time and caught after the race? I still get goose bumps.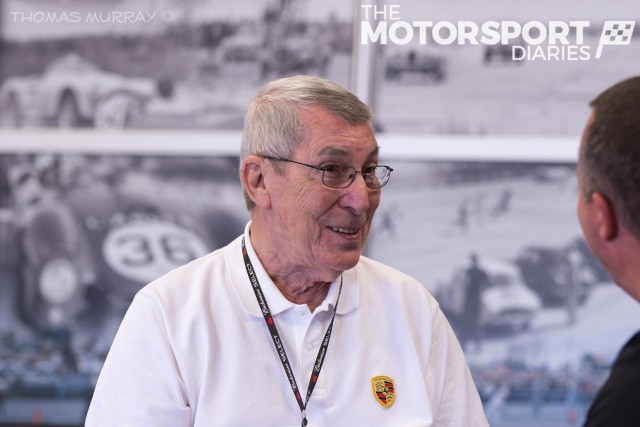 As it turned out, 'Quick' Vic was true to his name as he was whisked off to the museum for an autograph session leaving Tom and I to frantically call Dave for a golf cart ride back to the building behind the pits! These things never go as planned, so you have to be quick on your feet, but we did our interview and I am still reeling from the experience. Stay tuned.
With a list of motor racing fraternity members as long as your arm to interview and photograph, it made for a very hectic weekend, but we managed to cover a lot of ground and once again proved to ourselves that this sport is and always will be, as much or more about the people as it is about the cars.
Last on our list was the young TRG-AMR Australian hot-shoe, James Davison, a charming, funny, down-to-earth and good natured bloke who moved here on his own at the age of 18. He has had to grow up fast, find his way and seek his own independence with little outside assistance.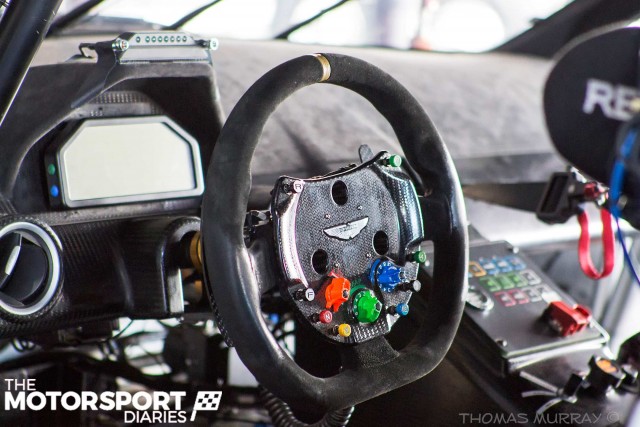 A true Aussie. His measured speech and affable good nature coupled with his fast but calculated driving, show that he is wise beyond his years.  As a point of interest for those who enjoy the history of our sport, James' grandfather Lex Davison was a famous racer in the '50s and '60s driving the Essex Racing DB4GT Zagato. He also took turns at the wheel of the Aston DBR4 Grand Prix car and won the Australian GP four times. His career warrants a piece of its own, so watch this space.
TRG-AMR are running a pair of V12 Vantage GT3s in the full TUSCC series this year and James kindly spoke to us right after qualifying the car fourth in GTD class, and we were able to find out a lot about the V12 Vantage he will driving this year as well as what makes him tick.
How does the car feel here at Sebring? "It's certainly tricky to drive these cars in GT Daytona spec. It's fair to say that a number of cars in this class weren't designed to be run in this specific unique American spec. Talking to the AMR guys, if they were to build a car specifically for this, all the geometry and suspension would be different and so on.  Then we don't have ABS or traction control to mask some of the imbalance from the tires and the Continental is not as sticky as the Michelin and so it falls off, but it's the same for everyone.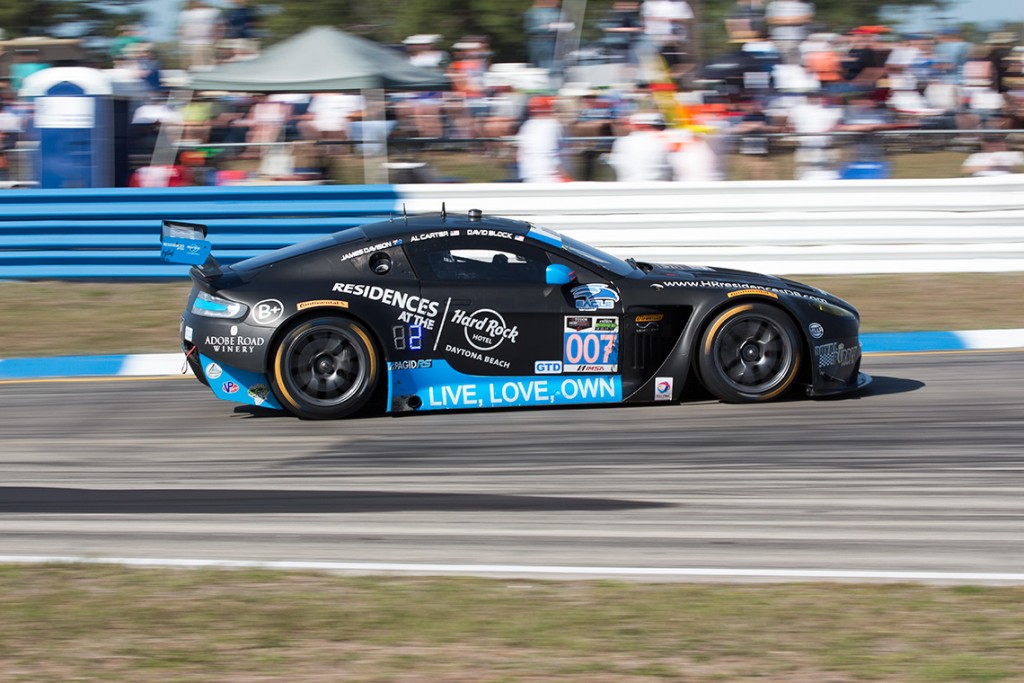 "The car's very tricky to set up at Sebring. You've got pavement changes, bumps and the car is just so different in so many different areas. Sebring's got everything: heavy brake zones, quick direction changes, long loaded corners – I'd say Sebring is the trickiest place to set up a car."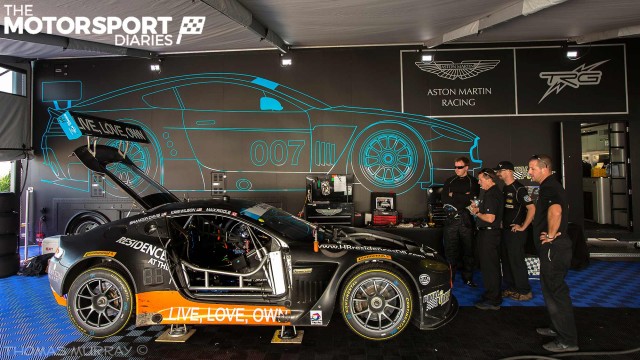 And qualifying? "Driving a car that's a big compromise makes you a better driver, so I was pleased with qualifying. We were within a tenth of the pole…a little bit loose, but then again everyone's got their story as to why they're not on pole!" James also qualified fourth at Daytona several weeks ago but the auspicious start didn't end well.  "We qualified fourth out of 26 cars and the top six were within a tenth.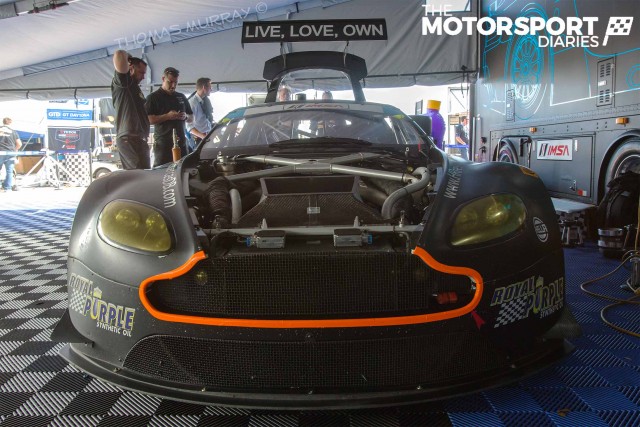 It was a great result for me as a rookie to be right up there in the mix with some really established names in sports car racing. We led the race around midnight when I triple stinted but unfortunately we got debris in the radiator and that ended our chances of winning, but the performance was there and clearly it's here this week.  Some drivers can't race as well as they qualify, but I do feel that I'm a good racer and my run at Daytona gives me some confidence."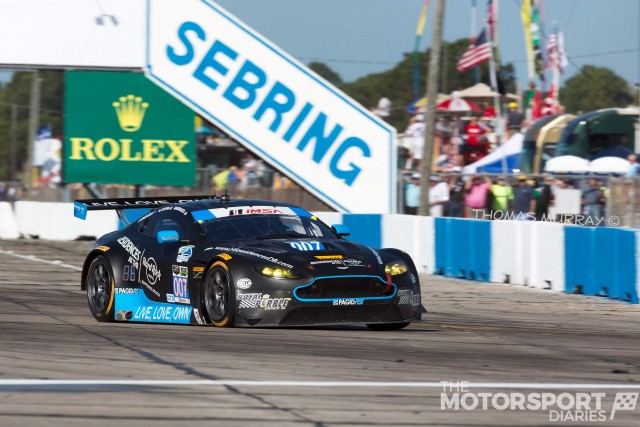 Did he come to the US straight from the feeder series in his native Australia? "I'm from Melbourne so I used to go to the Grand Prix at Albert Park right 'round the corner from where I lived, but I also used to go to the Indy car races at Surfer's Paradise too and I had a huge love for Indy car racing and the American presence, how friendly everybody was in the pit lane and how close you could get, and that's basically what led me to America.
"So I came here when I was 18 in 2005 and raced my way up the open wheel ladder: Formula BMW, Star Mazda, Indy Lites, finished runner up in both those series and did two Indy car races last year.  I've been out of a full time ride the last four years. Just when the economy crashed crashed – like a lot of drivers – there just weren't enough seats for how big that talent pool is. So I just really persevered and never gave up. I did very sporadic races – maybe one every six months.  Ultimately I got a chance from Kevin (Buckler – CEO of TRG) and that's really all it needed for me: to get one chance." He grins and continues, "We're having a great time and I've found a very good home here. I've just gotta continue doing my job and not messing up!"
As a sports car driver who came from open wheelers, I asked where his preference lay.  His answer was as I expected, "When you consider an Indy car, it's like a jet fighter on the ground and they're seriously cool cars and the amount of down force that they have! But getting the most out of any car is the same concept:  It just takes different driving styles and I'm enjoying this a lot, especially in qualifying when the car's hooked up and on fresh rubber and I'm really getting the most out of it with the top GT drivers in the world relative to the top Indy car drivers.  It's the same drill really. Especially when you do well and you're pleased with your performance deep down.  So to answer your question I'd say given one or the other, an Indy car. But –this car, how it's engineered and built by Prodrive is fantastic."
"Racing is not my career…it's my life" – James Davison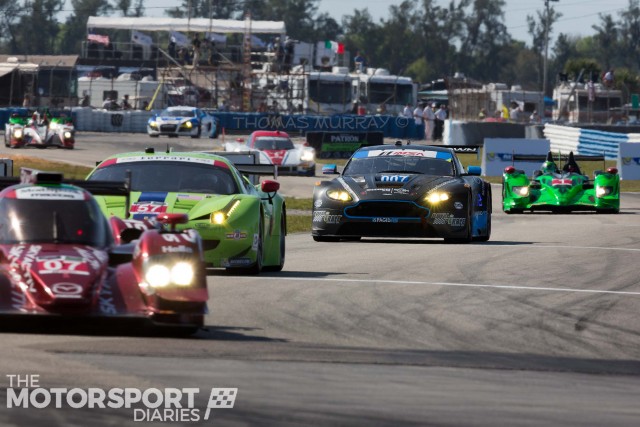 Being a works supported team means that that TRG has had access to the factory drivers and engineers.  Has this been a help when starting a new team in a new series?  "Absolutely.  I've gotten to know John Gaw from Prodrive and quickly built a good relationship with him. Darren (Turner) is a laid back, great, very helpful guy who's been around and I enjoy the British presence to be honest.  I've done all my racing in America and you quickly realize how professional the British are and why Formula One's home is in the UK."
I asked James which event had raised the eyebrow of team owner Kevin Buckler.  It's a tale he obviously enjoys. "There's a story to it! My good friend Richie Stanaway who is an Aston works driver in the World Endurance Championship was racing at Austin in the WEC race and afterwards we were hanging out together in Florida.  He got the call from John Gaw that he needed to go up to Lime Rock and do the final Grand Am race with TRG. Richie said, 'You might as well come with me!' Unbeknownst to Richie he had been asked to drive the GT4 Aston in the Continental series as well.  Kevin and Richie decided that it was best for him to focus on the other (Grand Am) car, so they needed another driver for the Continental car.  Richie suggested me. A few people that worked on the team or who knew me from the past put in a good word with Kevin and he graciously gave me the chance to do the race.  The race went really well. I had to recover from a penalty incurred by my team mate but we came from the back to fourth and were the fastest car on the track. I did a good job and got on Kevin's radar.
" I was put through a couple of other tests, and I'm a young guy that doesn't have any strings attached, so he can work me hard and use me to coach his clients in the World Challenge and GT4  Challenge gentleman driver series.  We were the perfect fit for each other."
As an up and comer, I assume naturally, that he has ambitions. His answer to the what-lays-ahead question is as mature as the rest of his conversation and quite a surprise.  "I think every driver's dream is to be in Formula One or Indy car when they're a young kid, but ultimately and especially in this modern day of racing, if you're able to just be a professional racing driver as your prime career you've gotta be very grateful and realize how lucky you are to be in that position.  I do and I've worked extremely hard to get to this point. I'm happy here with TRG.  Certainly I'd like to think that I can do some races with the factory team in the WEC and John Gaw has been complimentary of my performance so far, so I'm going to continue doing what I'm doing, look after the car 'cause that's a huge element and a reason why team owners are nervous about employing young drivers.  So basically it's mine to lose. Racing is not my career…it's my life. It's everything to me and I'm extremely tough on myself. Sometimes too tough, but it gets the most out of me."
To show his good humor, James donned a specially made nomex undershirt adorned with a tuxedo print before posing for some Bond-esque photos with some lovely and equally Bond-esque ladies.  Keep your eye out for James – he is part of Aston's racing future!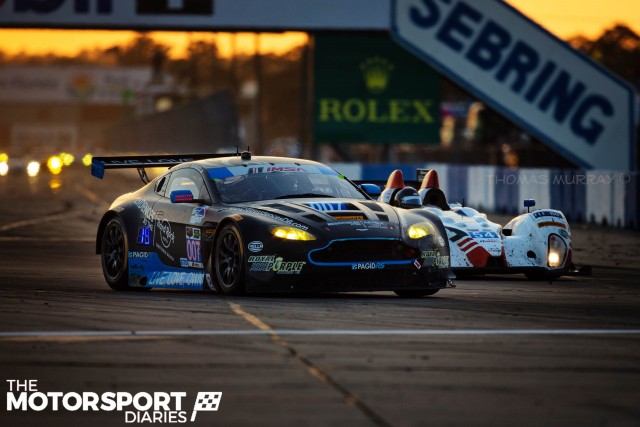 During the race, James in the 007 car took the lead in the first hour and paced well until the fourth hour when a car slowed on a caution lap causing contact which necessitated a long stop.  Despite astonishing pit work to get the car back out, further small issues put the car back and they eventually took 19th behind the 16th place 009 car. Clever pit work got a lap back but with five hours of running behind a pace car, all hope of a good race was lost.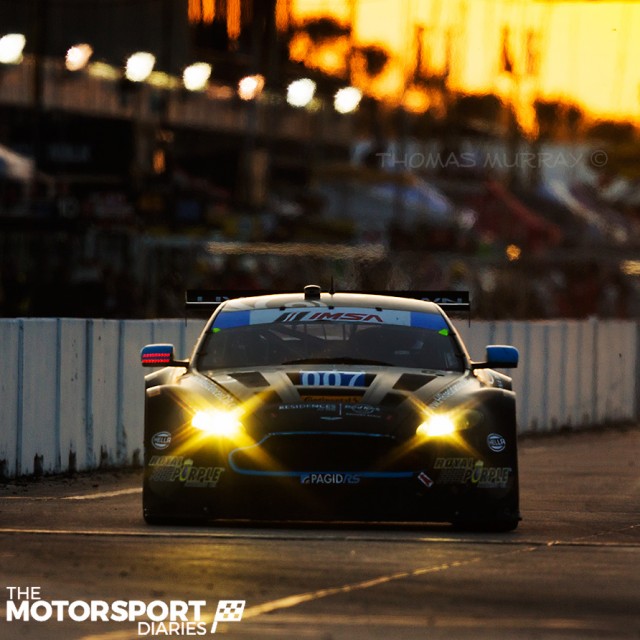 Wikipedia may well say that yellow fever symptoms typically get better within five days, but now a few weeks after the Sebring 2014 race, mine are still with me. Hopefully they will be gone before the next 'bout'…I mean race!