Sebring 2016 – With Tom Kristensen and the 2005 Team
Sebring 2016 with Tom Kristensen – Danish and Donuts for Breakfast 
Story by James Edmonds.  Images by Thomas Murray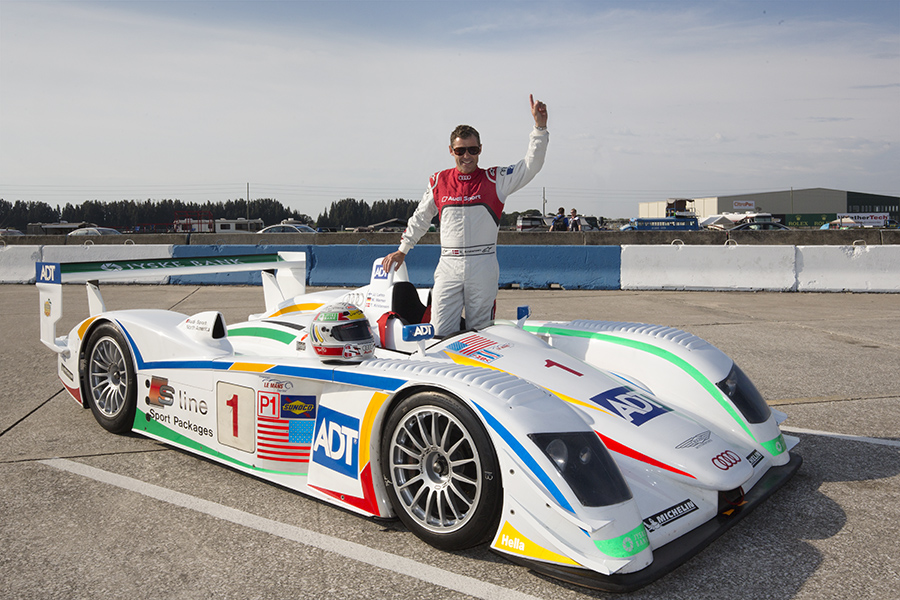 In many ways, Sebring this year was much the same as the last few years. Although still the same terrific atmosphere and people, with top named drivers and manufacturers alike, it did seem somewhat less packed than it had in recent times . The series – now named the WeatherTech Sportscar Championship in deference to its new title sponsor – seemingly dropped 'United' from the title when one of the more astute marketing whizz kids realized that the new acronym would have been W-U-S-C.  Good move.  I hope that the series doesn't change names as often as Joe Robbie Stadium does….what is that stadium called this week?
While most of the photog's and journo's were at Turn 1 or the media center for the start of the race, I was up with the sunrise along with Thomas Murray to meet Bobby Green, Rick Clifton and the owner of a certain racing car, Jim Rogers. We set off to the historic paddock where a beauty was resting and waiting to be awoken.  For the ex-Champion Racing Audi R8, this was to be no ordinary morning!   Although campaigned to great HSR success by regular team driver Doug Smith Jr. with Andy Wallace or Butch Leitzinger, today she was going to be taken for a ride with one of her 2005 teammates.  None other than Mr. Le Mans himself…Tom Kristensen!  Tom was attending this year's race as a Hall of Fame inductee along with 1975 Sebring winner Sam Posey, two time class winner Dick Smothers, 10 time winning team Alex Job Racing, former Tampa Tribune sports editor Tom McKewen and Tres Stephenson who recently stepped down as Sebring International Raceway president after over 30 years.
Tom Kristensen, now a part time Florida resident (otherwise known as a 'snow-bird') has won Sebring more times than any other.  His first win in 1999 for BMW along with future Champion Racing teammate JJ Lehto came before his move to Audi where he went on to win five more times at the legendary circuit.   He is most well known however for his nine wins at Le Mans – a record which likely will never be broken.  His Audi R18 e-tron quattro came heart-wrenchingly close to a tenth victory in 2014 when late race mechanical woes stole his lead and saw him finish second behind teammates Marcel Fassler, Andre Lotterer and Benoit Treluyer.  At least he wrote some poetry that day and I sort of like the nine wins – ten would have been perhaps too neat.  Too perfect.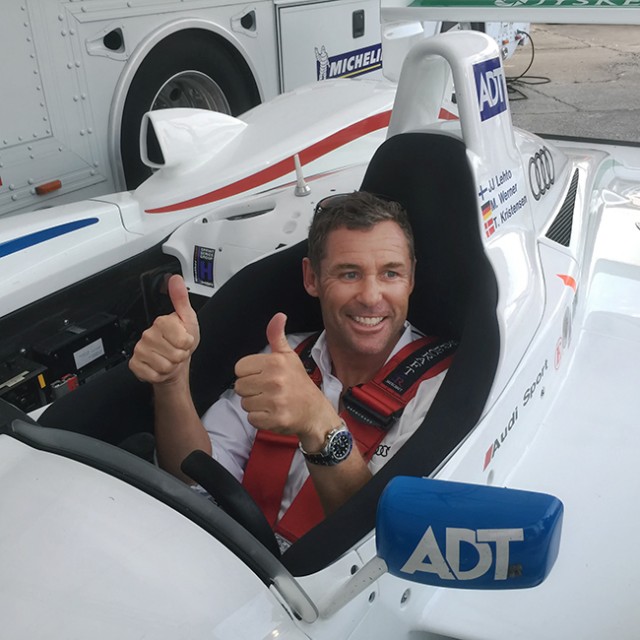 Team crew members Bobby Green and Rick Clifton now continue to take care of the storied R8 for Jim Rogers just as they did back in the day when they were riding the wave with Champion Racing.  Bobby was the crew chief on this car along with tire man and truck driver Rick.  Bobby had the car liveried just as it was for Sebring 2005 and the roll hoop carries the names of the drivers who took her to victory at Sebring and Le Mans that year: JJ Lehto, Marco Werner and of course Tom Kristensen. Thursday evening we stopped by the historic paddock to see the car and met up with Bobby and Rick. Soon after,  TK arrived on schedule to check out the car and have a seat fitting. We recorded the event for posterity as he re-acquainted himself with perhaps his favourite racing car.
Early race day morning Bobby and Rick fettle the R8. It is easy to see why this iconic and beautiful car still wins in HSR with much the same regularity she won with back in the halcyon days of the ALMS. They work together without fuss or the need for banter – other than to answer our questions or stand in the right light for a photo. The way this car is turned out, prepared and cared for is done in exactly the same way as when she was being actively campaigned. The legendary Champion Racing team owner Dave Maraj would be rightly proud of "his boys".
The significance of the Saturday morning's activities – if not their importance in the grand scheme of things – is reinforced when Brad Kettler arrives. Not to just socialize, but make sure everything is copacetic. Brad of course, was the technical director for Champion Racing in 2005 and he is looking forward to seeing TK drive the car again. While the crew was checking tire pressures, fluids, warming the drivetrain and going through the gears, I had a chance to talk to current owner Jim Rogers as he stood back quietly admiring and taking in the scene. I asked how he came to own the car and how he sees his place in history as her current custodian. "Most of my experience with Audi," Jim tells me, "goes back to the 2000 year model R8 which I still have currently (Chassis #405 – 2nd place Le Mans 2000). I remember the first day that I got in that car and drove it. Champion had brought it up to Moroso (now Palm Beach International Raceway) so that I could test it out before I bought it. I got in the car and I think three laps later I came in and Brad (Kettler) asked, 'What's wrong?' and I said, 'Nothing! My mind just can't keep up with this car – it is awesome! I have to come in, collect my thoughts and get my breath back!' This thing is just unbelievable. As Brad said, it's just the perfect package."
As the owner of several other race cars, I asked Jim what was the most powerful car he'd owned up to the R8. "A Rothmans 956″ was the reply. No slouch then. But the R8 was faster"? "Much faster. I also have a Jag XJR7, but everything about the R8 sets it apart." How did he feel at the prospect of having Tom Kristensen drive his car at Sebring? "It's pretty much of a thrill I can tell you that! It's gonna be a lot of fun."
With the morning still new and onlookers starting to take note as Bobby starts up the twin turbo V8 to go through the gears again, Brad Kettler looks on admiringly. Brad was in charge when Champion Racing took its Le Mans and Sebring wins (among others) in 2005 and is rightly rather proud of that achievement and is glad to see the car as he beams and shakes hands with his friends.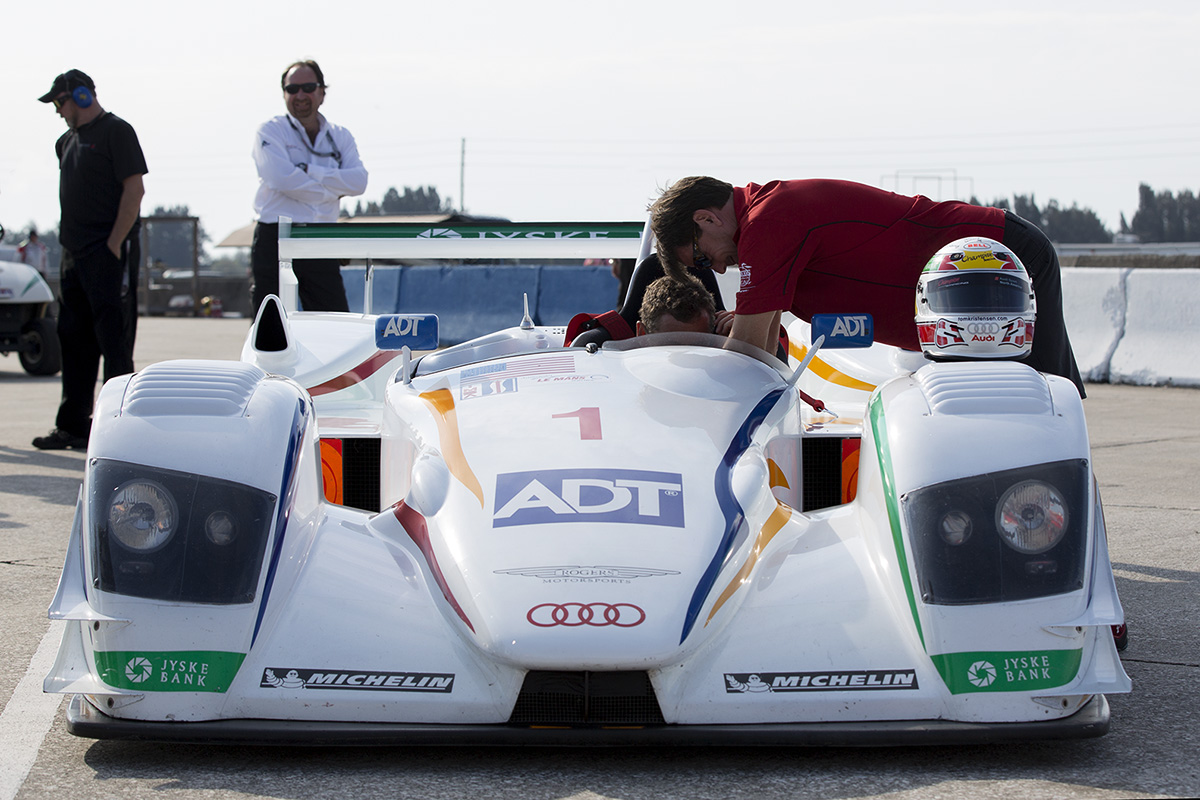 I ask Brad about his recollections of the race in 2005 and as always he has mental notes ready as if it were yesterday. "We ran the morning warm up and had trouble with the starter on our car," Kettler says with a smile, "so as usual at Sebring it was not without its drama. We ended up changing the starter in the pit lane before going to the grid which was no big deal on this car but it was just unusual. I remember being very satisfied as a team – where we were – both teams were very on point. We'd finished the cars the night before early, and everything was looking really good. It was just a matter of us getting through the warmup and executing through the day." For those who saw the race, it will be remembered that the team cars ran in tight formation throughout the day, but Brad is able to give some insight from his unique position.
"The whole day was absolutely hammer and tong between the two teams," says Brad obviously relishing his thoughts. "Graham Taylor, the engineer on the two car and myself the engineer on the one car both pushed the teams extremely hard that day and I remember from just about hour four when TK or Marco (Werner) or JJ (Lehto) would come off of sixteen going down the back and I would give them the split to the two car – and normally I'm not a sideline coach – but in this case I was ripping them down the back straight every lap, '16 seconds! It's not good enough! We need more!' you know what I mean? We really pushed them from very early.
"It was a very tough position race and Tom ended up with a cramp and had to come in out of sequence (TK had arrived late to Sebring having just finished a DTM race) and the two car got ahead of us. (Emanuele) Pirro was in the two car and Marco was in this car, and the move of the race that kinda got overlooked was Marco running down Pirro and passing him for position with two and a half stints to go. When Marco came out of the car and handed over to TK he was in the lead, but it was Marco that accomplished the catching of the other car coming from 36 seconds back – catching it and passing it. But really the risk in that year, in that race, in these two cars was the two cars passing each other, because they were matched so well and both being driven so well by both teams and there were no team orders.
"They should take good care of the track and keep it in the way it is. Look after it and maintain it nicely – optimize a little bit, but don't go in the direction of many new circuits being too clinical with too much run off" – Tom Kristensen
"Coming into the final stint, Graham Taylor had made his play…he'd gone to the soft tire early – a bit too early but it was one of the things he loved to do. He put Allan (McNish) in and was going to triple until the end and had us at a disadvantage because we were in locked step with them on fuel strategy. But we still had a tire change to do. They were already on their tires until the end and Allan was in and we had our tire change to do and at the same time put TK in. So during the discussion on what this was going to do to us position wise, it was actually TK who said, 'If you can't get me in front of him, I don't think I can get by him.'
"The risk that would have been necessary to get by a team car, going for the lead until the end and the risk involved, probably would've been too high to actually make that move, so we had to keep the track position. But we decided to short fill the car at the TK driver change stop."
While Brad and I were chatting, Bobby – who remember was also there on this car – was listening and as Brad recalls the stop, Bobby and he nod and say at the exact same moment, "We put twenty three and a half seconds of fuel in it." Even 11 years on, their minds can recall the race and the strategy that made it all come together. That's when you know these guys were for real when they can remember the slightest details like fighter pilots talking about a memorable sortie.
Brad takes up the story. "We gave the boys twelve seconds to do the tire change, which at that point in time was a storming tire change! I said, 'You've got to nail this!' We had a huddle – off the radio with head sets off – so the other team wasn't aware of what we were going to do. It wasn't like dirty pool or anything, but we didn't actually share it over the radio. So we huddled all the guys up, said this is what we're going to do and we did it.
"The cars came in line astern, us in front and the two car right behind. The two car was fueling and as it was fueling we did our stop (including driver change) and they both left at the same time." Of course Tom did not relinquish that lead and went on to a famous win and one of the closest in Sebring history! Although, it wasn't without panic for Brad and his team. TK gave them all a scare on the last lap as the two cars stormed down the back straight, heading into turn 17 for the last time. "After being chased by The Terrier for two and a half hours, my nerves were shot! TK came down the back and said, 'Brad do you want a photo finish?' and that was the absolute last thing I wanted! I didn't curse at him over the radio, but I nearly did…'NO! Keep the hammer down! Keep the hammer down!' is what I said. I was looking at the team thinking, 'What the hell is he talking about?' because the headlights right behind the car were Allan's! If TK would have hiccuped, Allan would have had him." Tom would get around turn 17 and come back on the radio laughing, while saying to Brad, "Only kidding!"
Brad wraps it up. "Tom at that point was playing a little bit. He was confident that he was alright. It was an amazing, strategic and competitive race between the two cars and it was like nobody else was here. It was superb driving by everybody involved, but the real move of the race got kind of overlooked. And that was classic Marco. He would very often have the fastest lap of the race or some strategic move. He's such an understated guy and so humble that very often these things didn't get picked up on and that was one of them, because if he'd not run Pirro down and got past him fair and square it wouldn't have given Tom the track position to give us the win."
Our morning event was all happening on a very short timeline. We were chatting on race morning with the 12 hour main event starting soon and Brad was about to go and oversee the GTD R8s running in the 12 Hour. My last question to him concerned his views on this 2005 R8 versus the current crop of LMP1 cars which he still crew chiefs at Le Mans. The answer didn't surprise me: "This is the best. The best race car ever made." That says it all really…
As Brad sped off on his golf cart to check on his other cars, Rick hooked up the R8 to the tow strap for the long slow ride from our spot in the HSR paddock near turn 16, to the false grid at turn 17 where we were to meet up with TK. Back in the day, she took pride of place with her sister right there in the thick of it in the prime paddock spot. We rode along side in our cart, noting the looks from other teams and drivers. Having not seen this car for some time, it was amusing to see the pointing and staring as people fumbled for iPhones to grab the moment. This car is still a beauty and the Champion ADT livery over the white paint was the most iconic of all. Joerg Bergmeister seemed particularly happy to see it, beaming as we drove by.
As we enter the false grid area, we find that we are almost alone. The only other cars there being the road cars used for hot-lap-demo rides for the lucky fans and VIP's. After a brief disagreement with security (nothing new there!) due to a question over credentials, normalcy was restored with the intervention of Audi Sport media guru Martyn Pass.
Although not a heavily advertised event on the day's itinerary, word of course spread as photographers turned up just as Tom Kristensem, resplendent in his 2014 Audi driver suit appeared with a broad grin and carrying the helmet he wore for the 2005 race – borrowed from ex-team boss Dave Maraj's collection at the Champion dealer in Pompano Beach I imagine. With minutes ticking off the clock, between us we had gathered as many of the ex-Champion Racing team as we could to assemble for photographs.
Most of the old team are still in the race game and many of them were here working for other teams. Some in other series, some still for Audi in other capacities. It was a lovely moment to see the guys take the time to reunite with one another just prior to the race. That morning I bet there were a few team bosses saying, 'Where the hell is …?' as they looked for their team members, likely unaware of the spur-of-the-moment sojourn! The winning teammates were all back slapping, high-fiving, shaking hands and genuinely enjoying this moment. Although they greet one another as they inevitably cross paths at the races, it just doesn't happen like this…all together at the same time. Posed with the car were her current custodians Rick Clifton and Bobby Green alongside Brad Kettler, team manager Mike Peters, fueler Jerome Freeman, TK, Chris Avery, Mark Murray and Louis Milone.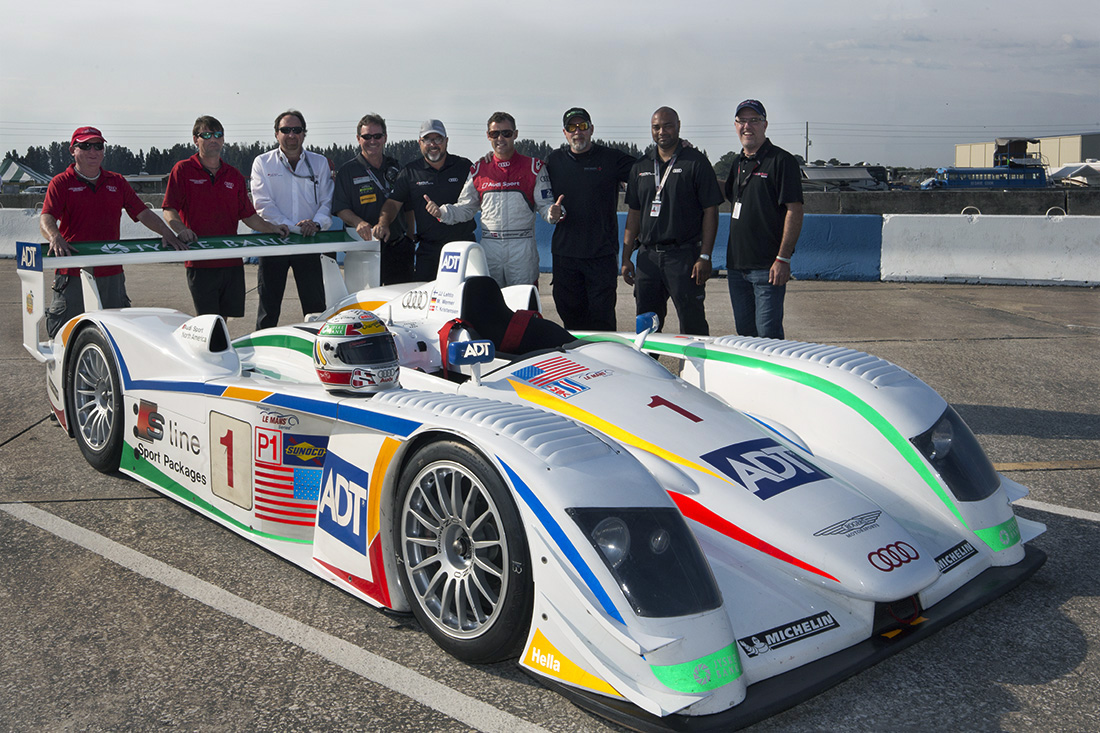 I spoke to Mr. Sebring before he climbed in for his briefing with Bobby Green while being strapped in. What are his emotions and what is going through his mind when faced with the car he won here with 11 years ago? "Last year at Le Mans I was very honored and pleased to drive the first winning R8 at Le Mans ever. I did a lap there, so I think that it's absolutely a good idea what they have come up with here that I drive the last winning R8 from Sebring which was with Champion Racing back then. It's also one of the very memorable wins at the track as it was a two car team that season. The car was the best that it's ever been during its development phase of five or six years. And the drivers were all the best drivers in both cars and we had a race with no strategy except that the best one make it and that was really a very enjoyable race.
"It could have gone either way many times but as a team, the mechanics, engineers, drivers, we did a fantastic race that time under the leadership of Dave (Maraj). And now to be here, inducted in the Hall of Fame, to have turn three named 'Kristensen Corner', it is something that is very special. You never expect that as a race car driver but you must admit, it's something you can only dream of and it came true!"
Clearly Tom as well as other drivers with whom I have chatted in the past, love the character and old-school nature of this demanding track. "Driving a car at a location like Sebring, is for me one of the true circuits still here and true to its self. Having gone through a lot of issues over a long period of time since the fifties, it was almost out of business at stages. But the race never stopped – certainly it won't now.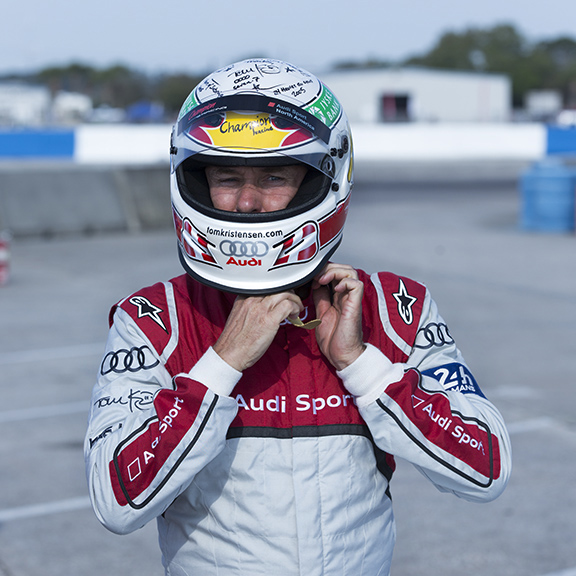 "They should take good care of the track like it is and keep it in the way it is. Look after it and maintain it nicely – optimize a little bit, but don't go in the direction of many new circuits being too clinical with too much run off. It's wonderful here, so that's what I'll take in mind when I drive the car. With respect to it, I will drive it nice and easy, but (at Le Mans last year) I think it took forty meters to feel at home in the original R8. But this one is already better developed than that: the engine is more driveable here, the aero is more – as we say as drivers – more in the sweet spot and the sweet spot in this car was already in another level than the 2000 car I drove at Le Mans."
With that Tom strapped on his helmet, jumped in the car as if it was another day at the office, took a quick brief from Bobby then fired up the engine and headed for the track – giving a little flourish of style with some wheelspin and a little opposite lock as he threaded the needle between the concrete barriers that separate the false grid from the circuit! With that he was gone for a warm up and two flying laps. To say that there was a certain feeling of general well being among the gathered brethren would be to mildly understate the moment.
Tom arrived back in what seemed an instant. It almost was. Consider this: The pole time for this year's race was a hair over 1:51. Although I don't think anyone had a watch on TK's lap times, regular driver Doug Smith – who was doing shake down and general testing during the week – recorded an out lap of 1:57 on cold tires! Imagine what Tom might have done on hot sticky tires with some rhythm.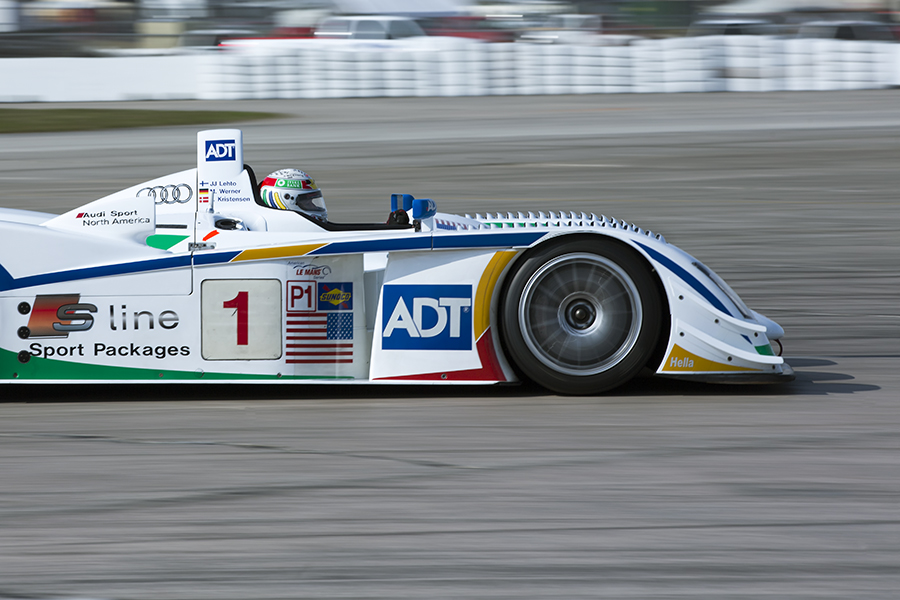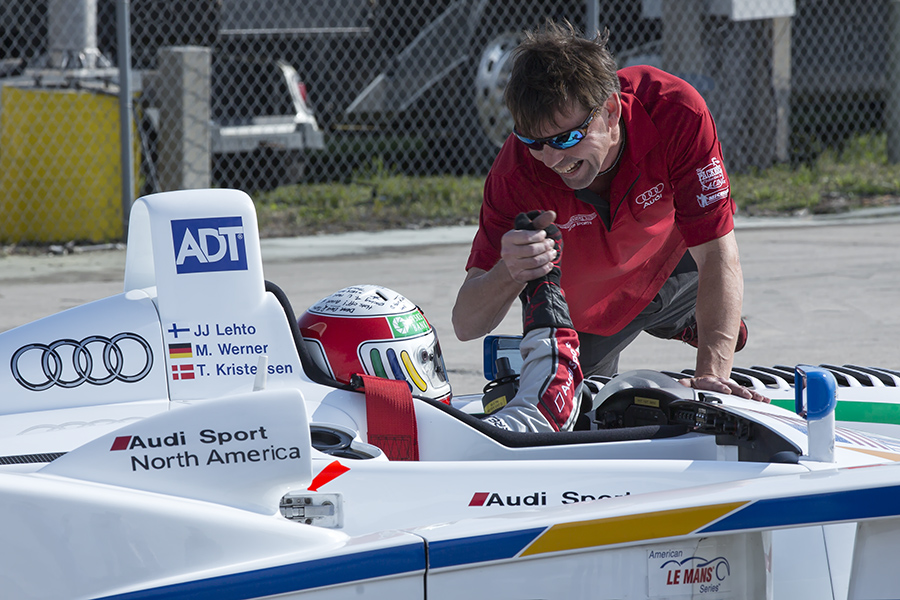 Rhythm or not, he certainly enjoyed himself and as he came back onto the empty apron where we were still gathered, he proceeded to do donuts NASCAR style to the delight of the onlookers! Did he have fun? "The noise, the wind, the open car…the R8 has a very special feel. You could have put me in blind folded and I will be able to feel that it's an R8 that I am driving! As I said, in this state it's about the very best one that we had. After this, I think I only did Le Mans in this car, so obviously the race we had here in Sebring was a very very fast one. There were many yellows but I think even still, it was very close to being the fastest in history at that time – certainly the closest finish."
When asked about the donut display after his laps, he puts on the famous wry smile, "I just want to make sure that (car owner) Jim was awake, so you leave with a little bit of fun!" Indeed. As we had to make a hasty retreat, I pitched Tom the same last question that I had asked Brad: R8 or R18? His usual jovial self, he chuckles with his fast wit, "Ah…you must be a journalist! The R8 is very close to my heart because personally, I was one of the drivers through all these years. Of course to win Le Mans every time it went there, I was one of the drivers. So the R8 for me is the original, true, Le Mans winning Audi. In that sense yes, and I would love to one day own one as I have the R18 which was the last one we won the World Championship with. That's the most complex and efficient and let's say, strong racing car I've ever had, but closest to my heart is the R8."
It's fair to say – most certainly for us to dream – that if Tom had been allowed to stay out and sneak onto the grid, that he might well have been leading at the end and on the radio to Kettler laughing, "No bloody photo finish this time!"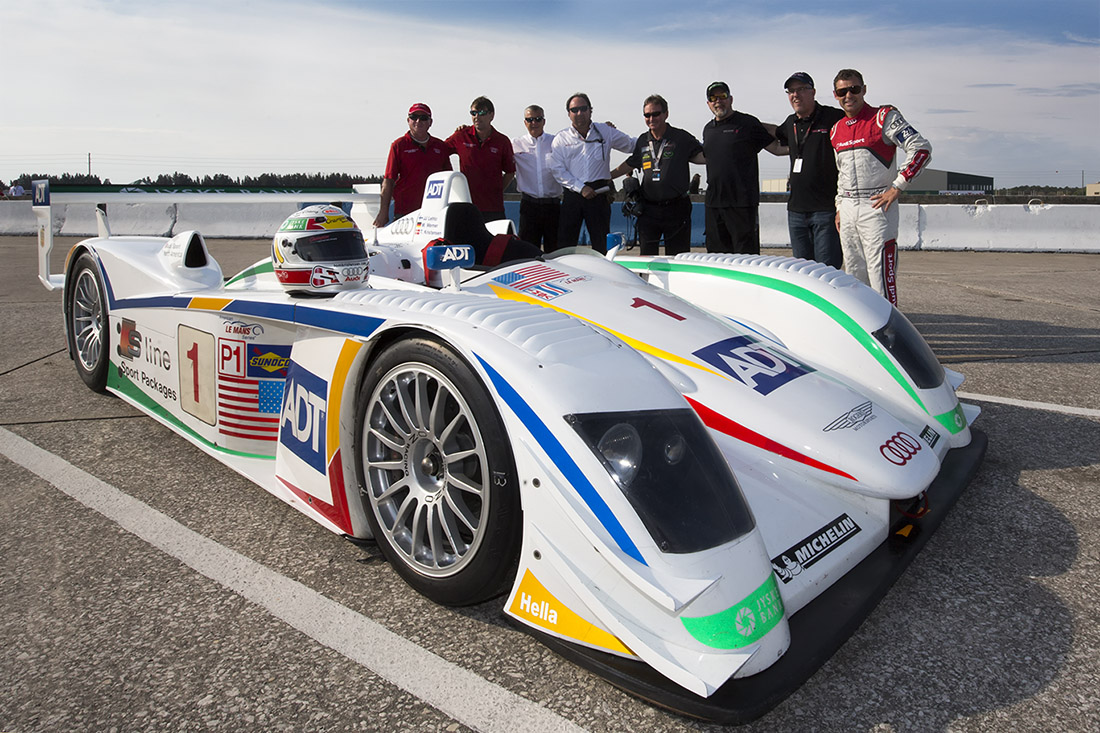 Read more about the exploits of Tom and Champion Racing  here