Silverstone 6 Hrs Friday Practice Report
Sandbags or Sandblags?
Part 1 of 4
Silverstone 6hrs Friday Practice Report.  Yes,  that question is genuine…mainly focused on the two Toyota TS040s on Friday as they seemed to have a quite a day in comparison to their VW owned rivals,  showing up fifth and sixth on the timing sheets and never within a half second of the pace setting Audis.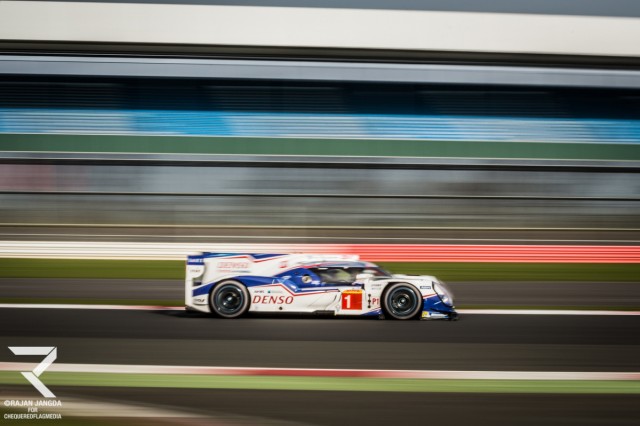 Many in the media centre were suspicious about the seeming lack of pace,  suspecting that they were sandbagging deliberately.  It appeared that some of those backing Toyota were defending the pace,  blagging about sandbagging – sandblagging if you will.  However,  the initial lack of pace could have simply been down to something as innocent as Toyota exploring their new machine.
Come FP3 it would appear that it was probably sandbagging or car- exploration as they found themselves in second and fifth on the time-sheets.  Yes it was a different day and it was wet,  and I was missing on Saturday morning due to a minor illness!  (Damn you fast food!)
During that time,  Porsche and Audi were having somewhat of a speed vs agility face-off:  Audi were hands down the fastest car through the turns having ridiculous amounts of cornering speed.  Even as a photographer trackside it looked a lot quicker than the Porsche.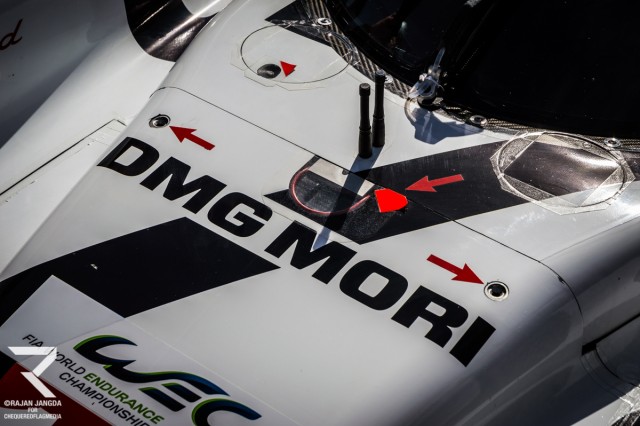 They on the other hand had the focus of their hybrid system paying off as they were absolute rocket ships down the straights with 8MJ of energy at their disposal. It was like an India vs Pakistan cricket match:  good batting and bad bowling vs bad batting and good bowling!
It was ultimately Audi who would come out on top across all three sessions.  Heading into qualifying it would appear that they had pole in the bag having been the only cars in the 1:41s.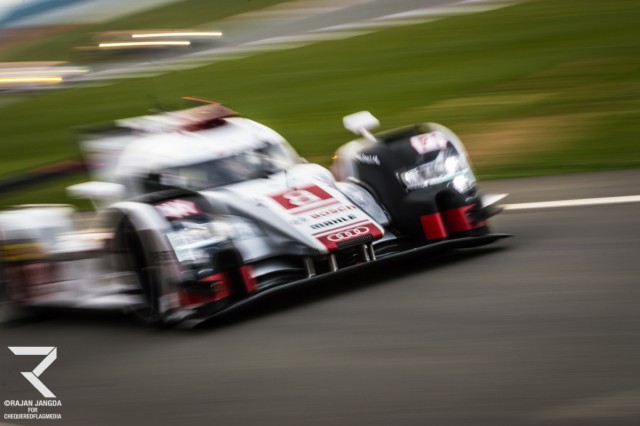 The remaining LMP1 car and only LMP1 car not running hybrid power or being manufacturer backed – the Bykolles CLM – was having a totally different ordeal.  It was 10 seconds off the pace set by the other LMP1s and was never quicker than the lead LMP2 cars which were the Ligier/Nissans of the G-Drive Racing team.  The Strakka Racing Dome was having a promising debut,  mixing it with the front runners in all sessions.
In the GT competitive classes there was practically nothing in it,  with all 14 cars never being more than two seconds apart whilst providing the best sounding cars in the field.  So heading in to qualifying I thought that it was going to be very close to the same extent as P1,  but this would turnout to be a complete and utter anticlimax as the Aston Martins of Nicki Thiim,  Richie Stanaway and Darren Turner locked out the top 3 positions in GT Pro.  This made me smirk briefly while I pondered using it to wind up James Edmonds (I ultimately got distracted from going ahead).
In GT Am things were a bit tighter with the Aston Martin of Pedro Lamy edging the Ferrari of James Calado,  a driver who I believe should really be in Formula 1.  That's a rant that would need to be broken down however,  into enough articles to break an email server!
LMP2 turned out exactly how everyone expected:  the two G-Drive cars comfortably clear of everyone else,  while the LMP1 of Bykolles continued to be way off the LMP2 pace let alone dreaming of troubling the works LMP1 cars.
The big surprise happened in the deep end of the pool where three cars were within 0.042 of each other, except for the Porsche 919 of Mark Webber who was 0.6 of second clear of everyone else with an insanely quick time of 1:39.721. This was only four seconds off Nico Rosberg's pole lap time from the 2014 British Grand Prix!  On top of this Porsche actually locked out the front row,  while the Toyota of Sébastien Buemi got within the 0.042 club with Lucas Di Grassi's Audi and the other Porsche of Romain Dumas.
A fairly entertaining qualifying session albeit a shame that my poor culinary choice saw me miss it trackside through illness!
This ends my Silverstone 6hrs Friday Practice Report. Check back tomorrow for part 2!