Targa 66!!
Brian Redman's Targa 66, 2013
Targa 66 is a club not for the likes of the everyman, although we are very much welcomed by Brian and the members who are lucky enough to have achieved a status worthy of the demands of the cars that they own. That there are only 55 members in this exclusive society will tell you as much about their good taste as it will their bank accounts.
The club was formed when Brian had just retired from competition as a means of staying involved and maintaining his interest in the cars, the sport he loves so much and of course the social aspect. Anyone with an interest in the racing scene will tell you that racers and the fraternity alike are a big family, and you don't have to go far at any event before you start bumping into old friends and people you know. It really is a small world.
Being a south Florida resident for many years now, Palm Beach International Raceway offers the ideal back-yard venue for Brian's annual gathering of glorious sports and racing cars which range from current to vintage and everything in- between. Entrants are invited to enjoy their machines at high speed in groups of similar cars, but without the danger of actually racing, where the dreaded Red Mist can drop like a veil on even the mildest

mannered of gentlemen causing oft, and ill-fated heartache for the owner and consternation for his accountant.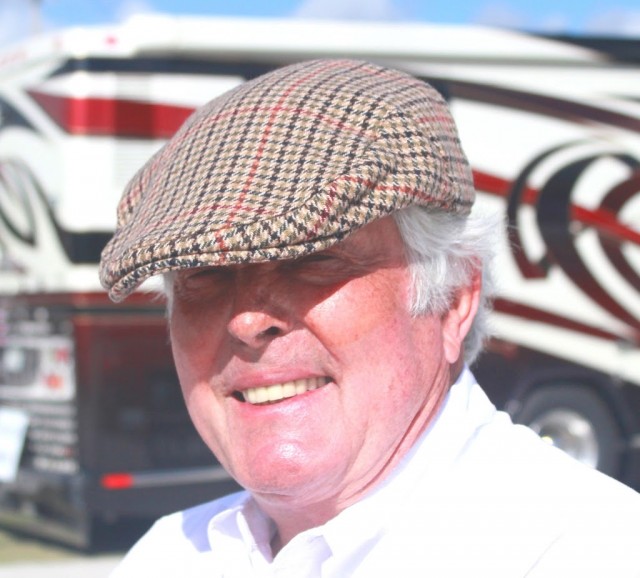 Whilst attending the event for the first time with stalwart race-pal Dr. Dave Lobou, it was my distinct pleasure to find Brian walking the early morning paddock sporting his trademark flat 'at and I will let him take up his story – though you will have to imagine his lovely poetic Lancastrian accent on your own.

"Targa sixty-six came about at the end of 1990. My professional career was finished – my last year was 1989 with Aston Martin in Europe – and I was with an old friend of mine at a vintage race. He asked how I was doing, and I said, 'Not all that well.' He said, 'Start a club!' and I asked, 'How much and how many people?' He said, 'I dunno. Five thousand dollars a person and three events? I'll guarantee you ten members' and that's how it all started 22 years ago."
Brian competed in the period of the sport which many argue was the best. Maybe it was. Possibly because of the danger involved in driving the most powerful machines without the structural integrity (to be kind!) of the more modern cars, yet on the tracks that had been used since the '50's that were still seriously lacking the safety of today's circuits. Try to remember the Mulsanne without the kinks. Imagine your mindset as you strapped into a 917K, your feet dangling out in front of the wheels with only a bit of fiberglass between you and (if you were lucky) the Armco. Remember that if you held that piece of fiberglass up to the light, you would almost be able to see through it. Heart pounding yet? Then ask yourself if you could muster up the mental fortitude to press on to the 240mph top speed. Lap after lap. For 24 hours? In the rain? That's what made Brian and his peers special.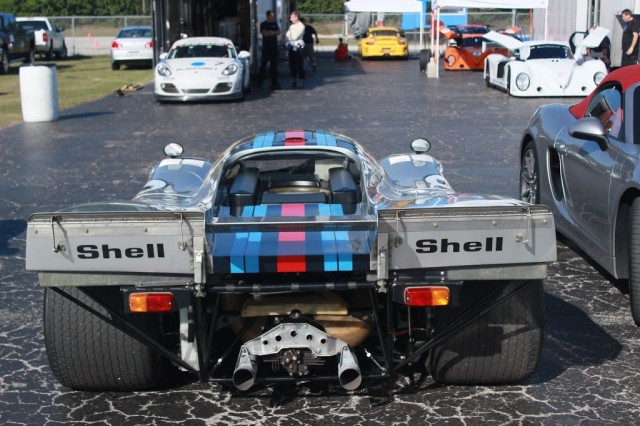 Asked about the cars in which he competed he of course has favourites and some reservations. "My favourite car would be the 908/3 Porsche – the lightweight car we won the Targa Florio in and would have won the Nurburgring 1000k's in had we not run out of oil; the Lola 332C which was our (F5000) championship winning car for three years with Jim Hall and Carl Haas…that was a fantastic car. I didn't really care for the 917 very much. What I didn't like about it – it drove perfectly well and it was a great car to drive – was that I knew of five that broke in half across the cockpit in accidents. So when I was at Le Mans when we were doing about 230 and Spa Francorchamps doing 215 down the Masta straight, I was pretty worried I can tell you."
Brian competed in many different championships and won many titles. He may never have been F1 champion, but that is only one small part of the sport. I bet Schumacher would never have even considered warming the engine in the Porsche 908/3, let alone getting in and winning the Targa Florio in it.
Yes, the Targa Florio. One of the grandest of all and one of the last of all the famous road races. Run over ten or so laps of varying length depending on the year, but about 47 miles per lap, the Targa was run around the island of Sicily. You might say circuit, but that would not be fair for it conjures up the image of a paved race-track. I was there in 1973 and when I tell you that some parts of the lap resembled goat paths, I would not be exaggerating! The name of this famous race lends itself in part to the moniker attached to Brian's own event. "I won the Targa Florio in 1970 with Jo Siffert and that seemed like a good name. I had a lot of hassle with Porsche over it, but we resolved it. Sixty six is a very lucky racing number for me; driving for Chaparral and Jim Hall and winning the Formula 5000 championships with it. And so it seemed like a good number. We've actually never had sixty six members, and this weekend – the twenty second year – we are the closest we've ever been. We have fifty five!"
Brian's accomplishments are well documented and I'm sure when his much anticipated autobiography is printed, it will be among the fastest selling of its genre, such is the reverence with which he is held by his peers and his fans alike. His skills as a raconteur have been described as 'jaw-dropping', so I for one will be first in line when it appears. Soon let's hope!
As mentioned earlier, Brian finished his professional racing career with Aston Martin who in the late eighties were racing together in the vaunted Group C with the AMR1. This was at the time when Ford purchased a majority of Aston Martin, so we are all lucky that the project wasn't shelved right away, but equally we are unlucky in that Ford declined to infuse enough cash to help produce a 3.5 liter engine with which to meet the following season's rules. But I digress. However, I did take the opportunity to ask Mr. Redman about this time in his life as I am a confirmed nutter on all things Aston Martin, so this chance could not go to waste! "It was very good actually, it was a great effort. It was just that the whole project was sold to Peter Livanos (then part owner of AML) as a unique aerodynamic advantage that nobody else had, but in fact that didn't work out at all. So the car was very good. It was run by Richard Williams and engineered by Ray Mallock. The only trouble was, this 'magic bodywork' wasn't magic at all…it had too much down force and not enough straight line speed.
"We had a lot of fun but we only finished as high as fourth. But in the corners, even at Le Mans, we could hold off the Jaguars and the Mercedes, but as soon as we got on the Mulsanne straight, they disappeared – you couldn't even see them when you were half way down!
"My last time at Le Mans professionally was '89 with Astons. We were in eleventh place and Peter Livanos said, 'Brian. Would you like to do the last hour?' Well, really it didn't make much difference…nothing was going to change unless people broke down. So I drove the last hour, and I was a bit bored really. At Arnage, a ninety degree right hand corner, I would slide the car sometimes as it was very easy in second gear at seventy to eighty miles an hour. Then one lap I didn't slide it and next time round a group of English enthusiasts held up a big hand written sign saying, 'Give us some oppo!', meaning opposite lock of course, so I obliged for a couple of laps, then the second lap after that there's another sign come up that says, 'Now fastest lap!' I give it a try, but it didn't work out" he chuckled. "The third and final time, the sign came up, 'Crumpets and tea with the Queen'! At the end of 1989, Ray had designed a new body for it which had more down force and half the drag, but we ran out of funds and so that was the end of the program, it was great shame."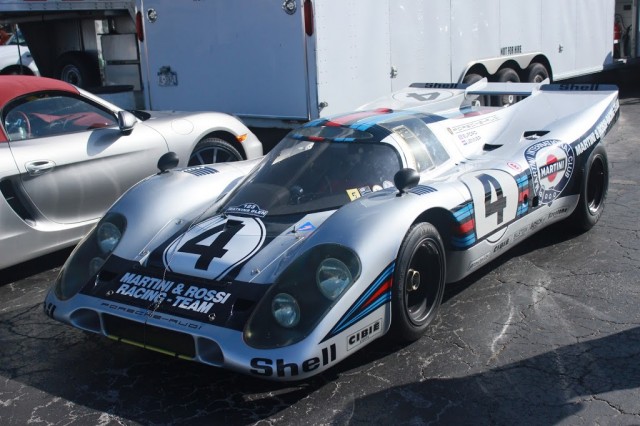 Some of the cars at this year's event were truly spine tingling. It is always a treat to see a 917 in the flesh with its voluptuous curves and gorgeous flaring hips. I could literally sit and look at one all day – and this was a special one: The Elford/van Lennep 1971 Daytona winner sporting its authentic Martini and Rossi colours (voted by fans as one of the top racing liveries of all time recently) looking for all the world like it just rolled out of the factory. Better perhaps?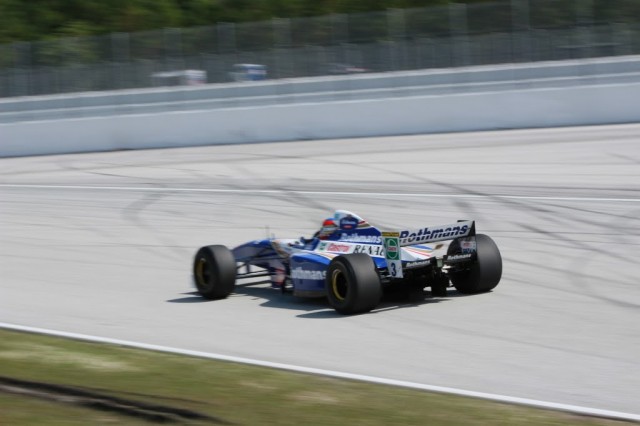 Also on offer were several classic F1 cars, notably the championship winning 1997 Williams which sounded like something other worldly if you'd never heard a modern F1 car engine at full chat. That the owner spun it under braking and pitched it into the scenery after a few laps can be forgiven: he was out there after all showing off this piece of history, and to be fair, it wasn't wearing the same bespoke rubber that Villeneuve was afforded, but rather a set of Avon Wellies. The fact alone that he was able to get the tires warm is more than some could muster!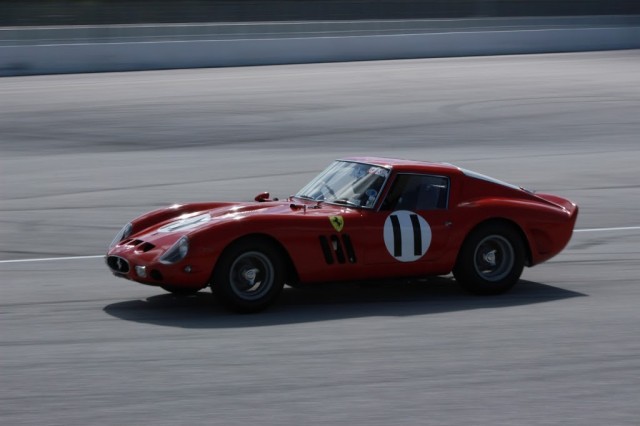 The other car that got my juices flowing was an un-restored 1962 Ferrari 250 GTO. The car was delivered new to Col. Ronnie Hoare of the fabled Maranello Concessionaires and campaigned by John Surtees. It has been in the hands of its current custodian since 1967 and being an original right hooker with this history,

I cannot imagine it being driven anywhere other than at an event such as this. The car reveled in its crazed rosso red lacquer with the dings and scrapes of battle worn like badges of honor. What a relief that the owner has resisted the temptation of having this irreplaceable and time-travelled patina be subjected to The Restorer!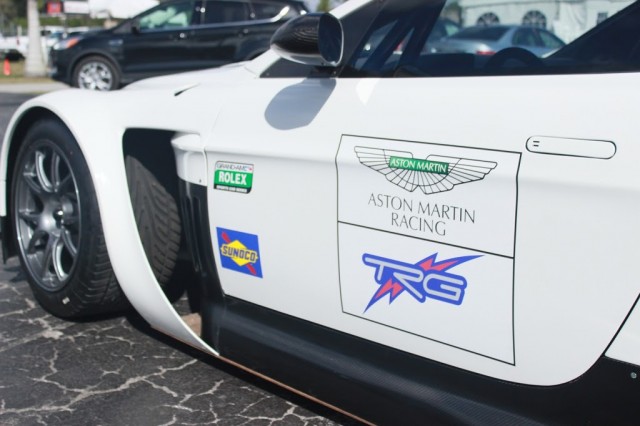 Brian Redman's event, much like the man himself is not famous in the general vernacular. It, like he, deserves more attention. Brian's modest nature and unwillingness to tout his many accomplishments means that he has never garnered the attention of say, a Mario Andretti. Perhaps Bill Adam summed it up best recently when he told me of the time when he was thrilled to be partnering the Great Man at Daytona in the Group 44 Jaguar. "I was sitting in the car before our first meeting and Brian came up to me and said, 'Hi. My name is Brian Redman and I'll be driving with you…' instead of saying 'you'll be driving with me!'".
You can find Brian judging at Amelia Island in March before he dashes across the pond to do a guided tour of the old Targa Florio event, then he is off again to Summit Point Virginia for a vintage race. In July he will be the guest speaker at a vintage event in Seattle just prior to heading over to the Goodwood Festival of Speed. Before he can catch his breath, he will be back to Road America for another event and then he's off to Laguna Seca to help celebrate Aston Martin's centenary by driving his old friend the AMR1! As you can see, the busy life of a driver with the credentials of Brian Redman does not slow down or dwindle just because he has hung up his nomex suit!
Hopefully you can be as fortunate as I was to catch up with him at an event near you, and maybe spend a moment with this most engaging of the old-school heros!