WEC Silverstone Tourist Trophy Race 2015
Scrutineering, Cypress Hill & a pedal powered showcar
Staff writer Rajan Jangda of Chequered Flag Media was on hand for the weekend and offers his impressions of this, his first time at a WEC event…..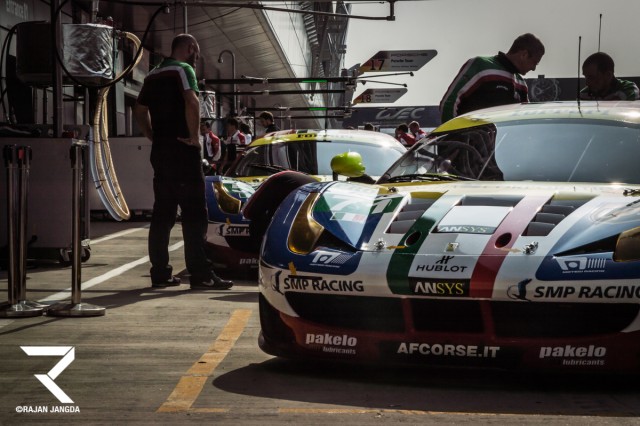 Thursday 9th April 2015, WEC Silverstone Tourist Trophy race 2015. It's scrutineering and sign on day at  the  first round of the FIA World Endurance Championship. Having turned up a little late after getting lost on the way; getting tailgated on the way to the carpark by the pacecar (!); luckily taking the last car park pass; signing on and receiving my photographers tabard for my first international race event, I found myself looking around to see if I knew anyone between momentary mind blanks of disbelief. I sat there thinking to myself, "Have I really made it this far? Is this really happening?" and in a Freddie Mercury moment, "Is this the real life or is this just fantasy?".
After several nudges from my colleague Aleks Kruz, I snapped out of it and had a look around to see what was what. I had been here a few months earlier to cover the Silverstone Classic, however that was an open paddock and the World Endurance Championship is obviously a lot stricter being an FIA event, so I needed to get an understanding of the set up. It's all good being told or reading about it but you need to see it in person to know it 100%.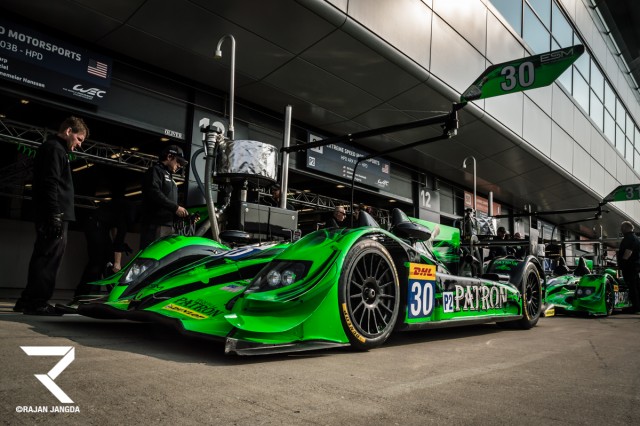 After heading back to the media centre and having yet more moments of questioning the reality of  my being here, I made my way down to the pit lane with all the other photographers. Even though there was no on- track action today, there was quite a bit of activity in the pit lane with scrutineering and drivers signing on, not to mention a handful of grumpy manufacturers… something about a crane.
All the photographers collectively strolled along pit road, snapping anything and everything of interest whilst making way for the cars being pushed to scrutineering by their respective teams. Some teams were still building their cars while others were simply waiting to be called for scrutineering. One such team was Porsche who had both cars sitting up on jacks in their garage, and it was while shooting this that my ears caught on to a familiar straight of lyrics. "Say some punk try to get you for your auto, would you call the one-time, play the role model?" … I could have sworn they were playing Cypress Hill in that garage!
Moving on from that cool little discovery – and although they weren't taking part this weekend – Nissan had brought along two GT-R LM show cars which were set up in Garage 40 for the fans who would be turning up in droves over the following three days. So given they were not actually competing, there were a few confused faces when they saw car #23 being pushed down the pit lane by Sir Chris Hoy and Charlie Robertson on bikes!
The car wasn't on it's way to scrutineering, rather it was on it's way to the grid for some promotional shots to be taken which presented everyone with a unique opportunity to see the car in an open space. It was of course joined by the Strakka Racing Dome S103 which is powered by a Nissan engine.
The Nissan GT-R LM was then on its own and joined by the sister show car which was branded in Manchester City colours, as Nissan's own photographer stood atop a golf cart ready to take his shot. "Hang guys I need you to stay back while I take this shot" he said. All the other photographers then turned around to notice that we had been joined by Mark Webber and his Porsche team who were out on their track walk. "You've got to wait for the LMP2 car to go first." replied Mark Webber pointing out a clean up truck which was in the distance.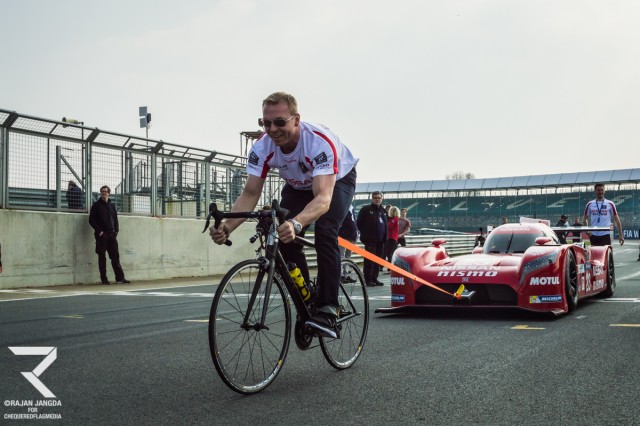 Mark Webber then had a closer look at the Nissan at which point someone said, "He's having a look around the rear!" at which point Webber jokingly replied with, "Which side is it?" having a bit of fun at the expense of the cars' drive-train layout and making everyone at the scene burst into laughter.
After taking more shots of the Nissans while I could, I did another walk along the pit lane. I saw the teams practicing their pit stops and what struck me was the speed at which the mechanics pulled them off. Yes I have seen them on television, but seeing them carried out in person was incredible. They moved with such speed and agility, it made me realize that we are living in an age when even the mechanics are required to be athletes! It was at this point I decided that's where this not so athletic photographer should end his account of his first day photographing world level motorsport.