Historic Sportscar Racing Classic 24 at Daytona 2014
A Celebration of Winners…Passed and Present
Photos by Thomas Murray, James Edmonds and Regis Lefebre
The inaugural Classic 24 Hour at Daytona which was held on November 12-16 was a terrific event that restored my faith in vintage racing. Historic Sportscar Racing Ltd. (HSR) did a job that was, especially for a first time effort, simply supreme. To assemble an eclectic and diverse group of significant cars and drivers that thrilled all those who attended was a feat that left all those who witnessed it jubilant, excited and begging for more. 
I have to admit to becoming somewhat jaded to vintage racing over the past several years. What was once my favorite form of racing many years ago when I lived in England now had become an afterthought. I guess when I analyze my own feelings it is perhaps because I had been exposed to those huge grids at Brands Hatch, Silverstone and Oulton Park back in the '80s – where it was not uncommon to see DBR1s, 250Fs, GT40s and 917s on any given weekend – that I became disillusioned to the events here.
One might be lucky to see a handful of real vintage race cars pitted against a veritable plethora of Miatas, new 911s, Mustangs or race cars that were current only last season at anything other than the biggest national events in the US. Again, trying to examine the reasons, I realize that it is not the fault of the organizers, it is just that the USA is a huge place and to gather cars from all over takes some serious spending on the part of the participants. Getting cars to congregate in Europe is not that tough. Doing the same here is a much bigger proposition once you figure in the distances and then add to that the months of preparation, transportation to and from, the crew, lodgings, feeding and watering not to mention the cost of running the car. And that's just the small teams. So I apologize if my disappointment in the class structure has left me wanting more.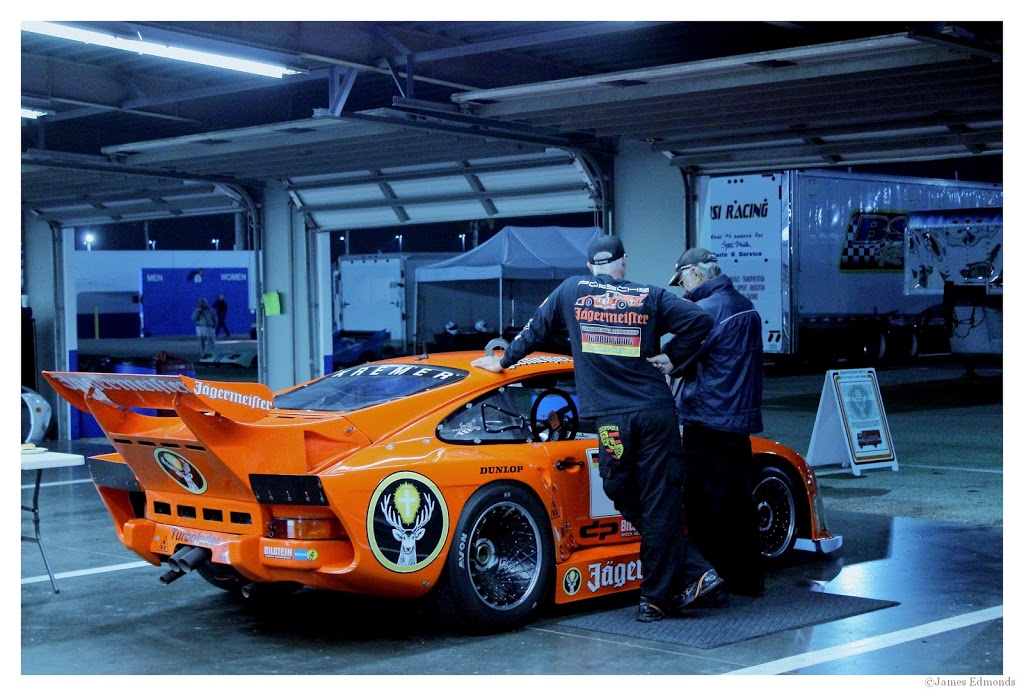 The Classic 24 at Daytona was the first event of its type (to my knowledge anyway) that was run on a 24 hour format. There were six classes, all of which ran four times for 50 minutes with a mandatory five minute pit stop. As soon as one group was done, the next was led out by the pace car to start its own heat.  The action saw qualifying and practice leading up to the races which started on Saturday at noon. I had imagined all sorts of issues with unforeseen delays, accidents, breakdowns, fluid spills on track, you name it. But even though none of that occurred, (not to the detriment of the action anyway) it's easy to see how this might have been fraught with frustration and disappointment. Boy was I wrong. 

With my race mates Dave Lobou and Tom Murray raring to go, we left West Palm Beach at 4am in order to arrive at the track before breakfast. We were welcomed by perfect Florida fall weather and the sights and sounds to gladden the hearts of even the most cynical fans. Myself included. I've never been to Goodwood, which by all accounts is the granddaddy of all vintage race weekends, but even it had to start somewhere. This was an auspicious start to what will hopefully develop into something as impressive and uniquely ours here in the States.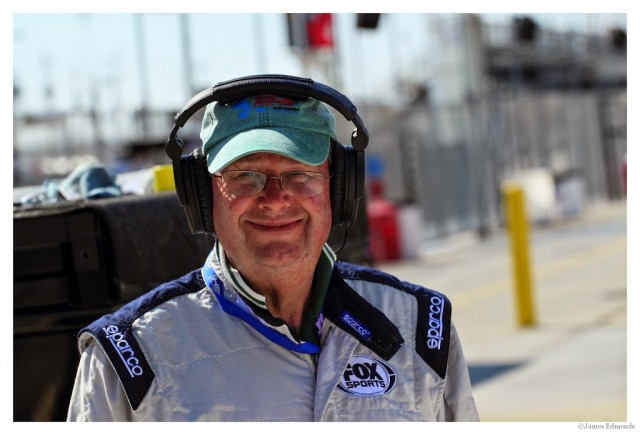 With cars grouped according to the era in which they ran in true competition, each group was unique and made for a much more authentic experience for the fans as well as the drivers. Commentary was supplied by Joe Bradley of Radio Le Mans fame and the irrepressible Andrew Marriot who added a certain familiarity to the proceedings. All of us there who have come to know and love these guys found it rather heartwarming to be on steady ground with old friends. The format I have to say was a brilliant stroke of genius. With the cars in and out regularly, you were able to see just enough of one class and shoot some great photo's before the next group came out and got you excited all over again. The cadence of the well adhered to schedule made for a truly exciting time as things never got stagnant, repetitive or boring. Walking the paddock was a throwback to a different era and to see these beautifully prepared machines and be able to talk to the owners and crew members in an atmosphere that was relaxed and enjoyable in a way that modern racing often isn't was a breath of race-fuel-laced air. And the sounds. The smells. The smiles. I could go on and on. 

Sunday afternoon Dave realized that he had lost his media vest. We walked back to where we had just enjoyed a frosty beverage, and there it was – right there on an adjacent table. I lost a WEC credential once at Sebring. Gone within moments. Those kind of things are like gold to the lucky and dishonest appropriator and it added to the time-warp feel of the event that someone had not blatantly blagged the vest, but had left it there to be claimed by its rightful custodian. 
Another Chequered Flag for the R8 and a Salute to Keith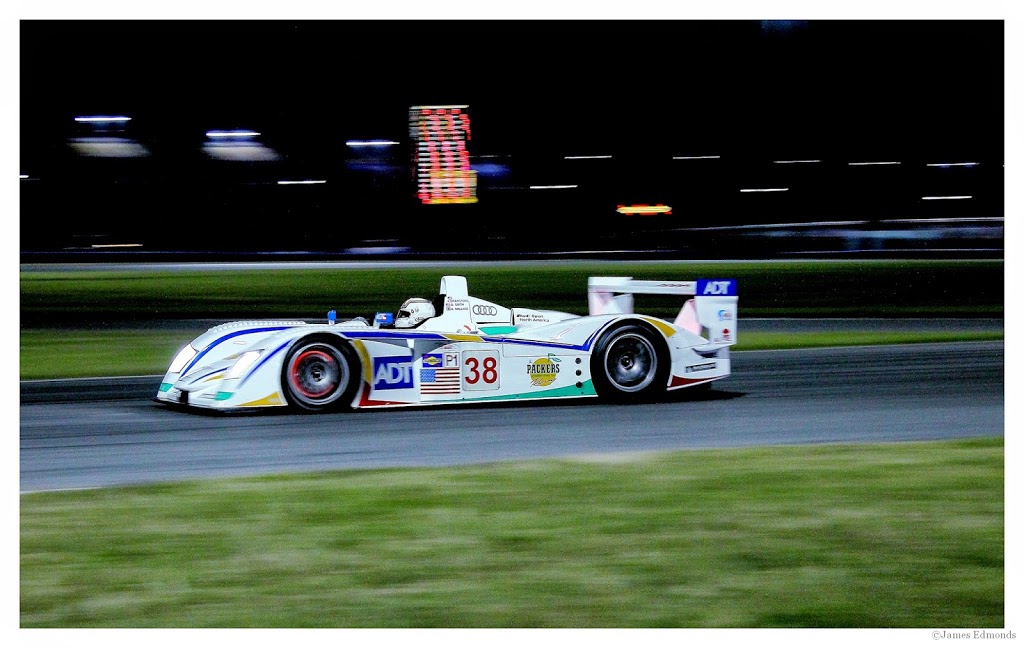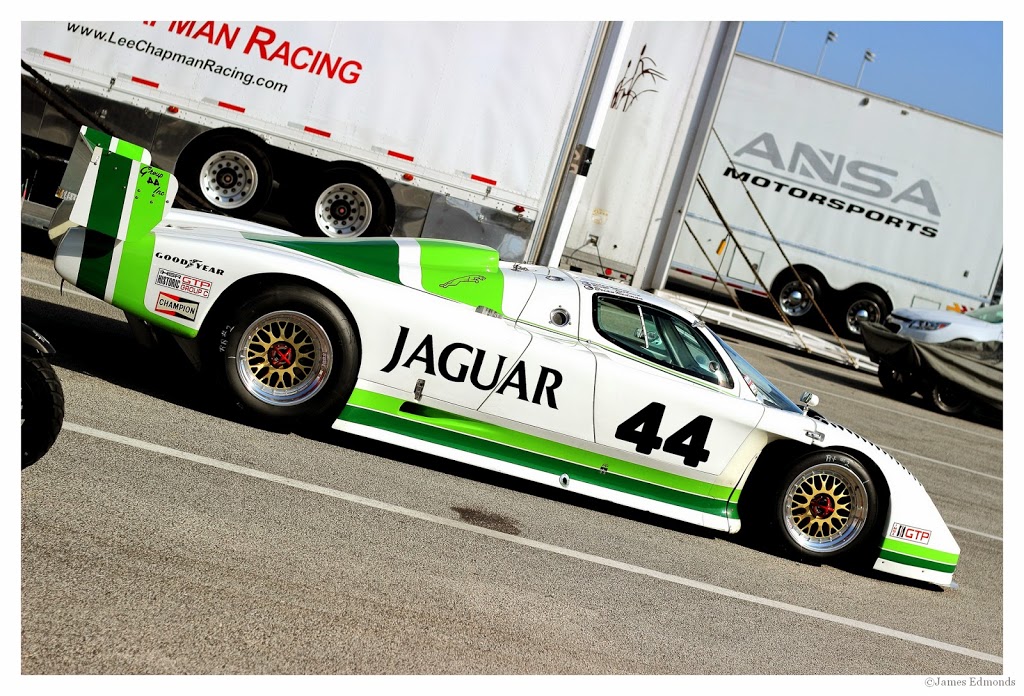 One of the undoubted stars of the event was the Champion Racing liveried Audi R8 and certainly my favorite having worked for Dave Maraj for many years. The car now owned by Jim Rogers of Packers of Indian River – a Florida fruit grower – has been campaigned in HSR for many years now and thanks to him thousands of fans are still able to see this iconic
modern day classic, widely regarded as the best sports car ever to have raced. (He also runs one of the V12 Group 44 Inc. Jaguars). Its regular lucky driver is Doug Smith Jr. who is often teamed with sports racing car legend Andy Wallace as was the case at Daytona – Wallace of course one of the early R8 drivers with Champion.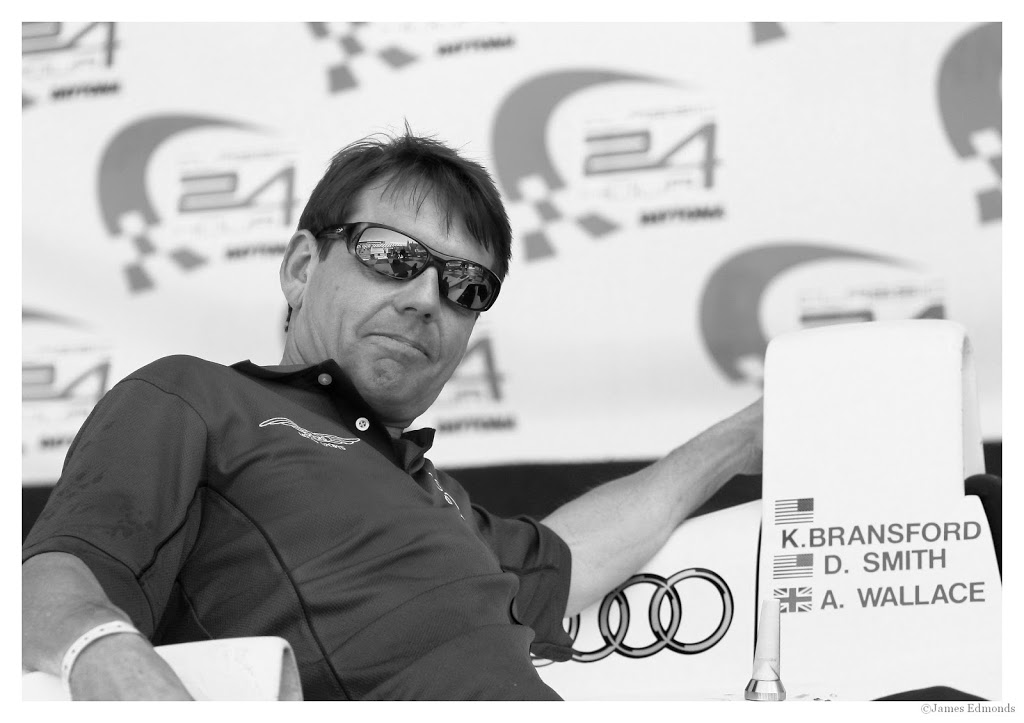 Bobby Green
As amazing as the car is, what is even more amazing is that the crew working on the car this weekend were none other than members of the original Champion team: Crew Chief Bobby Green directs operations and maintains the car as a full time employee of Jim Rogers; Rick Clifton takes care of transportation and tires just like the old days and Jerome Freeman handles the fuel and general assistance. The most important team member however was there in spirit only, none other than the larger-than-life Keith Bransford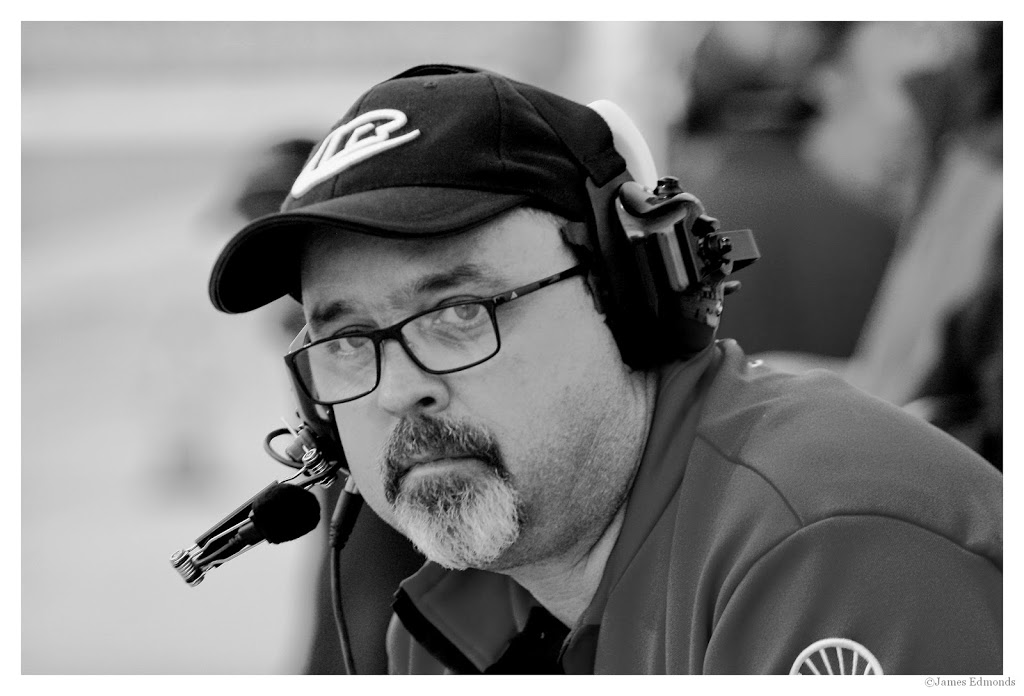 Jerome Freeman
 Keith, affectionately known to his friends as Kato or Big Kahuna was the very first full-time member of Champion Racing and one of those rare types who was roundly liked, admired and respected by all those who met him. That he had just lost his long battle with cancer at a young age made winning this race a mission for the team and in his honor, Bobby put Keith's name on the side of the car above Doug and Andy's.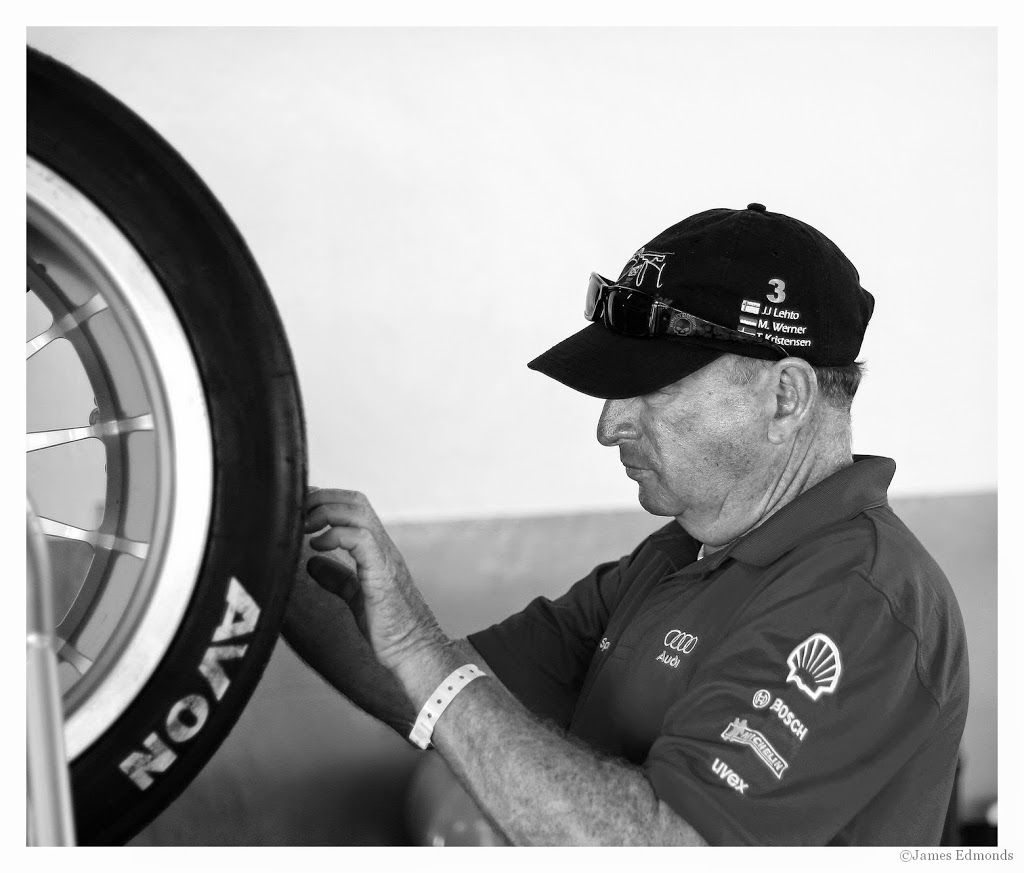 Rick Clifton

Keith was a gearbox man and was rightly regarded as the best in the business. His stories were many, but one of the most memorable was one which gained him immortality when it was put down in the pages of Car & Driver last year and more recently in the excellent book, Champion Racing: A little Bit of Magic. The recalcitrant Porsche-Lola was being tested by Keith on the road around the industrial park where the race shop was located. Treated as a test track, the car needed a quick shake down prior to being shipped to Daytona for testing before the 24, but hard transport tires and a lot of turbo boost conspired to spin the car which bounced off a curb and landed fully in what became known as Lake Lola – the large lake in the center of the complex. To Keith's eternal credit, he was able to use his huge strength to literally man handle the car back to shore single handedly. As you can imagine, horror mixed with disbelief were the overriding emotions from the on looking team members, but thankfully that has given way to humor in the ensuing years as the episode has turned to legend.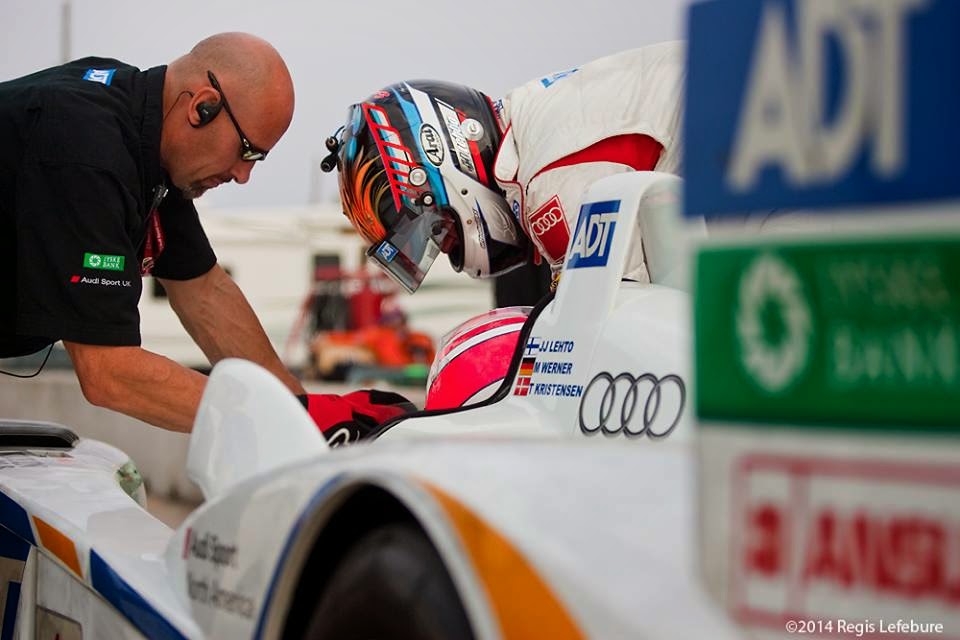 Keith & JJ  help Marco Werner. Photo: Regis Lefebure
Among the front runners in the R8's Class E were last year's 8Star Coyote Corvette DP being driven by Enzo Potolicchio and the Pescarolo-Judd of David Porter, this being the chief rival to the R8. It will be remembered that at Le Mans 2005 – the swansong year for Champion – it was the factory Pesca team that was touted to win, being faster by some margin, due to the Audi being saddled with BoP, aero and weight penalties. These were severe enough to warrant a quip from JJ Lehto that the R8 felt "as if it was tied to a post". The Audi now has to run a map which leaves it with about the same power that it ran with in '05 (much to Bobby's dismay) so the old rivals took up the fight where they left off with the Pescarolo being faster by more than a wee bit.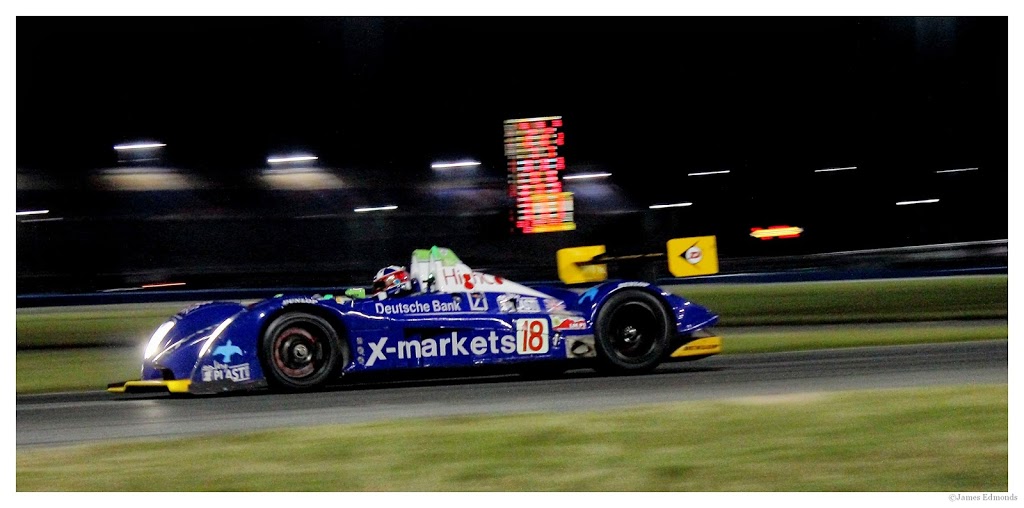 Rivalry renewed with Pescarolo
Race one of the four hour-long aggregated heats saw Doug Smith starting from second and duking it out early in the proceedings with the pole sitting Pesca.  Before long Smith forced Porter into a mistake as he went off causing some minor damage which took 4 laps to repair.  The Audi drivers then had to fend off the charge from Potolicchio and we all breathed a sigh of relief when the R8 as always, ran like a clockwork train. As each heat ended, we counted off another win, and at the end of the four heats Potolicchio wound up second overall by less than 40 seconds, although it was the French car that they wanted to beat more than anything. 
The lead up to the event had caused more than trifling consternation for Bobby: maintaining a car as complex as this state-of-the-art LMP1 winner is not as easy as going to the local dealer for spares. Bobby takes up the story: "We had been prepping for this race as far back as May. A big issue we were facing, as were most competitors was the shortage of tires. Dunlop had stopped providing tires for our type cars and Michelin wasn't able to help until next year. Avon was the only choice if you wanted to race. The problem however is the loads the car puts on the tire through the banking. Tire failure was a big concern. We had only done two laps on a set of Avons – at Sebring before going to Daytona.  We were also having some engine component problems, which had us at a total standstill for quite a while," explains Bobby.
"We were finally ready to test in late July. We tested on a hot day in Sebring with promising results. We went back in October to test the tires when we had a coil failure. As you can imagine, you're not going to find those at the local parts store! A big thanks to Brad (Kettler) and the Kettler Motor Werks crew for scrounging up a set in time to go to Daytona. Except, I was only hoping it was a coil…. It was and we were off."
As was the case in 2005, straight line speed was a concern. Bobby continues, "The Pesca had us on straight line speed all day. That car has ASR (Anti Slip Regulation), and all the latest toys. The R8 is how it was raced in the day. That wasn't allowed then. We were better in the infield and the brakes, but once they got on the banking, game over.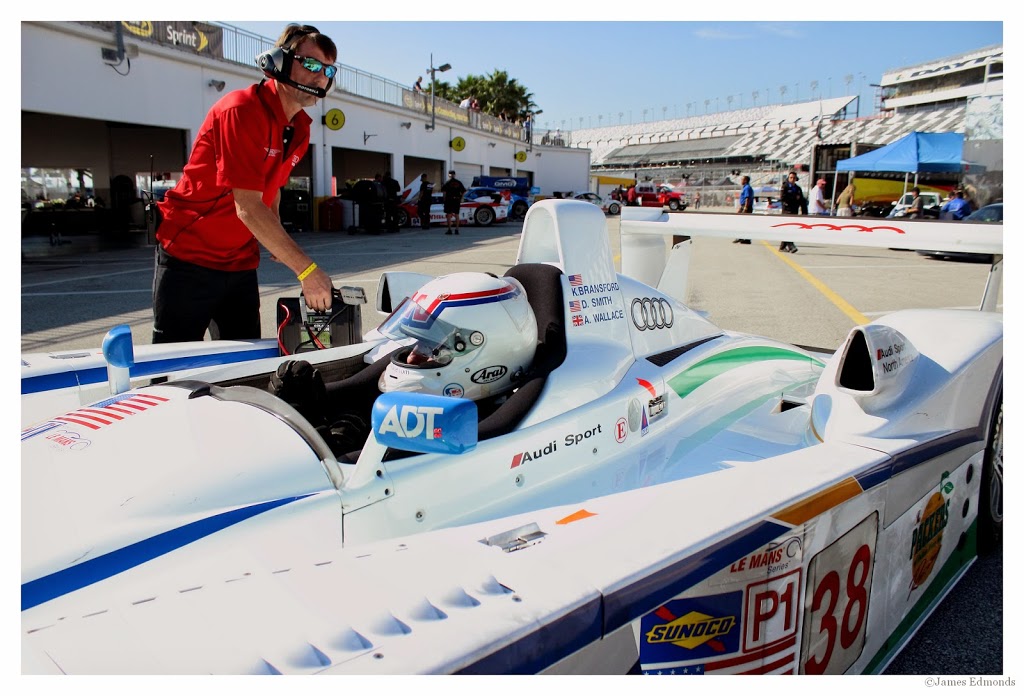 Bobby with Andy Wallace
"So we had to play the game. Get in Porter's head, keep the pressure on him. Strike when it was time and go like hell.  Our guys were superior on cold tires and Doug drove an outstanding first stint. Andy spotted for him and vice versa. True co-drivers and team mates. We took the lead on the first lap and defended all night. Andy drove superb and they never put a wheel wrong. The car never made a hiccup, never had one issue." 
Bobby reflects, "That was the plan all along. Then, Keith."
"It went from a fiendish plan to 'spank the Frenchie car' to a Mission – to win for a fallen friend and team mate. It became very personal. I remember going into the shop on a Sunday to put his name on the car. It was like Le Mans, '05. We had to win. Every person on this team had that fight to win for Keith.
"Keith and I told Hurley (Haywood) in 2001 that if we won the 24 he had to give us his Rolex, because he already had a couple. Hurley didn't get a watch that year. This year, Keith got his watch. It's going to Hawaii to (his widow) Jackie in his memory."
Bobby is obviously moved when he says, "Of all the races I've won, I have to say this win at Daytona means the most to me."
From a crew chief who has won just about all there is to win in sports car racing, that is a bold statement and goes a long way towards explaining the closeness of their friendship. Immediately after the race his Facebook post read, "Welcome to victory lane Big Kahuna!" 
The win here saw a huge outpouring of emotion and it was an especially poignant moment there in the winner's circle. As Doug Smith said on his podium interview, "I don't think there's a dry eye in the house."
Keith hoists a jubilant Allan McNish. Photo: Regis Lefebure
For me, I used to go to the big races but watched every one of the others on TV and loved discussing the weekend's events – usually a win – with the team members during the week. My abiding memory of Keith will be that gentle giant wearing a huge toothy smile and a winning driver hoisted on his shoulders in celebration after a race. 
I spoke to Doug after the event and he was equally in awe of Keith's talent as well as his friendship as he had helped out on the Roger's Motorsport team on several occasions. "The times I got to work with him," he says, "he fit in as an integral part of our team right off the bat…an all-around amazing guy. This race was a really honorable way of saluting him – a fallen brother and one of the guys. He was one of our merry band of brothers – functional or dysfunctional – however you want to look at it! He was a key component to that pretty magical time in history with those cars.
"He once helped us out at Laguna with the Jag. He was working for (Bruce) Canepa then. Bobby and I were getting frustrated with the gearbox and he said, 'I'll be right back'. Next thing I know Keith appears and it was something simple that we had missed…a piece had a burr on it that we had both overlooked. He was able to rectify the situation and of course the rest is history…the thing ran great!"
Had he ever seen the Jag before I asked? "Not to my knowledge, but he was a gearbox guy – he was a real mechanic – in today's world they're a rare breed."
Bill Adam, another driver from Champion's early days also has fond memories. Like Keith, he was one of the first to be there at the dawn of a team which went from humble beginnings – an easy up and pallets for flooring – to the envy of every team on the pit lane to the point that they were the 'works' team for Audi here in the USA from 2006-2008. Bill, as a broadcaster is eloquent as always. "Keith always had this low key and very quiet charm about him," he tells me, "I liked him tremendously and watched him work for so many years on our Porsche right up to the R8. His work was beyond compare…you couldn't say, 'Yeah he's good but I'd like to have so and so', he was theguy that you wanted and I always felt so lucky that we had him. 
"In 2005, the year that Champion won Le Mans, I was watching on TV and at the end of it I had tears in my eyes. I was so happy for everybody, but primarily for Keith. JJ (Lehto) was my closest friend in the team, and I was so pleased for him and Marco (Werner) and Tom (Kristensen), but the drivers get all the adulation. However, my pal Keith I know is down there and I know that he's going to be quiet at this point, but he's going to be smiling to himself and smiling in his heart knowing that he built the perfect gearbox that just won the race. 
"When he got back home, I went up to the race shop one day and I told him that story. I said, 'I was watching you…' and he came over and he gave me a hug. He said, 'I have to tell you something too…when we won, I was thinking about you and I was so wishing that you'd been a part of the driver lineup.' So typically generous of the guy to be thinking in terms like that."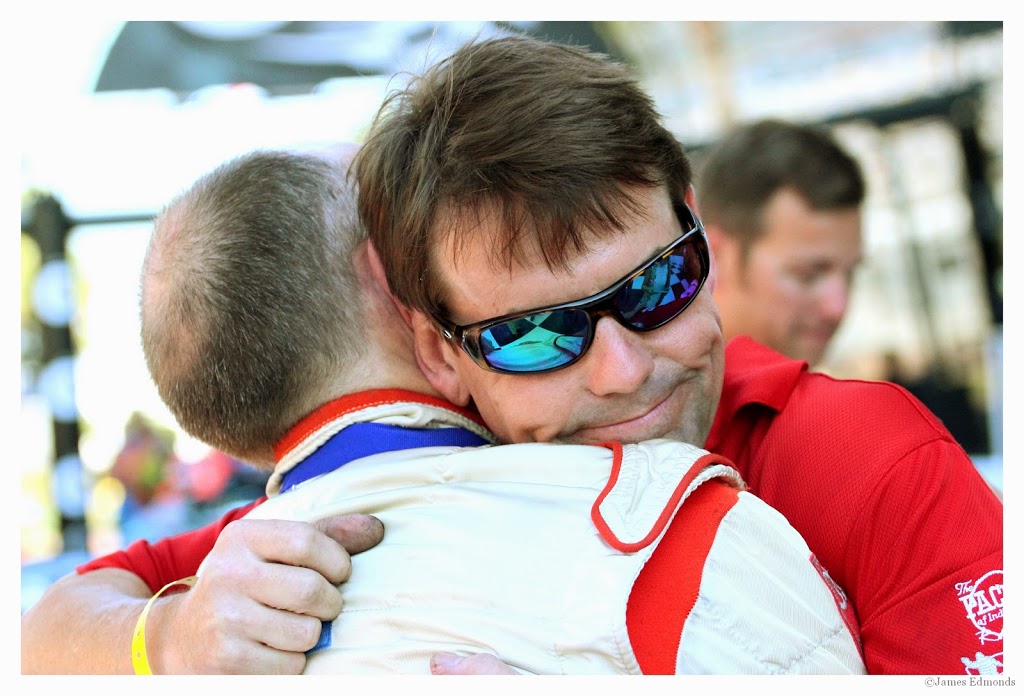 Emotional victory
Another one of the Champion Racing/Audi Sport inner circle members who worked with Keith and knew him also as a great friend is multi-Le Mans-winning crew chief Brad Kettler. Brad was on the hop getting ready to head for Brazil and the final round of the 2014 WEC when I caught up with him. His sentiments echo those of the others and he had this to say, "Today here at Kettler Motor Werks we are working on a Ricardo gearbox and we're using tools that Keith made and notes that he wrote with observations that he made," Brad says. Obviously moved, he chooses his words carefully as he continues, "He was a gifted mechanic and a gifted craftsman and a friend of my young son which was always so cool to see. I have a picture of him and me on top of the Alps drinking beer a day we were skiing in 2001 – we all looked very alive. I gotta tell you…looking at him in this picture brings me back and my eyes get wet. He's here in spirit and I'll always have a big spot in my heart for our boy Keith. He was a very special and honest guy. He will be sorely missed."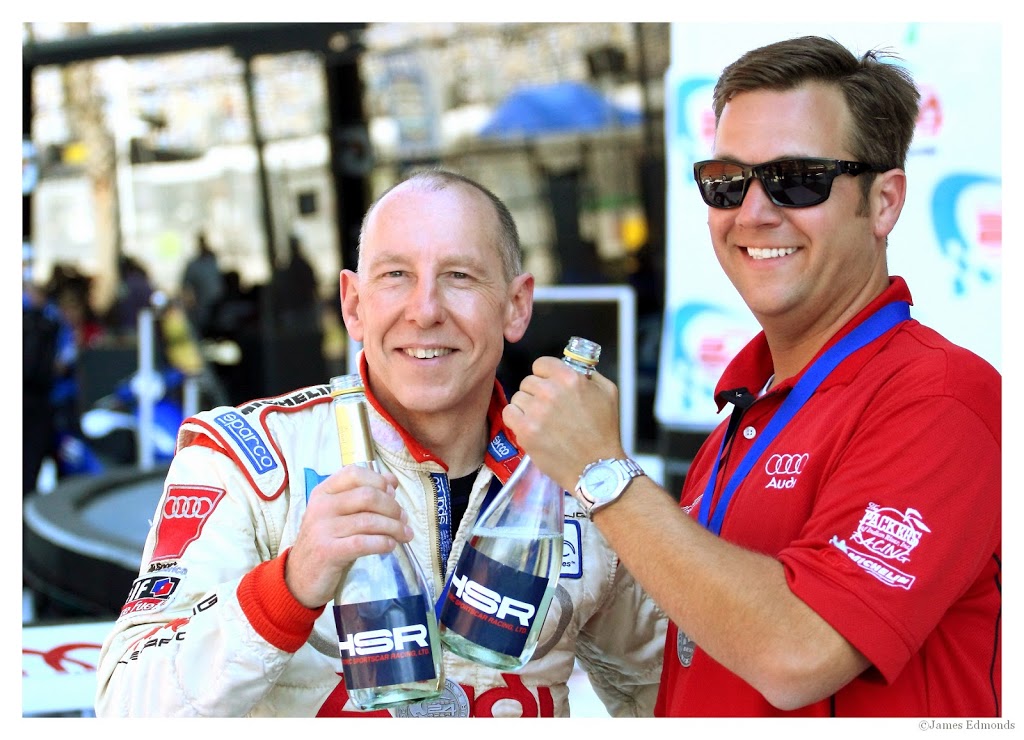 Andy Wallace celebrates with Doug Smith
As we said our goodbyes to our old friends and walked back to the car, we noticed how the event had barely finished and yet the car parks were already almost empty. Before the advent of global shrinkage where a happening of any kind is packed to the gunwales and where ingress and egress take up more of your time than said event, Tom made the observation that this perhaps is what it would have been like back in the sixties. No huge lines, honking and blaring, pushing and shoving, yelling and screaming. Just a great weekend away with some likeminded people who are out for a good old fashioned celebration at the races. It may or may not have been but I like think to think that maybe it was. 
Keith celebrated life every day. That weekend in Daytona, we all celebrated his life with a win unlike any other. In my mind, as the tears welled, he was on our shoulders. Big toothy grin and all.