Ferrari Maserati of Palm Beach Track Night at PBIR
How to get the most from your Italian Supercar!  Step 1…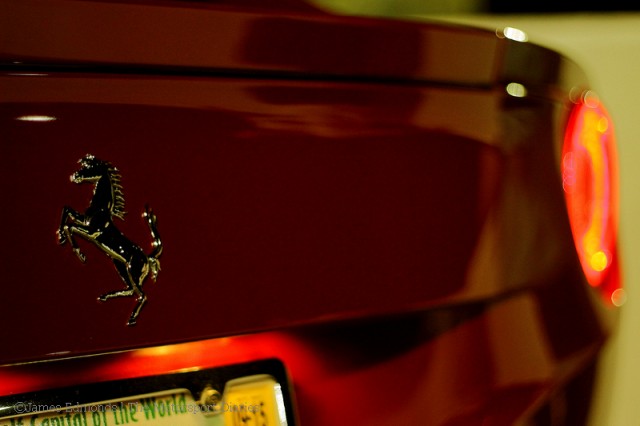 On a recent balmy evening in Jupiter Florida, I was lucky to be in attendance at the Ferrari Maserati of Palm Beach track night at PBIR. To say I was invited would only be partially true as I had just that afternoon, sort of invited myself!  They hosted what will hopefully become a semi-regular event as about 20 local clients – both male and female in almost equal measure – brought out their collective pride and joy to experience what could only be described as driving nirvana – to be in a Supercar on a race track for the evening!
That's not all though: imagine being there under the tutelage of local resident professional star drivers Guy Cosmo and Shane Lewis who is currently contesting the Trans-Am championship in the Robinson Racing Camaro.  These two are firm friends and quite possibly the most approachable drivers in any race paddock wherever you might be lucky enough to find them. One thing is certain…they have the winningest smiles of them all!
Guy Cosmo has been organizing track days and coaching drivers for a long while now and his company was hired by the dealer to handle the logistics and provide the pro's. This way each driver would always be with someone to make sure that they kept their pride – and more importantly perhaps –  their pride and joy intact.
As an experienced race car driver, I asked Guy how is it coaching mere mortals. "It's really fun. This is a unique opportunity where we get to take people who have never done this before and introduce them to high performance driving," Guy tells me. "It's not racing, but it introduces them to what it's like to experience the true capabilities of their car. So we put them in a safe, exclusive and totally controlled environment where they get to explore…they don't have to worry about safety hazards, driving illegally on the roads, being pulled over or endangering themselves or anyone else. It's exciting because we get to start them fresh. Everybody thinks they're a race car driver because they speed on the highway and then they show up here and we show them how to properly drive their car. To show them what they're cars are really capable of doing. We run them through driving exercises, we teach them basics of (racing) line theory driving on a race track. By the end of the night we have more educated, more confident and happier drivers. If that doesn't create more excitement for the sport then nothing will."
The common misconception may be that if you have the wherewithal and are lucky enough to own a car like a Ferrari, that you are already an above average driver. This is not the case. Guy explains: "Drivers are drivers. It doesn't matter what they're driving, they'll always have something to learn and we all share the same passion for cars and for the sport. Some are fortunate enough to own beautiful cars like these and some don't own Ferraris or Maseratis, but it's the spirit of driving. It's the spirit of enjoying high performance and camaraderie."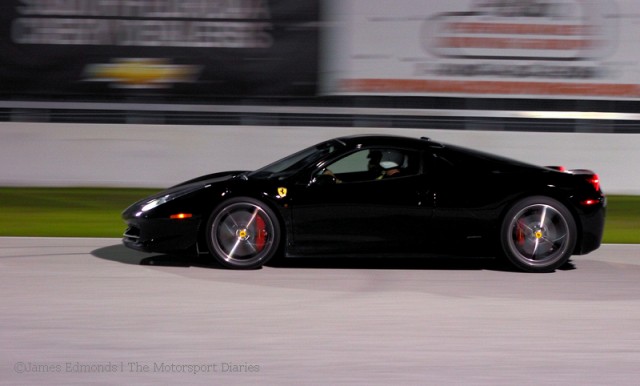 The event started in the late afternoon and included driver drills such as braking and slalom tests on mini courses set up with cones. This is typical practice at track days and gets the owners used to some basic car control and to test limits that are not usually found in day-to-day driving.  Between sessions are 'classroom' instructions held in the air conditioned room adjacent to the track where theory can be discussed before and after being put into practice.
After a delightful dinner held in the same room and catered by PBIR's own staff under the watchful eye of PBIR Director of Road Course Operations Jordan Marra, it was time for the drivers to get out on track to see if their horses really do prance. There were a couple of Maser's there and a lone Corvette ZO7. This was quite interesting as the Z07 is just out and so new in fact, that this one for some reason still wore Z06 badging. Maybe Bowling Green doesn't want to advertise just yet.
The modern day professional driver is a lucky one if he has a paying ride to make his bread and butter. With the landscape changing so that even many of the Big Boys have to bring money to the table, drivers have to find other ways to earn a decent living. Guy started Cosmo Sport as a way to do just that. "Cosmo Sport is my own creation. We've been running and operating track events under our own banner and private label for local dealerships for a number of years now. We are thrilled with our relationship with Ferrari of Palm Beach. We've had some incredible events thus far and this is the fourth event we've run for them. This is the first in 2015 and they are already trying to make plans to host another later this summer." Putting on an event such as this is a daunting operation so Cosmo Sport takes the anguish out of the clients' equation and lets them concentrate on what they do best. "We plan to be doing more and we are a turn-key operation," he explains. "We put on the show, we bring the instructors, we structure the event and provide everything they need to help their clients have a great day at the track."
From what I could tell from the beaming faces, Guy, Shane and the dealer staff certainly did just that…even the owner of a car who had a minor brake issue was all smiles as the dealer staff made sure his steed was transported safely back to the dealer that night.
Driver rotations are done every few laps so that there are never too many cars on track at any given time nor fatigued drivers. Keeping the cars in good shape is in direct relation to the condition of the drivers after all. Helping to keep all the action moving smoothly was Guy's wife and business partner, the lovely Louisa as well as Ferrari Maserati of Palm Beach staff members including marketing directer, the equally lovely Noelle Miskulin. Also on hand to make sure the cars stayed healthy and to assist if anything went wrong (only the one aforementioned car suffered a minor issue) was the not-quite-so-lovely but very capable service manager JR Wagner.
The Ferrari Maserati of Palm Beach track night at PBIR was a terrific event all around. From the venue, to the cars to the wonderful people in attendance. I have been fortunate myself to attend performance driving events both here at PBIR and other venues too. It certainly is not only a valuable tool to help better educate a driver, but also one of the most enjoyable events you could do, particularly if you have an affinity for racing or any aspect of high performance. Take it from me and look up Guy or Shane next time you have a special event in mind….and as I said, you don't need a Prancing Horse to get your kicks.