The Cincinnati Kid – Brad Kettler
I wrote this after Le Mans 2011 – the epic battle between Audi and Peugeot. It is reproduced here by kind permission of www.fourtitude.com. All photos reproduced courtesy of George Achorn with many thanks.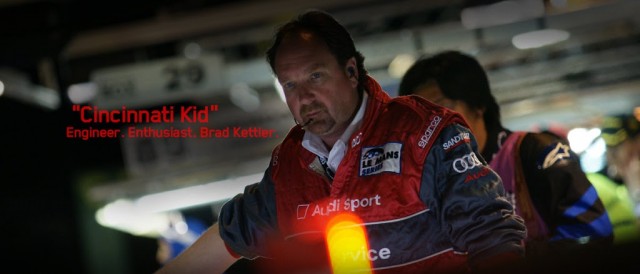 If I mention Steve McQueen and endurance sports car racing in the same sentence, you will likely suspect that I am going to be discussing an obscure cult film of the early '70s featuring powder blue and orange racing cars. Normally you would be correct. But guess what? Not this time. The King of Cool made another film that has a more esoteric reference, but one equally valid – this year anyway. Stay with me here.
Peugeot Sport entered this year's Le Mans as clear favourites, despite the fact that Audi has dominated the decade at La Sarthe. People have short memories in this sport, and you are only as good as your last race. Although with only one (recent) win at Le Mans, Peugeot have run roughshod over Audi in latter seasons. Coming off a win at Sebring (albeit with the Oreca run 2010 V12 version) and at Spa where the new 908 and R18 went head to head for the first time, the Frenchies went into Le Mans week feeling pretty good about themselves.
Brad Kettler, racecar engineer for Audi Sport Team Joest, lives just to the north of Cincinnati in Oxford, Ohio where, as a young man, he read engineering at Miami University. Don't be fooled by the laid back and easy going style epitomized by Kettler though. Aside from his long time dedication to Audi, he also runs his own companies involving race car transport, and the sale and tech support of historic R8 cars and parts. When he's not overseeing testing or racing in America or Europe throughout the year, he might be motorcycling, bicycling or facing off at the local ice hockey rink with his friends and family. Like his McQueen movie namesake, Eric "The Kid" Stoner, he and his team were underdogs in June and had to battle the odds against a much touted and favoured opponent. He had to be a pretty good poker player too as it turned out.
 

I was able to pin Brad down recently for a long chat about his life in motor sport and his part in the victory of the new revolutionary Audi R18 and its first attack on the biggest race of them all.
The seed for his future was sown early as his father, an English professor of American literature, was a handy motorcycle mechanic and also wrote technical manuals. Brad started out as a mechanic at a Chevy dealer, but soon moved to Mercedes Benz where he discovered he was a dab hand at some of the more mysterious import cars in need of fettling. It was the early eighties – there was plenty of work to go around and money was flowing in Reagan's America. "I met some guys who wanted to get into some SCCA racing. We ended up building a Ralt Formula Ford chassis with a sexy Tracer full sports car body on it. It had a VW 1.8 litre single overhead cam eight valve motor with side draught Webers and a five speed Hewland.

 

That was the first race car I helped build It was extremely good and real fast. We qualified pretty well for the SCCA Runoffs, but crashed in practice. We didn't have any resources, but in my search to find some bits and pieces I ultimately met Michael Gue. I got to know him and he invited me to go work for him at Essex Racing. That was 1987.
"It was a booming time back then. IMSA was expanding. There were Lights and GTP cars, and Mike had a prototype program with Tigas which we raced with Buick or Mazda engines. We raced every weekend with either prototypes or Formula Ford. We won the IMSA Lights Championship in 1988."
Following two seasons with Scott Schubot's S&L Racing and another IMSA Lights Championship in 1989, Kettler moved to Spice for several seasons where he concentrated on gearbox and chassis work. After the business went bankrupt, a stint followed at a Porsche dealer in Cincinnati. Eighteen months in, Brad received a call from Jochen Rohr with Porsche Motorsport about the Carrera Cup series. It was through this association that he was asked by Alwin Springer, head of Porsche Motorsport in the US to get involved with the upcoming GT1 program. "There were going to be a lot of GT1 cars sold in the States, and I was going to

 

help in the field with it. I had to learn it; how to fix it, tune it, set it up, everything. That's how I met Dave (Maraj). Champion Racing had had one shining moment of success when they won their class at Sebring in '96 with Hans Stuck and Bill Adam driving the 911 GT2, but they were struggling with the GT1. After their first race, I went back to California, and Alwin Springer said, 'Boy', (he still calls me 'Boy'), 'how did it go?' I said it was a disaster! He said, 'Excellent. You're going back for the whole year.' Dave Maraj was real focused on what he wanted to do. I came into the team full tilt in May '98, and my second race with the team was Atlanta. It was the very beginning of the ALMS, and it was a fast group with Panoz and some other GT1 cars. Don Panoz offered Dave Maraj travel expenses to come up and be a part of the race. So we went out and beat everybody, then took all the prize money and went home! That was my second race with the team and they had changed one hundred percent. Getting rid of some of the crew and keeping the good ones motivated everyone."
After the dramatic aerobatic displays from Porsche, Mercedes and BMW with their GTLM cars, it was clear that these cars were going to become obsolete. Champion Racing thought that the way to move ahead was to go with an open topped prototype, and being well versed in the workings of the Porsche GT1 drive train, opted to buy a new Lola B2K10, some new Porsche engines and then marry the two. However, due to a lack of development on the GT1-98 engine and a long undetected fundamental power robbing issue, the team was "saddled with a 580hp burden and the Lola was a disaster in it's early phases." It was only after several races that the problem which had caused the loss of power since the engine's inception was traced to a knock sensor mounting location. Once remedied, the car was able to realize some of it's potential, but too late.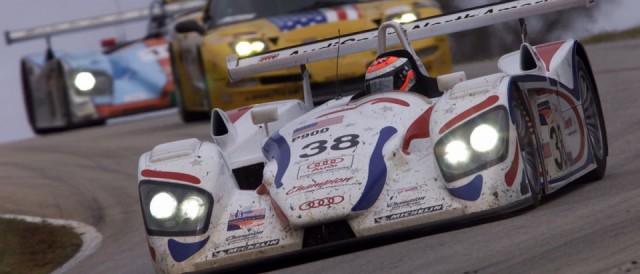 Having now sniffed success in the top category, Dave Maraj (also a Porsche and then Audi dealer) secured an Audi R8 for the start of the 2001 season. The team had several podium finishes in the ALMS that year, but suffered clutch issues at Le Mans after eight hours. 2003 saw the team take it's first ALMS victory and an excellent third place on it's return to Le Mans after sitting out 2002. The 2004 season was a demonstration in efficiency with the team winning almost all of the ALMS races. With Brad at the helm of a team that was now the envy of the racing fraternity, they really started to get into their stride with the fearsome and bulletproof Audi R8. Another third place at Le Mans only strengthened Maraj's resolve to come back for the win, and by season's end, a second car had been added to the team.
If the recent seasons had been fun, they were nothing compared to the swansong that was 2005. The team won just about every race of the ALMS, including Sebring and Petit Le Mans. However, the Champagne was never sweeter than when savored atop the podium at Le Mans, where Dave Maraj, Brad Kettler and the Champion Racing team took the trophy back to America for the first time in 37 years after an epic battle with the much faster and lighter Pescarolos.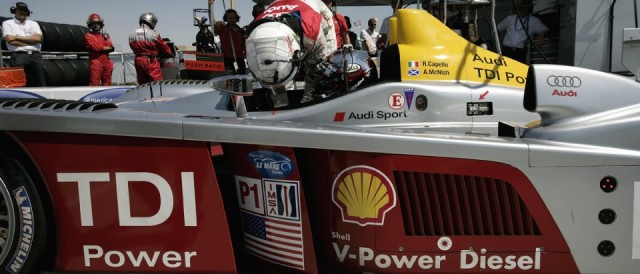 Prior to the 2006 season, and with the wraps about to be taken off the new Audi R10 TDi, Brad was now in a good political position within the Audi Sport organization to lobby hard for the diesel cars to come to America. Together with the key people at Audi Sport, Champion and Joest, it was decided to do a factory programme and thus was born Audi Sport North America. "The R10 took pole at Sebring, and won the race – barely. Due to resources, we wouldn't get the car back in the States until after Le Mans, and there were three races to cover with the R8 until then. Our task was to stay on target with the R8 and win those races at all costs, which we did. I accepted that my role would change when the diesels came. There would now be an engineer for each car and I would become Technical Director. Until that point I had been race engineer for every project that Champion Racing had ever done.
"I went to all the

 

races and all the tests with the Audi R10 TDI and imported all the knowledge that I could, then brought that back to the States. I traveled a lot, worked my butt off and came back with tons and tons of info. The team did such a good job of preparation, that when we raced the cars successfully at Salt Lake, all the pit and support equipment, all the parts and software, all the computers – everything was done without the benefit of the cars actually being there. Think about the scope of the project, and never having the car at the workshop to see if the jack stand would fit under it!

 

We had our problems, but that kind of application is what I'm good at."
Facing the 2009 season, there was doubt in the team over whether there would be a full or partial
programme
in the ALMS due to budget cuts caused by the world recession. At Petit Le Mans – the last race of 2008 – the team started two laps down, due to a practice crash, then went on to win the race through superior race craft, strategy and sheer determination (not to mention some pretty fancy pedaling by a cert

ain wee Scot). That they could be cut out so completely, and, in the eyes of all the team members, so ruthlessly was, as Kettler put it, "unimaginable. It was horrible."
Now under the control of Audi Sport Team Joest, they arrived at Sebring in 2009 with a pair of Audi R15-TDI and Brad was invited to bring his experience and knowledge to the fore again. When engineers Howden 'H' Haynes and Leena Gade were taken sick on race weekend, he was asked to be crew chief on the #2 car. The legendary trio of McNish, Capello and TK went on to a tight win over the works Peugeot and Brad's position on the team , due in no small part to his prior experience

 

with Joest, was further cemented.
With Le Mans approaching fast, Brad was asked once more to engineer a car, but things proved difficult due to the lack of racing and testing on the R15+ chassis. "To put things in perspective, we had no racing in the U.S. and no testing in the U.S. The bulk of the testing had been done in Europe and in cold conditions.

 

We didn't race at Spa, and there was no pre test in 2009, so the curtain went up at 7pm on Wednesday night and we truly saw what we had. We were in trouble, and there's nothing you can do in race week. That component demonstrated to Audi Sport and Joest that they needed to test in the United States. They needed hot, bumpy, dirty, tough conditions to prove the car. You're not going to find those in the winter anywhere else. So they said our testing philosophy has to change. Going into 2010 we had been testing like maniacs in south Florida. We worked and worked and worked and ran the car a lot. Homestead, Sebring, Atlanta. We went to Le Mans in 2010 and the cars were ready, they were sorted out. Thousands of clicks on hot, bumpy, nasty south Florida race tracks sorted out all the issues we'd had in 2009. When we went to Le Mans and prevailed – one, two, three, it was the icing on the cake for the American part of the programme.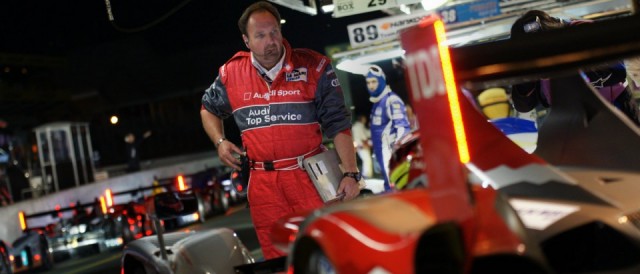 "Now Joest has equipment here, as do I, they've got a guy here and I can help with organization and support, then react to whatever Audi wants to do. 2010 to 2011 the pressure was on as we were testing the first R18 TDI right up to the end of December. Even as we were racing the R15+ at Sebring this year, the R18 was testing at Homestead simultaneously. Now we go Le Mans. The car is swift, fast, strong, reliable, robust, raceable.

 

Testing here in our conditions makes the race car better. The testing results here are very definite and immediate. Road Atlanta – Spa model. It's a match made in heaven. Some of the corners there give comparable data for Le Mans too – a little elevation change, maximum, weird, hard, high axle, ride height and braking situations like turn 10 give data that is immediately transferable. Now that we have figured out how we like to use these racetracks, it's brilliant."
Some of the cynics argue that Audi Sport was lucky to win in 2010, but you cannot deny that they come as well disciplined as anyone there. What makes Audi and Joest so successful? "The principles of racing are still alive and well. You prepare the very best car you can with the highest support you can give it. You interject your pride in your work and the way you present it. Whether it's a good car or not, you race it as hard as it can be raced. You don't take a car to a racetrack without a roll out. You never refit a dirty wheel. Somehow, in a highly technical and modern world, some of the old world principles are still what you need. It's an honour for me to work there, because it's the way I like to do things. There's enough tradition there, that it'll overcome even the most cynical of newcomers ."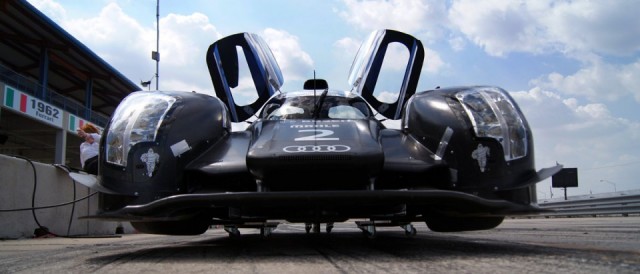 The R18 emerged as a breath of fresh air. . The car is clean sheet design with no hardware carryover. "The only things partially carried over are some of the data channels. As far as the car goes, in terms of architecture, engine, turbo, gearbox, they're all different now. We as a working group are used to rapid evolution and we just don't get tied to too much convention. Things change and we may have different data or software or a new version of a component, but that's just how it is."
The new rules dictated that a closed car was the way forward (unless of course, you talk to George Howard-Chappell) to be in contention for the big prize. Audi Sport boss Dr. Ullrich publicly lamented the departure of the open car concept, but there is much more to consider than the obvious aero gains. "An open car is much more raceable. There are so fewer elements to deal with. There are the obvious things like doors, windshield wipers, windshield clarity, driver cooling, driver changes, drinks bottle system…then there's others. Air conditioning, electrical management, cockpit temperature regulations, the human performance aspect like vision, peripheral vision, like situational awareness. All these things are completely shut off in the coupe. There's no benefit from any of this. None. So the fulcrum on this balance is a long way off centre. But the performance is worth it. You can get the centre of pressure where you need it, which makes the car very consistent. You can get the aero to perform in a positive and safe manner, like in Allan's crash at Le Mans. The car did not take off or cartwheel or do anything crazy. It skimmed across the ground and lost energy until it hit something, so in that respect the car was a success."
A lot has been made about the visual impact of the R18. It has the "Wow!" factor. Many of the team in pre race interviews have had fun with this aspect.. "The closed car is just cool. Looks cool; it's really fast; it's crazy and sinister and dark and lovely! When a race car is good, it's usually good right off the bat and it looks right. I don't know why, but ugly race cars are not good race cars. I don't know how, but when you see one and it looks fast and looks right, very often it is. We could see early on that the Audi R18 TDI was very robust and a good strong running car. It was very consistent and very good on tyres which is something we were all excited about."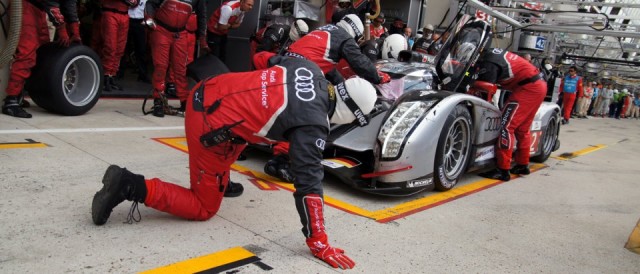 Like many others before him, Brad has experienced both heartache and heaven at La Sarthe. He is a veteran who knows the ropes, knows who to talk to, knows how to read the tyres and the evolving track. He is at once both old school and contemporary.

 

Going back year after year might become arduous for some, but those aren't the kind of members you'll find on the Audi squad. It all starts with preparation. "The older you get, the more you realize how special it is – it's a gift and you might not get to do it again. I always want to do better and people who know me, know that from May to June, this is what I'm going to be doing. Hopefully. I don't let anything conflict me. It's the beginning and end of my year. As race week comes into view you have an idea of how you feel, but it's strictly internal. You don't share that with anyone. You subliminally and directly try to push your colleagues up and forward as much as possible. Le Mans is like running in front of a boulder that's rolling down a hill. If you can gain ten steps, you can breathe a little bit. If you can gain twenty steps, you can breathe a little bit more and then you can start to double check things. The best way to be prepared for it is to be prepared for anything.
"I try to be available to all the guys on my team. The drivers and the crew. I wanted to work with the drivers again this year. I worked with them last year and I think they were the best team. They didn't win, but they really showed up. Some of the guys were a little rough around the edges, but I believed in them. During pit stop practice I encourage them to work through problems. Don't stop! Work through it! What are you going to do in the race? You can't stop.
"You run the car for the first time on Wednesday. You get some idea of where you are. The track's changing, things are happening, people are running around, some are freaking out. Practice is over at midnight. Then you have the debriefs and job lists and now it's 2:15. You're back at 8am, and that day you take the car that you've just spent five weeks building and you rip it to pieces – then replace everything on it – and you have to have it ready to go back out at 7pm that evening. It's crazy!
"Race day you show up same time. Light breakfast. Issue the job lists. Warm ups are extremely early. People think they have time – they don't. Dress early. I like to push the car out in the 'ear of corn' formation on the circuit. Horns are blowing, flags are waving, people are screaming before the formation lap. You can't do much at that point, so I glad hand all the high rollers, then go find myself a quiet spot inside the trailer and meditate – focus for twenty minutes. Slow yourself down. Think about it. Visualize in your mind what's going to happen. Start thinking about what you'll say to the guys, how you'll look them in the eye. Hopefully you've done enough that you have a crew that believes in you. That's important. Those twenty minutes are in the plan and everyone knows that I'm going to do that. I do that every year to get my head together. Then – I come out swinging." 

The Cincinnati Kid – Brad Kettler
I asked about strategy and how it must have changed after McNish's crash, and then again after Rockenfeller's. The answer I have to admit, surprised me a little. "Leena (Gade) handles analytics, graphing, fuel strategy etc. while I handle the car and keep the guys in step. You look at your options to see what's going on to get you from green flag to part way into the race, but there really is no strategy. Don't come into the pits. Run eleven laps. Go as fast as possible. Change tyres as few times as possible. Period. That's it. From there it develops, but one of the things I love about Le Mans is that it doesn't take a lot of strategy. Stay out of the rocks, and out of the box! If you can do that you're going to be in a position to do something. But that track position is only any good if you can do it for eighteen hours. Or twenty. Or in our case case, twenty three and fifteen!
"One of the things I truly dig about being crew chief and stopping the car is the sport aspect of it all. Getting under the car with the flashlight, seeing if the bodywork has some gouges in it losing us a few points of down force. We can adjust the pressure on the next set of tyres and it's going to get it back to the same spot. That's where I am good – feeling the car – where we can make the next set of tyres killer. I can see the progression of the car. Are the intercooler scoops clear? Can we use more aggressive map, use a little more fuel, push a little harder. Are the brake temps under or over the curve? Do we need to clean out the brake ducts? Those are the tactical decisions that I make throughout the race.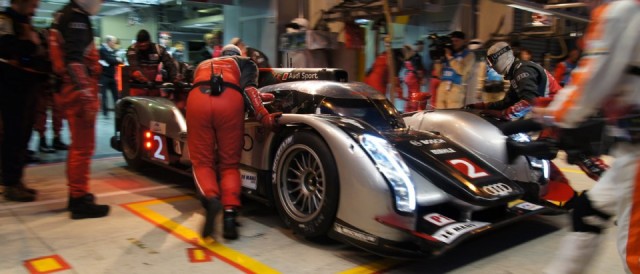 Can we do five stints? Hell yeah. We stayed on certain compounds until late in the night. There was a bit of controversy, but it got overruled . It was working – one more stint. We went into happy hour early in the morning, put the softs on just right and got fastest lap in that stint. You know you're really matching it when you're doing that. It takes a lot of experience and people think you're nuts. But you can't give a shit what they think."
With the race ebbing and flowing throughout the night and into the day, it is shaping up to be one of the closest fought in Le Mans history. The lead is being swapped with each pit stop. Audi with their sole surviving car and Team Peugeot still at full strength, they have been playing high stakes poker all night. But now it's time to go all in. Who will bluff? Who will fold? And who will have the winning hand? The Cincinnati Kid talks me through the final hand and how it plays out:
"This year was incredible because it was a track position and fuel strategy race until the very end. It was elemental. It was the raw, basic, purest elements of sports car racing. It's unbelievable how high the level of competition was this year. The final stop: we were just in the fuel window to finish the race. We could have gone longer but we had a slow puncture. We came in with twenty one seconds in hand. Fuel hose on. We were three quarters of the way through fuelling when the Peugeot appeared; stopped in its box, fuel hose on. For 10 seconds the fuel hoses were on at the same time – that's how close it was. Our hose came off and the pit stop started. The first two wheels are on. We are going for the third when the fueller pulls off the Pug. Our fourth wheel is going on and the Pug starts to move. The crowd is in a frenzy! We dropped off the jacks and beat them out by a hundred metres – with 40 minutes to go in a twenty four 24 hour race. But that was it. That was the moment. The guys killed it. The perfect stop. It was fast, smooth and the pressure of the whole world watching didn't affect them. The psychological closer to the whole thing was sending out Lotterer ahead of Pagenaud on four new tires. Incredible.
Incredible indeed. Kettler and his young team had won against the odds. It was a gritty, emotional and tough race, fought under immense pressure from the team, the fans, themselves and a sometimes combative opponent. And this one was done without takes, without stunt drivers and without a script. In the final analysis then, it wasn't a Steve McQueen movie after all.
Click here to read about Brad's part in the Champion Racing 2005 Le Mans win